Related Articles:
No pool, no problem | Making fast tracks in C-USA | 15,000 Frogs storm Houston | New VolleyFrog coach digs in
Picture-perfect freshman
One of the hottest recruits in women's basketball keeps her first-year promise by helping the team crack the Top 25 and bring home the C-USA title.
By Rick Waters '95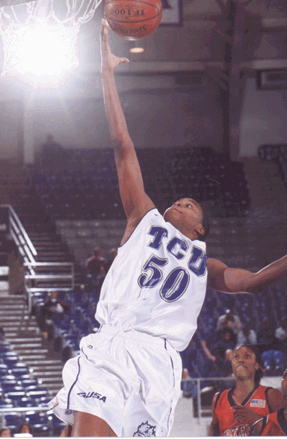 It had to be the oddest mid-season newspaper photo shoot in the history of TCU women's basketball.
The team's willowy 6-4 post and Freshman All-American candidate Sandora Irvin is stretched out on an extension ladder, feet dangling, hands clasping the rim. The hoop is literally in front of her nose. For an athlete so nimble, it's an awkward pose. But Irvin is enjoying herself, gracious with every request. A little to the left. Point your elbow down. Now, a little lower. Perfect.
Between shutter clicks, Irvin is looking around an empty Daniel-Meyer Coliseum, imagining all the people that should be seeing her inches from the rim. She says, "Oh, I could get used to this view."
It's quite a vantage point, but expectations are lofty for the Lady Frogs these days, especially for the program's first high school All-American. She arrived in Fort Worth averaging 22.2 points, 17.5 rebounds, 8.1 blocks and 4 assists as a prep star at Fort Lauderdale (Fla.) High School and was on the radar of every college coach and player rating service.
In her TCU debut, her numbers were amazingly similar. She scored 22 points, grabbed 18 rebounds and blocked 4 shots, all in 21 minutes. The superlatives have kept coming. It only took her 15 games to break the school record for blocked shots in a season, and she will set a new season mark for rebounds by the time the team makes its second trip to the NCAA Tournament.
"When I got here, I told Coach that I wanted to set a lot of records," Irvin said. "I was surprised at how fast it's happened, but I want to do more. I want to make a name for myself and the school nationally."
Mission accomplished. With stifling defense and a balanced offensive attack, TCU (22-5, 12-2 in C-USA) got off to it best start in school history and cracked the ESPN/USA Today and Associated Press Top 25 polls for the first time ever. The team also established new marks for home victories and wrapped up the Conference USA title in its first season in the league.
But the fact that Irvin was successfully recruited to TCU speaks volumes of the program's growth under head coach Jeff Mittie, and where it is headed. Two years ago, TCU wouldn't have landed Irvin. She had her pick of the nation's elite women's programs: Tennessee, UConn, Notre Dame.
She chose TCU because it had a program on the ascent, but also because she felt she could contribute in making the team a consistent national power. "I never wanted to be just another recruit. At some of those big schools, if you get hurt, they forget about you," she said.
Mittie doesn't need to be reminded of what he has in Irvin. She would have been a great catch for any school, but in securing her, TCU made a statement.
"When Sandora told us that she wanted to commit to TCU, the coaching staff was elated. She is such a great player," Mittie said. "It was the one commitment that, when other programs and recruits saw, gave us instant credibility as a place to play basketball."
Irvin was just as impressed with the Frogs as they were with her. "When they made the NCAA Tournament and won in the first round last year, that was so great," she said. "I saw all the excitement. It made me want to wear the TCU jersey. And with all the players they had coming back, I thought it would be a team of the future."
Like other freshmen, Irvin is still learning. She's adapting to rough play against stronger opponents. Still, she leads the Lady Frogs in rebounding (9.3) and blocks (2.8) and is second in scoring (11.0) after averaging a double-double for most of the season.
"Defense and rebounding are definitely her strengths," Mittie said. "She has great timing, great leaping ability and a wide wingspan. All those things in a player that is 6-4 is impressive. She is capable of dominating in the paint."
And with her Uncle Michael -- as in the former Dallas Cowboy -- nearby, she has somebody to keep track of all her school records.
Top