Related Articles:
We don't shhhhhhh anymore | Special Collections: Cool stuff you didn't know was in the library | Through the years
Something about Mary
Just who was Mary Couts Burnett?
By Nancy Bartosek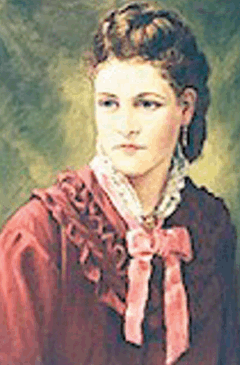 The call came early on Dec. 2, 1923. One Mary Couts Burnett of Summit Avenue requested a 9 a.m. conference with TCU President E.M. Waits. He, of course, had no premonition of what was to transpire.
History tells us that Waits was greeted by Mrs. Burnett, her lawyer and Van Zandt Jarvis, president of the TCU trustees, and that the details of gifting Burnett's $3 million estate to TCU were spelled out.
Colby Hall, dean of the college then, described the president's reaction:
"The next steps are attested by the author as an eye witness. The good President returned to his office, called in the Dean from next door, and carefully closed the door, so carefully that he almost seemed to have locked it. Then he began a dance. Yes, really a dance, a solo dance! Now the reverend President was not designed, either by experience or anatomy, for dancing, and the tight little office he then occupied (later the Modern Language office) gave entirely too modest a space for an exhibition, cramped as it was by furniture and bookcases.
"But dance he did, first on one leg and then on the other, for what seemed a quarter of an hour, although the one witness is willing to admit it might have been shorter. It certainly was not very artistic prancing, but it was expressive of some pent-up emotion of a pleasant nature. After the terpsichorean outlet of emotion had worked sufficiently, the words began to flow, giving the Dean the story of the interview of the morning. It looked like three million dollars of endowment for T.C.U.; at that time it might as well have been ten millions."
Ever since, the question has hovered: Who was Mary Couts Burnett, and why TCU?
The story reads a bit like a dime-store novel.
Born into privilege in 1856, Mary Couts was one of five daughters of Col. James Robertson Couts, a prominent banker and rancher in Parker County. James Couts was an admirer of Addison Clark. During Mary's early years, he was known to have helped Clark's fledgling school during its Thorp Spring period. It's probable young Mary knew of this connection, but not likely that it was a strong influence on her later decision.
Her estranged husband, S. Burk Burnett, surely played a part. According to Hall, Mary, who was Burnett's second wife, didn't fit well in the home of the rough and ready rancher and oilman. When she began to express fears that he was trying to kill her, Burnett had Mary judged insane, then confined to a house in Weatherford.
Burnett died in 1922. On the day of his funeral, Mary escaped from Weatherford, and when relatives returned from the cemetery, they found her in charge of her former home. And there she stayed.
Following the advice of her personal physician and trusted adviser Dr. Charles H. Harris, Mary freed herself from the insanity charges and then successfully sued for her "widow's part" of the estate that Burnett had willed entirely to his granddaughter from his first marriage.
Historians say Harris was the strongest influence in Mary's decision. Harris, who would later found Harris Hospital and whose Harris College of Nursing joined TCU in 1942, admitted in his later years that he had strongly encouraged her to choose TCU and to arrange the bequest before her death.
It's also been said that Burnett swore his money would never go to a school or a church, which may have helped the cause for TCU.
As a condition of the gift, $150,000 was to be set aside for a building to be named for Mary. Construction on the Mary Couts Burnett Library began immediately.
Mary died shortly before the December 1924 opening but reportedly did see her nearly finished namesake before her death.