Related Articles:
We don't shhhhhhh anymore | Something about Mary | Through the years
Special collections
Cool stuff you probably didn't know was in the library
By Nancy Bartosek

Behind a set of imposing glass doors on the second floor resides some of the most interesting -- and unusual -- items in the library. Home to about a dozen unique collections, Special Collections librarians are as concerned with the items they keep in climate-controlled rooms as they are with the information found in the many documents, books, photos and random objects housed there.
A sampling of rarities found in the singular collections:
- An audio tape of Ralph Votapek's winning performance in the first Van Cliburn International Piano Competition in 1962. The Van Cliburn International Piano Competition Archives house the audio and video recordings of all the competitions since 1962. Included are programs, photographs, posters and related materials.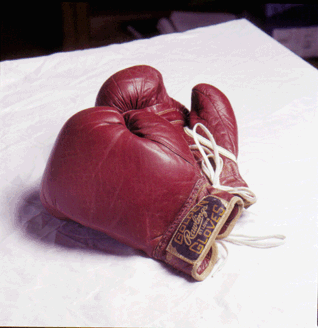 - Set of boxing gloves belonging to Jim Wright, representing his years as a boxer and coach with the Golden Gloves in '30s and '40s. The Speaker Jim Wright Collection documents the 34-year public career of the former speaker of the U.S. House of Representatives and congressman from the 12th District in Texas. Included are recordings, documents, photographs, artifacts and gifts he received.
- A Shady Oak-style hat that Amon G. Carter presented as gifts to visiting VIPs. The Amon G. Carter Collection is a trove of documents, photographs, letters, scrapbooks and memorabilia from the influential business and civic leader.
- A first edition of The Adventures of Huckleberry Finn. The William Luther Lewis Collection houses more than 1,500 titles -- 900 of them first editions -- from more than 300 British and America authors from the 17th through the 19th centuries.
- A 1550 map of North and South America. The George T. Abell Collection houses a unique gathering of antique maps, including a complete atlas of the world created in the early 16th century.
And the smaller collections:
- The 141- volume collection of Anthony Trollope's work
- the Pate/Newcomer Collection, which houses more than 1,200 items covering the people, life and culture of the Grand Duchy of Luxembourg
- the Pate Collection of books on Lincoln, the American presidency and first ladies
- the Mayfield Collection of books and pamphlets on Wild West outlaws and gunmen.
And another treasure: The music library, which houses a vast collection of books and musical scores, including some complete collections of well-known composers. The offerings are primarily classical, but there are jazz and Broadway musicals in the mix. You can hear a real LP on a real turntable, or check out one of the videos. The centerpiece is a brand new audio center with sophisticated sound and video stations.