Tower of technology
The William E. and Jean Jones Tucker Technology Center, home to mathematics, engineering and computer science, opens its doors this summer.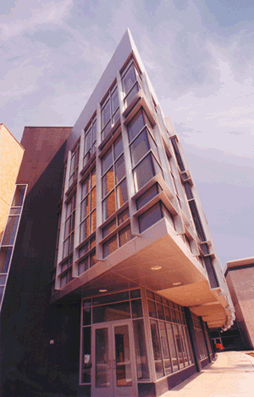 Spring saw the completion of the $25 million, 62,500-square-foot William E. and Jean Jones Tucker Technology Center, which officially opens in August. The uniquely-angled building, designed by nationally-renowned architect Ellerbe Becket, will be the new home for mathematics, computer science and engineering, as well as the dean of the College of Science and Engineering. As impressive as the outside is, the center's amenities inside are equally remarkable. It incorporates the latest in information presentation, communications, laboratory and classroom technology, which will allow the programs to expand their enrollment. The engineering department anticipates growing from 125 to as many as 400 students, and adding a third specialty in computer or environmental engineering, as well as a master's degree program. Computer science can increase from 30 to 100. At the heart of the Tucker Technology Center will be the 100-seat Professional Development Center, which will allow TCU to host programs of specific interest to North Texas companies.
Festival with flair for cross-culture excellence
The campus rang with a Latin beat in April as the Latin American Music Festival danced to new heights with more performers and venues than ever.
With such headliners as internationally renowned playwright Jose Rivera, Argentinian banoneonist and composer Daniel Binelli, this year's Latin American Arts Festival, once just a campuswide classical music festival, became a true communitywide celebration of Hispanic heritage.
The weeklong festival was filled with events that showcased the cultures of Spain, Mexico and several South American countries. Featured guests, all internationally acclaimed performers and artists, shared their talents and personal experiences with the TCU and Fort Worth communities.
Manuel Esperon, film score composer and 90-year-old living legend, right, was on hand for the event. Esperon is credited with encouraging the international appeal of mariachi music. He wrote more than 600 scores for Mexican films and has worked on music for MGM and Walt Disney Studios.
This year marks a name change from music festival to arts festival that reflects the inclusion of guests from virtually every fine arts discipline -- music, dance and art.
German Gutierrez, TCU's director of orchestral studies, is the founder and driving force behind the Latin American Arts Festival. Thanks in part to his direction, TCU collaborated on special events for the children in "Fort Worth After School," an enrichment program jointly sponsored by Fort Worth ISD and the City of Fort Worth.
Festivities featured a youth art show and a special concert by Rhythm Band with instruments donated to the children. Dance troupes performed local elementary schools.
The Fort Worth Symphony helped kick off the festivities with a series of concerts at Fort Worth's Bass Performance Hall.
Support for Palestinians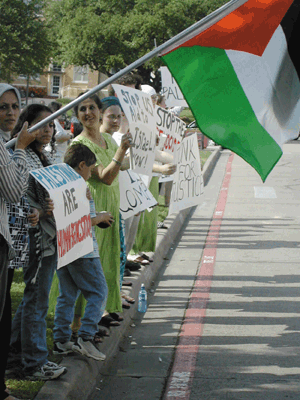 "Free, free Palestine. Occupation is a crime," went the chants and cries of about 40 TCU students and Muslim families, who in late April, endured a sweltering afternoon in front of Frog Fountain to raise awareness of the plight of Palestinian refugees and speak out against Israel's occupation of the West Bank and Gaza.
The rally, organized by the TCU Muslim Student Association, Amnesty International and TCU Peace Action, followed an on-campus discussion of the Israeli and Palestinian sides led by TCU professors and community leaders.
Access to antiquities
William Slater was content.
Reno, Nev., was a great place to finish up a distinguished career, and he'd been around plenty already -- moving from reporter to editor to TV anchor to news director to VP for public affairs -- all in the print and broadcast business. And that was before he returned to school in the early 1970s to earn his PhD in communication at Stanford, and then work his way up through eight universities in six states to become a vice president twice and dean three times.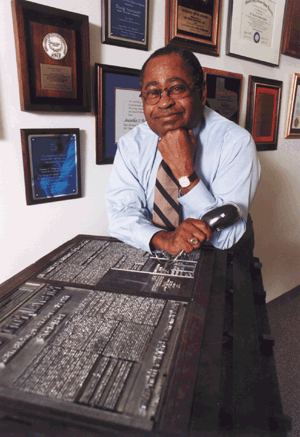 Yes, Bill Slater was settled as the dean at the Reynolds School of Journalism at the University of Nevada in Reno, and there he was going to stay.
Until he got a call from TCU.
It took some cajoling, but after the lively and friendly professor landed on campus for an interview, and looked seriously at the program he would head as dean of the new College of Communication, Bill Slater knew he wanted to come and turn an already good program into one of international prominence and influence.
"The sky's the limit," Slater said. "What is already here is impressive, but I think we've only scratched the surface of what it can become." Everything is in place, Slater noted. "It's in a major metropolitan area with access to a major media market. We've got three very strong departments with faculty that are well known in their fields. And the university has done well in the past with fund raising and is supportive of moving forward."
He was doubly impressed with the report from the Commission on the Future of TCU and the strategic plans Chancellor Michael Ferrari has developed around that. That groundwork will serve as a basis for strategic planning within the college Slater will convene in the fall.
But he isn't wasting time until then. A week after Slater moved into his office, even before the boxes of his books had arrived, he could tick off the details about the strengths of the various departments: The faculty in speech communication are prolific researchers who are nationally respected; the up-and-coming radio-TV-film department has already garnered international renown and continues to expand technologically; and the journalism department turns out scores of well-prepared students who win major awards while producing student publications.
There will be challenges. Already, there are more students who want to be advertising/public relations majors than the school can accommodate. And funding to keep the departments up-to-date technologically is never easy.
But Slater knows about fund raising -- in less than three years he raised $8.7 million for the Reynolds School in Reno. And he knows how important the College of Communication -- which has an enrollment of nearly 1,000 students, about one-eighth of the campus -- is to the overall mission at TCU.
"We╔, " Slater paused, then chuckled. "Yes, I can say 'we' now ╔ have some very sophisticated training centers here. But the best part is that there' s an energy and excitement in every department that will thrust this college even more into international prominence."
Engineering success
It was excellence in action in March when a team of 14 undergraduate engineering students won the second annual College Design Engineering Award, sponsored by Design News magazine, for their inline vacuum detection system for Alcon Laboratories, an international manufacturer of eye care products.
Alcon called on engineering professor Patrick Walter's senior design class in the fall to fix a glitch in the company's production line. It needed a faster and more accurate way to regulate the vacuum level in bottles of saline, used to flush the eye during surgery.
The TCU team's solution? Using a photoeye to count bottles moving on the assembly line, they allowed four at a time to enter a movable frame. Clamps seized the bottles and rotated them simultaneously to wet the stoppers. As the bottles return to vertical, four pneumatic pistons hit the bottles sequentially, so a single microphone can distinguish the four separate sounds.
Software then analyzes the sound signals. Bad bottles are identified and a programmable logic controller utilizes pneumatic rams to reject bad bottles and send good ones on down the assembly line. The entire testing sequence takes 3.5 seconds.
The solution worked. The machine achieved a line speed of 56 bottles per minute, greater than the human line's 48.
In addition to the award, the students split a $10,000 prize and TCU received a $10,000 grant for its scholarship fund. The team also was honored at the National Design Engineering Show in Chicago.
Top prof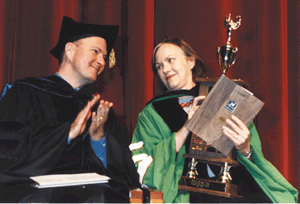 A smile crept across history instructor Sara Sohmer's face (below) as she left her seat and approached the podium in April to accept the 2002 Honors Faculty Recognition Award. Cheered by students and faculty, Sohmer welled with tears and mustered a few thanks yous before hugging and posing for pictures with students gathering to congratulate her.
Having joined the TCU faculty in 1999, Sohmer's area of specialty is modern British history, the British Empire of the 19th century and the Colonial Era. Her current research focuses on the British governors of colonial Fiji.
Egg-cellent adventure
More than 600 children and their families converged on campus the weekend before Easter for the 8th Annual Easter Egg Hunt. Sponsored by the Fort Worth Chapter of the Young Alumni Association, the event featured more than 4,200 eggs, stuffed with everything from candy and toys to jewelry and balloons. Several local businesses contributed golden tickets and some golden eggs, which contained snazzy surprises like restaurant gift certificates and coloring books.
"Mildred!" the musical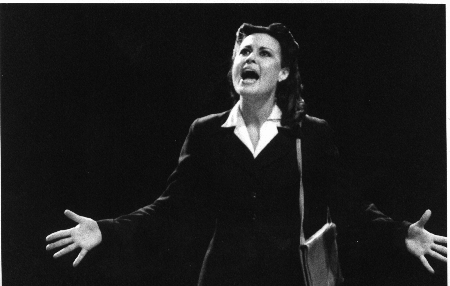 Richard Allen, TCU's Emmy-award-winning radio-TV-film professor, has heard the lullaby of Broadway.
Allen's latest project, "Mildred!," a musical based on the novel by James M. Cain and the 1945 film that netted Joan Crawford a best actress Oscar, premiered in April as a fully-staged workshop production at Stage West.
The musical follows the same themes from the novel and movie, but is sprinkled with more lighthearted and comedic tones. Allen penned the book and lyrics to the 20 original songs.
Local composer Tim Goergeff, a TCU alum, added the music. Linda Leonard co-directed the production with Allen. Most of the cast were TCU students. Jennifer Bailey, a local actress, played Mildred.
"Writing musicals has always been my dream," said Allen, best known as a soap opera writer and the faculty advisor to TCU's biennial soap opera production project. "Expect a lot of variety musically, including a tango, a waltz, lots of duets and even 'showtunes.' "
Allen, who received a grant from TCU to develop the "transmedia adaptation" of the movie into a musical, hopes to see the show move to a full-scale production.
Uniquely greek
Members of TCU's chapter of Pi Kappa Phi know junior Brian Casebolt as their current president, brother, leader and friend.
The fraternity's national headquarters know him as the guy with lots of ideas. Kids at TCU's Rise School, a preschool program for children with Downs Syndrome, such as Marshall, above with Casebolt, consider him a modern-day hero.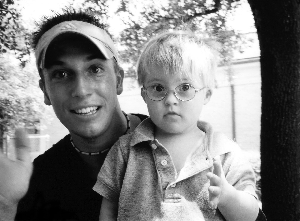 Now, the North-American Interfraternity Conference (NIC), an umbrella organization representing more than 60 fraternal organizations, has recognized Casebolt with their Award of Distinction.
In its first year, the award honors three outstanding Greek men nationwide that surpass standards of community service, ideals to community and commitment to fraternal community. Pi Kappa Phi fraternity's national headquarters nominated Casebolt for the award.
This summer Brian will ride his bike in the Journey of Hope, part of Pi Kappa Phi' s national philanthropy, PUSH America.
There he will join fraternity brothers as they cycle coast-to-coast raising funds for children with disabilities. Casebolt will formally be presented with the Award of Distinction at Pi Kappa Phi's national conference when he finishes his ride at the U.S. Capitol.
Bright lights, big city
There's nothing like a performance at famed Carnegie Hall, the musical heart of New York City.
In April, the combined voices of the TCU Chorale, the TCU Choral Union and the chancel choir of University Christian Church -- some 130 total -- took to the stage with director Ron Shirey for a show with The New York Pops.
It was the third time in as many years Pops director Skitch Henderson invited the Fort Worth vocalists -- billed as Fort Worth-TCU Symphonic Choir -- to sing with his orchestra.
This time, the occasion was part of New York's citywide celebration of the 100th anniversary of the birth of composer Richard Rodgers. The group opened the show with "Oklahoma" and closed with "You'll Never Walk Alone."
Soprano Amy Pummill '96 performed as the soloist.
Holocaust remembered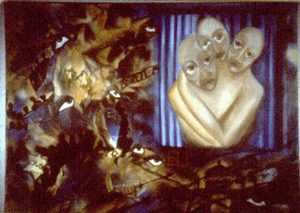 Stories of survival in World War II concentration camps again captured the campus' attention in April during the annual observance of Holocaust Remembrance Week, sponsored by TCU Women' s Resource Center and the Jewish Studies Program.
Students marked the week with a 24-hour prayer vigil at Robert Carr Chapel, a forum on the Holocaust's importance, and a 12,000-flag lawn display. Also featured was "Mama tell me another story," one in a series of 10-paintings by Israeli-born artist Julie Meetal Berman, whose parents were concentration camp survivors. Berman's works were on display in the student center during the week.
Friendship rings
Presented to TCU as a gift of the Embassy of Luxembourg, "L'entre Duex Anneaux" ("Between Two Rings"), a gray marble statue, became part of the university's collection of books and artwork from the European nation in March. At the dedication ceremony the sculpture was unveiled in the lobby of Mary Couts Burnett Library, where it will remain on permanent display. It was crafted by artist Bernard Ney of Luxembourg.
Dacus studio dedication
With fresh paint, a wood floor and some remodeling, an old classroom in the basement of Ed Landreth Auditorium in April has been transformed into TCU's newest performing arts venue -- the Melvin and Katy Dacus Rehearsal Studio. Named for the Fort Worth and TCU theatre pioneers, the studio will stage reader's theater and dance shows.
On the night of the dedication, a crowd of about 50 enjoyed an original one-act comedy, "The Day They Kidnapped Blanche," written by Katy Dacus and Ann Barham Pugh '45. The evening also featured stirring recollections of the Dacuses by their three children. "I know Daddy. If he saw this room, he would be wondering what song to sing," said Mindy Dacus Fabiano.
Cook-ing up a special visit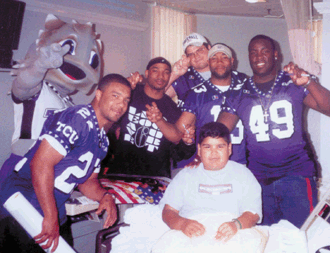 TCU football players John Turntine, Adrian Madise, Andrew Hayes-Stoker, Tyrone Sanders and Matt Orlovsky brought smiles, along with posters and T-shirts to the kids at Cook Children's hospital this spring as part of the TCU Athletics Department Community Outreach program. "The players were so impressive that the PR contact at Cook's told us that she has seen Rangers, Stars, Mavs and Cowboys come through that ward, and the TCU football players were more genuine, kind, caring and friendly than any group previous," said Brian Florko, ESPN Regional General Manager.
Feather quest

Deborah Jones Zihlman '75 shared bird facts and identification tips with entranced kindergarteners in the class of Marsha Roberts Stallard '74 at Fort Worth's Lily B. Clayton Elementary in March. The kids examined feathers and nests, listened to a story, and sampled gummy (candy) worms as part of a Fort Worth Audubon Society program that focuses on the lives of robins. Debbie visited the class as a guest of TCU' s Reading Frogs program, which places TCU staff and student volunteers in Fort Worth ISD elementary school classrooms to assist with reading programs.
In brief
Change of venue
Spring Commencement has come a long way since AddRan Male and Female College's inaugural class of two received diplomas at the first graduation ceremony in 1876.
This year, a record 1,100 students marched into the ranks of the Alumni Association with degrees in hand. More students crossing the stage means more relatives and friends were in attendance -- topping 10,000 this year, 3,000 more than Daniel-Meyer Coliseum can hold at full capacity. So for the first time in university history, graduation moved off campus to the Fort Worth Convention Center.
The Class of 2002 had a lot to celebrate -- 15 students graduated with a 4.0 GPA, 208 graduated with honors and 71 international students from 34 countries received degrees.
Two campus luminaries received honorary doctorates: Bob Bolen, senior advisor to the Chancellor and former mayor of Fort Worth, received a doctor of public service degree; and Jim Wright, distinguished lecturer in political science and former Speaker of the U.S. House of Representatives, was honored with a doctor of letters degree.
TCU alumnus Bob Schieffer '59, chief Washington correspondent for CBS News and moderator of Face the Nation, delivered the Commencement address.
Accolades
-- Math junior Ryan P. Dunning earned the prestigious Goldwater Scholar title this spring when he was chosen as one of 309 college students nationwide to receive the Barry M. Goldwater scholarship, worth $15,000 over the next two years. The fifth Goldwater Scholar selected from TCU, Dunning will pursue a graduate degree in mathematics and focus on teaching and research.
-- Bronson Davis, vice chancellor for university advancement, was recognized by District IV of the Council for the Advancement and Support of Education (CASE) with the Distinguished Achievement Award, their highest honor, for his success and commitment to fund raising. Davis, who is the architect of TCU's major fund-raising campaigns, has been with the university since 1990 and has been a leader in CASE for nearly two decades.
-- Nine radio-TV-film majors can now add the George Foster Peabody Award to their resumes for their contributions to a PBS documentary on the 11th Van Cliburn International Piano Competition which aired this spring. Through TCU contacts, the students landed jobs last summer with director Peter Rosen, who won an Emmy for his 1997 documentary on the prestigious competition. During the two-week period, the students followed the competitors with cameras, helped edit tape and worked as assistants to the producer.
And an addendum
Last issue we told you about a 10,000 item acquisition of books and manuscripts for the Jewish Studies Program, but we neglected to note the Lehman collection will be housed in the Jack B. Friedman Library, named in honor of Barbara Friedman Rakoover '67.
TCU Tomes
Sister Gumbo: Life, Sex and More Sex
By Ursula Inga Kindred '85 and Mirrancda Guerin-Williams
Brown Books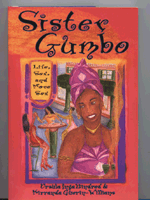 Sister Gumbo: Life, Sex and More Sex is the result of informal interviews with more than twenty women from different walks of life, who, just like the gumbo cooked in Louisiana, added a little flavor all their own.
These women talk about men, love, sex and affairs, not to mention their most intimate feelings on marriage, friendship and advice. Sister Gumbo is a collection of vignettes and makes for an enjoyable read. Raised in Louisana, sisters Ursula Inga Kindred and Mirranda Guerin-Williams both live in the Fort Worth area.
The book is available through Amazon.com, Black Images and Jokaes in Dallas and The Black Bookworm in Fort Worth.