Heavy metal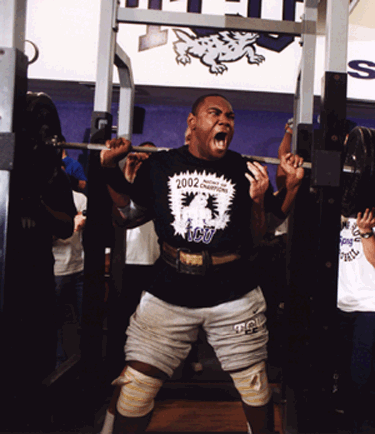 It's a night of no helmets. No pads. Just football players, rock-hard determination and hundreds of pounds of steel weight.
They call it Night of Champions, but it's really the culmination of months of off-season conditioning. It's a night of power, ego and testosterone -- as in who can lift how much, how many times.
This year, Anthony Alabi impressively established a school record of 805 pounds in the squat. Moments later, he said the mark wouldn't last through next season. "I've got almost three years left and I'm going to get a lot bigger, so I might break it. Maybe 900, 950," said the 318-pound sophomore offensive guard.
Senior quarterback Sean Stilley also did a little record breaking of his own. His 600-pound squat set a standard for quarterbacks.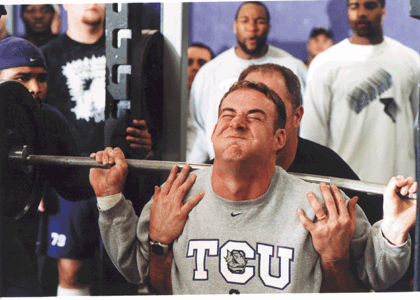 The Frogs have come a long way since Patterson started the program five years ago -- every football weight lifting record has been broken, some of them multiple times.
"People talk about measuring a football program in bowl games, but this is where success starts -- in this weight room," Patterson said. "This is the behind-the-scenes story of how TCU football has made such strides." -- RW
Top