Taking it to the top
Curtis King '74 (MA) not only revived The Academy of Black Arts and Letters, he is spreading its spirit across the nation.
By Nancy Bartosek
Anticipation ran high as Curtis King '74 (MA) headed north from his home state of Mississippi for a conference in Chicago in 1972. The aspiring Jackson State University actor knew it would be a spectacular event: a gathering of the best and brightest in the black arts world.
What King didn't know was that this groundbreaking conference, sponsored by the New York-based Black Academy of Arts and Letters, would become a critical juncture in his life.
In retrospect, one might call it fate. King was one of only three students from Jackson selected to attend the conference. The group, a reincarnation of the legendary American Negro Academy once led by W.E.B. DuBois, had big aspirations and, at the time, strong supporters.
But within five years, the Academy fell victim to internal strife and closed its doors.
Jump to 2002. Think Bill Cosby, Eartha Kitt, Ossie Davis and Ruby Dee. Think Dionne Warwick, Maya Angelou, Jennifer Holliday and Cicely Tyson. And then think The Black Academy of Arts and Letters (TBAAL). And Dallas. And Curtis King, director of the acclaimed arts group.
Today TBAAL is the only black arts contingent in the country with its own 250,000-square-foot facility, complete with a 1,750-seat theater, a dinner theater that seats 216, art gallery space, a gift shop and rooms for meetings, weddings and anything else someone might need room for. With a budget of $1.7 million and international recognition, TBAAL has made a permanent mark in Texas, the United States and the arts world by providing a venue for quality black entertainment.
Now think Curtis King again. How did a boy from a Mississippi family led by a farmer father and a school teacher mother get to be a power player in the black arts? Curtis, who is generally filled with enough moxie to power a small army, turns quiet when asked.
"My mission and ministry is in theater, in the artistic world," he says. "This is how I give back to life."
He isn't always so humble. At 40-something, the ebullient King has learned some hard lessons as he's built something important from nothing more than a dream.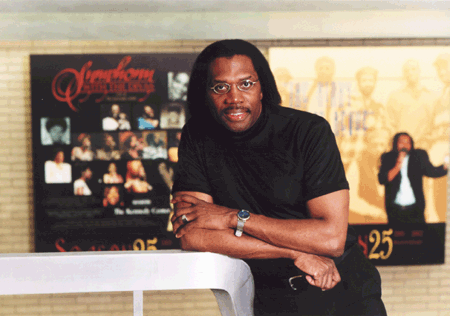 King landed in Texas in 1973 with a fellowship to TCU. While earning a master's in theater, the ambitious student served as the artistic director for Sojourner Truth Players, Fort Worth's first African-American theater and the precursor to the Jubilee Theater.
He lived and worked briefly in New York and Los Angeles after graduating, but could not forget his experience in Chicago. So he started asking around about the defunct Academy. He soon found himself the startled keeper of 45 boxes of documents and pictures -- all that was left of the organization.
So in 1977, with a meager $250 and lots of yet-to-be-focused energy, King revived the idea of a group dedicated to preserving and supporting the black arts -- and founded the Junior Black Academy of Arts and Letters, Inc. (JBAAL). He immediately began recruiting performers and supporters.
Without a home or support base, the fledgling group operated out of his small Dallas apartment, later moving to a steak house for performances before finally renting space on Peak Street in East Dallas near Fair Park.
"I may not have understood what I was doing, but my passion and commitment attracted the support from some big names," King said, laughing at the thought of his naive ambition.
He slogged his way through myriad challenges, including criticism from some within the black community.
He hounded city officials until they started to listen. He wheedled support from unlikely sources, including a couple of white businessmen who persuaded others that supporting JBAAL was good for the city of Dallas. It was a turning point for JBAAL, and King, in many ways. Dallas and JBAAL began to work together within the wider community instead of facing off.
"When you come from the Deep South, if you're wronged or discriminated against, the only thing you know to do is fight," King said. "So I used to be a rebel, a revolutionary. If I felt what happened was wrong, I took it personally. But I always kept fighting for what I believed in."
Along the way, as the organization grew in scope and dropped Junior from the title, King learned to soften his approach. He is still vocal, but in a different way.
"Now I ask questions."
No matter his style, the results are impressive. With a slate of 137 performances and art displays with an African, Caribbean or African-Amer-ican flair for 2001-2002, TBAAL is celebrating its 25th year. And support has never been stronger.
Operating out of his cluttered Dallas Convention Center office, where TBAAL is housed, King promotes the black arts throughout the country. On Sept. 23, he produced "Symphony with the Divas" at the Kennedy Center, a star-studded event hosted by Cicely Tyson that featured Nell Carter, Oleta Adams and Erykah Badu, a Dallas vocalist who grew up attending classes and performing at the Academy.
This year, King was recognized for his work with two national awards: the Unsung Hero Award from the Congressional Black Caucus and the Leon Hamlin Producers Award at the National Black Theater Festival in North Carolina.
He shrugs and says the work is his way of improving the world.
"I see culture as a language to help people understand differences. The arts will bring people together on social levels when nothing else will," he said. "It brings them together on common ground." --NB
To comment on this article, e-mail tcumagazine@tcu.edu