A shady legacy
By Jaime Walker '02
From the editorial pages of the TCU Daily Skiff, Jan. 22, 1915, we bring you some history worth chewing on: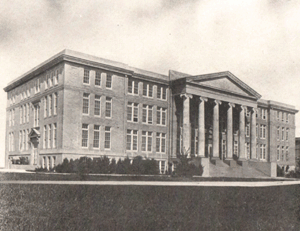 "Several neighborly bovines came over for a short visit with TCU folks the other day, and not finding anyone at the gate to chew the rag with, said bovines, who were out to enjoy themselves, proceeded to make themselves at home and entertained themselves by chewing up all the beautiful shrubbery which adorned the campus adjacent to the Administration building. As a result of their depredation and desecration, what was once a delight to the eye of beauty-loving students is now an eye sore.
"Now TCU folks certainly are delighted to have their neighborly friends come over to see them, but they think that those who are responsible for the journeys of their domestics should be more careful where they go. Somebody should be appointed to enforce the law against trespassing on the university gardens.
"As one stands on the steps of the building and lets his gaze extend over the almost barren campus, he decides that something is needed. A movement is now being agitated to supply that need. Professor Cahoon is circulating a list which all of those who want to see our campus look more like a part of nature are signing with a willing hand. Their signature means that they are going to donate a tree or trees to help beautify the campus.
"February the ninth is to be Arbor Day on the campus. Three hundred trees are wanted and must be secured by that time. Give a tree. It will live as a monument to your generosity and when you are old and return to TCU you will find at least one relic of your existence here."
Top