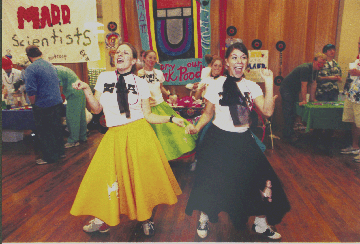 Blending tradition
Alpha Delta Pi's Blend-Off grows into campus favorite.
Mocktails were the guest of honor at of Alpha Delta Pi's third annual Blend-Off in February, but alcohol-free fun for more than 300 Frogs was the star. The Blend-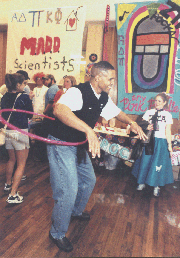 Off, the brainchild of Paula Mabry '77, was started in 1999 for members of the Alpha Delta Pi sorority. Its success drew in others, and this year was open to all the Greek organizations. Its goal is to encourage responsible drinking, as well as raise money for Ronald McDonald House Charities, AD Pi's national philanthropy. Twenty teams decorated their tables, dressed in costumes, made banners and did dances based on their individual theme, in addition to creating their own recipe for a non-alcoholic blended drink. A panel of nine judges "sampled the drinks and ranked the teams based on spirit, taste, presentation and creativity," said event chair Jenna Spain. Zeta Tau Alpha sorority won the grand prize of a trip for four to New Orleans, in keeping with the event's Mardi Gras theme. The Zetas' "pink poodle," made with strawberry ice cream, fresh strawberries, milk and strawberry preserves, was the pick of the contest. Their '50s theme also earned the Zetas the spirit award as well. The event included live music, a raffle and information distributed by the Texas Alcoholic Beverage Commission about underage and responsible drinking. Local businesses helped sponsor the event, giving away raffle prizes, free Smoothies, and a variety of gifts.
Coming to a stadium near you
Post-season college football is back in Fort Worth after 82 years -- and coming to Amon Carter Stadium. On Dec. 23 the first-ever Fort Worth Bowl will kick-off live on ESPN, bringing new national exposure to TCU and the city. Owned and operated by ESPN Regional Television, the bowl game will feature teams from Conference USA and the Big 12. "This is a wonderful day for the City of Fort Worth and for TCU," said Mayor Ken Barr '64. "Football fans from across the nation will see what fine history, culture and hospitality Fort Worth has to offer, and they will see what first-class facilities TCU has to offer." The December bowl game will not be the first for the city. The Fort Worth Classic was inaugurated on New Year's Day 1921 when promoters staged a game between TCU and Centre College.
The start of something big
A standing-room-only gathering at the Kelly Alumni Center in April truly did "ring" in what is fast becoming an enduring TCU tradition. "The Class of 2003 will always have a unique place in Horned Frog history -- for it is your class that is the first to wear this special ring," said Chancellor Michael Ferrari. In a surprise moment, Ferrari and wife Jan became two of those "firsts" when the Alumni Association awarded them rings as a gift. The new signet ring is available only to alumni who have completed at least 69 credit hours. Incoming freshmen each receive a keychain with a replica of the ring to show them what they can are working for -- membership in the Horned Frog Family. Among this inaugural group were five members of Michael Wallach's '75 family, all of whom now proudly wear the new signet ring: Son Landon Wallach and his cousin Holley Hailey Precsott, who each graduated in April; James D. Hailey, Sr. '56, grandfather of Landon and Holley; and Michael's wife Susan, who will complete an MLA in December. For information on the ring, write to alumni@tcu.edu or call 817-257-5039 or 800-464-4TCU.
Serving up goodwill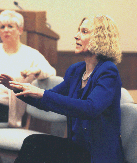 Legal ethicist and firebrand philosopher Martha Nussbaum, Honors Convocation speaker in April, believes that a culture of respectful compassion can be achieved "through an appreciation of common human weakness and vulnerability." "Young people, especially at the crucial time on the verge of adulthood, should learn to be strategic spectators and to understand, with increasing subtlety and responsiveness, the predicaments to which the human life is prone," she said in a talk examining "Liberal Education and Global Responsibility." Later in the day, Nussbaum, the Ernst Freund Distinguished Service Professor of Law and Ethics at the University of Chicago Law School, shared her thoughts on law, divinity, literature, philosophy and constitutional rights with a group of honors students and faculty. Unafraid of controversy, Nussbaum has addressed gender inequality, the positive and negative aspects of patriotism, and a host of other topics.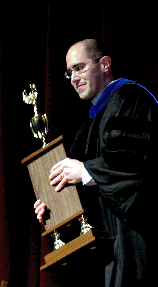 Faculty favorite
Ronald L. Pitcock, assistant professor of English, was presented with the 2003 Honors Faculty Recognition Award during Honors Convocation in April. Pitcock, who came to TCU in the summer of 2001 with specialties in rhetoric, composition and American literature, thanked his family, colleagues, students. "My students challenge me everyday to make stronger connections between the local and the global, private and public, theoretical and practical," he said
Future building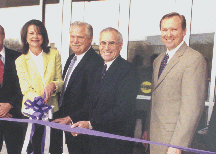 Where others saw a parking lot, David Minor saw a building. And a future for an outstanding entrepreneurial program recently named a Top 50 in the U.S. "The M.J. Neeley School of Business wanted a strong entrepreneurial program, and part of that equation was a facility primarily dedicated to entrepreneurial studies," said Minor, director of the James A. Ryffel Center for Entrepreneurial Studies. The dream came true in April with the dedication of the Steve and Sarah Smith Entrepreneurs Hall, a decidedly student-centered building with 50,000 square feet of space. With 13 classrooms equipped with the latest technology, 17 team rooms and five interview rooms, the capacity of the business school grew by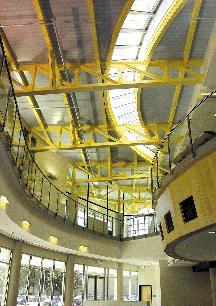 more than 50 percent. The hall is home to the Ryffel Center, the MBA academic program and the Graduate Career Services Center. The three-story hall is similar to an "idea lab," with classrooms containing large quantities of "white board" space for design development and computerized audio-visual tools for electronic presentations. Fiber optics, computer labs, and on- and off-campus videoconferencing capabilities are also highlights. A barrel-shaped copper roof and a wall of glass highlight the exterior. The new facility also increases the Neeley School's capacity to reach out to others. Beyond research initiatives conducted by faculty to help further the field of entrepreneurship, the Ryffel Center will continue to offer learning opportunities for professional entrepreneurs and summer institutes and award programs for entrepreneurial high school students. MBA students also will continue to share their skills through the Student Enterprise program, a consulting service that makes Neeley students' expertise available to corporate clients. Companies including Wells Fargo Texas and Hillwood Properties have utilized Student Enterprise services. Neeley's 3-year-old entrepreneurship program, housed in the hall, was made possible by a $10.5 million gift from TCU parents Steve and Sarah Smith and was ranked as a top 50 national program by Entrepreneur magazine this spring.
Books and Broadway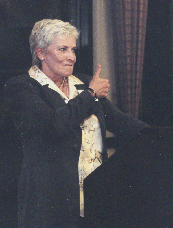 Betty Buckley '68 took the stage once again at TCU in April, but this time it was to talk about her experiences on Broadway and her excitement about returning to Texas where she plans to buy a ranch. The featured speaker for the annual Friends of the Mary Couts Burnett Library banquet, which drew 135 attendees, Buckley told the crowd she was happy to be heading home to Texas. Jeff Guinn of the Fort Worth Star-Telegram was recognized at the banquet as the winner of the Friends' second biennial TCU Texas Book award. Guinn's Our Land Before We Die was written after seven years of research and more than two dozen interviews. It is a history of African runaway slaves who fled to Florida uniting with the Seminole Indians in the 18th century. The Texas Book award recognizes the best book on Texas published in the previous two calendar years. Guinn, who recently celebrated 20 years at the Star-Telegram and is a former adjunct professor of journalism at TCU, received $5,000 for the award.
Science showcase
As nutritional sciences professor Lyn Dart says, biology majors usually stick with biology majors. Same for physics. And psychology. But the College of Science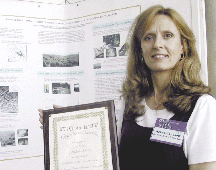 and Engineering's first-ever Student Research Symposium in April brought together graduate and undergraduate students of all disciplines to showcase the fruits of their labor and celebrate the pursuit of the sciences. The symposium spread out over four floors of the Tucker Technology Center, with student display boards filling the hallways. More than 150 students participated, alternating between explaining their work to anyone who would listen and venturing out to learn about what others were showing. "The symposium was a tremendous success. It gave our students a chance to mingle and show how hard they've worked on their research," said Dart, chairwoman of the symposium. "It is extra special for science students to be able to do that because they have such a passion for learning and sharing what they know with their peers." "These projects are more than just a class
requirement for a lot of the students here," said senior chemistry major Andy Neilson. "They enjoy the pursuit of learning and extending the learning process beyond the classroom." Karyn Purvis, doctoral student of psychology, spent 80 hours per week to prepare her three displays on developmental research, but she was interested in what other students were working on. "It's really a treat for TCU to give us the chance to work together and brainstorm and exchange some thoughts," Purvis said. "This is a step towards the practical application of our mission statement." A panel of faculty judges selected the best displays based on technical merit, visual presentation and an oral report.
Winners included:
Undergraduate Awards:
1st - Sarah Bates (Physics & Anatomy)
2nd - Rebecca Whitesell (Biology)
3rd - Sara Komenda (Biology)
Graduate Awards:
1st - Nancy Johnson (Environmental Science)
2nd - Xiangyang Lei (Chemistry)
3rd - Tamara Basham (Environmental Science).
Operation H.O.T.

More than 200 care packages, filled with chips, candy, gum, stationary, lots and lots of baby wipes, sunscreen, lip balm, chapstick, pens, pencils, envelopes, paper -- and of course messages of support -- cheered troops at Diego Garcia Air Base in Indian Ocean territory this spring, thanks to TCU's Air Force ROTC Anderson Squadron. Calling the effort Operation H.O.T. (Help Our Troops), cadets pulled together resources from the whole campus as fraternities and sororities, athletic teams, faculty organizations, community members and the Student Government Association filled boxes. "I'm sure that none of the items sound very interesting, but when you put all the boxes together the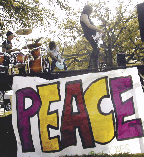 donation is going to service hundreds of servicemen," said Cadet Jessica Waddle, Operation H.O.T. Liaison Officer. "Student Government, along with the Air Force Association also contributed funds to help with the costs of shipping the packages,"she added. Cadets also made a special request to the 28th Air Expeditionary Wing stationed at Diego Garcia Air Base. They sent American and TCU flags, asking that each be flown in a mission or sortie in the B-1 or B-52 bombers stationed there, then returned to TCU as a gift. Phi Delta Theta Fraternity, the group that gathered the most boxes, was presented with the flags for display.
Fighting the good fight
Following a call to find Frogs involved in the armed conflicts, we received the following names. If you know of other Frogs serving our country in this war against terrorism, let us know by calling 817-257-5059 or by e-mail at tcumagazine@tcu.edu.

1st Lt. Sarah Farmer '00 Sarah is serving in Kandahar, Afghanistan as the Task Force Devil Direct Support Shop Officer in the Logistics Task Force 307, 1st Brigade, 82nd Airborne Division. Sarah writes: " I am proud to be doing my part to ensure the safety of every soldier here, as well as every civilian back in the United States. God Bless America, and God Bless TCU!" Write to sarah.farmer@us.army.mil.
Capt. Elden D Lacer '91 Elden is serving as Commander of HHC, 1-227th Aviation Regiment, 1st Cav Division, Fort Hood, Texas, an "Attack" Apache Longbow Helicopter Battalion. He deployed to Kuwait Feb. 12, when his Battalion was attached to the 11th Aviation Regiment out of Germany. Elden's wife Rana wrote in March: "His unit recently lost an Apache helicopter and two pilots from C Company were taken POW." Write to elacer@hot.rr.com.
Capt. Scott A. Leblond '95 Scott was deployed in April with the Army's 4th Infantry Division from Fort Hood, Texas. He flies a Kiowa Warrior helicopter and is the Commander of Echo Troop from the 1-10CAV, 4th Brigade. Scott's sister, Nicole Leblond Davault '98, writes that Scott and wife Becky have three children: Taven, 5; Ashlin, 3: and Makenzie, 18 months.
Col. W. Neal Burnette '66 Neal is a 33-year Army Reservist called to active duty in November, 2001, as a consequence of 9/11. Initially, he served as an advisor on recombinant DNA development to the Military Infectious Diseases Directorate of the US Army Medical Research and Materiel Command, Fort Detrick, Md. He is now the medical deputy and assistant Program Executive Officer for Chemical and Biological Defense at the Pentagon.
Lt. Mark Kitchens '94 A former Deputy Press Secretary in the Clinton White House, Larry is in the Naval Reserve and was called to active duty, assigned to Central Command HQ in Doha, Qatar, where he is quoted as spokesman through various news outlets.
Remembering Tristan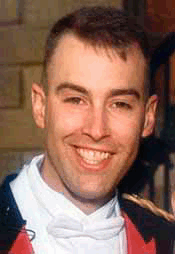 In March, TCU lost one of its own in the war against terrorism. Army Capt. Tristan Aitken '95 was killed by a rocket-propelled grenade shot through the window of a Humvee he and another soldier were driving near Saddam International Airport outside Baghdad. I knew Tristen. He was a fraternity brother of mine in the Christian organization Beta Upsilon Chi (Brothers Under Christ). I didn't know Tristen that well, but we were friendly. And I knew what he stood for. We prayed together, studied the Bible together and sang songs together with other brothers in BUX. I know he cared about others. He was a pre-med major and regularly talked about helping the sick. Above all, he was a follower of Christ. I remember he was admired by people in BUX and out as a strong student. Many students talked highly of his love of country and devotion to ROTC. In Iraq, he oversaw medical and munitions supplies and logistics for his battalion. I read where his father Ronald said he probably would not have chosen to go to Iraq, but he was was a soldier, a member of a military family taught to take orders and not grumble. That was the Tristan I knew. In an e-mail he sent to a school chum before his death, he asked "for prayers that he bring his men back safely" and closed with the "Winner's Creed," the recitation he and high school classmates offered back when he ran track and played basketball and soccer: A true winner always gives his best, not to the glory of self, but always to the glory of God. That was Tristan. Rest in peace, brother. -RW
Spring Break in Belize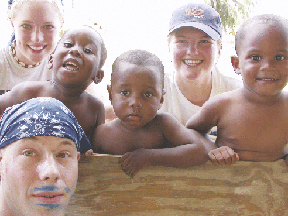 There wasn't much time for lounging on the beach during spring break for 37 TCU students -- they were in Belize City helping build an orphanage and working with the children. Sponsored by Christ Chapel Bible Church in Fort Worth, the trip was an eye-opener for the students, said Allisa Brill, a nursing sophomore. "The poverty was so horrible. It makes you realize we have it so good here," she said. "You look at them and they have nothing. But they were happy and content with their lives. It really made me realize that strength in the Lord is so important. I realized that no matter how bad I've got it, He's still blessing me every day." The group brought lice shampoo to treat the children and taught them Bible classes. Some helped in an area known as the Burial Grounds. "This area consisted of shacks that were elevated over the swampy sewer regions of Belize City," said Ryan McCarthy, Bible Church minister for TCU and the College Director at Christ Chapel Bible Church. "There, we went door-to-door conducting medical surveys and sharing the Gospel of Jesus Christ. "It was an amazing experience and a great success -- for us and for those we served." Brill said she's anxious to go back and work with the medical missions in the Burial Grounds. "The people who went to the beach for spring break? Yeah, that's fun, that's great. But in terms of growingÉthis was incredible."
Leading a Brite future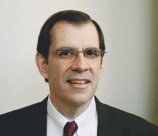 D. Newell Williams, professor of church history at Christian Theological Seminary in Indianapolis, was named the president of Brite Divinity School at TCU by the Brite Board of Trustees in May. "Dr. Williams is gifted with a combination of skills as a scholar and administrator, and possesses a collegial, inclusive management style that will serve Brite well," said Roy Snodgrass, chairman of the Brite Board of Trustees. "It is particularly important that he is committed to continuing Brite's strong tradition of diversity and ecumenism." Williams will become the eighth leader of the institution since its incorporation in 1914. Williams was hired after a six-month, nationwide search. Prior to his current teaching position at CTS, Williams served as its vice president and dean from 1992-1998, and was an associate professor of modern and American church history there, beginning in 1984.
Catholic lectureship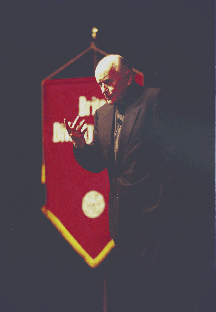 "I believe sex is a sacrament. It reveals God's love for us. We've done everything we could in the last 35 years to drive Catholics out of the church, and they wouldn't go. I think people are shocked and angry, but they distinguish between the stupidity of some bishops and the sexual urgings of some priests and the Catholic heritage in which they believe."
-- Rev. Andrew Greeley, a Chicago Catholic priest, sociologist and best-selling author who spoke on "The Present Condition of the Catholic Church" at Brite Divinity School's first-ever Catholic lectureship)
Rise and Run nets $22,000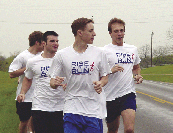 They left on a cloudy and wind-swept Thursday, taking back roads and twisted two-lane highways. The distance to go? About 250 miles. There were almost 70 runners hoofing it south in 30-minute shifts on the blacktops of small-town Texas toward Houston. From Frog Fountain they headed south out of Fort Worth, eventually winding their way into the Bayou City. They are the members of Rise and Run, a program started by TCU students last fall to benefit the TCU Rise School, a preschool on campus for children with Down syndrome that was renamed KinderFrogs School in April. The idea developed among a group of students who have routinely assisted the staff at Rise, which currently enrolls 23 youngsters. That means playing with the children. "This is fabulous. I'm so proud of these boys," said Kathy Cooter, director of the school. "They're a constant presence at the school and it's interesting that all of them are young men. People would think that it would be the women who would be coming to hold and play with the babies." The students are also successful fund-raisers. In just six weeks the nonprofit organization has raised more than $22,000 for the school, said Andrew Smith, a junior. They hope to develop an endowment that will pay tuition for the school to low-income families. Donations are tax-deductible. For information, call (817) 257-3156 or visit online at www.riseandrun.org.
Lesson in government

He's a Democrat. She's a Republican. He grew up in rustic West Texas and wanted a ranch more than a college degree. She is a single mother of three who wound up in politics in the early '90s because of her concern over school vouchers. U.S. Representatives Charles Stenholm and Kay Granger could not be more opposite, but they both share a passion for civic participation and minimizing society's boundaries of race, religion, economic level and special interest. That is why they chose to share their views at the Civility in Government Congressional Student Forum at the Dee J. Kelly Alumni Center in March. The event was sponsored by the TCU Leadership Center. While their areas of expertise are different -- his is agriculture and hers is education -- both representatives took an early-bird flight from Washington after a late-night budget-wrangling session to share their thoughts on handling partisanship, the Israel-Palestine land dispute, ethical fund raising, youth violence and more. "I think what gets in the way of us being civil is our belief system, which was instilled in us a young people," Granger said. "Part of our problem is that our culture and our media are focused too much on violence and disrespect," Stenholm said. "It's packaged as entertainment, and that leads to a caring for self that degrades how we see others." More than 100 students from TCU, UTA and area high schools attended the forum.
In brief
New Texas History chair named
Gregg Cantrell, professor of history at the University of North Texas, has been named the first Erma and Ralph Lowe Chair of Texas History at TCU. The endowed position, created in October by a $1.5 million gift from local businesswoman Mary Ralph Lowe in honor of her parents, is the first of its kind at any Texas college or university.
New name, same great program
The TCU School of Education laboratory preschool for children with Down syndrome, founded in August 2000 as the Rise School at TCU, will now operate as an independent preschool called KinderFrogs School. The program, the only one of its kind in Tarrant County, currently serves 20 students, ages 2 to 5. A surprise gift of $25,000 to KinderFrogs School by the men of Pi Kappa Phi fraternity accompanies the name change. The TCU chapter of Pi Kappa Phi has raised thousands of dollars and committed hundreds of hours of volunteer as they mentored in the Rise classroom, built a playground behind the school, helped endow student scholarships (funded by 20 TCU Greek organizations), and founded a nonprofit organization that raises money through a relay race from Fort Worth to Houston.
Top 50
The M. J. Neeley School of Business entrepreneurship program was ranked by Entrepreneur magazine as a top 50 national comprehensive entrepreneurial program, along with schools such as Stanford, MIT and Harvard. More than 700 universities with entrepreneurial programs were researched. Rankings were based on 30 criteria, including course offerings, teaching and research faculty, business/community outreaches, research centers and institutes, advisory boards, off-campus programs, degrees and certificates offered, and faculty and alumni evaluations. For more information, go to www.neeley.tcu.edu, call 817-257-6544 or e-mail d.minor@tcu.edu.
First chancellor staff awardee
John Butler, minister to the University, was the first recipient of the new Chancellor's Staff Award for Outstanding Service. Butlers' accomplishments as a catalyst for growth of community service among students and efforts to increase campus diversity were cited at the award ceremony.
IBR gets 3.25 million grant
TCU's Institute of Behavioral Research (IBR) has received a five-year, $3.25 million grant from the National Institute on Drug Abuse (NIDA) to further develop an assessment system that can be used by drug abuse treatment providers to measure the impact of organizational attributes and program resources on clients and program operations.
Kudos
The 2002 TCU Football Media Guide has been judged fourth best in the nation for Division I schools by College Sports Information Directors of America. The 296-page book was written, edited and designed by TCU Director of Athletics Media Relations Director Steve Fink.
TCU Tomes
Paul Baker and the Integration of Abilities
Edited by Robert Flynn and Eugene McKinney
TCU Press


Paul Baker, called "one of the most important minds in the world of theater today," has made a career out of inventing new ways of doing things. His roles as director, teacher and mentor of the arts, and theater architecture visionary have won critical and academic accolades. Here Baker tells how a summer in Paris gave him a new way of looking at theater. It includes chapters on writing, acting, directing, speech and design as well. Based on Baker's famous class "The Integration of Abilities," Flynn and McKinney's book lends insight into the philosophies and contributions of a theater genius. It is available at bookstores nationwide..
El Sol Colorado
By Jenny Lind Porter '48 (MA '49)
outhwest Classics Press
The Baron Hans von Meusebach, who led 7,000 settlers into Texas in 1845-46, figures prominently in El Sol Colorado, a historical novel by national award-winning author and educator Jenny Lind Porter, a former Poet Laureate of Texas. The novel brings to life a band of Texas heroes with major roles in the early settling of Texas. Von Meusebach is credited with founding the city of Fredericksburg in central Texas, as well as negotiating a lasting peace treaty with the Comanche tribe in 1847. Porter's novel recreates early Texas with a sweep from Matagorda Bay to Paint Rock. It is available from Southwest Classics Press, PO Box 5391, Austin, Texas 78763-5391.
The Wind's Will
By Nancy Vance Cooley (MA '42)
Publish America

Set on the western frontier of Texas in the 1860s, The Wind's Will follows fictional hero Sam Houston Gossett on his quest to recover his lost identity and mend fences with his father. The novel has several dramatic turns; Sam encounters natural disasters, Civil War woes, murder, intrigue and has a bout with amnesia during his travels. The Wind's Will, first novel of Nancy Vance Cooley, illustrates her interest in Texas History. She has previously published articles, short stories and poetry and taught high school and college English. The novel is available from Publish America at www.PublishAmerica.com.