Staging opportunities
From New York to Fort Worth, antsy 'Amphibians' are creating their own work.
By Rachel Stowe Master '91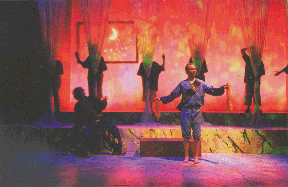 Great talent sometimes isn't enough in the theater world. You still need a script, a stage and people who believe in you.
One trio of TCU pals who believed in themselves joined forces in 2000 and launched Amphibian Productions, an up-and-coming theater company that is offering an exciting new season in both New York and Fort Worth.
Carman Lacivita '99, the company's human resource director, and fellow founders Kathleen Anderson Milne '01 and Jamie Wollrab '99 began the company with a lot of moxie and one simple desire -- to have an outlet to do what they love.
"We really wanted to create a company where we were allowed to do the things we wanted to do as artists now, rather than have to wait until we'd gained credits from regional companies," she said.
Named for their beloved alma mater and a penchant for adapting, Amphibian Productions now offers that outlet to some 30 members, 24 of whom are Frogs. A half-dozen share ties to New Jersey's Rutgers University, where Lacivita and Wollrab earned MFAs in acting.
This season the group will perform Shaun Prendergast's The True History of the Tragic Life and Triumphant Death of Julia Pastrana, the Ugliest Woman in the World in both cities, while David Haig's The Good Samaritan is slated for TCU's stage. Both are U.S. premieres, noted Milne, the company's artistic director and resident playwright. The Amphibians also plan a New York reading of Triptych, a new play by Joel Chace.
In 2000, the group debuted in Fort Worth with Lanford Wilson's Burn This, along with a staged reading of Milne's own La Llorona. The applause had barely died down when -- "because of youth and not knowing any better," in Wollrab's words -- the Amphibians made plans for another play in Texas and one in New York.
"It was just one of those deals that we couldn't let go," Milne said. "It was too good. Not to say we were that good, but it was this energy."
In 2001, the group brought Richard Greenberg's Three Days of Rain to Fort Worth and took Milne's A Leopard Complains of Its Spots to New York. Milne's play is about a 25-year-old man who still lives with his parents. He wants to be a writer (but has no talent), and his parents want him to get a "real job."
"We chose it because we wrote it," Milne said with a laugh. "And because Jamie at this age is perfect for the lead. In New York if you produce a play, it really needs to be a new work or an old work with a new twist, or you get no interest. Here, regionally, it's just the opposite. They want something that has done well in New York or that they've heard of."
Wollrab said the company tries not to choose anything too conventional or commercial but instead is challenging and fun for actors and designers. Which is important, he said, "if you're going to try to entice someone to come down and work for not very much."
The group has discovered that artistic vision and talent alone can't carry a company. Money can be a real showstopper, and these theatre majors have been forced to take crash courses in marketing and PR.
Funding has come from family and friends, in-kind and corporate donations, ticket sales and memberships. Now they're trying their hands at grant writing.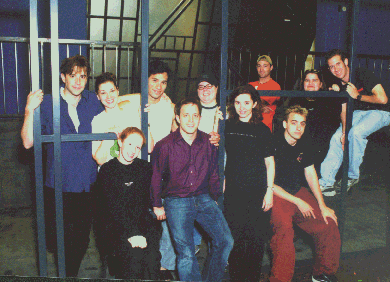 "We've just received a grant from the Fort Worth Arts Council, which is nice because it's like getting the Good Housekeeping Seal of Approval," Milne said.
And the universities that nurtured them have been supportive.
"The faculties and departments of those schools have been very generous," Lacivita said. "Being one of the first theatre companies out of TCU, we're looking to bring up the name of the theatre department at TCU. A lot of talent comes out of that school and needs to be recognized."
Long term, the Amphibians have visions of expanding to a full season, acquiring their own space and continuing to do work that makes people happy.
"It's about being a group, a whole," Wollrab said. "We're all connected. No one's more important than anyone else. We learned that at TCU. We learned how to be an ensemble. We learned how to -- as much as we can -- keep our egos in check and work as a group, and at the same time keep our leadership skills."
For more about the company, go to www.amphibianproductions.com.
Rachel Stowe Master '91 and husband, Kevin '91 (MBA), live in an area of unincorporated Tarrant County with their three sons.
To comment on this article, e-mail tcumagazine@tcu.edu