Voice of the Frogs
From award-winning TCU football broadcasts to daily updates on ESPN Radio, Brian Estridge is a regular on the Metroplex airwaves in season or out.
By Rick Waters '95
On an unusually steamy September Saturday in Evanston, Ill., Brian Estridge stands in the visitor's press box in wet trousers -- soaked from a spilled bottle of Evian -- preparing to call a crucial third-and-seven for the TCU offense.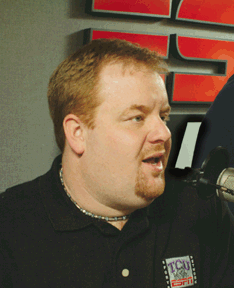 Stifling a snicker, color analyst John Denton can't bear to watch. The Voice of the Horned Frogs is attempting to shed his khakis during the play, on the air.
Gunn fades back to pass ...
With a hand steadying his headset, Estridge unbuckles his belt and kicks off his loafers.
Looks left. Steps up to avoid the rush. Scrambles right. He's got his tight end across the middle. Fires. Got him. It's Ellis ...
The baritone's timbre rises as his pants inch downward. When they get past his knees, he braces himself against a wall, balances carefully and steps out of the legs. First the left.
Ellis rumbles to the sideline ...
Then the right.
Where he's corralled by two Wildcats at the 37. First down TCU!
Free of the soggy britches, Estridge gives them a gentle fold, shakes his head in disgust and drapes them over the press box window to dry in the sun.
Completion's good for eight yards. Big play for the Frogs!
That's Denton's cue to speak, but he can barely muster a word.
Statistician Brian Sperry, engineer Randy Myers and spotter Wayne Gossard, red from muffled laughter, aren't helping much.
Finally, Denton manages, "Well, that was some escape," and the booth erupts in belly laughs. But the broadcast continues -- Estridge now in boxer shorts and socks -- with the radio audience none the wiser.
"Besides being unbelievably funny, it was a pretty damned ugly sight," Denton remembers six months later. "But it gives you an idea of how professional Brian is. The broadcast is always most important. It's his baby."
Surely few broadcasts are as prepared for and worried over as much as Estridge's. And perhaps few sound as good. Catchy ESPN music. Scripted intros. Timely statistics. Insightful anecdotes. Behind-the-scenes interviews. All go through his hands.
"He's got a feel for the production side of the business that is better than anybody in the country," says Wes Durham, a longtime friend who calls games for the Georgia Tech Yellow Jackets and regularly trades compact discs with Estridge to compare each other's work. "TCU broadcasts sound big time. They have a quality that resonates when it comes on the air."
TCU fans have known Estridge for six seasons on KTCU FM-88.7 and for three on KESN FM-103.3, and now the affable redhead and his crew are beginning to receive statewide recognition. The Texas Association of Press Broadcasters was so impressed by his Liberty Bowl call this spring that it proclaimed TCU football the state's best collegiate play-by-play. Buddies remind Estridge that he finished ahead of Broadcasting Hall of Famer Milo Hamilton of the Houston Astros. Someday he'll be a legendary man behind the mic, too, they say.
Estridge is honored, but the award is a distinction he's quick to share. "There are a lot of guys who don't get a lot of notoriety who make our broadcasts shine," he says. "When everyone is on the same page, there's a rhythm to the show and it flows easier."
It takes 10 people to get a TCU broadcast on the air, and whether it's The Gary Patterson Show, The Neil Dougherty Show or any home or away football or basketball game, listeners can be assured that Estridge has his bases covered.
He attends nearly every practice, where players, coaches, even athletic trainers chat him up about zone defenses, weakside blitzes and the latest tweaked ankle. Mundane topics, such as state politics or Southern rock, are fair game. (Estridge, by the way, jams to 38 Special and Lynyrd Skynyrd.) Don't be fooled, though, this is more than idle chit-chat. Estridge is mining for material he'll share during a slow moment in the third quarter the following week.
"He's a hell of an interviewer," says basketball broadcasting partner Herb Stephens, who played hoops for the Frogs in the early 1970s. "Whether it's on the air or not, he doesn't talk to a coach or a player with a long list of questions, maybe two or three tops. What he does so well is listen, and then he asks follow-up questions. And that makes it a real interview, almost a conversation."
Denton, Estridge's football partner, says that "every time I listen to him talk to a coach on the air, I think, 'I wish he would ask that.' And it's always the very next question."
And Estridge is as much a regular in the film room as are the assistant coaches. They kid him that if he could broadcast from the sidelines, he could call their plays, too. "That's why he's able to set the stage and describe the action so clearly. He's seen it during the week," says Kevin O'Connell, TCU associate athletic director. "It's personalized for our fans. And he does all that with such excitement and enthusiasm in his voice."
Oh, those dreamy dulcets! In the radio business, announcers with a deep, rich voice are said to have "great pipes." Estridge started working on his as an 8-year-old in Kershaw, S.C., in the heart of Gamecock country. His first studio was his bedroom, where he spent Saturday afternoons in front of a muted television and called the action, even sprinkling in made-up statistics and anecdotes.
"I knew all the players and most of the plays," he says now. "Most kids in my neighborhood played cowboys and Indians. I played broadcaster."
By 14, he was doing play-by-play for real. His first game was the South Carolina girls' high school basketball championship on his hometown station, where he would work throughout high school.
By the time he was ready to graduate from Appalachian State University, Estridge had been the football sidelines reporter and basketball color analyst. But when the Mountaineers' play-by-play man left during Estridge's senior year, the university couldn't hire an outside replacement because of a hiring freeze. Guess who landed the job?
Estridge decided early on that ASU should stop outsourcing its radio network and develop its own. "He went on the road from station to station and talked to the station managers, promising that he would provide the state's best broadcast if they would put ASU on the air," says Mark Dreibelbis, associate athletic director at Appalachian State. "It wound up becoming a driving revenue source."
His first big coup was signing a 100,000-watt station that had just dropped Duke basketball. Other stations followed, and the Mountaineer Network grew from two stations to 21 -- impressive for a Southern Conference school in a market dominated by the ACC and SEC.
Estridge worked day and night on inventory and purchase plans, and they proved so efficient that they remain in use today. "Brian had a passion to make this work. He is so skilled in salesmanship and has a tireless work ethic," Dreibelbis says. "He's just such a great planner and dreamer. Then he goes out and figures out a way to make it work."
Next, Estridge suggested a television network, and he wooed station managers with the same sales pitch he used for radio. He used communications undergraduates -- free labor -- to film coaches' shows on campus and feed to network and cable outlets. The result was another revenue source and more equipment upgrades.
After a few years, he left his alma mater for Miami University in Oxford, Ohio. "I needed to prove to myself that I could do the same thing somewhere else," he says.
When he arrived, Miami had coverage on one tiny station in Oxford, out of range for Redhawk fans in Cincinnati and Dayton.
That didn't last long.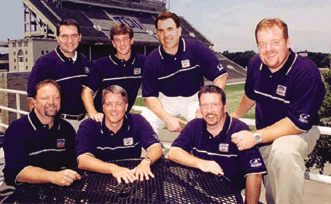 "Brian used his networking abilities to add a few stations here and there," says Mike Wolf, who was sports information director at the time, and now at Northwestern. "Then he got a big 50,000-watt FM in Richmond, Ind., and our alums in Dayton, Cincinnati and Indianapolis all could hear us. It put Redhawk sports all over southern Ohio and Indiana."
Estridge's work also impressed Miami Athletic Director Eric Hyman, so much so that when Hyman left for TCU, he called Estridge with an opportunity to grow the Horned Frog Radio Network.
"He's immensely talented on the air, and his product is very professional in quality and content," Hyman says. "I knew Brian was the man for the job."
TCU football had been all over the AM and FM dials for a decade and badly needed stability. After Texas A&M broke off from Host Communication, which owned the Southwest Conference rights in the late 1980s, other schools began doing the same. TCU cut a deal with WBAP AM-820. It lasted two seasons. Then came a move to Fox Radio AM-1190 for a year, then to upstart KTCK AM-1310 in 1994. Two years later, the university turned to AM station KCLE 1140 in Cleburne. By then, alums were complaining.
The first thing Estridge did was broker a deal to get Frog football on Fort Worth FM station KWRD 94.9. When ESPN Radio entered the market in 1999, Estridge pounced first, before Texas, Texas A&M or any other school in the state.
And that's where TCU football will be for the foreseeable future. "TCU really is reaping the benefits of being associated with ESPN," O'Connell says, "but I think it's starting to go back the other way, too. As our teams win consistently, we'll be good for them. And Brian's broadcasts are a major part of that."
Estridge doesn't argue: "Our best broadcasts are when TCU wins. The energy and excitement are much better."
But he's quick to remind anyone who will listen that he is not a "homer," an announcer with obvious leanings toward the home team. Some alums and even some in the TCU Athletics Department sometimes wish he'd pull a little more for the purple and white.
"I won't do that. It's not professional," Estridge says. "Look, losses kill me just as much as anyone else, but I'm not going to say 'us ' and 'we' on the air."
But you will hear more of Estridge on 103.3 announcing more than TCU broadcasts. Five afternoons a week, he writes and reads the SportsCenter updates every 20 minutes and occasionally fills in as a drive time co-host. "Brian is a terrific play-by-play talent, and we're finding out that he has a lot to offer in other areas," says 103.3 operations manager Scott Masteller. "In a business of egos, his doesn't show that he's as good as he is."
Could there be a Brian Estridge Show in his future? Maybe. But Estridge would prefer first an NCAA berth, something he has never called.
"That title -- Voice of the Frogs -- is not something I call myself," he says. "If somebody else wants to call me that, fine. But I do know it is something that carries a lot of responsibility. I'm the eyes and ears for a lot of fans, and I take great pride in that."
Contact Estridge at b.estridge@tcu.edu.
Spring Roundup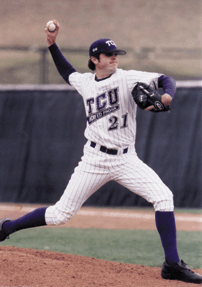 Baseball. With one series remaining in the regular season at press time, the Horned Frogs (33-19, 20-7 C-USA) were a half-game out of first place and in contention for their first conference title since 1994. The team, also in good position for a bid to the NCAA Regionals, has gotten strong play at the plate (sophomore Jake Duncan, .372, 10 HR, 39 RBI and senior Mike Settle, .349, 6 HR, 53 RBI) and on the mound (junior right-hander Clayton Jerome, 9-2, 2.08 ERA).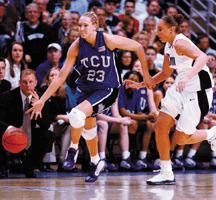 Women's basketball. These Lady Frog forays into the NCAA Tournament just keep getting more exciting. For the third consecutive year, the hoopsters were matched against a Big 10 opponent in the first round (this time No. 8 seed Michigan State), hung on for a hard-fought victory and advanced to a second round matchup against a top seed on their home floor. This year, the Lady Frogs stood toe to toe with the No. 1 seed Connecticut in Storrs, Conn., where the Lady Huskies hadn't lost in 62 games. If the Frogs (20-14) had any nerves, they didn't show. In fact, they made it into a television opportunity. The team toured nearby ESPN and worked out at the network's outdoor practice courts. Coach Jeff Mittie was even bold enough to predict a Lady Frog victory. And for a half, his team made him a prophet. They led the vaunted Huskies 35-33 at intermission, before foul trouble and the Huskies' stifling defense put UConn on top for good. The strong showing and a roster packed with returnees earned the team a Top 20 ranking for next season by womenscollegehoops.com.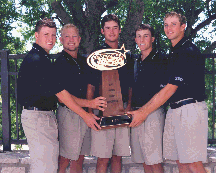 Golf. The eighth-ranked men won their third consecutive conference championship in April and earned its 14th straight berth in the NCAA Regionals. Senior Adam Rubinson was named Conference USA Player of the Year, while newcomer Colby Beckstrom was selected Freshman of the Year in the league. Head Coach Bill Montigel was tabbed the conference's top coach. Joining Rubinson on the all-conference first team were junior Adam Meyer and sophomore David Schultz. The women earned an eighth consecutive NCAA regional bid, but fell eight strokes short of reaching a ninth NCAA Championship. Junior Brooke Tull was named Conference USA Player of the Year and made the league's first team and all-tournament team. Sophomore D'Rae Ward finished first at the league tournament and was selected second team all-C-USA. And newcomer Stephanie Godare was named to the all-freshman team.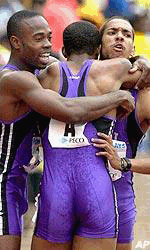 Track. The Flyin' Frogs won the 4x400-meter relay at the Penn Relays in Philadelphia in April for the second time in school history, with a time of 3 minutes, 5.41 seconds. They became the team to beat in May at the NCAA Outdoor Championships. The Horned Frogs foursome of Jason Morgan, Jerry Harris, Jackson Langat and Brandon Simpson beat second-place Texas, which finished at 3:06.47.
Tennis. The No. 24 ranked men's tennis team reached the NCAA Regional Finals again before dropping a close match to No. 3 Baylor. The year was marked by the hustle of junior Alex Menichini, who was named to the all-conference first team. Senior Toni Gordon and sophomore Fabrizio Sestini made second team all-C-USA. On the women's side, the Lady Frogs' No. 1 duo of junior Paty Aburto and senior Rosa Perez made the league's first team, while junior Saber Pierce earned third-team kudos.
NFL signees. Wide receivers Adrian Madise and LaTarence Dunbar were selected in the fifth and sixth rounds, respectively, in the NFL Draft in April. Madise went No. 158 overall to the Denver Broncos, while Dunbar was taken by the Atlanta Falcons with the 196th pick. Meanwhile, six other Frogs signed contracts as free agents. Safety Kenneth Hilliard agreed to terms with the Buffalo Bills. The Detroit Lions inked defensive lineman John Turntine and fullback Reggie Holts. Linebacker LaMarcus McDonald will join LaDainian Tomlinson as a San Diego Charger, while cornerback Jason Goss will go to the Chicago Bears and offensive lineman Jamal Powell to the Tennessee Titans.
Top