Life savers
Ground-breaking research program gets air time on NBC's Dateline.
Families who call The Hope Connection are desperate. Torn apart and hurting. They brought a child into their home through adoption, only to discover that copious amounts of love is sometimes not enough to help children severely damaged by prior neglect and abuse.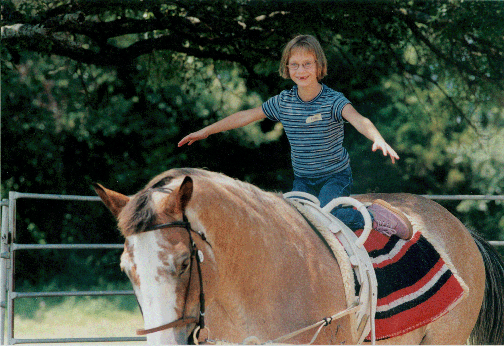 David Cross, director of Developmental Research, which runs The Hope Connection, has good news. This ground-breaking research-based intervention and training program can help. Through counseling and behavioral therapy, children who have experienced significant maternal deprivation and/or maltreatment can improve. Many of these kids come from foreign orphanages and bring with them severe socio-emotional problems.
Now in its fifth year, The Hope Connection has caught national attention, and was featured on a one-hour segment aired on NBC's Dateline in July called Saving Dane, Saving a Family.
After visiting The Hope Connection camp several years ago, Dateline Producer Olive Talley selected one family in the program who tackled a controversial and difficult therapy espoused by one of The Hope Connection's supporters, neuropsychologist Ron Federici, a world-renowned expert in international adoption medicine. TCU's unique program was cited in the story.
Since the segment aired, the phones at The Hope Connection have jangled relentlessly, Cross said.
"They all say basically the same thing," he said. "We're watching our family deteriorate. Help!"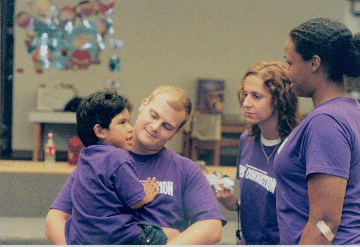 The crux of The Hope Connection is a five-week day camp where the kids are immersed in therapeutic behavioral training. Kids in the program show marked improvement in only a few weeks, Purvis said. Follow-up camps during the year reinforce the lessons learned and help the parents continue the training.
During camp, TCU students who have completed the Special Needs Adoption Course act as mentors to the kids. This year 18 students participated.
Celia Moncrief, a psychology sophomore, said it was "by the grace of God" that she ended up taking that class. She has since changed her major, and plans to continue helping at camp "until they make me quit."
"It's the hardest work I've ever done," she said. "It's so emotionally draining. You want to laugh and cry all at the same time.
"But from it you gain the ability to look at the kids differently. You see them as a child with a name, not a disorder. You realize that is only part of them, not who they really are."
Learn more about The Hope Connection at www.drl.tcu.edu/THC/thc.asp, or email d.cross@tcu.edu.
Not-so-lazy days of summer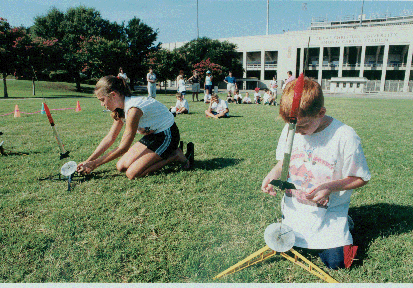 There's no rest for some on campus once the students leave. It all begins in May when more 6,000 high school seniors from 12 area high schools enjoy their graduation ceremonies at Daniel-Meyer Coliseum. Then in mid-May, the campers arrive. In about 100 different programs and more than 15,000 strong by the end of the summer, they come for sports and music and science and more. This year included five Cheer Camps, which always start the phones jangling despite a proliferation of "No cheer" signs on campus. This year, the staff discovered that in the new Recreation Center the girls are so loud that the TCU Volleyball Staff could not work in their offices. Other sport camps include swimming, soccer, volleyball, football, baseball and tennis. Each year, TCU hosts Texas High School All-Star Games, involving select high school players in football and basketball, as well. In other areas, campers arrived for journalism workshops, the TCU Cliburn Institute, Marching Auxiliaries, Band Camp, Choir Camp, Clarinet Camp, Dance Camp, Art Adventures, Rocket Camp and "Pathways," a camp for teens and their families for training in behavior, communication, self-esteem, and peer pressure. This was started by Dr. Phil, who has his own television show in California today.
More TCU news is just a few clicks away
Need more TCU news? New@TCU is an e-newsletter that will update you on the exciting programs, events and people on campus: from alumni and sports, to music and the arts, to leadership and community service. When it arrives in your e-mail in-box, you can quickly get the basics, or if you'd like more details, simply click on the link to learn more by connecting to our Web pages. It's news you can use. Subscribe today at: http://www.alumni.tcu.edu/newsletter/
Koehler's lasting legacy
William Koehler has been purple for more than 30 years, ever since he came to TCU in 1969 to teach chemistry. Now, after serving as provost and vice chancellor for academic affairs for 23 years, he is retiring at the end of the academic year. "One person is not responsible for the success of university," Koehler said. "Rather, it's people working together. And together we've accomplished much during my tenure at TCU." While serving under three chancellors, Koehler saw exponential growth at the University in faculty and research opportunities. Koehler also was instrumental in the recruitment of new deans after TCU underwent a reorganization that redistributed the academic departments into seven colleges and schools. "As with any administrative position there are time limits," Koehler said. "I've accomplished much during my tenure at TCU, but it's time for new ideas and new energy. "I am retiring from office, but not from the work world. I might consider full-time or part-time work because I enjoy problem solving. I definitely won't be exiting the professional world."
Triple Gold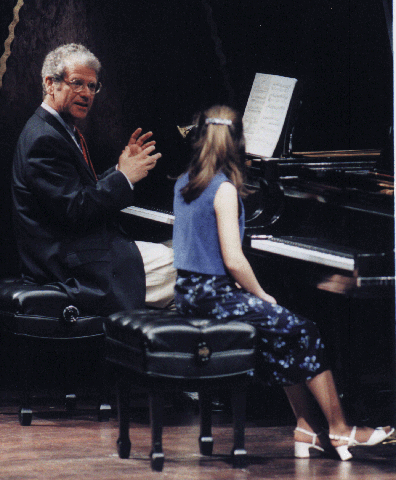 Booking one Van Cliburn International Piano Competition gold medalist is quite a feat -- unless, of course, you're talking about the TCU/Cliburn Piano Institute. Then you book three. The institute welcomed a trio of guest artists who were former winners: 1981 medallist Andre-Michel Schub, TCU artist-in-residence and 1985 medallist Jose Feghali and 1993 winner Simone Pedrioni. "Their performances were masterful, and I am quite proud of this year's festive events," said Institute Executive Director Tamas Ungar, "There is no doubt audiences went home having had an unforgettable experience." And no TCU/Cliburn Piano Institute would be complete without its world-class young artists programs, which offers the best young piano students with intensive training at a professional level. This summer, two dozen young artists came from 11 countries and ranged in age from 12 to 21. Their impressive repertoires made the competition for the six solo concertos with the Fort Worth Symphony Orchestra as even as it's ever been.
Camp duo
Milking a cow might be a normal summer activity on a ranch, but this summer the kids at the School of Education's Camp Duo got their hands around the task too. It was just one of many fun and unusual math and science activities featured during two, five-day camps for kids age 5-11 held in June. Of course campers explored more traditional sciences, such robotics and hydroponics, but some of the more unexpected skills, like cotton ginning and cow milking, gave the students a new view of science. Engineers, engineering students, pre-service and in-service teachers, as well as students from other disciplines assisted the campers as teachers. They focused on inquiry-based materials and activities that yielded take-home projects like dirt babies, green slime, terrariums and numerous other projects. Volunteer Geoffrey Au '03, who graduated in May from TCU, plans to teach high school science. "I love the activities that get the kids interested in science," he said. "It's great that there are scholarships available, so that a wide range of students can attend the camp."
Stirring strings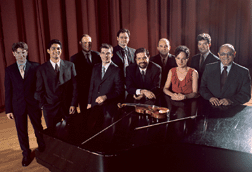 Fort Worth's classical music calendar hit a high note in July when the Mimir School of Music's Chamber Music Festival offered the community six evenings featuring top performers from around the county. The 11-day festival, now in its sixth year, once again featured master classes and chamber music lessons for ambitious students and accomplished adult amateurs. Critics lauded the performances, with The Dallas Morning News noting: "It'll be a hard freeze in a Dallas July before we hear a finer performance of a Beethoven string quartet than the one presented Tuesday night at the Mimir Chamber Music Festival."
New faces
Harry B. Parker '80, former director of theatre and a tenured professor of theatre at Emporia State University, Emporia, Kan., was named chair of the theatre department at TCU in July. He is replacing Forrest Newlin, who passed away last December. A 1980 magna cum laude graduate of TCU in theatre arts, Parker received a master's degree in directing/acting from the University of Kansas in 1982 and a PhD in theatre and film from the University of Kansas in 1992. Prior to joining ESU in 1992, Parker taught in and directed the division of theatre arts and dance at Westmar University in LeMars, Iowa. He is married to the former Karen Turley '80, and they have two children. "I am delighted to be joining the outstanding theatre department at TCU," Parker said. "My training at TCU as an undergraduate gave me excellent preparation for a career in theatre, and I am looking forward to helping new generations of students achieve their goals as well."
Long-time Dallas/Fort Worth newsman John Miller '69 will serve as a professional-in-residence in the journalism department and teach several courses in the broadcast journalism sequence. Miller, who will begin teaching full-time this fall, has taught broadcast journalism part-time in the department the last two years. "Adding John Miller to our journalism faculty gives our students daily contact with one of the top local news professionals in the business," said Tommy Thomason, chair of TCU's journalism department. "He will give TCU students the competitive edge that comes from exposure to exacting, real-world professional standards." Prior to coming to TCU, Miller spent the last year as news director at CBS 11 KTVT-TV in Fort Worth. He also served as director of the news/television group for the Belo Corporation from 1999 to 2002 and spent more than three decades in various positions at WFAA-TV in Dallas until his promotion to executive news director in 1989. During his tenure as news director, Miller led WFAA-TV to 30 consecutive major sweeps wins for all newscasts in the Dallas-Fort Worth market and supervised reporting efforts that won two duPont Awards, one Peabody Award and several other national and regional awards for journalistic excellence. Miller and his wife of 24 years, Beth, have two sons, David and Stephen.
Well-known DFW advertising professional Jim Stuart '71 has joined the journalism department as a professional-in-residence. He will teach advertising principles and copy, layout and design and public relations principals. Current owner of Stuart Marketing Communication and former chairman and CEO of Stuart Bacon agency in Fort Worth, Stuart was the 1998 winner of the journalism department's Professional Ethics Award.
Our jazz travels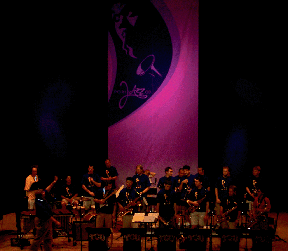 Jazz great Miles Davis played there. So did B.B. King, Ella Fitzgerald and Al Jarreau. In July, the TCU Jazz Ensemble joined the exclusive list of musicians to perform at the North Sea Jazz Festival at the Congress Centre in The Hauge, Netherlands. The ensemble was selected this spring by the International Association of Jazz Educators as one of three college troupes to play at the three-day festival, one of Europe's most prestigious events. More than 100,000 music fans from around the globe crowded in to hear headliners such as Tony Bennett, Herbie Hancock, Randy Brecker, Roy Hargrove, Joe Lavano, Cassandra Wilson, Wynton Marsalis, Preservation Hall Jazz Band, Patti Austin and Chick Corea. "It was an electrifying venue, not something our students could ever experience in the classroom," said jazz band Director Curt Wilson, who took 24 TCU musicians and 11 of their guests overseas from July 9 -20. "Audiences in Europe are very discerning, and to be received well by them was a tremendous compliment." While the North Sea festival was the largest venue and the main attraction of the trip, the ensemble also performed six concerts in four countries on this foray to northern Europe, impressing more than 17,000 concert-goers. They were at the Huset Culture Club at the Copenhagen, Denmark, Jazz Festival; Stampen, the oldest and most famous jazz club in Stockholm, Sweden; aboard a gigantic ferry off the shores of Helsinki, Finland, and at the Pori, Finland, Jazz Festival. The ensemble also managed to work in a private concert for about 450 Finnish ambassadors and government VIPs.
Food for thought
For many children, summer means beach vacations and family picnics. But for nearly 100,000 children in the Fort Worth area who are on free or reduced-price meals during the school year, the summer months can mean long days of going hungry. To help ensure that some of the city's most vulnerable children have enough to eat this summer, Sodexho USA, which is TCU's food service provider, has announced the recent launch of its Feeding Our Future program in Fort Worth. The program will help to ensure summer meals will be available in 11 major cities where the need is greatest, including Atlanta, Boston, Chicago, Detroit, Fort Lauderdale, Fort Worth, Los Angeles, New York, Philadelphia, San Francisco and Washington, D.C.
Serving with pride
As the war against terrorism rages around the world, Horned Frogs have joined the efforts in many capacities. Last issue, we told you about a few. Here are more who have reported in to The TCU Magazine about their contributions to this work. If you know of others serving in the Armed Services, write The TCU Magazine, TCU Box 298940, Fort Worth, TX, 76129, or email us at tcumagazine@tcu.edu.
Capt. Steven L. Tabat '96 is serving in Vilseck, Germany, in 2-2 Infantry, 1st Infantry Division. He returned in May from an eight-month deployment to the Balkans. In December, Steven will take command of Alpha Company, 2-2 Infantry, and will deploy to Iraq in March. Steven and his wife, Angie Leftwich Tabat '96 have two sons, Nyle 4, and Riley, 6-months. Riley was born in Amberg, Germany, on Feb. 8. Steven made it home from his Kosovo deployment only eight hours before Riley arrived.
In February 2003, Luis Rodriguez, Jr. '92, who served as an armor officer from 1992 to 1996, was in the inactive ready reserve when he was notified he would likely be mobilized. He was subsequently assigned to a National Guard unit assigned to Headquarters, 1st Cavalry Division in Fort Hood. He writes: "At that point the division was slated to deploy to theater in support of Operation Iraqi Freedom, but was subsequently pulled off deployment orders as the operation went exceedingly well. I was mobilized for approximately two and one-half months, and have since been demobilized, but continue to serve the 1st Cavalry Division as a reserve component Captain, as the OIC of the 27 person Multi-Composition Liaison Officer Team in preparation for the division's support of the global war on terrorism, anytime, anywhere. "In my civilian job, I manage the South Texas and Louisiana Territory for Galil Medical, a minimally invasive prostate and renal cancer medical device company. I am married to Kate Stover Rodriguez, of St Louis, Mo."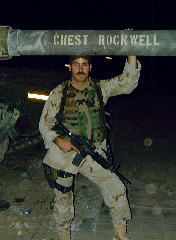 1st Lt. Colin Cremin '95, U.S. Army, is currently serving as Alpha Company, Task Force 2-37 Armor's Executive Officer in Baghdad, Iraq. Deployed with the 1st Armored Division, he patrols downtown engaging in daily firefights with Saddam loyalists and Fedayeen Militia. He writes: "Most Iraqis are genuinely interested in a lasting peace and support the Coalition Forces, but until they all do, we will remain vigilant. Your thoughts and prayers are much appreciated." Write to Colin at cremin2@yahoo.com.
Maj. Allen McCormick IV '86 is the commander of TPDD, 346th TPC (AIRBORNE) in Baghdad, a psyops unit. He wrote in June that all was well there, "except for the heat and the people who want to kill U.S. soldiers." He is busy trying to keep up morale in the grim situation and "bringing truth, justice, Elvis and the American Way to the people of Iraq." They struggle with no electricity or running water and bathe with baby wipes and bottles of water. Meals are MRE's since there's no mess hall set up. The family sends boxes of food, and the top request is always Diet Coke, chips and salsa. Before he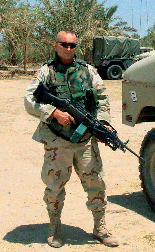 was called up he was the director of marketing at Proctor and Gamble, handling accounts like Toyota, Warner Brothers, Pantene Hair care and Abercrombie & Fitch. He was living in Cincinnati, Ohio, with his wife Kathy '86 and their three children Peyton, 13; Mary, 12; and Mac, 10. Kathy spent part of the summer in Plano with family members Allen and Ann McCormick, and in Houston with Kent Tramel '87 and Lori McCormick Tramel '86 and their five kids Kaiti, 15; Karie, 12; Kensie, 10; Lara, 9; and Kade, 4. Lori writes: "We miss Allen terribly, and pray our worries away. We are so proud of his courage and service to our country." Allen was a member of ROTC and a Phi Delt while at TCU. Kathy and Lori were in the Chi Omega sorority, and Kathy was also a Showgirl. Kent played football at TCU.
Maj. David Rhone '90, was mobilized back to active duty in November of 2002 in support of Operation Noble Eagle. Shortly after arriving for duty with the 18th Airborne Corps at Fort Bragg, N.C., Maj. Rhone was tasked to support Operation Enduring Freedom with Special Operations Command Central out of MacDill Airforce Base, Fla. Maj. Rhone deployed to the Middle East with SOCCENT on Jan. 21, 2003. He was assigned as a special operations liaison between Special Operations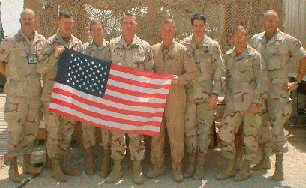 Command Central and the special forces of several coalition countries. He spent much of his time in Bagram, Afghanistan, and then relocated to Qatar to begin support of Operation Iraqi Freedom. David redeployed back to the United States on May 1 and was released from active duty on May 15. He would like to thank all of his friends and fellow Horned Frogs for the support he received while deployed. "A special thanks to The TCU Magazine for keeping everyone up to date on the status of our men and women in uniform serving all throughout the world," he writes. Rhone is fifth from left in the photo.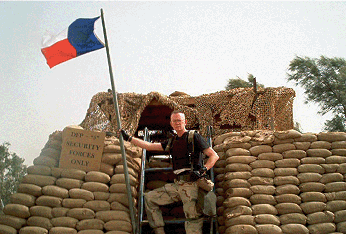 Capt. Mark Montague '81 is a U.S. Air Force Combat Transporter deployed in support of Operation Iraqi Freedom, stationed at Kuwait City International Airport for a one year assignment. There he is Director of Operations for Detachment 2, 721st Air Mobility Operations Group. At the height of the war, they were equipped with more than 500 additional personnel to move more than 7,000 flights of passengers and cargo while under rocket and terrorist attacks. Mark returns to Texas in November and will relocate to the Fort Worth area upon retirement next year.
Buy the book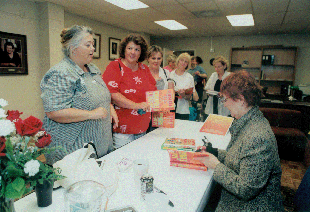 The Friends of the TCU Library and the Star-Telegram co-hosted a sellout appearance by noted mystery writer Janet Evanovich July 22 at Ed Landreth Auditorium. She read selections from her newest book To The Nines and autographed copies. Evanovich's latest novel is the ninth in the popular Stephanie Plum series, which chronicles the exploits of a meek bail-bondswoman and private investigator working in blue collar Trenton, N.J.
Upcoming events
Fogelson Honors Forum 2003: An Evening with Gail Sheehy Best-selling author and cultural observer Gail Sheehy has changed the way millions of people throughout the world look at their lives. Her original landmark work, Passages, made history, remaining on the New York Times best-seller list for more than three years. Sheehy will speak Oct. 1 at 8 p.m. The event is free but tickets are required. Call 817-257-6488 to reserve your seat.
Gates of Chai: Joel Siegel on "Being Jewish in America" For 20-plus years, Siegel has been sharing his views on our culture as entertainment editor for Good Morning America on ABC-TV. He's also author of Lessons for Dylan, a book that is a legacy of his life and Jewish heritage to leave behind for his young son. The lecture begins at 8 p.m. on Sept. 16. Call 817-257-6679 for tickets or 817-257-7804 for information.
Kudos
To Don Sommer, strength and conditioning coach, for receiving the Master Strength and Conditioning Coach certificaton from the Collegiate Strength & Conditioning Coaches association. Only 36 coaches in the world hold this level of certification.
To Larry Lauer, vice chancellor for marketing and communication, for receiving the Alice B. Beeman Award for research in communication from the Council for the Advancement and Support of Education (CASE). The award is in recognition of his book Competing for Students, Money and Reputation: Marketing the Academy in the 21st Century. Reviews have referred to the book as a "must read for college and university administrators and faculty," and to him as "simply the very best in his field."
To TCU Football, which was recognized for its student-athlete graduation rate by the American Football Coaches Association this year. TCU is one of 32 institutions across the country recognized for graduating 70 percent or more of its football players who entered the school as the freshman class of 1997-98.
To staff members Don Nichols, Roger Fisher, Bill Ryan and Ginger Nichols for being named recipients of the Outstanding Volunteer Team of the Year Award from the The Tarrant County Family Pathfinders. The four, sponsored by University Ministries, helped a single mother located employment, finish advanced education and provided encouragement along the way. They also assisted families with donated computers and gift baskets during the holidays.
To the Eta Chi Chapter of Pi Kappa Phi Fraternity for being named one of the top undergraduate chapters in the U.S. and Canada. One of only three chapters awarded this year with the North American Interfraternity Conference Award of Distinction, TCU Pi Kappa Phi was recognized as a "standard bearer for all fraternities." The chapter, only five years old, has been named the top chapter nationally for the three previous years for its "consistency of excellence in scholarship, leadership and community service."
In brief
Merger creates new department
The M.J. Neeley School of Business will merge its e-business, decision sciences and supply chain management programs into a new department of information systems and supply chain management, effective this fall. The change is designed to better align students' knowledge with industry changes. Chuck Lamb, former chair of the marketing department, will be chair of the newly created department. The Neeley School's Supply and Value Chain Center, a primary aspect of the supply chain management program, and the e-business program's current advisory board will play key roles in the new department. The center and advisory board will work to maintain networking ties and partnerships with industry professionals and leaders, identify research and scholarship opportunities for Neeley school faculty and students, and provide practical guidance as the department evolves.
New Board of Vistor members
AddRan College of Humanities and Social Sciences has named six new members to its board of visitors. The new members are: William W. Harrell '68, senior vice president of the Rogers Companies; Betty Lynn Georges '60, Fort Worth educator; Judge Terrie Livingston, 2nd Court of Appeals for the State of Texas; Dr. Jack McCallum '93 MA ('01 PhD), local neurosurgeon; Phil Record, former Fort Worth Star-Telegram ombudsman and current professional-in-residence in the TCU journalism department; and Dr. Gleniece Robinson, director of the Fort Worth Library.
The M.J. Neeley School of Business added three new members to its International Board of Visitors. Maribess Miller '75, managing partner of PricewaterhouseCoopers' Dallas office; Phil Norwood '72, chairman of the board, president and CEO of Summit Bancshares, Inc. and Summit Bank N.A.; and David P. Purcell '86, managing partner of Continental Advisors, LLC, will serve four-year renewable terms on the IBOV.
Easy access now available
A new circular drive on the north side of the Dee J. Kelly Alumni Center allows for easy access for dropping off visitors, thanks to Lesbia Word Roberts '31, whose letter writing campaign initiated the new driveway.
Passages
Edd E. Bivin '63, TCU vice chancellor for administrative services, retired from the University in May after 32 years of service. Although he joined TCU as a coordinator of residence hall staffing, Bivin has worked in the areas of plant management and administrative services since the late 1970s. During that time, he has overseen the construction of several multi-million-dollar buildings on campus and a three-year renovation project to refit outdated classrooms and laboratories. The Fort Worth native taught history at Eastern Hills High School until the early 1970s when he returned to campus for his master's of education degree. TCU hired Bivin in 1971. He and his wife Irene exhibit and judge show dogs for the American Kennel Club. Both have been breed judges at the prestigious Westminster Kennel Club Dog Show in New York City numerous times over the years. Bivin's experience there culminated in being chosen to judge "Best in Show" at the 1999 event.
Dean Robert Lusch of the M.J. Neeley School of Business has announced he is resigning at the end of the school year to return to teaching and research. He has accepted a position at the University of Arizona as department head and professor marketing in the Eller College of Business and Public Administration. A search for his replacement is underway.
Long-time Frog Club Director Hal Roach '61 retired from TCU on June 30 after 24 years of raising funds for the University's athletic programs and scholarships for student-athletes. Roach, who graduated from TCU with a business degree, began raising funds for the University in 1979 as part of an off-campus group called Athletic Donors-Volunteers Accelerating New Concepts for Excellence (ADVANCE). In 1992, when the NCAA mandated that athletic fund-raising groups be moved under the university's umbrella, Roach became the first director of the TCU Frog Club. Roach's accomplishments include hitting the $1 million mark in annual scholarship support for student-athletes, increasing membership of the TCU Frog Club to 2,700 members and completing funding of the Walsh weight training facility.
Frogs report violations to NCAA
Two violations in TCU's men's basketball program were reported by TCU to the NCAA in August following an internal investigation. The findings established that impermissible transportation was provided to a prospective student-athlete to help him solve a F1 international student visa problem, and that impermissible academic assistance was provided to a currently enrolled student athlete by expanding the contents of a draft of an academic paper, which was never turned in to the professor for a grade. The resignation of a restricted assistant basketball coach has been accepted, and the University will implement the following self-imposed disciplinary actions, based on NCAA rules guidelines: 1. Conduct a training program to ensure that athletic department personnel better understand what constitutes appropriate and inappropriate academic assistance for student-athletes; 2. Conduct a training program to ensure that student-athletes are aware that academic assistance should come from the Athletics Academic Services Center and that a coach's involvement should be limited to input on matters of a general academic nature; 3. Not sanction the currently enrolled student-athlete because the investigation confirmed that he had no knowledge that his paper, which he had asked to be proofed, was being expanded; 4. Declare the prospective student-athlete ineligible to compete, pending reinstatement qualifications; suspend him from 20% of the 2003-2004 countable contests; and require him to reimburse the estimated value of the transportation ($386.64).
TCU Tomes
Isle of Misfortune
By Geoffrey Leavenworth
TCU Press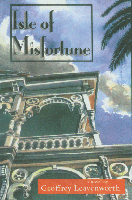 Geoffrey Leavenworth's first novel is a fictionalized autobiography about a Texas writer's increasingly desperate attempts to save himself and his family from a psychotic stalker. In the novel's opening scene, Gordo O'Connor answers the door to his Galveston Island home one night to an angry man who shoots him in the chest. He escapes serious injury, but the shooting begins a chain of events that alters the course of his life. Tension spirals as Gordo grapples with the need to protect his family, his raw emotional response to the violence and a craving to understand the behavior of his assailant and the police. The novel reaches a gripping conclusion when the stalker confronts Gordo for the last time. It is available at bookstores nationwide or from University Publishing, 1-800-826-8911.
Wildcatters
By Charlie Moncrief '72
Regnery Publishing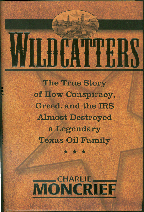 Family grudges, disloyal employees and the IRS thrust Charlie Moncrief, his family and his oil business into national notoriety. Moncrief was called to defend the family name, which was being sullied by accusations of tax evasion. Here Moncrief gives his account of what happened before and after the infamous 1994 IRS raid on the Moncrief Building in downtown Fort Worth. His life took an unexpected turn when armed agents from the Criminal Investigation Division of the IRS confiscated files on suspicion that the Texas oil dynasty had neglected to give Uncle Sam his due. Moncrief recounts the family's fight for justice and to restore the family name to its esteemed standing. The book provides a personal glimpse of how a famous Fort Worth family avoided devastation. It is available at bookstores nationwide.