How's the knee, Tye?
That's the question everyone is asking as the Horned Frogs enter 2003. Sophomore quarterback Tye Gunn is ready to put last year's season-ending injury behind him and lead TCU to its second consecutive Conference USA title.
By Rick Waters '95
Tye Gunn has seen the play only once. The morning after. On videotape in the training room.
With the Frogs comfortably ahead of Conference USA rival Southern Mississippi on a chilly October night, Gunn took the snap from center, rolled to his left and was looking for a receiver when Golden Eagles linebacker Rod Davis roared through the line. Gunn planted his foot awkwardly and felt his right knee buckle.
He went down immediately, and Amon Carter Stadium fell silent as he writhed in pain for minutes before trainers wheeled him off on a cart.
"I kinda felt sick to my stomach," Gunn said of watching the injury on tape. "It was a freak accident. I don't think there was anything I could have done to prevent it. It's just one of those things that's going to happen. It just popped."
The damage was severe: a torn anterior cruciate ligament and meniscus and partially torn medial collateral ligament. Dr. Steve Brotherton '78 of Texas Health Care Orthopedics assessed the injury and performed surgery on the knee with Dr. Joe Milne.
"We were worried initially that it was worse than we thought, and it was," Milne said. "He also had partially torn his patellar tendon and hamstring. It couldn't have been much worse."
So Milne and Brotherton used tendons in Gunn's left knee to reconstruct his ACL. They also removed his meniscus and repaired his hamstring and MCL.
"Right now, everything looks good," Milne said. "You're never sure about the patient psychologically until that first hit, but he seems ready."
Gunn says he is. He began running 12 weeks after surgery, and before long he was a regular in the weight room, trying to regain strength in his knees.
By summer's end, he was setting personal bests in the squat and leg press.
"Tye is actually testing out stronger in the injured leg than the uninjured leg," Milne reports. "More than anything, he wanted to go faster than we wanted him to. We kept having to rein him in from doing too much too soon."
Says Brotherton: "You have to remember that Tye is still young. I'm not so sure this is that serious for him. He's got that athlete's mentality to get up and get right back in the action."
Known for being quiet and business-like, Gunn showed more verbal fire during spring practices. "I spoke up a little more to let them know I was still there, even though I wasn't practicing," he said.
Nine months later, the knees are sound, the patient said as he enjoyed his last free days before two-a-days.
"I'm fine. I'm ready to go, more than ready."
If it were up to Gunn, he would have taken snaps in spring practices after doctors cleared him to play in April, two months ahead of schedule. But coach Gary Patterson makes those calls and held Gunn out of drills. Come fall, Patterson will require his starting quarterback to wear knee braces during practices and games, a decision Gunn says he's all right with. Anything to get back on the field.
"Last year, those four games I played -- it was just a tease," he said.
It was quite an enticement for TCU fans as well. Gunn was 4-0 as the starter, the offense averaging 40 points a game -- and that was against the likes of conference powers Louisville and Southern Miss. Expectations are high again as the defending C-USA champs enter the 2003 campaign.
"We will be solid at quarterback if Tye comes back fully healthy and stays that way," Patterson said before the season started. "He's worked very hard to get back to where he was last year, even a little better. We're excited to see what he can do."
But just in case Gunn can't go, the head coach has a backup.
With Gunn injured, senior Brandon Hassell took most of the snaps in spring practice and showed poise, athleticism and a depth of knowlege in running the offense.
"We found our No. 2 guy in Brandon," Patterson said. "I feel very comfortable about his ability to step in if we need him to."
And what could be a contentious relationship is anything but. Gunn and Hassell are buddies off the field.
"In some ways Tye wants to make up for lost time," Hassell said. "I think he's ready to prove he can be as effective as last year. I want him to do well because that means our team will do well. But I'm also ready to play."
Gunn has no intention of relinquishing the starting job.
"(Hassell) got all the snaps in the spring. Now it's my turn again."
And TCU fans hope that's all season long.
TCU's knee docs
When Tye Gunn cratered with a knee injury, he landed in the hands of some of the best physicians in the Southwest.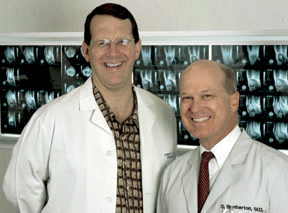 Dr. Steve Brotherton '78 and Dr. Joe Milne of Texas Health Care Orthopedics have been TCU's official orthopedic specialists for more than a decade.
Whether it's football, basketball, baseball or soccer, the good doctors are in TCU's corner, assisting staff physician Dr. Bert Franks and athletic trainer Todd Nalder on the sidelines at home games and during regular checkups in the training room. They even travel with the football team on away games.
Talk about long distance house calls.
"They're up here five nights a week, plus a Wednesday night clinic for Dr. Milne and Sunday afternoon clinic for Dr. Brotherton," Nalder says. "They're a great resource for the athletics department."
The Frogs aren't the doctors' only patients. Dancers with the Fort Worth Ballet, professional rodeo cowboys and former minor league teams the Fort Worth Fire (hockey) and Fort Worth Cavalry (arena football) have been under their care.
But the Frogs are special, the docs say.
"It's great fun to work with TCU," Brotherton says of his alma mater. "College athletes are a pleasure to work with -- they enjoy their sports because it's fun, not like a job with professional athletes. Most know that they won't be going pro, so you don't see a lot of egos. Just a lot of good young men and women."
Not a bad deal for the Frogs, either.
Sports briefs
So long, Mr. TCU Baseball
With 517 victories, Lance Brown retires as Frogs' all-time winningest coach
His reputation preceded him: a fiery competitor, convincing recruiter and, in his playing days, a strong-armed pitcher. But mostly, Lance Brown will be known as TCU's all-time winningest coach -- in any sport. In June, after 17 years and 517 Horned Frog victories, Brown called it a career as head baseball man and,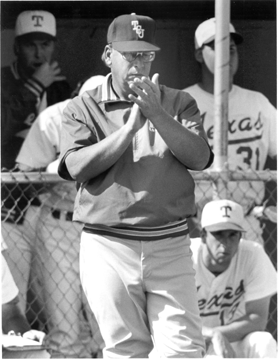 essentially, the face of the program. "It has been my privilege to be part of TCU as a student-athlete, a coach and an alumnus for more than 40 years," he said. "There have been many great victories and championships, but more important than all of those are the people I have come to know. I want to say 'thank you' to all who have been a part of building a proud tradition of TCU baseball." In 1963, as an all-American pitcher, Brown posted an 11-1 record (8-1 in the Southwest Conference) to help the Frogs to the SWC championship. The feat earned him conference player of the year honors. Thirty-one years later as head coach, he guided the Frogs to the 1994 SWC title and was named the conference coach of the year. Only two men have earned conference honors as top player and coach. Brown's name remains in the TCU record books as well. He's tied for the school mark for pitching victories in a season and ranks third in strikeouts in a single season with 109. But it was as coach that he made a lasting impression. Brown inherited the program in 1987 as it was making its fourth coaching change in 11 years and had only five winning seasons. Over the next 17 seasons, the Frogs won more than they lost 10 times, and Brown did it with facilities and resources other coaches wouldn't touch. "Lance Brown does more with less than any other coach in the nation," an opposing coach once said. The pinnacle came in 1994 when the Frogs racked up a school-record 38 wins, the first Southwest Conference regular-season title since 1972 and the first outright crown since 1956. They received an NCAA Regional tournament berth for the first time in 38 years. Brown coached six major league players: Glenn Dishman (San Diego Padres and Detroit Tigers), Tim Mauser (Padres), Fred Benavides (Montreal Expos), Chris Eddy (Oakland Athletics), John Briscoe (Athletics) and Jeff Zimmerman (Texas Rangers). Another 40 Horned Frogs have been drafted by Major League clubs, including five in 2003.
A couple of recollections of Coach Lance Brown by his former players:
"Lance is by far the most competitive person I've ever met. He does not like to lose, in anything, baseball or golf. But along with that competitive spirit, he's also got this great sense of humor. We were playing Texas at home with a chance to sweep them. Although Lance respected Coach Gus, he hated Texas. The day before I asked Lance if I could take infield/outfield at third base, and in the outfield. He said I could, but only if I promised I would throw the ball over the catchers head and out of the stadium when throwing from right field. I thought he was kidding, but he said if I didn't I would never play again. I was so amped up during infield that when throwing from right field to third base, I threw a bullet right over Kirby Smith's head and into Texas' dugout, nearly decapitating Coach Gus. The next throw to home I sent right out of the stadium. When I ran in to take the rest of infield at third base the Texas players didn't have anything real nice to say to me. After infield practice Lance came over to me with a smile on his face and said 'I hate Texas....but not that much.' "
J.J. Gottsch
TCU INF/OF 1994, Coach 1996-97
Assistant General Manager Round Rock Express Baseball Club Double-A Affiliate of the Houston Astros
"All of the stories I have about Lance Brown have to do with antics off of or around the field. I have so many fond memories of funny things he said or things that he did that it would take all day to write about. Also, many of those stories had so many inside jokes or you had to know the people to really appreciate the stories. However, I will try to condense. In 1993 we went to Arizona State to play the Sun Devils. They had a nationally ranked team and we were on the verge of cracking the top 25 for the first time ever. We went out for a three game series and we actually left early so that we could have a day to practice at their field. Now this was rare because of budget cuts and we thought we were big time to come in early and workout. So we show up at the field for practice. We run, stretch and are getting ready for batting practice and throwing and we realize that we forgot to bring balls. I thought Lance was gonna kill somebody. It just happened that our other two coaches thought each other was bringing the balls. Lance looked at us and said, 'Pack up your [stuff] and let's get the hell out of here.' Now everyone is pissed because we wanted to practice but how can you with no balls. Then the smart ass on the team, a kid named Gavin Millay, says 'If we had the balls would be practicing?' Lance looked at him and said, 'What do you think dumb ass!' It was the funniest thing I had ever heard and it took all I had not to laugh. I know Lance probably hates this story but it makes me smile every time I think of that kid asking that. On the other hand my proudest moment for Lance was when we sweep the University of Texas in 1994. Lance had never beaten those guys in a series and it was hard for him to hide his joy and that smile. We all wanted to beat those guys for him and get him that conference championship. It seemed like a black cloud had hung over TCU's head whenever we played the horns. We finally got the monkey of our backs and Lance's it was great."
Reid Ryan
TCU Pitcher 1994
General Manager Round Rock Express Baseball Club Double-A Affiliate of the Houston Astros
The Schlossnagle era begins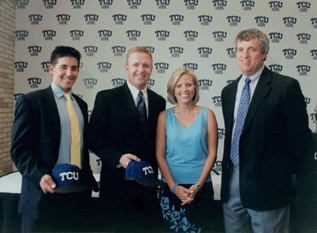 New baseball coach Jim Schlossnagle likes what he sees in his new program: Up-and-coming players, great fans and a new ballpark. When the 32-year-old was announced in July as the ninth Horned Frog skipper since 1940, talked so excitedly that it seemed spring training was next week. Fortunately, Schlossnagle (and wife Kami) have time to settle in. It's still another six months until first pitch, but when February arrives, he'll be wearing purple and couldn't be happier. Neither can TCU. Schlossnagle comes to Fort Worth from the University of Nevada at Las Vegas, where his Rebels finished a school-record 47-17 and made the NCAA Regionals. He was named the Mountain West Conference Coach of the Year. He served as an assistant coach at Tulane from 1994 to 2001, helping the school reach six NCAA tournaments and one College World Series. That's the reality he envisions for TCU. "Our goal will be to get to the College World Series as quickly as we can," he said. "I look at Tulane, a private school, that has done extremely well, and then I look at Stanford and Rice, the two teams in the College World Series final, and I see what TCU can be in the future. I see the chance to recruit strong academic kids who can play baseball. I know the Metroplex area very well, and I'm sure I can get some of the top kids here to stay home."
Angela's big summer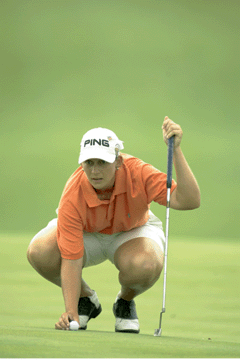 It was quite a summer for Angela Stanford. The four-time TCU All-American (1996-2000) won her first professional championship in June at the ShopRite LPGA Classic. Then the real drama came a week later when she found herself on the biggest stage in women's golf sinking a 20-foot birdie putt on the 72nd hole of the U.S. Open to force a three-way playoff. "The closer it got to the hole, the bigger my eyes were getting and the more real it was becoming," she said now. "It was moving to the left, and I thought, 'Please hit the hole before it goes too far left.' When I saw it disappear in the cup, I just screamed." Stanford, who had never made the cut at the Open in three previous attempts, pumped her fist and looked around in amazement. "I am in shock. I still can't believe it went in," she said. "The cool thing is I get to remember that forever. That is probably the single coolest thing I've ever done on a golf course." The next day, Stanford faced off with Hilary Lunke and Kelly Robbins with much of TCU and Fort Worth watching live on ESPN. After another roller-coaster front nine, Stanford birdied 11, 12 and 14 to move into contention. When she made another long birdie putt -- this time from 27 feet -- on the 90th hole, she temporarily tied Lunke and set up a possible sudden death hole. But Lunke sank a 15-foot birdie putt to finish one stroke ahead. While it wasn't the ending she hoped for, the experience was more than Stanford could have imagined. "If I don't take confidence from this, I don't know what it's going to take," she said right after the tournament. "It's been a great two weeks. And this week has just been amazing."
Sprint champion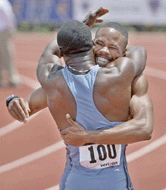 At the 2002 USA Track & Field Outdoor Championships, former TCU track star Darvis Patton was milliseconds from winning his first 200-meter title. This time around, it was his turn. With a strong kick in the final meters, Patton captured gold in June, breaking the tape in 20.15 seconds to edge John Capel (20.17) and Joshua Johnson (20.22) for his first national title. The title means that Patton will represent the United States at the world championships in August.
Summer Roundup
Track. All-America sprinter Michael Frater has been selected to the 2003 Verizon Academic All-America track & field third team. Frater, who carries a 3.49 grade average in political science, placed fifth in the 60-meter dash at the NCAA Indoor Championships in March, then took third in the 100 meters and anchored the Flyin' Frogs sixth-place 4x100-meter relay squad at the NCAA Outdoor Championships.
Basketball. Women's hoops coach Jeff Mittie and the Lady Frogs have another challenging schedule for 2003-04, including a matchup at home against Arkansas and road games against Rutgers and Brigham Young. The season's biggest game will be Jan. 2 at home against legendary coach Pat Summit and the Tennessee Lady Vols. Neil Dougherty and the men's team have an impressive schedule also with Kansas, Louisville, Tulsa and Memphis coming to Fort Worth.
Basketball. TCU teams will play on a new floor in Daniel-Meyer Coliseum this winter. Over the summer, crews installed some high-caliber hardwood -- a state-of-the-art Connor Uni-Force floor designed to help increase bounce and reduce injuries. TCU teams had played on the original floor since 1960, when the coliseum opened, and compiled a 348-202 record. The teams also look forward to working out at the new Ed and Rae Schollmaier Basketball Practice Complex before long. Fund-raising for the $6 million facility was completed in mid-August.
Golf. For the second consecutive year, senior Adam Rubinson was named to the PING Men's Golf Division I All-America third team as selected by the Golf Coaches Association of America. Sophomore David Schultz earned honorable mention.
Voice of the Frogs. In August, TCU radio jock Brian Estridge became half of "The Good Fellas," a new local sports talk show on ESPN 103.3 FM. Estridge, who had been doing SportsCenter updates three times an hour, now teams with KXAS-Channel 5's Newy Scruggs for the show from 10 a.m. to noon weekdays. "We'll run the gamut -- local, national, college, professional and some lifestyle stuff as well," says Estridge, who will continue his broadcasting duties with the Frogs.
Top