Bio warrior
He caught the bug to study deadly viruses as a TCU student. Now this Army colonel is one of the U.S. military's chief weapons against these unseen killers.
By David Van Meter
Neal Burnette '66 lives two lives. The first resides in Southern California, where wife Judith Byrd '66 and their three cats await his return. In this life, Burnette pursues his hobby as a pilot, having mostly left behind a career filled with terms like retrovirology and recombinant DNA, although he still occasionally consults with early-stage biomedical companies. He retired with a Nobel nomination and enough stock options to make watching the market a full-time endeavor.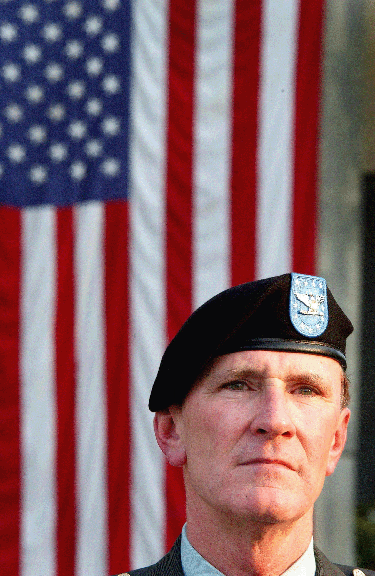 It was then that the 33-year Army reservist began his second life, shaken out of sleep the morning of 9/11 like so many others. The 59-year-old Army colonel was called to active duty two Novembers ago, at one year too old to be promoted to general. Yet what he has done in the private sector, and what he knows now, makes him unique in the invisible war against global terrorism.
On this May evening, Burnette arrives home just before 7 o'clock. He holds a cell phone to his ear; his work voice mailbox is full, so the cell phone number seems to be the best bet to reach him. He steps out on the balcony of his two-bedroom apartment and sees Arlington National Cemetery and Fort Myer, the Pentagon is in the hazy distance.
"[9/11] raised an opportunity to get me in active duty," he said, his good humor present throughout a two-hour conversation. "Here's this old colonel who has nothing else productive to do, activated two days before I was to take command of an Army Reserve general hospital in Los Angeles, where I would have been treated like a god. Instead, I'm treated like a staff slug at the Pentagon."
Burnette's job is a 24/7 tour of duty that will last at least another six months, days spent, he explains modestly, "briefing congressional staffers, responding to reporters and issuing papers." But amid those duties, he also performs another function: To find, acquire and adapt research that can defend the United States against the world's biological, chemical, nuclear and radiological threats.
The son of an Air Force lieutenant colonel who served in both World War II and Korea, Burnette moved from Japan to the Dallas area his junior year in high school. A knee injury turned his talents from football to fine arts, on the advice of his mother. A lead part in his first play, Antigone, led to a theatre scholarship at TCU.
"My future wife was a theatre major, too, and we met on the first day of classes, both as freshmen, on the backstage of the Little Theatre," Burnette said, adding that Judith also suggested that he study something besides theatre.
Turns out that was great advice. Burnette worked 48 hours a week as a surgical scrub tech to make ends meet, earning degrees in biology and chemistry. A doctorate at Vanderbilt University School of Medicine found him engrossed in the study of retroviruses (the viruses that cause AIDS, for instance). While there, he also was commissioned as a second lieutenant in the Army medical department.
Next, he received postdoctoral training in retrovirology at Albert Einstein College of Medicine and accepted a position at the Fred Hutchinson Cancer Research Center. There, he would invent a technique called "Western blotting," what he calls "a goofball idea" that gives scientists a tool to visualize specific proteins in a virus or a cell. It has since become the confirmatory test for AIDS, and Burnette received Nobel consideration for the discovery.
In 1979, he left to work at the revered Salk Institute. Then came an offer to work for an obscure four-person research company called Applied Molecular Genetics.
"They were looking for young hotshots. I wasn't so young anymore, but I guess I was a hotshot. They doubled my salary and offered me something called stock; I really did not understand at the time what it was."
The company would become Amgen, arguably the world's most successful biotech company. One of its scientific founders, Burnette headed its vaccines division. He would produce one of the first hepatitis B vaccines, as well as better vaccines for whooping cough and cholera.
By then one of the nation's brightest microbiologists and molecular biologists, Burnette left Amgen in 1992 a rich man.
It's clear when talking to Burnette about his current military assignment that the need-to-know job description is that he spends most of his time fielding questions from the press and Congress. Yet, at Fort Detrick before his current assignment in Washington, D.C., he had developed an algorithm for U.S.-led coalition forces. When entering Iraq, troops needed to know two key things: the likelihood of acquiring various infectious diseases in a given area, and the best countermeasures for such threats. Burnette gave them a logical equation that could answer both questions with accuracy.
The executive officer for chemical and biological defense, Burnette also contributes heavily to the vaccines unit. Daily, his team works on new treatments for anthrax, smallpox and botulinum toxin poisoning, as well as ways to "clean up" existing vaccines and acquire advanced countermeasures for nerve and mustard agents. Burnette's teams also develop new suits, masks, detectors and skin protectants that can fend off a chemical or biological attack.
"The Iraqis had demonstrated the ability to use chemical weapons in their war against Iran," he said, assessing the role that chemical and biological weapons played in Iraq. "I am somewhat surprised they weren't used. There's no doubt in my mind that they possessed chemical and biological weapons in significant amounts.
"Had they been unleashed, there would have been much greater casualties in the U.S. and coalition forces."
And while the potential of such attacks was not realized, Burnette said it's only a matter of time before it is, somewhere. Perhaps that is why, even though President Bush has declared that major fighting in Iraq is over, Burnette's work is not.
"Most of the vaccine work we're doing now began pre-9/11," Burnette said. "The industry standard to create a new vaccine is around $500 million to $750 million; the Department of Defense spends maybe $100 million.
"The shareholders of the federal government are taxpayers; they are not quite as flush as those who invest in biotech or other pharmaceutical companies who understand the potential. ... So how do we do it?"
Burnette thinks the answer is to partner with private biotech companies, which he knows a great deal about. Until next March, he will continue to search for the next vaccine, at the best price possible, for the terrorist threats he knows are out there.
Why? He deliberates before replying. "Well, this is a young man's job, and I'm not young anymore, and I'm not so smart anymore. But I like to play soldier, and I'd like to remain in uniform.
"At this stage in life, I guess this is the best way for me to serve my country."
To contact Burnette write to tcumagazine@tcu.edu.
To comment on this article, e-mail tcumagazine@tcu.edu