More in academe
Environmental warriors | Ciimbin' the walls | Is this man lying? | Myths behind the blackboard | Sun, moon and culture | Uplifiting art |

Selling from the heart
When put to the test, Neeley marketing students raise $20,000
for medical technology, and discover the joys of philanthropy.
By Holly Preston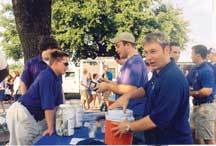 What began as a series of quirky class assignments in marketing professor Bob Akin's Selling and Sales course became a boon for Cook Children's Medical Center in Fort Worth. A $20,000 boon.

The money will go toward the hospital's "Refuse to Lose" campaign, an effort to raise $4.5 million for an Intra-operative Magnetic Resonance Imaging system, which is used to map and chart areas of the brain used for activities like walking and talking.

In the fall, Akin assigned three projects for the semester that would raise money for the campaign.

The first project was Akin's idea: a lemonade stand. Simple. Classic. Easy starting point.
"We took to it strongly," junior marketing student Rocio Aguilar recalled. "We set up stands by Frog Fountain during events early in the semester and had money jars out. Obviously, we marketed the good cause associated with the product and were quite successful."

The remaining two projects were up to the students. The only caveat: Each project team would have $25 in seed money, and it had to be paid back to the project.

Groups pushed pumpkins at Halloween, conducted raffles in the Student Center and sold T-shirts and bracelets throughout the semester.

The results pleased Akin, both in the funds raised and the originality of the entrepreneurial ventures.

"It's amazing how creative students get when they're motivated by something more than a grade," Akin said. "The groups jumped in and put a lot of thought and effort into their projects."

The amount raised amazed even Akin -- more than $20,000. But for many of the students, the experience was more than just educational.

"I learned a lot in the course about selling, negotiation and testing my advertising and public relations skills," Aguilar said. "But what really made the difference was the knowledge that I was working on something meaningful, contributing to a cause that will help a lot of people."

Marketing and management senior Kimba Downey, who lost her father to a brain tumor and is a close friend of a brain cancer survivor, agreed.

"The projects gave us the opportunity to put the things that we have been learning in our marketing classes to use," she said. "I've really enjoyed being involved with 'Refuse to Lose' and knowing that I'm helping a cause that has affected my life so much."

Contact Akin at b.akin@tcu.edu.

Comment at tcumagazine@tcu.edu.