More in academe
Environmental warriors | Ciimbin' the walls | Is this man lying? | Myths behind the blackboard | Sun, moon and culture | Selling from the heart |

Uplifting art
Student-created ceiling tile murals bring comfort to young patients in the
emergency room of Cook Children's Medical Center.
By Rick Waters '95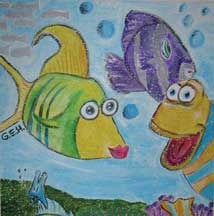 It is the big eyes and wide smiles they notice first, nurses say.

Floating cheerfully overhead on the ceilings, multi-colored seahorses, mermaids and cartoon fish swim by in a parade of toothy grins and encouraging glances. They almost whisper, Don't be scared."

It is a happy scene, especially for young, nervous patients of the emergency room at Cook Children's Medical Center. With needles and doctors seemingly all around, the friendly characters help temporarily dull the pain and anxiety of injury or illness or impending surgery.

They truly make a difference in providing comfort and give children something interesting to look at during those periods of waiting," said Dana Dangleman, child life specialist at Cooks.

The underwater scenes wouldn't be adorning exam rooms without the artistic talents of about a dozen TCU art education students, who created a series of ceiling tile murals when the hospital needed help expanding its robotic ocean display in the waiting room.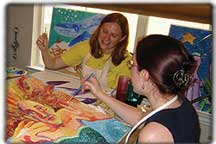 Cooks had a lot of input as to what not to paint ... no frightening or threatening fish, such as sharks or anything getting eaten," said Ginger Horton, president of the TCU chapter of the Texas Art Educators Association. They stressed the need to be upbeat, G-rated and to use bright, cheery colors in creating the underwater scenes. The amount of creative freedom allowed was quite large."

There were a few rules: No food, because children often are not allowed to eat before diagnoses. Also, certain types of non-toxic paint were a no-no.

The group conducted painting parties once a month in the spring and weekly during the summer, where each person would spend three to four hours painting a ceiling tile. Once a batch of tiles was completed, they were taken to the hospital for installation.

We've bonded in a way people do when they work together for a good cause," Horton said. Instead of each of us being caught up in our individual assignments, we have lasting evidence of our efforts and our love of art."

The work in the ERA received such a great response that the hospital has requested more tiles to go in two satellite surgery and emergency care centers in the Metroplex.

Seeing the artwork displayed in the hospital is a rewarding feeling, Horton said, but hearing its impact on the patients even more significant.

I volunteered to teach an art class at an elementary school and showed them pictures of the project," she said. "One of the girls who had just broken her leg spoke up and said she remembered the seahorses in her room and how they made her happy. It helped her forget about how much she hurt."


Comment at tcumagazine@tcu.edu.