Related Articles:
Our Grand Gridiron | Memorable Games | The Next 75
Through the years at Amon Carter Stadium
1929– Amon G. Carter Stadium is constructed with a seating capacity of 22,000.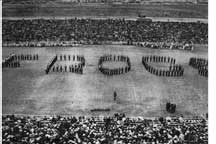 1930– First game played. Frogs win (of course) over Arkansas, 40-0.
1935– The so-called "Game of the Century" pitted the 10-0 Mustangs versus the 10-0 Frogs with a Rose Bowl bid at stake.
1948– The first documented telecast of a football game between the Frogs and Hogs on October 2.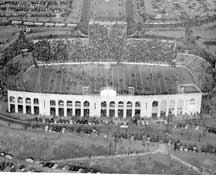 1951– Minor expansions to the stadium end zone and east seating raises total capacity to 33,000; stadium named for Star-Telegram publisher Amon G. Carter.
1953– Another round of expansion brings capacity to 37,000.
1956– The 9,000-seat Upper Deck is added on the west side; capacity now 46,000. The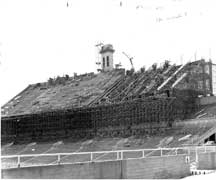 present-day press box, some 18 stories above the field surface, is constructed to accommodate 200 media personnel.
1973– The first of three synthetic playing surfaces is installed, then removed in 1992 when new coach Pat Sullivan insisted on grass.
1983– Eleven racks of light towers with 356 metal halide lamp fixtures, rated at 1500 watts each, are erected. Lighting improves 600 percent. Television camera platforms installed below the front edge of the west stands.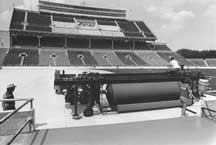 1984– All-time single-game attendance mark established as 47,280 fans pile in to watch TCU vs. Texas.
1991– The public address system replaced; aluminum bleachers replaces wood seats with fiberglass chair backs in the Upper Deck.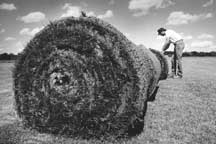 1992– Natural grass replaces turf surface. Electronic scoreboard/message center in north end zone and auxiliary scoreboard under west stands installed.
2002– David E. Bloxom Sr. Foundation donates a state-of-the-art scoring and video center beyond north end zone.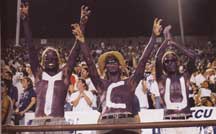 2003– Field gains a name, commemorating W.A. "Monty & Tex" Moncrief.
2005– TCU begins play in the Mountain West, its fourth conference in 10 years.