More in academe
A scholar and a gentleman | Arsenal of science |Big rig redo | Kudos

Not-so-heavy metal
Percussionists go global with steel drums
By Allison F. Speer '91
Imagine jovial plinks and plunks of mallets against steel. Musicians in floral ca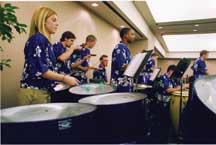 bana shirts. Your body swaying to the soothing sounds of calypso.

No, you're not on a Caribbean vacation, but when you hear the new TCU Steel Drum Band, you'll feel like you are.

It wasn't easy to pull together this non-traditional musical coup. So don't blame Brian A. West, coordinator of percussion, if he and his drummers are particularly punchy about their steel "pans," as the drums are also known.

After raising the money, West ordered the drums from the Mannette Steel Drum Company, owned by Ellie Mannette — the father of steel pan making and performing. But since there was no place to practice, the instruments were stored behind Pepsico theater for nearly a year.

By spring of 2004, several music students, anxious and curious as a young suitor on a first date, got the space and the nerve to open the cases, revealing shiny, silver steel pans.
Mannette sent a craftsman to TCU to tune the drums — and the first-time players. "We rehearsed in the old Cokesbury bookstore," West remembered. "We were loud, and so we couldn't rehearse until late, around 8 to 10 p.m."

The interested students — each of them playing in other groups such as the marching band, percussion ensemble, wind symphony, jazz ensemble and/or orchestra — were practicing on their own time since the band was not yet an official university program.
Today, the band is turning down requests for performances. They've taken the drums to local high schools and TCU fund-raisers, and were invited to play at the upcoming Texas Music Educators Association (TMEA) conference in February 2006.

Music education/music composition senior Manny Arcinega said when he and fellow percussionists first experimented on the pans, it was "like we were back in high school figuring out where 'C' was on the keyboard. Then we started having fun with it. This is something we can get together and have fun with — it makes you feel like you're somewhere other than school."

As a student of composition, Arcinega gets double benefits by playing the new instruments. Knowing an instrument and how it works in an ensemble is invaluable when writing music for it.

But the 20-member steel drum band isn't all about calypso and coconuts.

"We needed to expand in the areas of world music and this was a step in that direction," West said. "We cannot attract the best students without programs like this."
National winners

The TCU Percussion Ensemble, which includes the Steel Drum Band, recently won the Percussive Arts Society International Percussion (PASIC) Ensemble Competition. The competition, which is based on a blind-refereed selection process, is similar to the national championships of percussion.

"Winning this competition was a tremendous honor and their appearance was a huge success," said Brian A. West, coordinator of percussion. "The students performed a piece arranged by School of Music percussion faculty member Paul Rennick entitled Jour Ouvert. This piece incorporates steel pans into the traditional percussion ensemble setting and made a great closer to the concert."

Comment at tcumagazine@tcu.edu.