More in academe
A scholar and a gentleman | Not-so-heavy metal |Arsenal of science | Big rig redo

Kudos
JIM WOODSON
PROFESSOR'S PAINTING FINDS A HOME AT THE MODERN
Jim Woodson's 2001 painting, "Lost Mine Trail with Dim Tracers," is now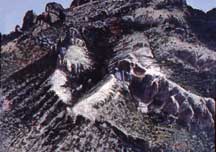 in the Modern Art Museum of Fort Worth's permanent collection. The 7-foot by 9-foot oil on canvas depicts one of Woodson's favorite hiking trails in Big Bend. The painting professor heads to the desert Southwest each summer, camera in hand, to capture images of awe-inspiring terrain, which then become the subject of many of his paintings. "It really was one of my favorites," Woodson '64 said of the painting. "I'm glad they chose it."
TCU SCULPTURE PROGRAM
STUDENT WORK RECEIVES INTERNATIONAL ACCLAIM
Se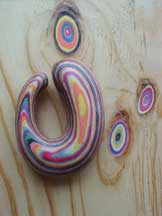 nior art major Tiffany Wolf and Crisman Liverman '05 received the prestigious International Sculpture Center's Outstanding Student Achievement in Contemporary Sculpture Award for 2005. This year 19 winners were selected from a record number of institutions participated, including 130 universities, colleges and art school sculpture programs from four countries.

Wolf and Liverman both studied with Francesca Cataldi, a faculty member of the European Academy of Fine Art in Trier, Germany, during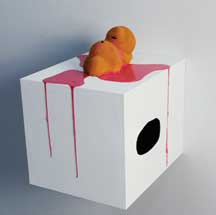 study abroad programs with TCU Professor David Conn.

The student work will be shown at the Grounds For Sculpture's Fall/Winter Exhibition in Hamilton, N.J., through January 8, and featured in Sculpture magazine and on the Web at www.sculpture.org.
Kudos
The School of Education remains one of the top teacher-preparation programs in Texas. TCU's 2004-05 graduates achieved a summary passing rate of 100 percent on the TExES exams, which are required for initial teacher certification. The 100 percent rate puts TCU in the top quartile of teacher prep programs statewide.
Adam Blake, a junior from Kansas City, Kan., received the 2005 Global Student Entrepreneur Award, sponsored by the Entrepreneur Center at St. Louis University in Missouri. The award goes to the top collegiate entrepreneur in 18 U.S. and international regions and comes with a $10,000 cash prize. Blake was recognized for his B&B Acquisitions LLC and Blake Venture Corp. B&B Acquisitions, an investment company Blake started in February 2004 at the age of 18, that has an investment portfolio worth nearly $3 million that contains real property, stocks and options.
Doug Newsom, professor of advertising/public relations in the Schieffer School of Journalism, was awarded the Pathfinder Award from the Institute of Public Relations.
Stacey M. Floyd-Thomas, assistant professor of ethics and Black Church studies for Brite Divinity School and TCU, is the recipient of the 2005 Great Women of Texas Awards as one of 25 Women of Influence.
James Link '72 RM (MBA '80), director of TCU's ranch management program since 1994 and an instructor since 1976, accepted a White House appointment to head the U.S. Department of Agriculture's Grain Inspection, Packers and Stockyards Administration program.
Paulette Burns, director of TCU's Harris School of Nursing, is one of 20 nurses in executive leadership roles nationwide to be selected as a 2005 Robert Wood Johnson Executive Nurse Fellow.
Writers Gary Cartwright '57 and Bud Shrake '54 and actor/singer Betty Buckley '68 were inducted in October to the Schieffer School of Journalism's Hall of Excellence. Cartwright, senior editor of Texas Monthly, has written several books and screenplays and received numerous honors. Shrake, a former Sports Illustrated writer and editor, has written five feature films, two TV movies, 17 books and three plays. Buckley worked for the Fort Worth Press but achieved stardom as a Broadway and film actor, including a Tony Award for her performance in CATS.
Faculty stars
Nadia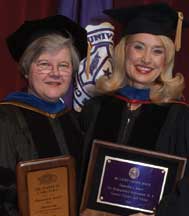 M. Lahutsky, left in photo, associate professor of religion in AddRan College, received The Wassenich Award for Mentoring in the TCU Community. The $2,500 award was given to Lahutsky for her willingness to help students improve their writing and inspiring them to contribute in a meaningful way to classroom discussion. Students described Lahutsky as a professor who "establishes a personal connection with all of her students" that allows them to "grow as a writer, speaker and a scholar."

Cathy Collins Block, professor of education, videotapes her classes each semester to refine her teaching technique. As a member of the University of Notre Dame's prestigious National Graduate Faculty, Block became the first faculty member to receive that university's Christ in Teaching Award for Distinguished Teaching.

At the Fall Convocation, Block, who has authored 82 professional standardized tests, books and textbooks, received the $20,000 Chancellor's Award for Distinguished Teaching.


Comment at tcumagazine@tcu.edu.