More in Riff Ram
Off-the-bench hero | Revvin' up his game | A point of interest |
One quarterback. 3,600 pounds of offensive linemen. One dinner.
Read their conversation here.

First person with Nicole Leimbach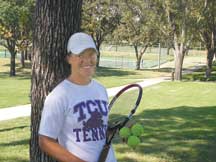 Sophomore Nicole Leimbach started her TCU tennis career with a bang, winning the first grand slam tournament of the season, the Riviera/ITA All-American Championships, in October. As of the end of November, Leimbach, a transfer from the University of Southern California, was ranked No. 3 in the nation in women's singles. Now, Leimbach has her sights set on winning the NCAA championships in May.
On winning the Riviera/ITA All-American Championship in Pacific Palisades, Calif: I think I played very well overall in the whole tournament. It's always fun to win, especially being back in L.A.
On transferring to TCU after being an All-American at USC: I like the tennis a lot better. Definitely a great fit. There are some things I miss about California. But it's a good environment.
On what it's like to play for Coach Dave Borelli: He's pretty crazy. He kind of runs around and he's always happy. It's really fun. He makes it a good environment.
On Borelli's coaching style: I'm able to do more of what's better for me. We don't all have to do the same thing at practice. If someone wants to hit serves, they can hit serves. If someone wants to hit forehands, they can hit forehands.
On her best asset on the court: I would say I'm able to focus and play each point really well.
On getting to play in professional tournaments during the season: That's really important to me. That's something I didn't get to do last year.
On whether she will turn pro after the season: Possibly. It kind of depends on different factors: if I get sponsored, if I end up doing well the rest of the year.
On her favorite class at TCU: I would probably say exploring human communication.
Comment at tcumagazine@tcu.edu.