More in Riff Ram
Off-the-bench hero | First person with Nicole Leimbach | A point of interest |
One quarterback. 3,600 pounds of offensive linemen. One dinner.
Read their conversation here.

Revvin' up his game
His teammates call him 'The Car' because he can run all day. But even senior guard Nile Murry, the unquestioned leader of the Frogs this season, knows he is not the only one who must step up.
By Rick Waters '95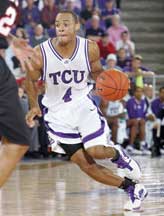 Nile Murry wasn't afraid to say it. After all, he'd been thinking about it all summer and fall.
"I feel like this is my team," the senior guard announced at the team's preseason media day in October.

Make no mistake. There was nothing ego-driven about the statement. In fact, with two senior teammates and all of the coaching staff looking on, no one disagreed with him. The 6-foot-4 senior will be the Frogs' leader this season, and he's ready for that kind of spotlight.

Transferring from from Temple two years ago, Murry sought a basketball home closer to his native Houston, but more importantly a program that liked to run. Because that's what Murry does best.

Last year, he teammed with Corey Santee and Marcus Shropshire to form an explosive three-guard lineup that averaged 38.5 points a game, more than half of the team's scoring. Murry averaged 12.5 points, second to Santee's 14.3 points, and was the Horned Frogs' top returnee in assists (2.3 per game) and 3-point shooting (65 for 163).

But he is the only returnee from that trio and says it is his time to step up.

"This is my last year, and I want to go out with a bang," he said. "I'm just going to have to take more shots and be more consistent on the floor and lead this group of young guys that we have."

The Frogs will stick with the three-guard tandem that was successful for them last year, but they'll surround Murry with players who will also have to rise to the occasion. None of the other returning guards played more than 12 minutes a contest or averaged more than 2.9 points a game.

"That means Nile is not going to be turning down too many shots, for sure," coach Neil Dougherty said, "but he is also going to need the other kids out there to stay with him. The more they develop and get comfortable, the less the other team can shadow Nile around the floor."

Murry knows it will probably be up to him to carry much of the scoring load early while the younger players gain experience.

He may even see some time at the point guard position — a position he hasn't played extended minutes at since his days at Temple — as backcourt mates Neil P. Dougherty and Brent Hackett recover from injuries.

"In the off-season, I knew that the heavy minutes were coming," Murry said. " So I pushed myself in the weight room and on my conditioning. That way, when practice started, I could push the other guys harder and really be the leader. Because I can't lead if I can't stay out in front."

That earned him a nickname: The Car. "When we run sprints, they have a hard time staying with him," Dougherty said. "But I expect them to stay up with him, and he just runs all day long."

The Frogs hope opposing defenders can't stay with him either.

Murry also took 1,000 shots a day this summer, and he has tried to diversify his game. While last season he primarily shot 3-pointers or drove to the basket, he has worked on adding a mid-range jumper to his arsenal.

As hard as he's worked, he knows he will need help.

"A lot of the young guys are going to have to step up too," Murry said. "They had a role last year, just watching mostly. They came in sparingly. This year, they're going to have to come in and make a contribution. Not to put any pressure on them, but we're going to need a lot of scoring from a lot of different people besides me."
Comment at tcumagazine@tcu.edu.