A Tale of Two Countries | Protect us from the criminal element | Save lives. Then talk.
Make citizenship accessible to those who contribute. | Create laws that are fair and concise.
Develop a work-based, binational agreement. | Open the door to those already here. | Get the facts.

Develop a work-based, binational agreement.
The immigration policies of Mexico and the United States are separated by an enormous divide of nearly an inch. Indeed, an immigration breakthrough is so attainable that failure may be almost certain.
By Juan Hernandez '78 (MA) (PhD '81)
Author, political advisor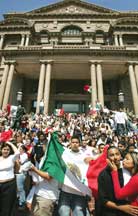 Our two neighboring capitalist economies combine perfectly in forming the foundation for all economic success: supply and demand. America needs labor and intellectual capital, and Mexico helps provide it.
So what's preventing implantation of a supply and demand-based immigration system? You know the answer.
Politics.
Some Republicans are proving slow to realize that the Mexicans' values and aspirations make them allies in building North America's future – willing good neighbors, not "invaders" to be feared. Meanwhile, some Democrats speak as if borders and national sovereignty have no meaning at all. Both political parties are all too eager to fuel the stereotypes entrenched in their constituents, rather than demonstrate true leadership by fighting to change outdated or incorrect perceptions.
U.S. politicians don't win elections by picking fights with their base. This is equally true in Mexico, where elected officials gain favor with voters by standing up to "obstinate" American lawmakers. However, in the end I believe that market forces – again, supply and demand – will prevail and drive the formation of a work-based binational immigration agreement.
The United States can begin by creating a class of work visa to encourage the fluid migration of Mexican nationals to job opportunities here. Perhaps Mexico could collaborate by ensuring that only those legally eligible to immigrate are doing so. Regardless, Mexico must create jobs at home so no one leaves because food cannot be placed on the table.
These "good faith" first steps would require considerable political velocity to become law, but the potential benefits merit the risks. All that's needed is for elected officials to find new words to sell to their constituencies an old concept – fairness.
Let's make sure that America's next immigration policy is as good as the people it reflects. Let's prove that the inch separating a good immigration agreement between two great nations and peoples isn't too big a distance to travel to obtain justice.
Juan Hernandez '78 (MA) (PhD '81), Fort Worth native and former top adviser to Mexican President Vicente Fox, is author of The New American Pioneers: Why Are We Afraid of Mexican Immigrants? Contact him at j.hernandez@hispanicorganization.
www.hispanicorganization.com or www.juanhernandez.org.
Comment about this story at tcumagazine@tcu.edu