Tasteful cause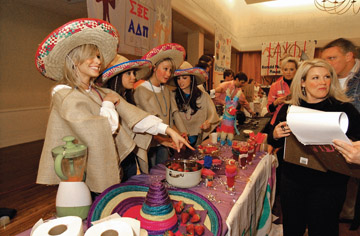 The winning entry at the 7th annual Alpha Delta Pi Mardi Gras Mocktail Blend-Off was a tropical concoction of pineapple, papaya, banana, passion fruit juice, ice and a dash of vanilla extract.
But the most important ingredients of a successful Blend-Off are enthusiasm and a charitable spirit. Both of these flowed abundantly at the February event, which raised $9,000 for the Ronald McDonald House in Fort Worth, while also promoting alcohol awareness.
At the competition, each four-person team prepares a non-alcoholic "mocktail," but the taste of the drink is only one factor. Teams are also judged on originality, theme, spirit and the amount of money raised.
The Sigma Phi Epsilon team nabbed the top prize: $1,500. The fraternity can keep $1,000, but must donate the rest to a charity of its choice. The prize for the second-place team, Chi Omega, is a party at Billy Bob's Texas, while third-place finisher Alpha Phi Omega received four NASCAR tickets. Delta Tau Delta won the Chris Farkus Spirit Award.
Participating students also contributed almost 90 units of blood during a Carter Blood Care drive.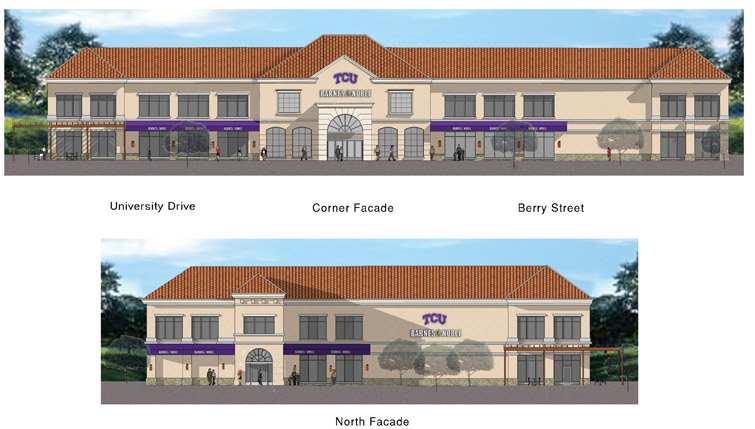 New bookstore will have all you expect -- and more
If you haven't been to campus in a while, you might think it's all happened overnight. But TCU administrators and the hard-working construction crews would likely mention the years of planning and months of physical labor behind this seemingly instant overhaul.
With so many physical changes underway, it can be hard to keep up with it all. You can track the progress of the projects at www.tcuphysicalplant.com. Here's a brief rundown of what's happening.
Campus Commons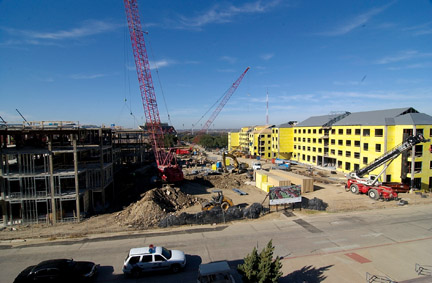 About 300 students will soon live where no Horned Frog has before. Two of the four new dorms being built in the center of campus will house students starting in the fall, said Craig Allen, residential services director.
The two dorms on the north side of the Campus Commons, whose names have not yet been made public, will be home to students moving in from Clark and Jarvis halls. Clark is closing for a year for renovations and should reopen in fall 2008. Jarvis will be renovated to for use as academic offices and support space. Construction of the other two Campus Commons dorms should be finished by the end of the year.
The other major piece of the Campus Commons project, the Brown-Lupton University Union, should be completed by summer 2008. The 135,000-square-foot facility -- construction of which started in December -- will feature lounges, a TCU heritage center, a copy center, a convenience store, a post office, specialty retail and retail food services (with indoor and outdoor seating), an office suite for Student Government and student organizations and a 350-seat "great hall" with space for films, lectures and concerts.
School of Education Complex
On the south edge of campus on University Drive, the 40,000-square-foot J.E. and L.E. Mabee School of Education Complex should open in time for the start of fall classes.
The complex comprises a renovation of the Bailey Building -- including the restoration of the outside staircase to match the original 1914 façade -- and the 23,000-square foot Steve and Betsy Palko Building. The Palko Building will be connected to Bailey through a two-story enclosed hallway.
Athletics facilities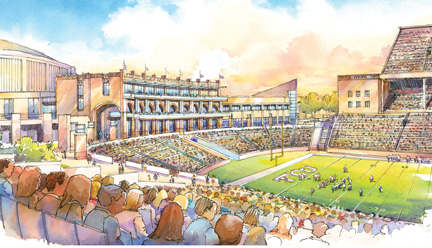 The stadium where Sammy Baugh, Davey O'Brien and LaDainian Tomlinson have delighted TCU footballs fans for almost 80 years is about to get a new look, starting with a major addition to and reconfiguration of the south end zone area.
The south end zone project, a timetable for which has not been released because the project has not yet been fully funded, will be an addition to the Walsh Center that extends over the concourse of the south end zone. Amenities will include academic, dining and meeting areas for use by the football team and, for the fans, enclosed luxury suites and club-level seating.

Texas Legation Records arrive
A rare piece of Texas history that survived fire, flood and hurricane, a dusty attic and a car trunk has made its way to TCU, after 161 years.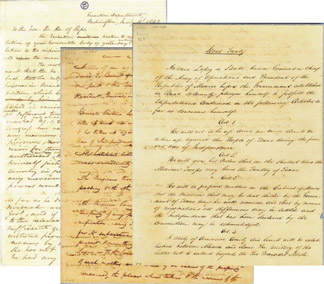 February marked the arrival of the Texas Legation Records, a collection of 266 letters and state documents dating to the period when Texas won its independence and was a Republic.
The documents, many of which have never been seen by scholars or the general public, according to the Texas State Archives, will be housed at TCU's Mary Couts Burnett Library for the next five years. TCU purchased the rights to the papers, thanks to the help of Mary Ralph Lowe '65, the Lowe Foundation and Houston oilman J.P. Bryan, a past president of the Texas State Historical Association and former TCU parent. TCU also committed funding.
"For archivists and historians, to get the opportunity to touch these authentic documents is a dream," said June Koelker, dean of the library. "We'll literally be able to touch a piece of history."
Having the collection here on campus is a treasure trove for the faculties of The Center for Texas Studies and history department. TCU also anticipates that historians and scholars from across the country will seek out the collection for study.
"Historians don't have labs. We use libraries and archives. To have this collection at TCU will be an impressive resource," said Todd Kerstetter, interim director of Texas Studies. "I hope its presence here inspires students to take the adventure that is Texas history."

Feghali wins Ferrari
Jose Feghali, professor of professional practice in music and artist-in-residence, won a Cliburn Gold Medal in 1982 for his world-class piano-playing prowess. But it's his technological adeptness with the Internet that in part made him the recipient of The Ferrari Award for Distinguished Service and Leadership at fall commencement in December.
The $5,000 annual award, named for Chancellor Emeritus Michael R. Ferrari, is open to faculty and staff at TCU. The inaugural winner was economics Professor Ed McNertney at the 2005 fall commencement.
Feghali organized the School of Music's use of Internet2 -- a technology that allows nearly instantaneous audio and visual connections between venues anywhere in the world -- to jointly teach s master's class with a professor at the Royal Academy of Music in London.
Richard Gipson, director of the School of Music, described Feghali as a tireless worker: "His job description involves playing and teaching the piano and representing the university as an ambassador of the very finest qualities of the School of Music. It says absolutely nothing about spending hundreds of hours researching, meeting, and experimenting with technology.

Five questions for Nina Totenberg, NPR political analyst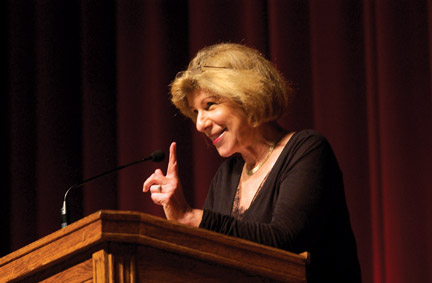 Nina Totenberg, National Public Radio political analyst and legal affairs consultant, spoke at TCU Jan. 24. Totenberg's coverage of the sexual harassment hearings against then- Supreme Court nominee Clarence Thomas resulted in NPR receiving the Peabody Award and her netting numerous individual honors. A few hours before a public lecture, she sat down with The TCU Magazine to share her thoughts on a broad range of topics.
How did you break the Anita Hill-Clarence Thomas story? Some of it I can't tell you. I had gotten a lot of tips about this that I couldn't verify. And finally I had a name to go with it and I called her [Hill] up, and she said she wouldn't talk to me unless I had a copy of her affidavit to the Senate judiciary committee. And that was part of the story: The committee had a credible person who was making a pretty serious charge against him [Thomas], and they had just not paid any attention to it.… I managed to finally get her affidavit and she did an interview with me and I found some people who corroborated the story as much as you can when you're not an eyewitness. I held off on the story for 24 hours because I couldn't reach the chairman of the judiciary committee, and then I said, "The hell with it, let's just go."
Why does the Supreme Court take on seemingly so few cases? When I first started covering the court there were twice as many cases that came under review as there are now. The concern then was there was too much for them to do. The concern now is there's not enough for them to do. But there are a lot of theories as to why this decreased so dramatically. I'm here to tell you that no justice I know of even knows the answer.
What is the personality of the current Supreme Court? How conservative is it compared to Supreme Courts in recent years? I think we're only beginning to see how far the court is willing to go and Justice Kennedy is willing to go. Last term it was just very much a placeholder term and they did very little. This term we should start to see where the court is going in several cases. One is about partial birth abortions; one is using race as a factor in school assignments. They're both cases in which, in the past, Justice Kennedy has voted with the conservatives.
What was your impression of President Bush's the State of the Union address? I think there were two different speeches. When he talked about domestic issues, he was going through the motions. … But when he talked about Iraq I thought he really showed the same old passion or pigheadedness, depending on which side you're on.
Are you concerned that so many people choose to get their news from sources other than newspapers? The problem with blogs or cable television is you tend to seek out information that fits your opinions. If you're more conservative you watch Fox News and if you're more liberal you might watch Keith Olbermann. I just think that's a foolish way to run your life -- just reinforcing what you already think. The idea of thinking is to challenge your thinking and hear somebody else's point of view. I personally don't agree with The Wall Street Journal editorial page, but that doesn't mean I don't read it. Sometimes I'm not persuaded, but sometimes I'm persuaded. I'm not a big fan of The New York Times editorial page but I read that, too.

Capitalizing on success
Karen Radewald's hobby of collecting old bottle caps led her to design her own jewelry out of the vintage soda caps. Her bracelets and necklaces hit the spot with classmates at Lake Travis High School in Austin.
Now, teens from across the world have developed a taste for Radewald's products, sold under her brand, Um. Yeah. Inc.
The high school senior won the grand prize at The TCU Texas Youth Entrepreneur of the Year Awards Program in February. Radewald, who plans to study graphic design and entrepreneurship in college, received a $5,000 scholarship that will double in value if she decides to attend TCU. In the contest, sponsored by the Neeley Entrepreneurship Program, five runners up were also awarded $1,000 scholarships that, like the grand prize, will double in value if the high school seniors enroll at TCU.
Radewald, who has had her merchandise featured in Teen Magazine and Teen Vogue, sells her products at 15 retailers in six states and three foreign countries and on her own Web site, www.popartbykaren.com.
The other winning entrepreneurs included Victor Ramon of Highland Park High School, Tania Foster of Sachse High School, Justin Shoulders of Shallowater High School, Christopher Wilshire of Calvary Christian Academy in Fort Worth and Chris Sterling of Jesuit College Preparatory School in Dallas.

Two diplomas, 1 bowl victory
There were outings to Sea World, the San Diego Zoo and -- oh yeah -- a 37-7 victory over Northern Illinois, but the event with the most pomp and circumstance during December's Poinsettia Bowl festivities was a private affair.
On a late Monday afternoon, the day before the game, Chancellor Victor J. Boschini Jr. and Provost Nowell Donovan awarded two seniors -- quarterback Jeff Ballard, center right above, and offensive tackle Herb Taylor, center left -- their diplomas in a mini-commencement ceremony in the chancellor's hotel suite.
Families of both men attended, along with a few team officials, but the moment belonged to Ballard and Taylor.
"It was a great honor to have the chancellor and provost come all the way out to the bowl site to perform the ceremony," said Taylor, who studied advertising/public relations.
"It was important to me and my family that I earn my degree," added Ballard, who studied speech communications. "For that to happen the day before my last college football game is storybook."
Though rare, TCU has performed off-site commencement ceremonies before for students away from campus on university business. This time, the chancellor and provost, already with plans to attend the game, flew to San Diego after the traditional winter commencement ceremonies on campus two days before.
The football program was ranked 20th in the nation with a Graduation Success Rate of 78 percent.



SuperFrog hits the small screen
Muscle-bound TCU mascot SuperFrog teamed up with a menagerie of over-sized college critters for a cable special about the animal kingdom's connection to March Madness.
"Mascot Madness" is scheduled to run on Animal Planet on April 1. The show coincides with the NCAA basketball tournament's Final Four -- the crowning event of a 64-team tournament affectionately dubbed March Madness. Lee Corso of ESPN and Jeff Corwin of Animal Planet are the hosts of "Mascot Madness," which will focus on teaching viewers about the animals the mascots represent.
Joining SuperFrog on the set were the Wisconsin Badger, Maryland Terrapin, Cincinnati Bearcat, Georgia Tech Yellow Jacket and California-Irvine Anteater.
Lisa Albert '01, communications specialist and cheerleading coach, flew to Los Angeles in January to play SuperFrog in the taped show.

Admissions milestone
Who wants to be the next class of Horned Frogs? A record 10,000-plus applicants, that's who.
Dean of Admissions Ray Brown announced in January that the university had reached the 10K plateau -- a mark never before achieved at TCU. By the time the fall 2007 application deadline hit in February, TCU had received more than 11,000 applications. Of those applicants, about 1,550 will comprise the next freshman class.
The previous record was the 8,677 applications received a year ago. This is the fourth consecutive year TCU has received more than 8,000 applications and the fifth straight year it has received more than 7,500 applications. Applications have risen steadily over the last 10 years.

TCU Tomes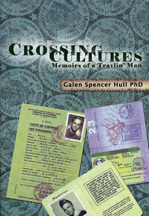 Crossing Cultures: Memoir of a Travlin' Man
Galen Spencer Hull
Booksurge Publishing
Hull shares his own recollections from five decades of traveling around the world, from East Africa and Brazil to Sri Lanka. His travels started when he was a young Boy Scout on a trip to Japan; his careers as a school teacher, a businessman and a volunteer has taken him to 80 countries and counting. To purchase, visit amazon.com.
Athens' Day in the Sun
Ron Hendry
Hendry Publishing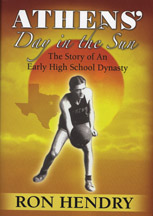 This book covers an eight-year period during the 1920s and '30s in Athens, Texas, when its high school basketball teams were highly successful. Two of Athens' best players during that era, Byron "Buster" Brannon '35 and Wendell "Doc" Sumner '33, went on to have accomplished careers for TCU in basketball and football; Brannon also went on to coach the Horned Frogs in basketball for many years. To purchase, visit www.hendrypublishing.com or call 214.343.7448.
From TCU Press
Renegades, Showmen, and Angels: A Theatrical History of Fort Worth
Jan L. Jones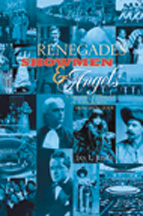 TCU Press
Jones' second volume on Fort Worth's theatrical heritage presents a richly illustrated, comprehensive history of the showmen, performers, theaters, and events that shaped this city's theatrical fortunes in the 19th and 20th centuries. Jones chronicles the early amateur theatricals of the 1870s, the opening of the town's first legitimate theater, and the Texas Spring Palace exhibitions of 1889 and 1890. To purchase visit www.prs.tcu.edu.

Conversation with Ron Hall '67
Before Texas Changed: A Fort Worth Boyhood
By David Murph '75 (PhD)
TCU Press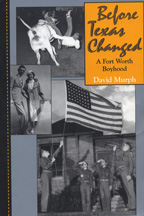 Fort Worth in the 1950s was a very different place than today, says David Murph '75 (PhD). Murph was a spunky 7-year-old when his father, a professional geologist, moved the family from east Texas into a middle-class home on Boyd Street, only blocks from the TCU campus. It was a time when children were sent outside to play without adult supervision; when television featured the likes of Howdy Doody and Lucille Ball; when kick the can and catching fireflies were preferred activities on warm summer evenings. Fort Worth was a much smaller city, both in size and mentality.
Now the director of church relations at TCU, Murph's recollections of those post-war years are a refreshing jaunt backwards -- one that will make you laugh, cry and wish some things hadn't changed.
You often claim that you didn't set out to share your history with the world. So why this book, and why now?
My father died in the 1990s and I dealt with it by writing down my memories. It was like therapy. I got up the same time every morning and wrote. I realized that if you're really quiet, the memories are all still there. Eventually I began to turn it into a story, then sent it to my son and daughter.
Then about a year later, my son sent it to the TCU Press. Some of the stories were used in "Literary Fort Worth," and then TCU Press decided to put it all into a book. I've also found that people in other parts of the country had similar upbringings, did similar things and were able to relate to the book.
How did growing up in Fort Worth mold you into who you are today?
It was a great place to grow up. But in the 1960s the world began to change, and at the time, I didn't realize how significant some of those events were, like the Vietnam War Era; Watergate. But Fort Worth was a place that had a little bit of everything.
Do you think the type of childhood you had is a thing of the past?
We were really just out for the next good time. We'd think, "That's a great idea. Let's try that!" And then do it. I think in the world today, my buddy Murchison and I would have ended up in some specialized school program for wayward kids -- we did manage to find a fair amount of trouble! So yes, I think the life we had as children is very hard to find today. The world has become so small and we're so worried about security. Back then, parents left their doors unlocked and didn't worry where their children were until dark.
What comes to mind as you drive around Fort Worth and TCU, which was once your playground?
I think how lucky I've been to have lifelong friendships and real roots in a place. Some of us still meet for breakfast once a month at Ol' South Pancake House.
Plans for a sequel?
No, that's it. I'm cutting it off at age 18. You can laugh off anything 18 or under.
To purchase visit www.prs.tcu.edu, or call 817.257.7822.