Ol' South
I recently Googled Pauline Berg and found a TCU article on Ol' South Pancake House that featured the crazy "Beaver Lady" Pauline Berg. It mentioned that she died in 2001. I am a former friend who once worked as a part time hostess there. I moved away from Texas in the summer of 2001, had lost touch with Pauline and wondered how she was doing. Her fight with AIDS was not going well last time I saw her. You answered my question. Strange to think little Pauline made it to cyberspace. I just wanted to thank you for the information, and the silly memories. Pauline would have loved to know she was remembered after her death. She had quite an ego. What a ham!!

Lyndsay Torn

Pat on the back

I just have to drop a line to say how professional your TCU Magazine is … a delight to visit and to hang on for a time to re-review. The articles, layout and photography combine to be enjoyed like a ripe peach. I'm a Dad of a graduate, Amanda, and it is true that where your money goes, soon, your heart will follow especially when the product proves to be so good. I'm a Tech grad that loves TCU and I'm amazed at all the constant and strong growth that is evident each year. Your leadership is first class and it is fun to see you all striving and succeeding to improve each day.
Keep up the wonderful work and pat yourself on the back; you all deserve it.
David Smiley Irvin

More about that "C"

Carl Shepherd's letter "About that C" has upset me. His implication that the reference to a "Christian" action reflected the author's bigotry was misinterpreted and insulting. The author did not imply that honesty is an exclusive trait of Christianity; however, he used the term from his cultural perspective. Each culture establishes mores based on its own beliefs.
In the Western world, our culture is based on Judeo-Christian values, one of which is honesty. Saying it was Christian to return the merchandise simply reflected his code of values. Being tolerant of other cultures and religions should not cause us to be intolerant of our own; however, that is what many, and probably Mr. Shepherd, would have us be.
Mr. Shepherd also said "the goal of education is to become involved in the culture of the world." Learning to respect others is a goal of education but changing what one believes is not. Acquiring an education does not mean students must give up their own personal beliefs or that in keeping them they are intolerant bigots and morally superior to everyone else.
Doddie Messick '72

More foodies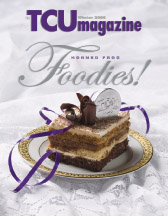 A correction is in order: There was a missing ingredient in the recipe for Schobel's Buttermilk Pie in last issue. It also needs 1/4 cup butter.
How about Coburn's Catering? This is a family business that has been operating in Fort Worth since 1946. We have a rich history catering in Fort Worth, including the Fort Worth Stock Show (including the Backstage Club), the Miss Texas Pageant and TCU Homecoming. We also do all of the food and vending for Lockheed Martin. My father-in-law Jerrell Coburn '69, my husband Steve Coburn '92 and I are all TCU graduates.
Ann Shelp Coburn '90
I always enjoy your magazine, especially this month's "Foodies" article and recipes. After graduation I started my own catering company, "Aaron's Catering," named after my son. We have been growing ever since, especially in Parker County, where we belong to the Weatherford Chamber of Commerce. I have been published in a few local and national cook books, won a blue ribbon in our Peach Festival, etc. Our vans and everything else are purple and white, of course, and we make every game we can.
Harley B. Farris '99
Your winter issue had a very nice story on "Foodies." I head our family's business -- Deen Meat & Cooked Foods. My father, George Deen, started the business in 1946. He learned the business from his father, Edgar Deen, who was sales manager at Armour & Company, and later Mayor of Fort Worth. Our principal products are marinated and cooked foods for major restaurant chains.
Danny Deen

I enjoyed your article about Frog Foodies. I was, however, disappointed that you missed Carol Godbey '77. Carol's late father, Vance, founded and grew Vance Godbey's catering. Not only do they have one of the largest catering services in the Fort Worth area -- they have numerous times hired TCU students to serve for functions such as President Jimmy Carter's luncheon in 1976. Their company helps many people who would otherwise go hungry during holidays. They have as long standing a reputation as Joe T's.
Becky Crow Clem '77
The two most famous names in Texas BBQ are Frogs: Louis Mueller "61, the Taylor BBQ king, and Rick Schmidt '69 from Schmidt's/Kreuz Market in Lockhart.
Bud Kennedy '76
My bad for not having my alumni information updated recently to get on your radar for the "TCU Foodie" issue! It was a fun read. Thank you for taking an interest in that angle. I own Eurotazza Coffeehouse on Camp Bowie, and I hope you've had a chance to come by. We opened last March and are giving neighbor Starbucks a run for their money. Please tell alumni to say stop in or check us out at www.eurotazza.com.
Keira Breeden Moody '92
Just saw your article on TCU foodies and I loved it. Good to know there are so many Frogs out there working hard to fill the bellies of the Metroplex.
Colin Kirkpatrick '00
Catering Director, Whole Foods Market

Study Abroad photos

I just wanted to write and say "well done" to all the contestants who submitted photos for the Center for International Studies Photo Contest. I was especially impressed by Benjamin Stockard's "Untouchable" (p.18), which won Best of Show. I was wondering if there is any way to contact Mr. Stockard to request a copy of the photo? I would love to have it to hang in my home.
Amy Loevy '91

Great school, Barron

I have just returned to our home in Odessa after attending the funeral of a classmate and fraternity brother who graduated with me in 1962. Pat McAdoo was a true son of West Texas. As I entered the "standing room only" service at the Methodist church in this dusty plains community, I was overwhelmed with the amount of purple and white flower sprays from old college friends that lined the chapel.

Pat was an uncomplicated fellow. He enjoyed his lovely family. He enjoyed being the mayor of Seagraves for nearly 20 years. He had a nice career as the only car dealer in town. He loved the university that had taken him in, taught and nurtured him for four years, and given him the life skills that made him a success.
As I left the sanctuary, the family had placed many pictures of the important events in his life, plus a nice TCU banner. That remembrance verified what he said every time we visited: "Great school, Barron!"
Fred '62 and Beverly Jamison Barron '63

First grad?

On page 70, in the 1983 class notes, Jennifer Skiff is listed as the first person to graduate with a BS in Broadcast Journalism. I was in that same class and major, so I'm curious as to how she can claim to be the "first." Great magazine; I enjoy it.

Jamie S. Switzer '83

Choco Monkie

In TCU Tomes I look forward to reading all the books, and appreciate being included with those authors; especially knowing that TCU has produced so many fine authors. There is one tiny error I would like to correct. I am devoted to independently owned book stores and independent fine chocolatiers, so my book is available exclusively at locally owned and operated businesses. There is nothing like an independently owned and lovingly operated book store for variety, diversity and escape. For a list of the independent businesses that carry my book, as well as independent web sites where it is sold, go to www.chocomonkie.com.
Anne Isham '80

All-Time Numbers

You failed to mention these players:
Matt Moore #33 1994. Matt was paralyzed in practice. He is what TCU represents: over-coming weakness and becoming stronger in the face of adversity. Not overwhelming stats but more of a meaningful selection.
Hayes Rydel #80 1994, #44 1995. TCU new-comer of the year, also featured in Sports Illustrated for tackling trees after walking on and becoming a starter within a week. He totaled 135 tackles and 10 sacks in his 2 seasons.
Reggie Anderson #44 1991-1994. Reggie passed away a few years ago but when he played for TCU he was a wrecking machine.
Chris Statin #29 1994, #19 1996-97: He was a human hammer. This guy knocked out running backs on a game by game basis.
This seems wrong: Ryan Tucker and Barrett Robbins should own their numbers at the No. 1 spot. Robbins was an All-American #71 and Tucker was a human road grader #50.
Lenoy Jones should be number one at #18. He played in the NFL for five years and was SWC new-comer of the year.
What about Greg Townsend? He was a yearly All-Pro player for the Raiders.
About #47: the No. 1 spot should have gone to Fred Washington, he was a No. 1 draft pick in the NFL.
Concerning #11 Max Knake. He was a good player and deserves to be mentioned for his stats alone, but in 1995 when all TCU needed one more victory over one of its last three opponents, Max went five for 35 passing at Texas Tech and 0-3 in those critical games.
Hayes Rydel '95
Your All-Time Numbers story sure brought back a world of pleasant memories. I am confident a ton of time and research went into your final decisions regarding which names deserved to be listed and which ones didn't make the final cut.
I am not quarreling, but I can't believe the final decider was not in Memorial Stadium in 1959 when, late in the fourth quarter, Harry Moreland, No. 22, made his run. TCU 14, University of Texas 9.
Joe Hays '48
As the parents of Royal West, we thank you sincerely for the kind an appropriate remarks! His playing years were so memorable as we were at most every game in full purple attire with #97 on our clothing and with his mom holding cow bells ringing on the front row, right behind the players bench. Thanks again so much!
Royce and Syntha West

For the record

What Jeri Petersen's fine article does not mention is that while Dr. Granville T. Walker was giving his sermon that day, Lee Harvey Oswald was shot by Jack Ruby in the basement of the Dallas PD building.
I was living in Dallas at the time, but in the deep emotion which the assassination evoked, found that I had to be with family and had returned to Fort Worth for the weekend. That Sunday morning following the Friday assassination my brother, David Jones '63, and I decided to skip Sunday School, but promised our parents we would join them for church services at University Christian.
When we arrived we discovered the church was full too and already bursting. The pews were full, extra seats had been filled, and there was not even room for any more standees. We returned to the car and waited, finally turning on the radio and hearing the news of Oswald's death, news which we gave to some members of the congregation as they exited.
That afternoon none of us could stay in the house. We went to the Ridglea Theater and saw Disney's The Incredible Journey -- the original version in which the animals don't speak. Never have courageous lost pets, striving valiantly to get back home, seemed so trivial.
George Jones '57

Creation controversy

[Professor C. David] Grant argues that Intelligent Design is creationist argument revisited, before admitting this isn't fair or accurate. Without the groundswell of scientists and thinkers increasingly dissatisfied with Evolution, Grant wouldn't be writing articles to drown out their voice. Darwin stated, "If it could be demonstrated that any complex organ existed which could not possibly have been formed by numerous, successive, slight modifications, my theory would absolutely break down." I.D. makes that demonstration.
No one is asking to "rule out the possibilities" of Evolution. Only that valid questions and alternative theories be permitted. Darwinists, however, dogmatically demand the exclusion of all challenges. Grant tries to scare uninformed Christians into rejecting I.D. for 'guided evolution.' But to imagine that it doesn't preclude God is to misunderstand Evolution. Nature cannot be accurately or adequately studied without recognizing it to be designed. More information, less agenda, please.
For a full explanation, go to "God Matters" at home.earthlink.net/~chrislaboggs.
Laura Orth Boggs '91
Your piece about creation caused a stir in our Sunday School class. Our teacher, a past TCU surgeon, presented it in a matter-of-fact way. However, there was much discussion arising from those raised in different generations. Even 10 years made a big difference in our beliefs. Some of us were taught to believe that science was a changing art while others believe it to be a hard and fast, yes or no answer to all things. Who would have thought one Sunday School class would have so many different opinions?
Dianna Lucas '96 (MTS)

Comment at tcumagazine@tcu.edu