First Person | Rifle | Baseball | Women's golf | Track & Field | Brian Estridge

We see great things
Athletics Director Danny Morrison shares his thoughts on the new indoor practice facility, renovations to Amon Carter Stadium, the 2007 football schedule, Gary Patterson, Neil Dougherty and more.
By Rick Waters '95
What impact does the new Sam Baugh Indoor Practice Facility have on TCU Athletics? Morrison: First of all, we're really excited about it. The architects have done a great job of blending it into the TCU look. It's a mammoth structure. But it looks great from the Stadium Drive side. We were somewhat lucky in that it sits in a hole. So on the Stadium Drive side it does not appear to be so large. Yet on the practice field side, it is an imposing structure. But that's good because it is great for recruiting. It's perfectly positioned.
I think it is the best-looking practice facility in America. Most of the time, you see places that have a bubble or just a basic structure. The architects did a great job of making it look first-class and fitting in with TCU. It also speaks well of the excellent planning that's been done for years. When the artificial turf was put in, the foundation was also constructed in such a way that it was ready for a building to be put on top it. To have two wonderful gifts to make it possible – with the lead gift from the Justin Foundation and an anonymous donor. We're excited about it.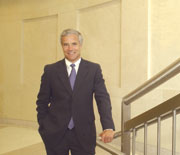 I understand it has already been used and gotten rave reviews.
Morrison: We had a one-day permit of occupancy in early May because a Nike camp was here with some of the elite players in the country. Coaches from all over America were here recruiting and watching the great prospects, and the comments we heard from the coaches were powerful. They loved the look of the facility and its functionality. It was a happy day to look over and see Gary Patterson elated.
The fact that it bears the name of Sammy Baugh is significant also, isn't it?
Morrison: I also like the name of it. To name it after Sam Baugh, who was one of the legends of college football and of TCU, is a fitting tribute. But I also like that the word 'practice' is in the title: the Sam Baugh Indoor Practice Facility. Symbolically, it says to young people, "Practice hard, and you end up getting better." I love that our donors wanted to honor one of our legends in this way.
You take the indoor practice facility, the Morris Practice Fields, the Lester Video Towers, the Ed and Rae Schollmaier Complex, Walsh Center and Justin Center and, in a compact way, these facilities are here to improve the lives of student-athletes competitively and athletically, but also through the academic center, the trainer facility and the weight room facility. I love that all these facilities are all in one place. I think that's another competitive advantage for us as you look across the landscape of college athletics. It is very unusual to have all those in one area.
I have said this since Day 1 at TCU. Our facilities are very functional, they fit in with TCU and they're extremely well maintained. Some of the members of the Justin Foundation Board came over to talk with us about the indoor practice facility, and I loved their comments after they walked through the Justin Center. They saw how superbly maintained the Justin Center is. It is a huge compliment to our physical plant staff. They deserve a lot of credit on this campus, as do the people that do the landscaping. What it said to the Justin Foundation Board members is that their investment was being very well taken care of. It was a powerful signal as we were talking to them about another investment, the indoor practice facility. And they mentioned how the Justin Center still looked brand new. They were so impressed. You can say that about all our buildings on campus.
What's the latest on the Athletics Complex Renovation Project, or as some people know it, the South End Zone Project?
Morrison: Well, that's an important project, as well, for a couple of reasons. First, it expands our academic space. Second, it provides more meeting space. Third, it will provide a hospitality area. Finally, it will encompass six suites and 226 club seats. It will set the stage for the future renovation of the stadium.
We had wonderful lead gifts from Four Sevens, led by Dick Lowe and Hunter Enis. Of a $13 million project, Four Sevens contributed over half the funding. We're grateful for that initiative. What started off as improvements for the academic space and meeting space evolved into this project that brings in the hospitality and club seating aspects.
What's nice about it is that it is above the Walsh Center and adjacent to both the Justin Center and Daniel-Meyer Coliseum. So one would be able to enter this new facility from the concourse area of the coliseum. So it will provide a fabulous place for pre-game and halftime hospitality at basketball games. It won't just be used for football, but for basketball and other events in the coliseum.
Very nice. Multi-purpose.
Morrison: We like to use the term same-purpose multi-use. Hospitality is the same for basketball as it is for football. It's the same purpose. It's just multiple uses of the same activity. We saw something similar to that at Wichita State when we went up and benchmarked their basketball facility that is very much like Daniel-Meyer Coliseum. What they did was expand the concourse and put in a hospitality area. We've been able to garner a hospitality area as a part of this new project. It will be fantastic for football but equally as good for basketball. Also, during two-a-day football practices, the team will eat their meals in that hospitality area.
Athletics sent out a survey in March to its season ticket holders and other stakeholders about potential Amon Carter Stadium renovations with some very impressive renderings. What kind of feedback have you received?
Morrison: The feedback was very positive. There are still a lot of question marks regarding the stadium. There is a stadium committee that is meeting regularly and looking at the various possibilities associated with the renovation. There is a theme that continues to be driven with the committee and that is to maximize the functionality of the stadium but also retain its class and charm. We'd like to make it the Camden Yards of college football. It's a great stadium with a lot of history and tradition. Our challenge is, how do we take the amenities that are expected in today's climate and make those work within the confines of the present structure. That's a pretty big challenge. The feedback we've gotten about the proposed drawings has been very positive. Again, the challenge for us is to have a facility that fits TCU with its look, function and charm.
As if that were not enough to keep you busy, are there other projects, perhaps long-range ones, that you can talk about?
Morrison: We do have a commitment for a golf practice facility. We're still working through the best place to put that potential facility. There is still work to do. We also have a lead gift for the renovation of the tennis complex. We've upgraded the lighting there in recent years, but we also intend to do renovations to the pro shop. A number of track lettermen led a huge effort to get a scoreboard at the Lowdon Complex and it's made a huge difference, made an excellent facility even better. And we also have received a gift for planning the Olympic sports building. We'll be getting started on the planning in the near future. So lots of exciting things coming.
Going back earlier this year, it made the news that Coach Gary Patterson had some conversations with the University of Minnesota. How close was he actually to going to Minnesota?
Morrison: First of all, let me say this: We all know what an outstanding job he's done at TCU and continues to do. He's been a great ambassador not only for the football program but for the entire university. He likes TCU. He likes Fort Worth. As I have said many times, what would surprise me if he was not on somebody's list. He's an outstanding coach. He's got a great staff. We've been fortunate here with continuity, which I think is a competitive advantage that we don't talk enough about. When you employ someone who is successful, people are going to take notice. He's excited about TCU. He made a strong statement about his love for this place and the city of Fort Worth when they were coming after him that strongly and he ultimately decided to stay here.
One aspect that became public was the reduction in his buyout. That surprised some people. Was that a good-faith gesture or were there other factors that weighed in?
Morrison: With regard to personnel issues and contract language, we make it a practice not to discuss specifics publicly.
Going back to September of last year, Coach Patterson made the comments about feeling like "a stepchild in this city and in this state." Did the two of you talk about that?
Morrison: First of all, he's very passionate about what he does. His statement was made in the passion and excitement of a great win over an excellent Texas Tech team. I know he was trying to say that he was excited about what his kids had done and they deserved great support. It was taken by some to be derogatory against the Fort Worth public, but nothing is further from the truth.
What was your reaction when the football schedule for 2007 came out? There are six Thursday games for all of the Mountain West and TCU is playing three of them. Is that a compliment to us or is that an extra challenge for us?
Morrison: If you look at the Mountain West Conference collectively, we have as good a schedule as a conference as any conference in America. Almost all of our games are on Saturdays. We have six games on Thursdays and one Friday night game. As you are a higher profile school, like TCU, then you get selected for television more often for Thursday night games. One of the ramifications of our success is that we're going to be selected more often for the Thursday night games.
What is TCU's role in the process of making the conference schedule?
Morrison: What all the schools do is put in their non-conference schedules first. Then the conference works through all the various nuances to put together a conference schedule. If we were making out the schedule, we might have done things differently, but we would have done things that are more advantageous for TCU. But if one looks at last year's schedule, we had advantages for both Thursday night games in that we did not play the previous Saturday. Our opponents did. When we looked at the schedule last year, we were pleased about that. BYU and Utah were not pleased, and yet they ended up winning those two games. The reality is that while the schedule may appear to be favorable or unfavorable, the key factor is how you play the games.
The year before that, we played 11 straight weeks. You look at that at the front end and you don't have a bye week in there. It actually worked in our favor because we had great rhythm. We stayed fairly healthy. Playing 11 straight games looked like a disadvantage at the start but it actually was an advantage. There are a couple of tough turnarounds. After the Texas game, we have to go to Air Force. But one could argue that it will reorient your team quickly after the Texas game because the first conference game is staring you in the face immediately after.
How do you balance wanting to keep as many games as you can on Saturdays with wanting to have as much television exposure as possible? Do you have a philosophy?
Morrison: It's really more than that. It's the conference television partners. Philosophically, you do want balance. Our fans would like to play on Saturday because of the pageantry and the time element. On the other hand, a Thursday night game on Versus does go into 72 million homes. I think our home schedule has been fairly balanced with this relationship with CSTV, Versus and the mtn. We've had one Thursday night game at home and five Saturday home games since this television contract has evolved. I think that's a nice ratio.
Fort Worth as a market still does not have the mtn. network. How frustrating for you is the fact that some of those issues haven't been worked out yet?
Morrison: It takes time for television carriage. We would all like it yesterday. Right now, Versus is in 72 million homes. CSTV is in 21 million homes with access to 50 million. The mtn. is in 1.5 million homes. The conference is going through growing pains associated with a new venture. The Mountain West is the first conference to have its own regional television network. The Big 10 Conference has followed and they are experiencing similar distribution difficulties. What is promising about this television partnership is that almost all of our football games will be televised. About 106 men's basketball games in the conference were televised last year, 47 football games, 30 women's basketball games as well as a number of Olympic sports. So the product is good. We just need to work toward broader distribution and there is some progress in that area. Charter in Fort Worth is picking up CSTV in May. We have a number of state legislators who have been excellent in their support and influence on the cable television industry.
That's what we can do – to contact our legislators to help influence and prod? Are there other things we can do?
Morrison: TCU supporters can be very helpful in contacting their cable operator or satellite provider to inquire about both CSTV and the mtn. Most of them are already carrying Versus.
Coach Dougherty of the men's basketball program has said that he believes it is a disadvantage to TCU that all the other Mountain West school's markets have the mtn. and we do not?
Morrison: I think the television package is a good package. It's good for the conference. The key element for us right now is distribution. When the distribution comes to fruition, people will be pleased with the product. The mtn. is a product solely oriented to the Mountain West Conference. For those of us who have watched it during the basketball tournament in Las Vegas and other venues when we've been on the road, we have been impressed with the quality of the production. The key element is distribution.
One of the historical challenges for TCU has been making inroads in this market, namely getting non-TCU people to attend games, to boost attendance to our games. Having been here about 2 years, how do you think we're doing in that area?
Morrison: I think we've made a lot of progress both in ticket sales and attendance over the last decade at TCU. If you look at the old Southwest Conference days and a crowd of 30,000 at TCU, a lot of that crowd was generated by opponents' fans. Now, a crowd of 30,000 is predominantly TCU fans. So the base of support at TCU has actually grown significantly over the last decade. This year, we had an all-time record in gate revenue and season ticket sales. We also had the first sellout of Amon Carter Stadium since 1984. Attendance of our women's soccer games was ranked 11th in the nation. So I would commend them on their support of TCU. Of course, I say all of that knowing that we can always generate more support. The drivers for attendance will always be two-fold: how you play and who you play. Fortunately here, football has been a very attractive draw on the field, and [Associate Athletics Director] Jack Hesselbrock has done an excellent job of scheduling traditional non-conference foes.
There's lots of anticipation with the Texas game coming. How likely are we to see them on future schedules?
Morrison: The Texas program speaks for itself from its coaches and players to its fans. We're excited about playing a team that just won the national championship two years ago and has a longtime history of competition from the Southwest Conference days.
Are there any special plans for alums/fans who make the trip – pep rallies, meeting places, etc?
Morrison: We have been hearing from alumni and friends who are excited — and are looking for tickets. Our alumni office is spearheading a number of events in Austin and I expect us to have a lot of fans there.
This game is the first real test of the new Priority Points system. Do you think the system is doing what it's supposed to?
Morrison: The Priority Points system was designed to take care of situations in which there are limited tickets. We are in that process now and I believe it is working the way we expected it to work.
A number of fans and alums have been quite vocal in their criticism of men's basketball coach Neil Dougherty. What would you say to them?
Morrison: I respect people's passion for TCU and they want what I want, and that is for TCU to be excellent in all our sports. If you follow his tenure here, things were tracking pretty well, and then we had difficulty two years ago with such a rash of injuries and a number of setbacks. Then this past season, we saw some improvement but not to the level we want.
I love that people have passion. They want to be excellent. I share that passion. I understand that there are varying positions about hiring and firing a coach. Many of them have been fair in their analysis that we have not performed up to expectations the last two years. Coach Dougherty and I had some very frank conversations after the season was over. We analyzed every facet of the program, and I believe we are poised for significant improvement in 2007-08. We're going to have our top six scorers back plus a fine recruiting class.
What I appreciate from talking to people in conversations is that they respect the decision and they say, "We're behind TCU and TCU Basketball."
What's a more difficult job for an Athletics Director – negotiating to retain a successful, highly desired coach or firing a struggling one?
Morrison: I would always prefer a successful coach. I hope the environment that we have at TCU is so attractive that coaches want to stay. But, you know, often times the hardest thing an Athletics Director has to do is stay with the coach that's had a tough stretch. I like to talk about Coach K at Duke and how people wanted him gone after his third year when he was 11-17 and had lost to Wagner at home. Or how Frank Beamer, the football coach at Virginia Tech, won only 22 games in 5 seasons and was 2-8-1 in his sixth year. Those two are examples to me that good coaches can blossom even after slow starts or difficult patches. Sometimes the toughest decision is to stay the course.
I believe we're going to be significantly improved next year. In today's world, people perceive that you show commitment to winning with firing a bad coach. But actually the more difficult decision is staying the course when it is not the most popular choice. At a time when there is a lot of change going on in the conference, I believe the continuity of our program is going to be a competitive advantage for us next season.
Comment at tcumagazine@tcu.edu