Getting a move on
Mini-fridges await delivery to rooms in the new Amon G. Carter and Kellye Wright Samuelson residence halls in the impressive new TCU Commons, slated for completion in 2008. Hard hats were commonplace in the area in mid-August as students began arriving. The second two residence halls, on the south side of the Commons, will open in the spring.
Work on the 145,000-square-foot Student Union continues unabated on the west end of the site, heightening excitement about the campus center. Once completed, the new Commons will be the heart of the revitalized living-learning atmosphere at TCU.
Go to www.physicalplant.com to see architectural drawings and information.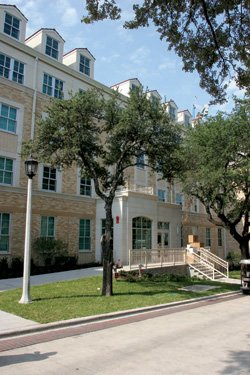 First residence halls of Campus Commons open
The north sides of Amon G. Carter Hall and Kellye Wright Samuelson Hall are adorned with a bas-relief of a rising sun. The image seemed appropriate for TCU's newest residence halls in August as the first students who will live in the new suite-style halls arrived on a sweltering summer afternoon.
But in another significant way, the bas-relief suns also might represent the new era dawning at TCU.
Carter and Samuelson, which will house a combined 314 students, are the first two of four new residence halls to open on the center of campus. The TCU Commons project, which also includes a new University Union, set to open in fall 2008, is part of the University's commitment to provide students with a living-learning campus experience.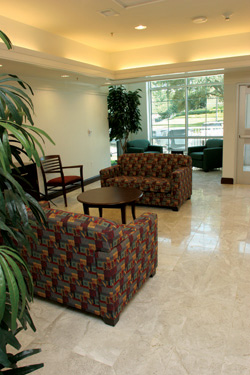 "The new halls look great," said Craig Allen, director of residential services. "The halls turned out even better than I imagined them to be, and the interior design team at TCU did a great job with colors and furnishings. Students appear to be very happy, and the comments I have heard from parents and students have been overwhelmingly positive."
Freshmen and sophomores are now required to live on campus. Those classes comprise 2,600 of the 3,400 students in on-campus housing. In all, about 200 more students will live in TCU housing than in Fall 2006, Allen said.
Construction crews continue to work toward the expected late fall completion of the other two Campus Commons residence halls, Teresa and Luther King Hall and Mary and Robert J. Wright Hall.
Elsewhere on campus, the College of Education has moved into the new Mabee Foundation Education Complex and crews are busy building a new 34,000-square foot TCU Barnes & Noble University Bookstore at the corner of Berry Street and University Drive, which is slated to open in early 2008.

A common theme
This semester is rated R. Members of the TCU community will encounter ideas relating to rights, responsibilities and respect. Critical thinking is advised.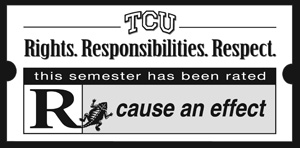 The R-rated semester will present students with discussions, events and lectures on the issues affecting ourselves, our school and our world -- all designed to cultivate an atmosphere of free and open inquiry.
Freshmen took the initial step into this R-rated journey by participating in the second annual TCU Common Reading program. Over the summer, incoming freshmen were mailed a collection of writings on the theme of "The First Amendment and the Boundaries of Freedom."
There was no test, but before classes started, the students were required to attend a discussion group with one of nearly 70 faculty and staff members to talk about free speech, civil disobedience, blasphemous art, the Dixie Chicks' controversial political comments and other first-amendment-related issues.
For more information on the theme semester, go to www.themesemester.tcu.edu.
To download the Common Reading selections, go to www.magazine.tcu.edu.

Largest incoming class
An estimated 1,660 students comprise the incoming freshman class. If that figure remains the same when the class's demographics are made official after the 12th day of classes, it would be the largest incoming class ever.
The newest Horned Frogs are a smart and elite group. The class set records for highest average SAT score (1759). The admissions office received 11,900 applicants and 48.9 percent were accepted, making this class TCU's most selective group ever.
The freshman class is one of TCU's most diverse incoming classes, as well. Students of color comprise roughly 18 percent of the freshman class. Dean of Admission Ray Brown said the class should also set records for the number of black students and possibly for the number of Hispanic and Native American students. And the 70 international students in the class is also the most ever.
And although female students outnumber the guys, there are more male students (41 percent) than in any freshman class since 1994.

University signs drilling rights lease
Tapping the potentially lucrative Barnett Shale under the campus is an opportunity the university can't pass up, administrators decided in August when they announced the University signed a lease with Fort Worth-based Four Sevens Resources Co., Ltd.
Drilling for natural gas north of Amon Carter Stadium in remote campus parking is scheduled to occur January through July in 2008, 2009 and 2010. Drilling operations will not be done in fall semesters. The TCU Board of Trustees voted in the spring to place any revenue TCU receives from drilling in the University's endowment.
To ensure safety and limit the impact on the campus and surrounding neighborhoods, security fences will be placed around the site's perimeter and the site will be monitored and inspected by state and local officials. Fort Worth's noise ordinances will be followed and truck traffic will be routed away from dense neighborhood areas.
Four Sevens was selected as the University's natural gas operator by the executive committee of the Board of Trustees in the spring after the committee reviewed proposals from multiple companies.

Summer music a big hit
Mimir Chamber Music Festival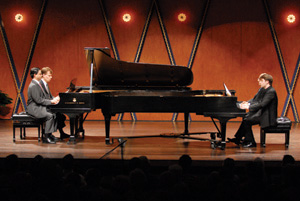 It took eight skillful hands and two pianos to perform a piece by Smetana at the 10th annual Mimir Chamber Music Festival in July. The 11-day event at TCU featured some of the world's leading orchestral performers, 20 young musicians and TCU's talented music faculty in a series of master classes and public concerts.
Piano Texas
The amateur concerto competition is one of the reasons why the Web site for PianoTexas International Academy & Festival rightfully bills the event as "the best summer piano festival in the world." In June, amateurs, top young artists and renowned instructors and performers came to TCU for a month of master classes and masterful concerts.

Charting Texas history
Anyone who's ever opened a Rand McNally knows what Texas looks like on a map. But it took centuries for the Lone Star State to take on its famous shape.
"Going to Texas: Five Centuries of Texas Maps," a new traveling exhibit presented by the Center for Texas Studies, in partnership with the Museum of the Big Bend at Sul Ross State University, includes 64 historic and significant maps never before displayed in a single collection.
The maps, from the Yana and Marty Davis collection, will be displayed at 10 venues across the state over a two-year period. The exhibit will begin in November at the Hall of State in Dallas and conclude with a three-month display at the National Cowgirl Museum and Hall of Fame in Fort Worth in November 2009.
The TCU Press has published an exhibit catalogue with color plates and descriptions of each map and essays by historians and cartographers. The book will be available for sale at each venue.

New sorority
Gamma Phi Beta International Sorority has opened a chapter at the University this fall. In March, the Panhellenic community voted to invite Gamma Phi Beta to create a chapter on campus.
Gamma Phi Beta was chosen over two other finalists, Delta Zeta and Alpha Phi. The sorority was founded in 1874. Locally, Gamma Phi Beta also has chapters at SMU and Texas Wesleyan.



Brite president to moderate DOC
Brite Divinity School President Newell Williams was installed as moderator of the Christian Church (Disciples of Christ) for 2007-2009 at the church's biennial General Assembly in July in Fort Worth. Williams, who has been Brite's president since 2003, also serves as professor of modern and American church history at Brite.

5 questions for ... Andrew Schoolmaster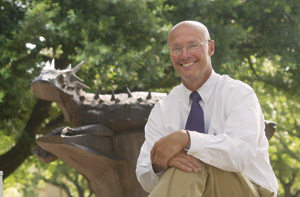 Andrew Schoolmaster is the new dean of TCU's AddRan College of Humanities & Social Sciences, a role he began serving in July. Schoolmaster, most recently dean and professor of geography in the College of Arts and Sciences at Eastern Kentucky University, is the second dean since AddRan College was reorganized. He replaces Mary Volcansek, who has returned to the classroom full time. He's no stranger to the Fort Worth-Dallas area. Schoolmaster, who earned a bachelor's, master's and doctorate at Kent State University, was a geography professor for 24 years at the University of North Texas, where he was also an associate dean for administrative affairs.
Why did you decide to come to TCU? One, it's a really fine school. It has a good administration. The quality of TCU is certainly an attractive factor. Second, the high quality of students. The students are generally well prepared for college. The third factor was Fort Worth. I lived in Denton for 24 years. I know that Fort Worth is a vibrant, growing city. I still have a lot of good friends here in the Metroplex. It was like going home. Another factor is you have faculty that are really committed to the teacher-scholar model.
What is your impression of the job done by previous AddRan Dean Mary Volcansek? I think she did a very, very fine job. She was active in fundraising. She supported the Center for Civic Literacy and the Center for Texas Studies. The college was well-managed. It's easy for someone to come in and pick up where she left off and go forward. Humpty Dumpty isn't broken. Humpty Dumpty is in great shape sitting on the wall.
What was your perception of TCU before coming here? I think it's very well regarded both in the Metroplex and nationally. They know about the quality. I think TCU is well respected nationally for its academics and athletics.
What do you like doing in your free time? I like to read books on World War II, naval history and aviation history. I also read books on current events. Every once in a while I really enjoy reading a Tony Hillerman novel. I like to read and walk and exercise, and I also like to fish. I have a cabin on the St. Lawrence River in upstate New York.
Your office looks really neat and organized. Will it stay like this? No, it won't. The bookshelves will pretty much stay the same, but the desk will ebb and flow with paperwork. Right now, it's probably as clean as you'll ever see it.

TCU Tomes

The Day of the Dead
Denis Defibaugh and Ward Albro
TCU Press
Since 1993, photographer Denis Defibaugh and author Ward Albro have visited the Day of the Dead festivals in Mexico, where customs have evolved over generations. In this beautiful book, Defibaugh's photography catches the essence of the people and their celebration, while Albro's text supplies background for understanding the beliefs
and practices of the observance.
To purchase: www.prs.tcu.edu.

Conversation with ... Karyn Purvis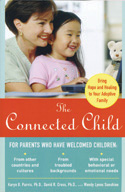 The Connected Child
By Karyn Purvis (PhD) David R. Cross (PhD) and Wendy Lyons Sunshine
McGraw Hill Press
Children who come from "a hard place" need special care to overcome early abuse, neglect or psychological injury, says Institute of Child Development Director Karyn Purvis. The Connected Child holds the answer to helping those children. It contains the wisdom that Purvis and psychology Professor David Cross, associate director of the institute, have gleaned in eight years of research and practical experience with these special children. The first printing of 7,500 copies sold out in two months this summer, and the book is now the fifth most popular purchase in the adoption category on Amazon.com -- a testament to the huge need parents of these at-risk children have.
Why did you write this book?
This book is truly a dream come true for us. We have so many people -- 200 to 300 a month -- asking for help, but before we had the book, we simply couldn't help most of them. Now anyone can get a great deal of practical advice on working with their children. We want to reach as many families and children across the world as we can, and the book is a way to do that. There are translations into Romanian, Chinese and Dutch in the works. And we are actively working with kids in five countries. We are also working on a certification or accreditation course for professionals who work with at-risk children. It's like a door to the world swung open to us once the book was available. We get letters from all over the world and turn down speaking invitations weekly. Right now we have more than a dozen speaking engagements over the next two months to all sorts of groups all over the country and are doing training for judges, lawyers, case workers, CPS workers, teachers, therapists and parents, parents, parents. We are also working in the courts as expert witnesses. Our goal is to train thousands across the world to do what we're doing, and the book is the first step in that. Online training is our next big project.
Who is the book for?
It's for caregivers and parents of the vulnerable or at-risk child. For professionals who work with these kids. For anyone who is involved with a child who suffers from autism, medical trauma, abuse, neglect or even post-traumatic stress from seeing something stressful like Katrina. It's just for any parent really. We have discovered that if you have a low-risk child, a wide range of parenting styles are effective. But for high-risk kids, there a very small window of opportunity where you can help that child heal, and that's what our work is about.
What will parents and caregivers find inside?
They will find what their grandmothers knew, but that as a society we have forgotten because of new philosophies that drive us away from the ancient wisdom of parenting. They will find that the physical touch, eye contact, a mother's lullaby and daddy's strong shoulders are the strongest healers for a child who is at risk. They will find scientific explanations about how those things change the brain chemistry levels and normalize learning. They will learn how to create an optimal healing environment and practical tools for redirecting behavior that will help their child develop to his or her fullest potential. And they'll learn one of the key points: It doesn't matter if you know your child is safe, you have to ensure that your child knows he or she is safe. So you'll learn how to help that child feel safe, which literally will change their brain chemistry and help them heal.
What is the most important thing you've learned since you began this research?
Our greatest insights have been the things the children have taught us about what they need and how to give it to them. Through this, I've learned that there is no child beyond hope or healing. It does take more than just love, it takes insightful, invested, knowledgeable parenting. But I've worked with children who have been through horrific things, ones born with drugs in their system, even a 16-year-old who tried to cut her mother's throat, and I've never seen a child who couldn't be helped, who couldn't come to healing.
The book is available at Amazon.com, Barnes & Noble and other major booksellers.