A Most Valuable player
As his legend grows as a pro, LaDainian Tomlinson '05 still might shine brightest off the field.
By Rick Waters '95
Staring up at the star of Camp LT in June, a young camper asks the question many minds have wondered since last winter: "How does it feel to be the NFL MVP?"
A grin creeps across LaDainian Tomlinson's face. He stifles a chuckle, leans down to the boy and shrugs.
"It's busy, young man. Real busy."
The scene is classic Tomlinson -- humble, honest, real.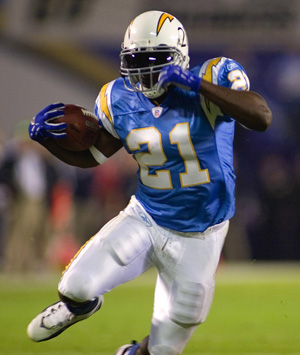 But LT was being truthful. Last season, he scored an NFL-record 31 touchdowns and rushed for a league-high 1,815 yards for the San Diego Chargers, good enough to earn his first Most Valuable Player award.
But his stardom has spilled out beyond the game. He's sat in with Leno, was the star of the ESPYs, was featured in "SportsCenter" commercials and now is the highlight of a "60 Minutes" interview.
He's as much media celebrity as football superstar.
Fans, autograph seekers, advertisers, corporations and press all want a piece of him. In fact, Tomlinson is so popular that fans even ask his wife, LaTorsha, for autographs now. Tomlinson '05 simply accepts it all as his reality.
"There's been a lot more endorsements, a lot more time involved," he told a media throng this summer at his second annual Camp LT, now officially hosted at TCU. "There are things you have to do -- traveling and fulfilling contracts. My popularity has picked up, too, not only in this country, but around the world."
He has endorsement deals with AT&T, Nike, Camp-bell Soup and VIZIO, among others. There's also a memorabilia deal. And his No. 21 jersey is now the NFL's most often purchased by fans.
But he does set limits, recently turning down a chance to be on the cover of EA Sports' video game Madden NFL '08.
"LaDainian is in such demand now that he can pick and choose who he wants to deal with," said Lamar Andrews, Tomlinson's business manager.
It's part of being the best in his sport. But as he's discovered, being a good citizen helps, too.
Not that being a model citizen is a stretch for the 28-year-old who still considers himself a country boy from the Waco area. He's always been good-natured at heart and it shows. As curious onlookers creep around the Morris Practice Fields one afternoon in June, LT accommodates many of them with a smile or wink. For those bold enough to approach him, he poses for photos and scribbles a few autographs.
The same goes for the business side of him. Tomlinson recently jetted across the country to shoot a commercial for Nike, which will debut this month. This summer, besides conducting his two camps in Texas, he was in a VIZIO commercial and a documentary, and finished an interview with "60 Minutes" for a feature that will appear before the season begins.
VIZIO, one of the fastest-growing flat-panel HDTV brands, selected Tomlinson because of his performance on the field but also his reputation off it. The company joined him in dedicating the LT/VIZIO Educational Center at the Como Community Center in Fort Worth during the camp week. Days later, he was whisked down to Waco to shoot another commercial and the documentary.
"He's the kind of individual that this company would like to be their face, or represent them in a particular manner," Glenda Reynolds, producer of the VIZIO commercial and documentary, told the Fort Worth Star-Telegram. "We've interviewed a lot of people influential, and the consensus is that, with LT, what you see is what you get. He is kind. He is humble. He gives back. Not that you're looking for any bad things, but you just won't find anybody who has a negative thing to say about him. That's just the kind of person you want to represent a product."
Back at Camp LT, Tomlinson says being around youngsters filled with football dreams means a lot to him. He still recalls growing up around the Boys Club in Waco and attending an Emmitt Smith football camp.
"I was in awe of Emmitt, but seeing him made me want to try and be like him, to get to where he was," Tomlinson said.
"And that's what he's trying to do here with his camp," Andrews adds. "They may not all make it in football, but they can all make it in something."
LT's growing popularity is benefiting others as well.
TCU, where Tomlinson rushed for 5,263 yards and scored 54 touchdowns, both all-time marks, has been helped by his name when recruiting potential Frogs. It's been six seasons since LT wore purple, but recruits from around the country associate him with the program more than anything else, football coaches say. California, in particular, where Tomlinson lives, has become a new frontier for the program.
The Tomlinson legacy also helps in Fort Worth. His No. 5 jersey, honored last year and never to be worn again without his permission, hangs in a trophy case in the John Justin Center and is a regular stop on tours of the facility during recruiting visits, says Coach Gary Patterson.
He's has also helped TCU Athletics add on to its growing facilities complex, Patterson believes.
"LT's been amazing for us," he said. "I think the success he had here helped give us the momentum to keep growing and building and working hard on the field. He's an example of becoming a success by doing things the right way. He's a great ambassador for the program and the university."
The cities of Fort Worth, Waco and San Diego have gotten a boost from Tomlinson's buzz, too. LT's "21 Club" provides needy children with school supplies, tickets to Chargers games and college scholarships.
He has donated more than $85,000 in scholarships to students at Waco University High School, which he attended, and another $65,000 to San Diego-area high school students. He sent seven San Diego-area high school students to enatrepreneurial camp at Columbia University this year and plans to do the same in Fort Worth and Waco next year. He also feeds 2,100 families for Thanksgiving, and he gives out 2,100 toys to a children's hospital in San Diego.
The Como Community Center in Fort Worth, as well as the Youngblood Boys & Girls Club in Waco, received new televisions, computers and educational DVDs for their educational centers in dedications during camp week.
His philanthropy made Tomlinson a co-recipient of the Walter Payton Man of the Year award in February. The award, which he shared with former San Diego teammate Drew Brees, meant as much to him as the MVP award, he said.
"From my heart, winning the Walter Payton Award was big," Tomlinson said. "It's honorable to win something with Walter Payton's name on it and what that stands for."
The NFL needs him, as well. The summer off-season has been an especially turbulent one for the league, marked by headlines of Michael Vick's federal indictment for dog fighting, Pac-Man Jones' alleged assaults at strip clubs and Tank Johnson's gun and drug possession cases. In all, the NFL has dealt with more than a dozen arrests and suspensions.
Then there's Tomlinson, the league's most valuable player and maybe its humblest. Asked about the turmoil during a press conference in June, he paused, reflected a half-second and said, "It's a little frustrating, but that's the way society is. The negative things make news, sell newspapers, drive ratings. But, I know this: A lot of guys in the league act the right way. They just don't get the attention."
And that's spoken from experience.
This story contains material from the Fort Worth Star-Telegram.
To read a profile on Tomlinson as a student, which appeared in the Spring 2000 issue of The TCU Magazine, go to www.magazine.tcu.edu/articles/2000-01-CV.asp.
To watch the VIZIO commercial featuring LT, go to www.vizio.com/lt.
Comment at tcumagazine@tcu.edu.