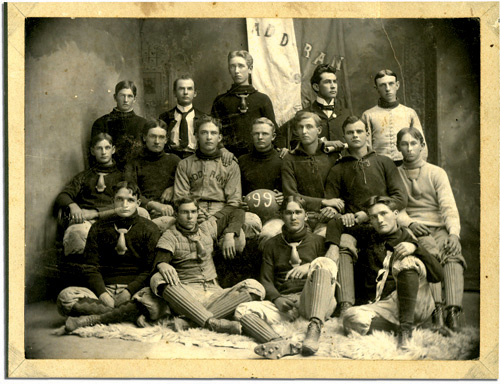 Rough and tumble
As we cheer on the wildly successful Horned Frogs this fall, let's not
forget those pioneers who stuck their noses out in the 1890s for what was then a new -- and dangerous -- sport.
By Nancy Bartosek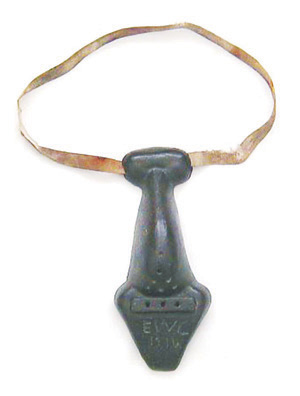 On Thanksgiving day, 1896, Addison "Little Addie" Clark, Jr., and A.C. Easley, both professors at the Waco campus, gathered some of the male students in a field, organized them into two squads -- the "black stockings" and the "brown stockings" -- and had them kick off for a game that they that they knew nothing about. The final score was 4-4.
Thus was the inauspicious beginnings of football at TCU. In his book, History of TCU, Colby D. Hall, described the game back then as, "a delightful shin-kicking affair with little rules and no skill."
The game was still in its raucous infancy in 1899, when the above photo was taken. In the upper right corner, in street clothes, stands J.C. Mullins, a student at the time, who apparently was acting as coach for the team. (That or he got to the photo session without his uniform, but we'll never know.) Mullins' granddaughter recently sent us this photo, along with a pin that belonged to her grandfather, which you can read about on in our Special Collections section.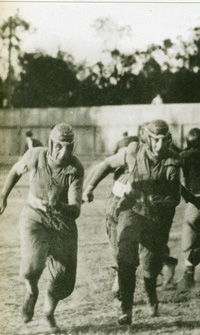 Notice the odd contraption hanging on some of the player's necks? Turns out these are very early nose guards -- which we figure weren't terribly effective and probably very uncomfortable.
Still, the boys used them, as you can see from the Ninja-Turtle look of the players, left, during of one of three games against our cross-town rivals -- Baylor University -- during the 1909 season. (We won two of the three.)
It was during this early era, too, that the native horned frog, which ran in prodigious numbers on the Waco campus, was selected as our mascot and the name of the university yearbook.