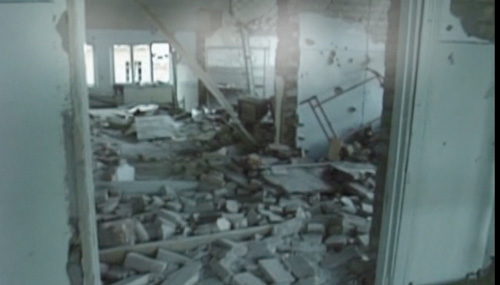 Confronting fear and violence
Terrorism struck her family. A documentary followed, but answers have not. Junior Dariya Fadeeva continues her search at TCU.
By Rick Waters '95
Dariya Fadeeva still can't find the answers: Why does terrorism exist in the world? Why do the innocent seem to suffer the most?
Worse, she might never uncover them. She admits that.
When will the cycle of violence end? And how?
But she needs to keep looking.
Fadeeva, an international relations junior, thinks about terrorism many days, but each year as the calendar flips to September, it is especially on her mind.
Three years ago this month, her younger sister, Alya, was trapped inside School Number One in their hometown of Beslan, Russia, one of 1,200 hostages in a Chechen terrorist attack. The siege lasted three days, and when it was over, 331 people lay dead -- 176 of them children. Twenty-six children would be orphaned.
"I still can't make sense of it. Everyone had someone at the school, someone they knew. This just touched everyone," Fadeeva said. "The Russian 9–11. That's what it was."
* * *
The first day of school in Russia -- Sept. 1 -- is a celebration. "The Day of Knowledge" it is called.
In Beslan, a rural city of 34,000 at the foot of the Caucasus Mountains, 1,000 miles from Moscow, the traditions of the day run deep. Parents come to school with their children, bringing gifts for the teachers. The students, dressed in suits and dresses, parade around the school grounds with bouquets and balloons.
"It is like a holiday," Fadeeva said. "Everyone waits for the moment when school starts, especially for kids going to school for the first time."
Or the last.
Sept. 1, 2004, was Fadeeva's final "Day of Knowledge." She was the equivalent of a high school senior. Having lived as a foreign exchange student in Euless the year before, she was excited to talk to friends and classmates she hadn't seen in a year.
For Alya, it was the first day of sixth grade. She had prepared all summer for the day. Her mother bought her new clothes, and her sister was helping with her hair.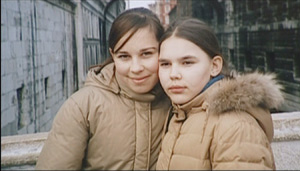 After she was ready, Alya went to school by herself. She was old enough. Fadeeva dashed off to the hairdresser to meet their mother, a teacher at another school in town, before starting her own day.
School Number One had stood for more than 100 years and was home to more than 900 students from the first through 11th grades. As Alya arrived, teachers and students were singing songs about childhood ending and a new stage of life beginning. At the end of the singing, first-graders were supposed to enter the school and begin the day. Other grades would follow.
Hiding in the woods not far from Beslan, 30 men and two women, who had sneaked across the Chechen border 30 miles away, were packing up an arsenal of weaponry and heading to the school. It was 9:20 in the morning.
Just as the last song was ending, a large truck pulled up to a back entrance of the school. The masked bandits hopped out with guns, grenades and bombs, pushing teachers, parents and children inside. Security guards and off-duty policemen were killed immediately.
Another group of terrorists ran into the courtyard, where hundreds of students and parents were still gathered, and began shooting -- in the air, at the ground, off the building.
Everyone ran. Many of the students from the upper grades escaped, but not the younger children.
On her walk to the hairdresser, Fadeeva heard faint popping sounds, but she had no idea it was gunfire. By the time she reached the shop, her mother rushed to her and shared the news.
Inside the school, adults were trying to smash windows and squeeze children outside to safety. Few made it, as the terrorists forced the masses into the gymnasium, where they faced rough treatment. Pushing. Cursing. Rifle butts jammed into backs and shoulders.
The terrorists kept talking about death, that they came to the school to die and that the hostages would die with them, survivors would say.
As word spread across Beslan, local militia and armed citizens considered storming the school, but any time they got close, snipers opened fire.
"My mom was crying, saying that Alya shouldn't have gone to school alone," Fadeeva said. "I felt it, too. I felt like I should be there with her. I would have been a hostage in her place."
More than 1,200 were squeezed into the airless gym with the heat outside approaching 100 degrees. The heat inside was worse. Cramped and sweaty, children lay on top of one another from sheer lack of room. Many removed their shirts and pants to sit in their underwear, fanning themselves with whatever they could use.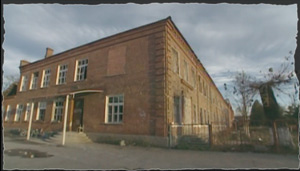 "It was a picture of people who knew they were going to die," a negotiator would later describe.
The terrorists used the adult male hostages to barricade the doors and windows and then shot some of them when the work was done. Others rigged explosives inside the gym.
Once the Russian army arrived, the soldiers squabbled with local armed citizens before carrying on with their plan and surrounding the school. The terrorists fired sporadic shots to let approaching troops know that they were prepared for an attack.
The standoff would last three days. The terrorists demanded that Russian President Vladimir Putin end the decades-long war in Chechnya, a mostly Muslim region. Only once, at the beginning of day 2, was anyone released -- 11 women with nursing babies, many of whom were forced to leave older children behind.
Before long, the terrorists tightened their grip on the hostages, refusing to give them water or allow them to go to the bathroom. Weak and starving, the children ate the flowers they had brought to school.
To relieve themselves, the boys used plastic bottles, while the girls went in piles of clothes. When some of them couldn't stand it any longer without water and with hallucinations setting in, they drank bottles of urine.
Outside, parents, family members and the rest of the town were desperate for news, but information was scarce and at times inaccurate. Fadeeva and the rest of Beslan could only guess where the gunfire was coming from. And at whom it was aimed.
"We just had to wait, and we couldn't do anything else," she said. "It was killing us. It was like a nightmare."
By the third day, townspeople talked about storming the school on their own.
"Something had to happen. There weren't answers to anything. There was just a feeling of hopelessness. And we were constantly thinking about how hopeless it must have seemed in there. I was just praying my sister was alive."
The end began with an explosion in the gym. Gunfire ensued, and a mix of Russian soldiers and armed citizens rushed in amid smoke, fire and carnage.
"It was so long. I remember praying at that moment," Fadeeva said. "I remember all this noise around me, everywhere. It was so scary. It was like a war. Gunshots everywhere. People were bleeding and being carried off on stretchers."
Short on ambulances, Beslan was not equipped to handle the crisis. Citizens rushed loved ones to hospitals in their own cars, or in their arms.
After nearly 10 hours, the shooting stopped. In the hours following, families reunited. Some in joy. Others in despair.
For hundreds, including the Fadeevas, a desperate search began to find the missing. Where was Alya? Her family checked the hospitals. Some people said they had seen her, but no one could pinpoint where she had been taken, or how badly she was hurt.
Then Fadeeva's cellphone rang.
The voice on the other end could only manage, "Dariya?"
"When I heard Alya's voice, it was like she was calling from heaven," Dariya said. "It is impossible to express the emotions at that moment."
Alya had serious shrapnel wounds to her legs and back and had been evacuated to Moscow, where she would stay for four months and undergo three surgeries.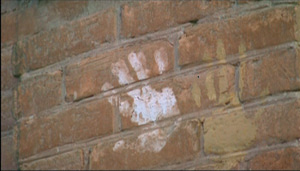 * * *
At the ruins of the school today, townspeople still memorialize the suffering by leaving bottles of water -- a symbolic attempt to quench the victims' thirst.
Alya rarely speaks of that time. Instead, she writes about it in letters and poems.
While the horror of those days is difficult to face, Fadeeva credits the events with her attending TCU and giving her a mission of helping others resolve problems with diplomacy.
Media from around the world descended on Beslan to cover the crisis. Many reporters left when it was over, but a few, including CBS News correspondent Jonathan Sanders, stayed for months.
One afternoon, Fadeeva and her friends spotted Sanders outside a government office building, and the group dared her to approach him speaking English.
"We talked for a while," he said. "I said to her, 'Tell me about your life -- in English.' That led to conversations about her family's experiences at the school and the months they spent traveling to and from the hospital in Moscow." Fadeeva's story made a great interview in the documentary Sanders was creating about the siege.
Sanders spent months with the family members, recording them and other residents, and before long, Fadeeva became a lead character in telling the story.
"I wanted Dariya to be one of the narrators for the film because she is a natural communicator," Sanders told the TCU Daily Skiff in the spring. "She understands the universality of what her sister went through. And audiences could understand the tragedy and struggle through her eyes."
The film, "Three Days in September," played to rave reviews at the Tribeca Film Festival in New York the next year, and CBS paid to bring Fadeeva and her family to additional screenings.
At one, a friendly-faced, white-haired newsman approached and shared how much he admired her candor and courage.
"It was Bob Schieffer," Fadeeva said. "He just said how brave I was. It was such a nice thing for him to do. All the CBS people just became my CBS family."
The two continued talking, and eventually Schieffer '59 suggested Fadeeva consider TCU for college. She was already familiar with the campus, having attended Trinity High in Euless during her year as an exchange student. Upon second look, TCU became Fadeeva's future.
"The first day, I knew that I was going to love this life," she said, beaming.
Her host mother, Susan Thompson, had the same impression.
"I think the people impressed her most," Thompson told the TCU Daily Skiff in the spring. "Everyone was so helpful. I think she liked the fact that she felt so welcome."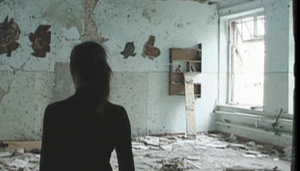 * * *
Fadeeva occasionally watches the documentary, still trying to make sense of those tragic three days. Sometimes she just misses home.
"It always makes me cry. The suffering was just immeasurable. I was thinking about the people who would do this and I couldn't find the answer. Why did they do it? Why? I still can't find an answer."
She has two years ahead of her at TCU and is getting into the heart of her international relations major. Her CBS family has influenced her enough to add journalism as a minor.
"I want my career to benefit society," she said. "We have too many crazy men who want to spread their political ideals through fear and violence. Instead, we need to work together to find mutually beneficial solutions. Too many people have died. After the Cold War, now the time is right."
To watch parts of the documentary:
http://www.sho.com/site/threedaysinseptember/home.do#video
To help victims of the Beslan school crisis via the International Foundation for Terror Act Victims: http://www.moscowhelp.org/en/
Comment at tcumagazine@tcu.edu.