Splash Page
|
Alum Profile
| Notables

Notables
Banking on preservation
Most people would not associate a banker with historical preservation or art. Greg Morse '88 (MBA), CEO of Worthington National Bank, is a native Texan who lets his bank's décor reflect his community and heritage.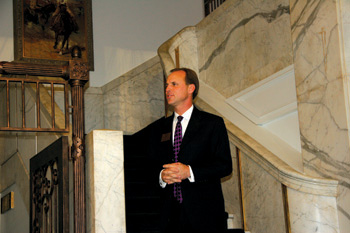 When Worthington National opened its office in Fort Worth's Sundance Square in December 2005, Morse personally oversaw the restoration of the Burk Burnett Building — which housed the State National Bank -- to its original 1914 glory, including metal teller cages and marble floors and walls.
He then located local art for the bank, including "The Branding Room," by Emily Guthrie Smith, a former TCU art instructor. Smith's mural originally adorned the old Fort Worth Western Hills Hotel on Camp Bowie Boulevard. In addition, Morse commissioned local artist Danny Jones to paint watercolors of several Fort Worth landmarks.
Morse's dedication to the project reaped its own reward. In April, the Texas Historical Foundation awarded the bank the Judge James Wheaton Award. Calling the project "a Lone Star masterpiece," the Foundation cited Worthington's outstanding restoration and preservation of the building and the bank's extensive collection of local art.
"When you build a company, you build a brand," says Morse of his determination to showcase community art. "We're a community bank. Our employees and stockholders live here. Money spent here is regenerated here.
One of the few remaining locally owned banks in Tarrant County, Worthington National stresses personal banking and community. The bank has even avoided automated phone systems. Notes Morse, "If you call us, a human will answer." -- SC
For information: www.worthingtonbank.com
Texas Historical Foundation: www.texashistoricalfoundation.org
- - - - - - - - - - -
A thoughtful image
When Bill Tommaney '88 (MS '91) crossed the finish line at the 2007 Ironman Coeur d'Alene triathlon he says he "reached the summit of my Mount Everest."
His efforts earned him an ultimate badge of athletic honor. Ironman contestants battle each other and themselves in a grueling 2.4-mile swim, 112-mile bike ride, and 26.2-mile run.
But Tommaney wanted the race to be more than just a source of personal satisfaction. He solicited support from family and friends and raised hundreds of dollars for Northwest Assistance Ministries, a Houston-based charity dedicated to helping poor families meet their basic needs.
"When you decided to compete in an Ironman, it's mostly about proving something to yourself," Tommaney. "I wanted my experience to be more fulfilling. When you feel like you're training for something greater than yourself it's motivating."
An assistant principal at Spring High School, Tommaney is a self-proclaimed fitness junkie. No stranger to competitive sports, this seven-time tri-athlete's most recent race is the capstone in a long list of shorter-distance events. A football standout on both-sides of the gridiron, Tommaney says he called on discipline learned in his Horned Frog days as he trained for the Ironman event.
"My bike is purple," he says. "You call on whatever inspiration you can to do your best."
It's too early to tell if Tommaney will compete in another Ironman triathlon. His advice to other Horned Frog hopefuls — start small, with short-distance, baby-step races and find a way to connect what you are doing to cause that's meaningful to you.
And for those of us who know we'll never be Ironman material, he says. "Find something you enjoy. Even your hobbies can take you to heights you've never imagined." -- JWB
- - - - - - - - - - -
Called to Report
Wayne Anderson '84 is not a military man. So why did he spend a month in the heart of the Sunni Triangle? The semi-retired contractor and freelance reporter felt called to see for himself what was happening in Iraq.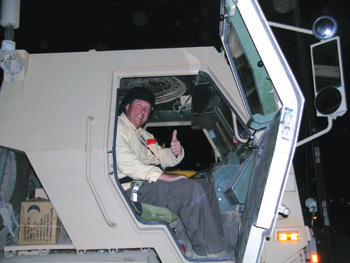 So Anderson bought body armor and a helmet, and used his own air miles to fly from his home in Wisconsin to Kuwait City. Once there, he flew along with Army personnel to Camp Taji, a US base located less than 20 miles from Baghdad.
Anderson is not affiliated with any news agency. A J-school graduate who has freelanced for the Dallas Morning News and the Rocky Mountain News, he sent stories back to two papers in Wisconsin. Several personal weblogs also carried the posts: stories Anderson wrote after talking with US soldiers and, " a dozen Iraqis from Army generals to common citizens."
In an e-mail interview from Camp Taji, Anderson wrote: "I came to Iraq because I suspected there was more good going on here than what was being reported in the media. There was more happening here than just bombs exploding and limbs flying. And now that I've been here a month, I find my hunch was true."
Anderson observed a highly trained Iraqi army, "fighting the insurgents with more efficiency and spirit than in times past. They are not lazy and ineffectual, as I have seen portrayed in print. They are out there every day and night fighting for their county and their people."
But the most positive news in Iraq? For Anderson, that would have to be the U.S. soldier.
With permission from the Army to "embed" with the Wisconsin National Guard's 1157th Transportation Company, Anderson rode along on two missions "outside the wire." The 1157th transports fuel to military bases in and around Baghdad.
"Serving with these great people of the 1157th Transportation Company is a time I will never forget," said Anderson. "They are so young and brave and believe so deeply in what they are doing. I wish I had half the guts they do." -- NA
- - - - - - - - - - -
Rescuing the next generation
For Olivia Eudaly '67, serving as statewide executive director of Amachi Texas is destiny. Launched in March 2006 through Big Brothers Big Sisters (BBBS) of North Texas, the program matches children of incarcerated parents with adult mentors. Amachi is Nigerian, meaning "who knows what God has brought us through this child."
A Fort Worth native, Eudaly raised a family of five and taught at Western Hills High School. One year, she remembers, she was asked to help Derek, a senior in her English class who had fallen behind.
Later in the year, Derek was arrested for masterminding a double-murder at a Jack-in-the-Box. "I was traumatized," Eudaly said. "I wondered, 'What could I have done differently to help him?'" Eudaly left teaching, troubled by the incident.
Seven years later, she went to work for BBBS, and her calling revealed itself.
"Our CEO, Charles Pierson, and his 'little brother,' Jamar, were profiled by Channel 5. Jamar talked about his father, who was in prison for committing murder at Jack-in-the-Box. Chills ran down my spine."
Eudaly was convinced that BBBS could help the approximately 400,000 children in Texas who have an incarcerated parent. Statistics show that 70 percent of these kids will also become prisoners as a sort of twisted family tradition. Those are numbers Amachi Texas hopes to change.
"Our goal is to break the cycle of crime and incarceration, giving these forgotten children a chance to reach their highest potential," Eudaly said. "With no role models, these children oftentimes turn to what they know — a life of crime. We help them see life's possibilities."
Eudaly and her team approached Gov. Rick Perry for state funding in fall 2005. Nearly $4 million was granted to the 11 Texas BBBS organizations. "Amachi is committed to making a cultural change," Eudaly said. "We are dedicated to making something significant happen for these children." -- SRA
For information: www.amachitexas.org or 1-888-887-BIGS
- - - - - - - - - - -
Mr. Frivolous
Who're you calling frivolous? Surely not David Yeakle '87, actor, choreographer, teacher, and artistic director of Austin's Tongue and Groove Theater?
Oh, you mean MR. Frivolous, one of Yeakle's more serious personae: the bathrobed and bearded philosopher of Wally Shawn's controversial play, A Thought in Three Parts.
It's fitting that in the year Yeakle took a break from Tongue and Groove to recharge his batteries and examine his life, he was offered a role in a play written by the man who sent him into acting in the first place.
In an undergraduate theater class, Yeakle watched My Dinner with André, the 1981 film co-written by Shawn. The film follows a dinner conversation between two playwrights: one famous, the other just starting out, one shallow and comfort-loving, the other committed to traveling the world seeking transcendence.
Shawn's script opened Yeakle's eyes to a different way of thinking about theater. "I suddenly saw that it could reach people on a different level from superficial entertainment. The film introduced me to the more spiritual aspects of theater: the idea that it has the potential to change lives."
At around the same time, Yeakle began acting with Hip Pocket Theatre in Fort Worth, through his association with Johnny Simons, '73 (MFA '75) adjunct drama professor at TCU and HPT's artistic director.
Yeakle liked Simons' scripts and physical approach to acting better than the traditional pieces being staged by the department. Reveling in the mime and mayhem at Hip Pocket, Yeakle decided to major in dance.
He had no dance background, but quickly acquired one, taking two semesters of ballet and one of modern dance at a local college. One of the few males at the time to apply to the program, says Yeakle: "TCU snapped me up."
His physicality would translate well onstage. Especially Hip Pocket's outdoor stage, where Simons' love of commedia dell'arte was king.
The choreographed silliness of commedia, improvisational street theater from Renaissance Italy, took hold of Yeakle and never let go.
"I love physical theater: it's my niche. Johnny instilled that in me at HPT. Cow Town commedia: stock characters, irreverent and bawdy movement, music and masks."
For his MA thesis project in directing at UT Austin, Yeakle produced The Three Cuckolds, a commedia adaptation by Bill Irwin. It was so well received that he founded Tongue and Groove Theatre in 1995, with then-wife Ellen, and Art and Cindy Davis from HPT.
Austin's a theater-loving town: 85 to 100 theaters are open on any given day. The city boasts a reputation for innovative writing and directing, of which Tongue and Groove remains a stalwart.
"David is well respected in Austin from his many years of work with Tongue and Groove," said Shelly Brammer, drama department chair at Austin Community College, where Yeakle teaches stage movement, intro to theatre, acting, and voice and diction.
"Audiences know that when they attend a David Yeakle show, they will be entertained with a unique blend of humor and pathos, music and dance, and overall quirky and original spectacle."
As Tongue and Groove's creative director, Yeakle wears many hats, from producing to writing to directing and acting to fund-raising. And although he has performed in, choreographed or directed more than 100 productions throughout the US and Great Britain since 1973, Yeakle suspects other Horned Frogs have achieved more "success" than he, he admits in an e-mail.
When asked a few days later what he considers success to be, he laughs: "I've been thinking about that comment ever since I made it. Truthfully, success to me is doing the best work you can do in the here and now. I really don't compare myself to others, but I weigh what I'm doing against what I've already done. Learning and growing as a theater artist, that's my measure for success. Mostly."
Playing a character written by Wally Shawn, a man Yeakle has "admired for 25 years," certainly qualifies. The playwright and actor came down to Austin in May for the first ever production of A Thought in Three Parts in America. He met Yeakle backstage just after the curtain went down, the audience still applauding madly for Mr. Frivolous.
"That was a wonderful moment," says Yeakle, and sighs. And, and? So what did Wally say? Yeakle, master of the telling gesture, haplessly in love with the ribald and ridiculous, is also a serious lover of words. He's not ready to say.
Nor is he ready to leave Austin, although he's been considering life-changes. "It's just such a progressive town, very willing to push the envelope. You couldn't see a play like this anywhere else on the planet without a great deal of fuss."
That's for sure. A Thought was shut down in '70s in London, and it hasn't been shown in America, ever. Until now. Shawn, praising Rubber Repertory directors Matt Hislope and Josh Meyer for being the first US company brave enough to stage the play, said: "My boys, you'll be pioneers!"
Yeakle was a shoo-in for Mr. Frivolous, said Hislope. He didn't even have to audition: "David has a very interesting energy and presence that just seemed right when we were casting Mr. Frivolous."
Good call. Austin reviewer, Wayne Alan Brenner, writing about his performance: "David Yeakle, ladies and gentlemen, at the very pinnacle of his considerable skills."
Yeakle finds A Thought in Three Parts, "a poignant, moving, disturbing, violent, gut-bustingly funny play."
And the nudity? "There is a lot of nudity in the second act, but the actors are so utterly confident and comfortable with their bodies that any discomfort the audience feels is immediately dispelled."
The plays Yeakle writes and directs himself generally require more clothes rather than less. Last year, he directed a memorable version of A Midsummer Night's Dream, produced at a popular Middle Eastern Austin restaurant. Called An Arabian Night's Dream, it included belly dancers, flying carpets, and much hilarity, as well as a huge cast, dressed in gloriously wild costumes.
He has written two plays: one, a skit about Caravaggio's painting called The Cardsharps, which hangs in the Kimbell Museum in Fort Worth. The other, Le Pétomane, about a wildly famous performer in gay-nineties Paris who entertained kings and commoners alike with a strange physical accomplishment.
Yeakle seems to be able to do most anything: dance, choreograph, act, direct, write, compose music. Maybe this is why during his year off he's been invited to take on so many projects.
In the spring he directed a new play by Ned Carnes, conceived and directed a movement-oriented production for ACC, played Mr. Frivolous in Shawn's play for Rubber Repertory, and workshopped a new script for Adrienne Dawes.
Wait, there's more. In June and July he directed and choreographed Joseph and the Amazing Technicolor Dreamcoatfor South Arkansas Art Center. This fall he will act in a new play for Simons at Hip Pocket Theatre, and this winter, he plays Scrooge in A Christmas Carol in Louisiana.
Amazingly, accomplishing all of it while teaching three courses at ACC spring and fall. A brutal schedule for anyone, much less a man who says, with thought-provoking tentativeness: "This November I might turn 50."
Turning 50: the stock-taking birthday. This year, Yeakle will have a lot to look back on. He will be able to say, with typical modesty, that a moment with Wally Shawn backstage was a moment of true success.
The curtain had just gone down, and Yeakle had just delivered Mr. Frivolous' monologue of devastating honesty and longing.
The audience clapped and cheered, and the playwright rushed over to greet him: "You're beautiful! The play was beautiful!" Shawn said.
There were tears in his eyes. —NA

Comment at tcumagazine@tcu.edu