Study Abroad | Fine Arts | From Special Collections
A Change in Latitude
The 2nd Annual Study Abroad Photo Contest, sponsored by the Center for International Studies, drew more than 63 submissions from 32 students who stepped out of their comfort zones last year to learn more about our world. More than 25 percent of all TCU students have an international experience while earning their degrees, a remarkable percentage considering that that national average is about 1 percent. Study Abroad includes summer and semester programs in approximately 35 countries.

Here are the top winners in the six categories. A panel of judges considered both the quality of the photo and the contents of the essay. To see all of the winning photos and essays, go to www.studyabroad.tcu.edu:
Understanding Country & Culture: In what way(s) do you have a better understanding of the country and culture where you studied abroad?
Learning Values: In what way(s) were your values tested, and what did you learn about your host country's values?
Flexibility: How did you demonstrate tolerance, flexibility, or a positive attitude in adapting to differences abroad?
Problem-solving: How did you demonstrate resourcefulness, creativity, problem solving or people skills?
Accomplishment: In what ways did you develop a sense of accomplishment, an ability to be self-reliant and an increase in self-esteem?
A New Person: How is your life different because of studying abroad?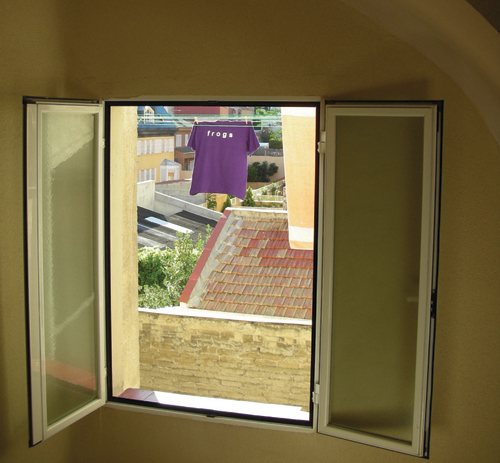 First Place: Problem-solving
"Don't Stick Out "
by Ryan Hambley
Spain

"I learned that if you want to survive in another country, you must be willing to take risks, and in that, you can't confine yourself to your hostel or room. When I arrived in Spain, I got my luggage and set off to find my senora's house. I only had a description of the family, the name of the street and apartment complex number. Never having seen the Metro before, I hopped on and located my stop after spending quite some time looking at a map. I found the apartment complex, but there were four floors of duplexes. I heard a small boy cry and I knew that my senora had a 4-year-old. I knocked on the door, and it was her. I had done it. So be bold when you are in a new place. Don't be comfortable. You will never learn."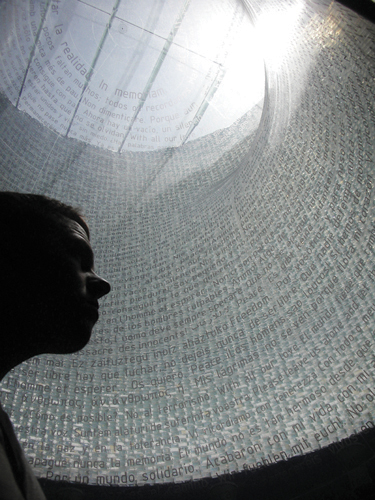 Best of Category: Culture
"Peace by Peace"
by Ryan Hambley
Spain
"This monument in the Atocha Train station in Madrid, Spain, was erected for those who lost their lives in the 2004 Bombings in Madrid. If you look carefully there are words of peace on these walls in many different languages. It's sad to see things like this in the world. Hardship doesn't discriminate. I don't know what it is like to lose someone due to terrorist attacks, but there is something to say when you walk into a room like this one and read these sayings on these walls. It's almost like a sanctuary. There is an automatic quietude and force that makes one walk slowly. Everyone is subject to peace. It doesn't discriminate."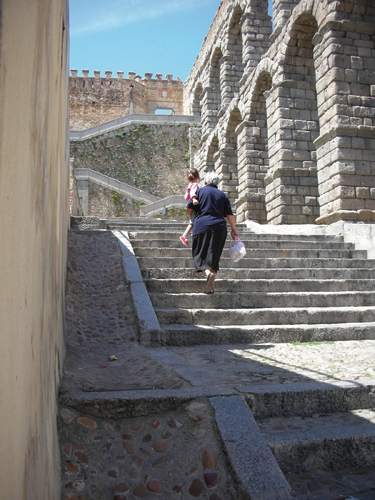 First Place: Learning Values
"New Adage"
by Ryan Hambley
Spain

"It's hard to see American Culture while living in America. It needs to be contrasted with someplace else because all I have ever known is America and my mindset is America. Going to Spain I began to feel that America doesn't have a culture, because in Spain I was immersed in much history and culture. It took coming back to the United States to figure this out. Before going, I imagined Europeans would always sit and just be in awe of everything around them. Silly American. That's what I got from this picture. Why weren't these two people basking in the awe of the long-lasting, no-mortar-but-still-standing ancient Roman Aqueducts? They are something to be inspired by, right? But just like me, they have walked by the same stuff all their lives, and over time it loses its cool factor. Study abroad was needed."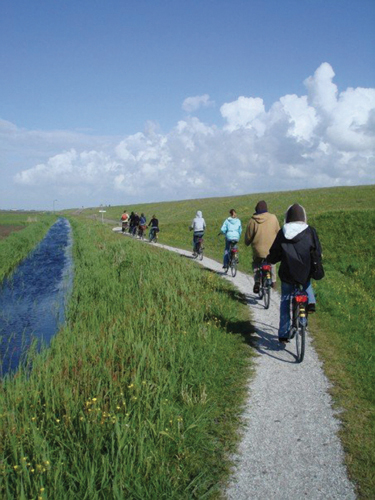 Best of Category: A New Person
"It's Just Like Riding A Bike"
by Alex Allin
The Netherlands
"Biking is a huge part of practical society and the Dutch culture, but I was legitimately worried about it before departing for my abroad experience. Biking on such a small trail with many people is normally greatly out of my comfort zone, but after many months of forced practice in a busy city, I became strangely confident in this new talent of mine. This small change contributed to my change as a person more than anything. As I have tried to show in this picture taken on the island of Schiermonnikoog, it is all the small things over time on which I am still reflecting that permanently changed my world view."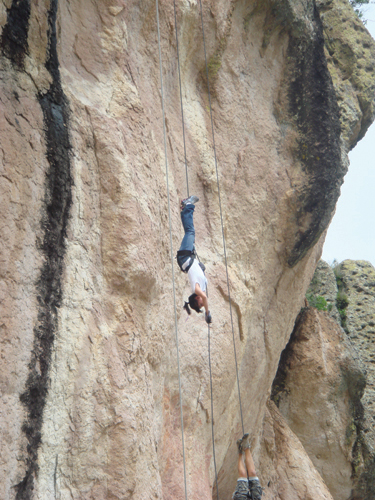 First Place: Accomplishment
"The World From a Different View"
by Kristina Keilson
Guanajuato, Mexico
"This photo captures so much more than me repelling upside down. It symbolizes overcoming fears, facing challenges head on, pushing yourself beyond your limits and enjoying whatever situation life gives you. Despite my apprehension, I dove into a completely different culture and was able to accomplish more than I ever expected. For me, this picture is an everlasting memory that you can do more than you think you can if you just push yourself over the edge and never let anything hold you back."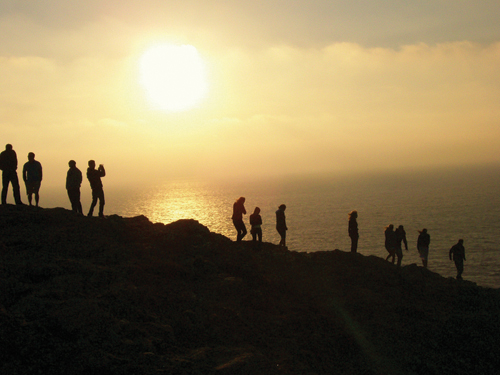 Best of Category: Flexibility and Adaptability
"End of the Earth"
by Cameron Bennett
Portugal
"This photo was taken in Lagos, Portugal, at the westernmost point on the European continent — which was thought to be the end of the Earth for quite some time. Since Portugal is on the ocean, seafood is a huge part of the local diet. Before I went to Europe, I never really liked fish or any other seafood. On these trips, however, I was basically forced to eat fish and all other types of seafood. Rather than complain about it and try to get a hamburger, I went in with an open mind and decided to try new things because I feel that is also part of the experience."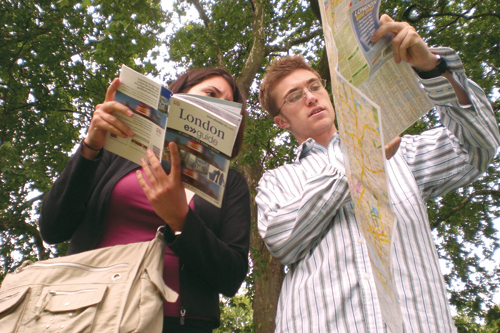 Best of Category: Problem Solving
"A Guide to Independence"
by Betsy Gilbert
England
"This picture, taken in Hyde Park in London, perfectly depicts a common activity for our group — scouring the city. In the beginning we relied heavily on our maps to help us get around. But there were still times that we got lost, turned around, showed up late — all because we didn't know where we were going. By the end of the trip we found the happy medium that exists between dependence on a map and our own intuition. We even happily accepted new adventures and destinations so that we could explore and remind ourselves that we can be independent and survive on our own in foreign places. This picture is a constant reminder of our accomplishments, and also of the fun that can be had even when things don't go quite as planned."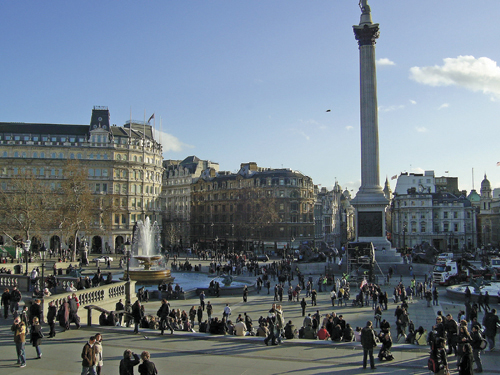 First Place: Flexibility and Adaptability
"Trafalgar Square"
by Jesica Severson
England
"Trafalgar Square became one of my favorite parts of London for the very reason that I resisted the city to begin with: it was always buzzing with the hums of city-life. It truly represents the heart of London. Six streets converge on its giant plaza, which is home to several monuments, the National Gallery and millions of pigeons. I'll never forget the feeling I experienced while taking in my last views of the city. It was a realization, a knowledge, that I would never feel truly alive again unless I was living a city, a city just like this. "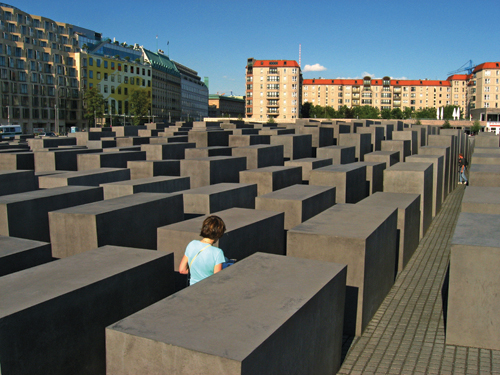 1st Place: A New Person
"Made of Concrete, yet Non Concrete"
by Ronald Villegas
Germany
"This photo was taken atop the Holocaust Memorial in Berlin. It was built as a memorial to the multitudes of murdered Jews of Europe during World War II. It was built to symbolize graves, but because not all of them were identified, there are massive concrete blocks intended to pay tribute to them. There is much controversy over the memorial because of its concept. Some have argued that there are no religious marks or any descriptions hinting at Judaism. Others argue that not only Jews were murdered in the holocaust so this memorial cannot include all of those killed. However I think it is very touching and actually an intelligent concept. The fact that there are no religious marks, just blank concrete stones, helps pay tribute to all who died in the holocaust. The unmarked graves can encompass all of those souls."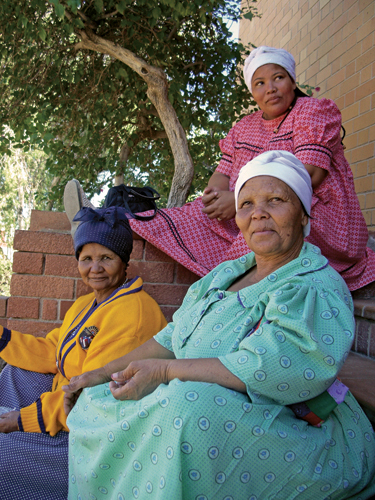 First Place: Understanding Country and Culture
"Afternoon Chat"
by Courtney Loechl
Namibia
"I met these three Namibian women one afternoon while waiting outside a building. Although they did not speak much English, and we knew very little Afrikaans, we tried to chat with them while we waited. Even though we realized the communication was going to be mostly smiles, gestures and pointing, we were still able to get a feel of their culture and personalities. My friends and I were only in Namibia for a week, but all of us were amazed at how much we could learn and observe in just that short time. Being able to compare another African country to South Africa, as well as other places we traveled, enabled us to gain an even broader perspective of the continent."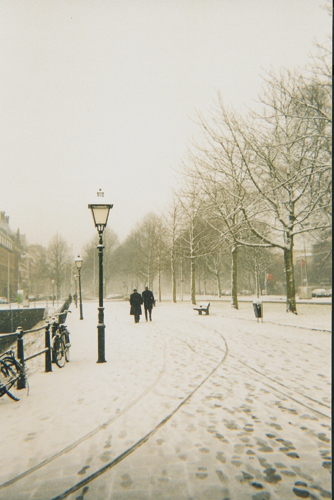 Best of Category: Learning Values
"A Wintry Walk"
by Erin Kelly Rotterdam
The Netherlands
"While abroad I decided to acculturate myself with as many customs as possible because I wanted to experience and appreciate living life in a different way. While walking down one of the oldest streets in Rotterdam, The Netherlands, I caught this glimpse of two Dutch men walking in the snow. Not only was I in awe over the light snow shower that blanketed Rotterdam that day, but also with the fact that Rotterdamers, and the Dutch in general are such laid back and easy-going people. The Dutch still ride their bikes and walk to work during snow storms. So I did, too. Thirty minutes later when I had reached school I was cold, wet, and couldn't feel my nose, but instead of getting mad or frustrated that I had to walk 30 minutes uphill in the snow, I brushed the flurries out of my hair and took a Dutch-like approach — I smiled."
By the numbers
434 Students on a TCU-sponsored international trip
560 international students at TCU
88 countries from which international students hail
26 percent of students who studied abroad for credit

Leading destinations: England, Italy, Spain, Germany, France, Chile
Comment about this story at tcumagazine@tcu.edu