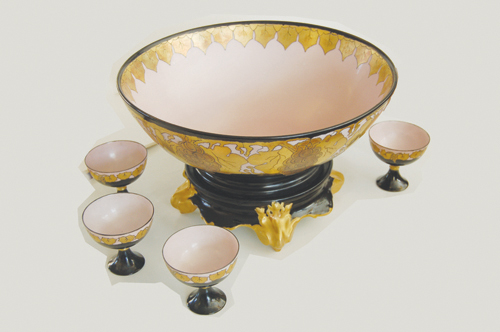 The social set
These were friendships with punch.

By Claire Galloway
Special Collections
The creators of this 1920's-era punch bowl and cups were "the vanguard of the flapper on TCU's campus" says Dr. Marvin C. Overton, III '57 of his mother Dorothy Largent Overton '27 and the small coterie of co-eds who made and painted this set while students at TCU. "They were a fairly rowdy bunch, not immoral, just rowdy."
Dorothy Largent and her sister Lois grew up in McKinney, where their father was one of the town's first doctors. Dorothy enrolled at SMU, where she made a close group of friends, among them Rosa Driver '22 and Lura Bassett.
Dancing was forbidden at SMU, so the girls frequently went to Lake Worth for dances. There, Dorothy met a TCU student named Marvin C. Overton, Jr. '25, the son of Lubbock's first doctor. Smitten, Dorothy transferred to TCU. She was so popular among the McKinney crowd that many of her peers followed her to TCU, including Rosa and Lura. The girls were housed in Jarvis Hall, which ended its nearly 100-year history as a women's dorm in December.
Their tenure at TCU was a time of togetherness and participation in TCU's many social events. Both Rosa '22 and Lura (who never finished her degree) were members of the Walton Literary Society, an equivalent to the modern-day Greek system. Lura was voted "Prettiest" in the "Horned Frog Favorites" her freshman year. Dorothy was a member of the Bryson Society, another literary organization. Marvin ran the school's dairy and lettered in three sports, and he was personal friends with Dutch Meyer. After college Dorothy and Marvin married and began a family, and in family tradition, several of their descendants have attended TCU.
When cleaning out his mother's belongings after her death in 1992, Dr. Overton came across the punch bowl and cups, which were created to honor the girls' friendship, and decided that the set must go to TCU as a gesture to the memory of a close circle of friends who, Dr. Overton asserted, "loved TCU — it was number one on their list."
The set is currently on display in the Reed Hall Faculty Center with the Mills Glass Collection.

Contact Claire Galloway at c.galloway@tcu.edu.
Comment at tcumagazine@tcu.edu.