Grills Gone Wild: The Rise of Tailgating at TCU
|
Best tailgate scenes
|
Stadium map
|
Gallery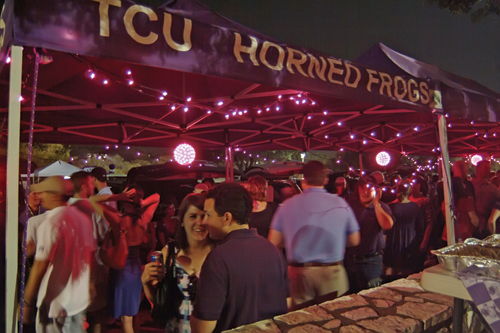 Grills Gone Wild: The rise of tailgating at TCU
Our love of good football, feasting and fraternizing has made gameday quite a scene. Parking lot parties have raised fandom to new levels and increased funds for athletics scholarships. But it's also generated new questions about how to corral the chaos and keep the Horned Frogs the main attraction.

By Rick Waters '95
Striding purposefully through the concourse of Amon G. Carter Stadium in September, Ross Bailey is listening to his walkie. Someone in Lot 4 has a pole for their satellite dish that's come loose and they'd like someone from Athletics to help fix it. In Lot 1, another fan wants to know if they can get a replacement propane tank for their barbecue pit. Meanwhile in Lot 3, there's a noise complaint, probably a group of young alums getting a little too boisterous for their older alum neighbors.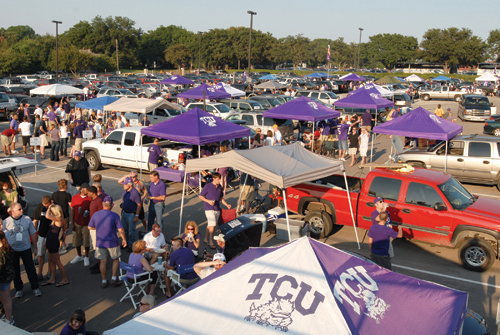 "It's kind of like a hotel without walls," Bailey chuckles.
His watch reads 3:30 p.m. – fours hours to kickoff, a late one to accommodate CSTV. He's been there since 7:30 that morning attending to some vandalism to the stadium's playing surface, a concession glitch and a thousand other gameday details.
Bailey is the operations man. Parking, facilities, maintenance – it all trickles back to him.
Now, add tailgating.
In the last half-decade, TCU, like campuses across the country, has seen an explosion of gameday revelers, from simple picnic-on-a-blanket lunches to wine-and-cheese spreads worthy of the Worthington.
On gameday, fans bring it all. They drive up in specialty cars, grill at monstrous smokers, watch games from around the country on flat-screen high-definition televisions, and show off elaborate decorations. Gone are the days when Joe Alum pulled up to the stadium 20 minutes before kickoff with the wife and kids to see the Frogs play.
Now, fans arrive hours early and set up quasi-living rooms on the asphalt for an all-day celebration of feasting, football and fraternizing. It's a place to see and be seen. And TCU is happy to have them.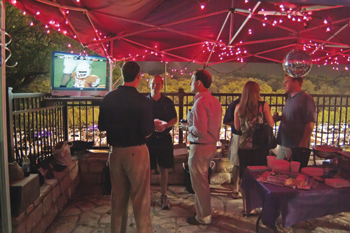 "We've tried to make TCU Football the thing to do on a Saturday night in Fort Worth," Bailey says. "We've created a monster, but that's a good thing. It's the social place to be."
Indeed, Athletics has benefited greatly. Demand for parking and creative demonstrations of fandom are at all-time highs. Nicely appointed brick patios, paid for by fans themselves, line the west side of the stadium, adding aesthetic beauty to once-ordinary parking lots and turning those spots into increased scholarship money for student-athletes.
Last year, the Frog Club's "Scholarships for Champions" drive brought in a record $3.3 million, a 35 percent increase in the previous two years.
Just how big a deal is TCU tailgating? Athletics regularly receives calls from brides-to-be wanting to plan their weddings (and tailgate-type receptions) around Horned Frog games 12 to 24 months in advance. Another caller, who was deadlocked in a divorce settlement, wanted to know if TCU would allow joint custody of a parking space.
"That's when you know you have some value there," Bailey says.
Unlike most other campuses, where alums compete for tickets and choice seat locations, parking is the thing at TCU, says Frog Club Director John Denton. The closer a spot is to the stadium the more valuable it is. Maybe even more prestigious.
Lot 1's 425 spaces line the Morris Practice Fields, John Justin Athletic Center and curve around the stadium's west and north sides. Some spots, including those for author Dan Jenkins '53 and Chancellor Emeritus William Tucker '56, are so close that they can literally touch the stadium from their cars.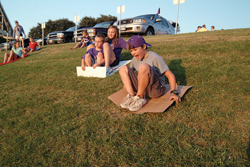 It's a convenience for which many donors gladly pay, Denton says.
"After the Texas game in Austin, I had several alums and supporters tell me that they didn't realize how good they have it here at TCU," he said. "Our farthest lot [Lot 13, by Lupton Stadium, a half-mile from Amon Carter] at UT is considered A1, top-level parking. That really opened some eyes."
Pricing is another reason TCU fans should celebrate. Parking spaces around Amon Carter are a steal, Denton contends. In February 2006, the Frog Club Board of Directors raised the cost of spaces in Lots 1 and 1A from $1,500 to $2,500. Lots 6 and 7 rose from $1,000 to $1,500. Lots 2, 3 and 8 remained $1,000. Donors already in those lots were grandfathered in, but that may change if the stadium is expanded.
"Compare those prices to the best lot at Michigan, which goes for $50,000," Denton said. "At Alabama their closest lot is our farthest and they charge $25,000 per space. So we discovered that we were way off, way too low."
It's not an entirely fair comparison, Denton admits. TCU doesn't have the alumni or fan base of state schools to set rates that high. Furthermore, moderate prices and convenience have come to be hallmarks of the TCU gameday experience, and Athletics is cautious not to make drastic changes too quickly.
"We're trying to create a sense of stewardship and fiduciary responsibility at the same time we show donors gratitude for their loyalty," Denton points out. "For years, the Frog Club was seen as parking lot sales and getting to have lunch with the coach. We're trying to show it's a lot more than that. The revenue from parking directly supports the student-athlete."
A special project fund or a bricks-and-mortar campaign might be considered on the horizon, but for now, the sheer demand for spaces is viewed as a positive.
Lots 1, 1A, 2, 3, 4, 6 and 7 are sold out, and as the season began in September, the best available spot was Lot 8, by the recreation center. Denton only had three left, and they were gone in a couple of days. More good news: When renewals for next season come up in 2008, 98 percent will re-up by the end of May, Denton says.
"Trying to satisfy demand is the greatest challenge, and it's a great problem to have."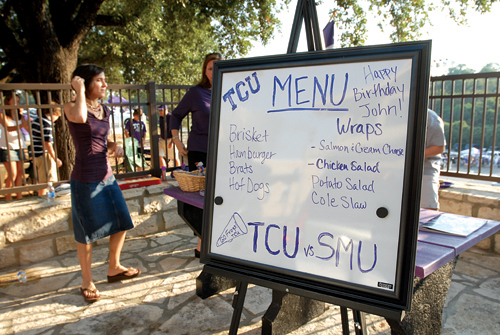 "Tailgating is a lifestyle"
Spot 37 in Lot 1 is the first one next to the John Justin Athletic Center. It's not for the head football coach or athletics director. Instead, it fittingly belongs to Dale Ladner '74, sort of TCU's patron saint of patios.
In the spring of 2001, he and buddies Harold Muckleroy '74, Hal Harbuck and Royce Huffman '74, who all have consecutive spaces next to Ladner's, approached Athletics with an audacious request: Allow them to design and build a permanent brick patio by the spots they use just six times a year.
Ladner had an architect scribble a sketch and showed it to TCU. Administrators didn't bite.
Ladner countered.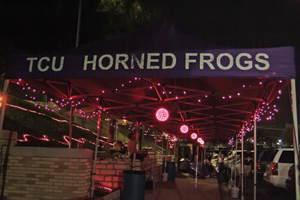 "I told them that if they let me build one, and do it up nice, that everyone else would want one, and there would be patios lined up and down the lot," he recalls.
TCU remained skeptical. How would other donors react? Are there hidden costs? Would it match the newly completed Justin Center?
"They told me, 'Everybody is going to want one of these.' I said, 'I know. That's the point.' "
Eventually they conceded and Ladner pushed ahead. (Each parking lot occupant who builds a patio pays for it from their own pockets and uses TCU-selected contractors, thus ensuring uniformity and quality control.)
"What happened? Sure enough, now everybody wants one," Ladner boasts.
His tailgate is a cornucopia of choices, different each game: smoked pig, boiled shrimp, fried fish, tamales, brisket, sausage, chicken. Everyone chips in for the buffet.
Using a series of purple tents, a string of purple twinkle lights and a "disco ball" made of purple lights and a flagpole, their tailgate has an atmosphere reminiscent of a nightclub, right down to people packed in like sardines. Ladner says they have no idea how many people come by, but pro golfer J.J. Henry '98 is a regular. Up on the hill, they hang a chandelier each game to light up the backside of the patio area, which now has a second level. The group also has designs on expanding further up the slope next to the Justin Center.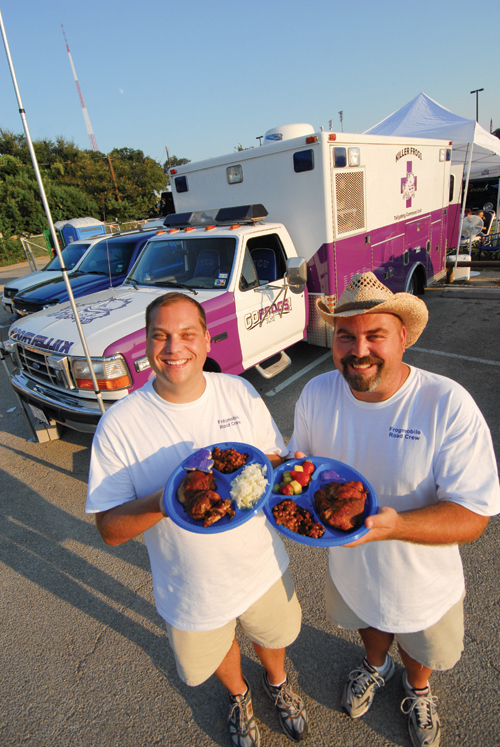 TCU estimates it has a couple dozen patios around the stadium, and they're not cheap. A new one built in Lot 1 this year cost $48,000, and required a retaining wall since it was built overlooking a slope.
For other fans, it's not what they build, but what they bring.
Brothers Tom '84 and Tim '95 Gibbons own the Tailgating Command Unit (yes, that stands for TCU), a purple-and-white fully functioning ambulance they found on eBay and fixed up. Originally used by the Denton County EMS, the rig has purple lights, purple upholstery, an ear-piercing siren, flat-screen TV, microwave, sound system and more. There's even a purple gurney for stretching out. And the license plate: TL-G8N.
They get to Lot 4 (which is first come, first serve) when the gates open the morning of gamedays and back their monstrosity up to spaces adjacent to the lot's grassy hillside and start grilling. A few hours before kickoff, the rest of the party arrives to watch games on TV and throw around a football.
Originally, they planned to buy and decorate a bus, but they rejected the idea as too common. The ambulance idea came to them in 2006 at Texas Motor Speedway, where they spotted a red-and-white Nebraska-themed rig called The Big Red Meat Wagon. "We had been thinking about what we could do, how to take our tailgating to the next level," says Tim. "And when we saw that, we knew that's what we had to get." And it helps that their rig is big – their old van could only carry one passenger after packing in all the gear.
The brothers won't say what they paid for the ambulance, but Tom points out that his two kids, Hilary '07 and Ryan '07, graduated from TCU this year, so he has no tuition payments to make now. Tom's wife, Lorie, thought the guys were crazy, but when she saw Tom sketching out the concept, she got on board. "It was the next step for us," she says. "Tailgating is a lifestyle."
On the northwest corner where Lot 1 snakes around the north end of Amon Carter Stadium, Mike Flynn '85 and company can be found in spot 169 enjoying the cool refreshment of homemade margaritas. About six years ago, Flynn and wife Jan took a chunk of their life savings and invested in a spot with trees and shade. A few years later, they added a patio with built-in custom grill. "In a way, I see it as giving back to TCU," he says.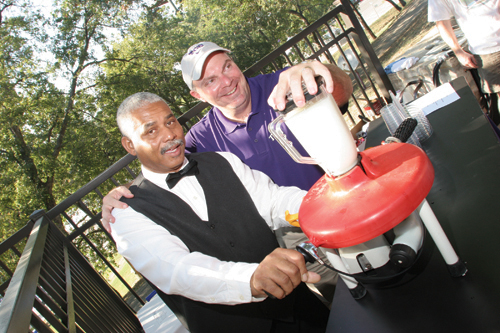 Often joined by Hal Brown '88 (of Fort Worth, Texas magazine fame) and their families, the talk centers around football, both the Frogs of today and of yore. But Flynn is widely known around Amon Carter Stadium for his gas-powered margarita mixer, the Daiquiri Whacker. "It sounds like a weed eater when you start it. The first time I used it, I had about 50 guys come over and want to look at it. It's the first thing that gets packed every time out."
Then there is the biggest party in town: the Lettermen's smoker.
With the motto "Love all, feed all," it is a major operation. Ex-letterman John Marsh '91, who often wears his purple grillin' T-shirt that reads, "In my day, I could play," heads up the production, although he needs six to eight cooks to pull it off. The group's nearly 39-foot, 25,000-pound, two-story pit smoker, which they've had since 1998, dwarfs everything else in Lot 3.
"We like to joke that it's one brisket shy of a ticket," says cook Mike Bulla '89.
They park it the evening before a game, have a ceremonial lighting of the pit and work through the night (going through a cord of firewood and a half-dozen gas cans) to be ready to serve the next afternoon.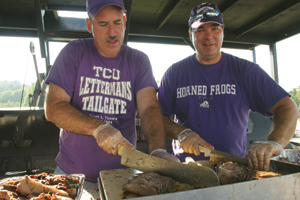 With nearly 300 mouths to feed, the party spills out from its Spot 101. The group set up camp there in 1992 and has seen it grow every year since. It's open to everyone. Dues paying lettermen pay $5 a plate. Walkups pay $10. A wristband system helps keep track of everyone. Seconds and thirds are encouraged. "It's not a money-making venture," says Marsh. "It's just a good way to get everyone together and rally support for the team.
More than anything, tailgating is about creativity and self-expression. Amy Roach's group has a menu sign that features the day's fare. Charlie Geren brings his purple Willys Jeepster. Brian '93 and Platt '88 Allen show off their TCU BBQ license plate on their smoker.
"Tailgating works at TCU because it's like Fort Worth – very friendly and laid-back," says Davis Babb, associate athletics director for development. "You could take our scene to Will Rogers Coliseum or the Stockyards or Sundance Square and you would find the same crowd."
The team's run of nine bowl games in 10 seasons has helped fuel interest, Babb believes, and tailgating just matches the enthusiasm for the program.
"It's also helped bring non-alums into TCU circles, which is a great thing," he said. "I think there is a little friendly competition in the parking lot of one-upping each other with patios and menus and guest lists, but it's all done in a fun way. We all love the Frogs."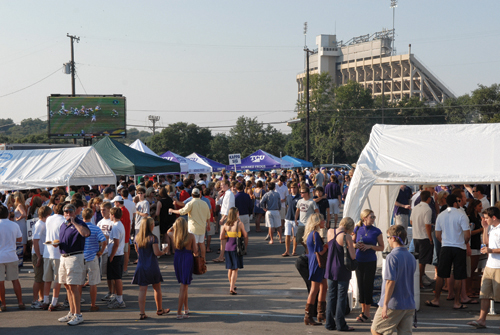 The student scene
Officially, the Student Government Association Tailgate is open to the entire student body, and any group or organization can reserve a spot in advance, but the Greeks heavily dominate it. Call it fraternity and sorority heaven. White button-up shirts and khaki shorts for the guys. Sundresses and boots for the girls.
Today, the Kappa Sigs are cooking up a huge vat of jambalaya, using a stainless steel paddle to stir up the Creole concoction. It is gone within minutes. Also on the menu: ribs, sausage, fried chicken and a pallet of Keystone Light. The plan is to serve 500 people.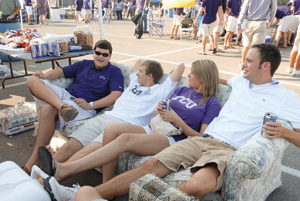 The Phi Delts grill 450 burgers, 200 sausage links, and 10 pounds of fajitas, enough for them and the SMU chapter who are joining them.
"Each organization brings and cooks its own food. Student Government hires a band. Student Affairs pays for the giant GoVision screen, so we can watch other games," says outgoing SGA president Jace Thompson. "Then we all walk over to the game en mass right at kickoff. Each year, it keeps getting bigger. I can see it becoming a tradition."
Some groups line up sofas and hay bales with blankets. Some bring horseshoes. Others blare boom boxes. As many as 2,000 students attend, and that number swells by another 1,000 during Parents' Weekend and Homecoming.
It wasn't always so. This was Year 2 of a new approach to student tailgating. It began five seasons ago, when SGA cobbled together a modest spread on the Morris Practice Fields.
It flopped. Grilling was not allowed and students of age could only bring a six-pack or less. In 2006, when new surface lots around the stadium opened, Student Affairs moved the tailgate to a lot north of Brachman Hall with more relaxed rules for food and beverage.
The lot is cordoned off and lined with Port-a-Potties and trash barrels, barricading students into one giant space. CSC Event staff, hired by Athletics, check IDs and stamp hands of students of drinking age. Texas Alcoholic Beverage Commission patrols the lot for violators, but students are encouraged to be vigilant and police themselves, Thompson says.
"It's worked because students have a sense of ownership that they didn't have before," says Assistant Police Chief J.C. Williams. "Now they do. It's an event just for them."
Toward the end of the season, attendance dropped dramatically when TABC increased the number of officers on the scene and citations shot up.
"Students I talked to said they were being asked two and three times for their IDs after having getting their hand stamped by CSC when they got in," Thompson said. "They felt like they were being watched, you could even say targeted."
Student Affairs, SGA and TCU Athletics are not informed of when TABC will show up or how many officers are coming, but rules about alcohol are clear. Students under 21 can't drink. Same as in the dorms.
"No one wants underage drinking, but we do need to have a safe place for students of age to drink," Thompson said. "Students will tailgate. It's just a matter of where. Ultimately, it's up to the organizations to buy in and make it a success."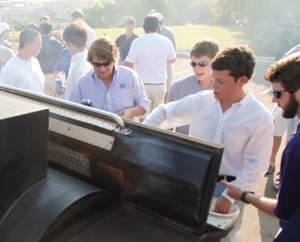 No setup is perfect, Williams contends, but the TCU approach is still looked upon as a model for other universities. Having students in one place, instead of spread around the stadium, is easier to keep them safe.
"Other campus police chiefs have come to study our situation and they see a lot of positives in how we do it. But no matter where you are, there's one truth we all know: There's always going to be drinking at football games."
The TABC isn't going anywhere, and they'll keep showing up unannounced.
The university, however, will meet with TABC and with student groups in the spring to discuss changes to next year's tailgate and "make it what we want it to be," says Darron Turner, assistant vice chancellor for Student Affairs.
"The idea behind the tailgate is not for drinking and partying but on joining together and supporting Athletics," Turner said. "We want them to have a good time and be safe. It's a football game after all. But if they're there for drinking, they're missing the point."
Hassles and logistics
There is some basic math involved in the logistics of gameday. TCU has roughly 8,900 parking spaces around campus, mostly for student parking, and about 2,700 of them fall under the control of Athletics for donors when the Frogs take the field. (They also have another 1,200 spaces in contracted lots on the perimeter of campus.)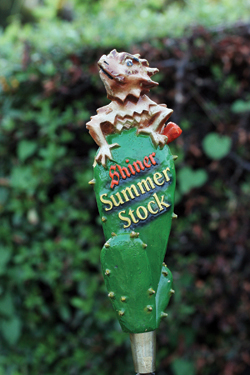 Among season ticket holders, alumni, visiting team's fans, and the general public, 3,500 to 5,000 cars join the mix, according to TCU Police.
"So it becomes a question of where do students' cars go," says Bailey. "Unfortunately, that means we have to tow cars for those who choose not to follow the rules."
TCU has one of the most lenient policies around. Students have until 8 a.m. on Saturday gamedays to move their vehicles. Two days in advance, TCU Police sends email reminders to the campus.
Even on Saturday morning, police give students another two-hour grace period, before they start towing vehicles at 10 a.m.
"We try to make our approach more service-oriented," says assistant chief Williams. "We just move vehicles to another location on campus and then attempt to contact the student. No one's car is being impounded. They're being moved for the safety of the vehicle, too."
By the early afternoon, a couple hundred vehicles are moved, and police begin to do safety patrols and monitor incoming traffic, Williams said.
Weeknight games are more complicated, and the same procedures must be accomplished in less time. As many as 70 Fort Worth Police Department officers help with traffic flow and ground patrols.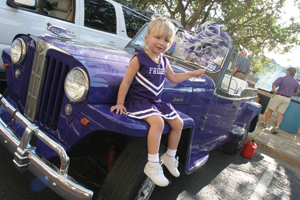 Cars aren't the only traffic that needs controlling. Many tailgates around the stadium turn into parking lot parties, where cars and pedestrians compete to occupy the same space.
"There are lots of people and lots of socializing, and they tend to spread out beyond their own parking space," Bailey says. "We discourage people from doing that and give them spaces, like Frog Alley, where they can congregate en mass."
Noise complaints are common, especially after the season opener, when parking lot neighbors encounter each other for the first time.
"That's when we have our greatest movement of people," the Frog Club's Denton says. "We try to be wise about where we place people in lots, not putting rowdy groups next to tamer ones. But with the demand we have, sometimes there is no room to move people."
The Student Tailgate has helped, Williams says. "With their new setup, we haven't had any alumni complaints. Students have a place to go to be with their peers. It's been a good solution for everyone."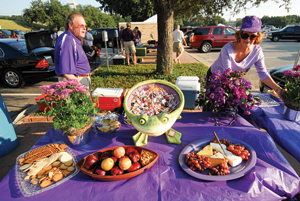 Then there's maintenance. No one argues that the patios have dressed up the look of the grounds around the stadium, and at no cost to Athletics, but who's job it is to do upkeep is uncertain.
Should the university be responsible for making sure the patios clean and built-in equipment operational? Or should parking space occupants who paid to build them handle repairs?
"We are asked to do a bunch of little things, and we don't mind helping," Bailey says. "But where do we draw the line? We're in the process of determining that."
Trash is another challenge. The Physical Plant now uses more workers outside the stadium (13) as inside (8).
"The stadium parking lots generate as many as 300 trash barrels of waste per game, almost triple what was picked up in the 1990s," says Robert Sulak, assistant director for landscaping and grounds.
Cleanup crews also haul off 15 barrels of ashes.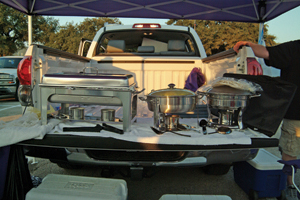 Athletics acknowledges that it contributes to the increased trash itself because of its customer friendly in-and-out admittance policy. Many take advantage, skipping out on halftime to fire up the grill again or drink another six pack.
"Most schools don't allow fans to go in and out of the game. We do, partly because we don't have enough concession stands," Bailey says. "We also know that our fans enjoy doing both – tailgating and watching the game – and we want to be fan friendly. Telling them they can't come back doesn't accomplish that."
Unfortunately, many don't come back. In fact, some don't even come into the stadium at all, lingering in the parking lot all game.
"I think attendance is the single biggest issue facing us," Denton says. "We have as many as 3,000 people in lots during the game. We have to try more ways to get them inside."
Some schools have patrols that shut down tailgates, Bailey says. "We're not likely to do that. But we have to reinforce that the end goal is not supposed to be tailgating. It's the game."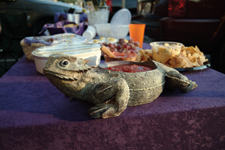 Incentives may have to be dangled in the future, Denton says. "We might have to consider scanning tickets with bar coding for attendance. Maybe attendance counts for fraction of points for the Horned Frog Priority Points System."
Other issues are also without firm answers:
- The drill site for the university's planned gas well is in Lot 3 and its nearly 500 spaces, more than half of which are $1,000 donor spots. "It is a huge opportunity for TCU," says Denton, "but a lot of longtime fans with longtime spaces are going to be displaced. Where do they go? No one knows for sure yet. Believe me, we're working on it – every day."
- The prospect of enhancing Amon Carter Stadium is exciting, but expansion could potentially displace scores of donors from Lot 1. Where would they go? Athletics is still studying potential solutions.
- Faced with runaway demand for parking, the Frog Club may face the prospect of raising prices again. "By how much? And for whom? Just new donors or everyone?" Denton wonders. "The answers to those questions are still being explored."
* * *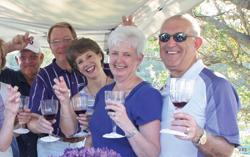 Between items on his to-do list, Bailey stops and eyeballs the revelry at the patios in Lot 1. People are having fun, and it's all in support of the Frogs. But he'll be there until well after midnight cleaning up.
Is it worth it?
"Without a doubt it is," he says. "When people talk about the TCU gameday atmosphere, it's electric. It's a neat place to be. Other schools notice that when they come here. We've had other athletics directors and development officers talk at length about how nice we have it. The only thing we're missing is a giant open field to put everybody."
The closer to Amon Carter Stadium the better.
Editor Nancy Bartosek and News Editor Mark Wright '07 (MS) contributed to this story.

If you're interested in donating to the Frog Club and getting a parking space go to www.frogclub.tcu.edu.
Comment at tcumagazine@tcu.edu.
Contact Rick Waters at r.waters@tcu.edu.