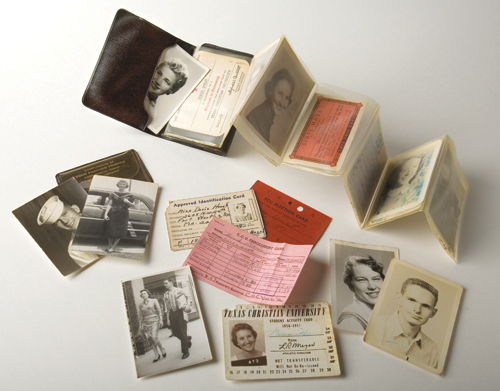 Lost and found
Fifty years later, a stolen wallet is returned.

By Mark Wright '07 (MS)
In the fall of 1957, Doris Hurst Nelson '60 was a junior, helping chemistry Assistant Professor F.M. Lisle on his research on Asiatic cholera. Since not too many people had reason to wander up to the fourth floor of the Science Building (now called Winton Scott Hall), she didn't think twice about leaving her purse in the chemistry lab one afternoon as she and a friend headed out for a snack.
But she returned a short time later to find that someone had gotten into her purse. The billfold and the pictures, identification cards and other odds and ends it contained were lost.
Until now. Nelson was reunited with the wallet this fall after it was found by a TCU employee.
"I was shocked. I couldn't believe that in this day and age it still had the Social Security card and driver's license in there," Nelson said. "I could use it right now. It was just one of those vinyl triple folds. It doesn't have a tear or scratch on it."
The stolen wallet and its contents, except for $10 or so Nelson recalls was in it, were actually recovered 10 years ago when workers from the physical plant found the wallet sitting on top of an air conditioning duct they were working on.
The wallet was handed over to Alumni Relations, but no one there was able to track Doris down.
This year, Cheryl Cobb, Kelly Center Coordinator, ran across it in a drawer and renewed the search for Doris. Cobb hit several dead ends before coming across contact information for First Baptist Meadowview in Temple, where Nelson's daughter LeAnna Exley is a church member. Exley helped TCU contact Nelson.
Nelson marveled at the wallet's contents, which had many old photos of family and friends, including an image of Doris sitting on her family's horse. She also found the Red Cross swimming certificate that she earned at TCU; her fall 1957 registration receipt (she was charged $325 for a course load of 17 hours); and a student activity card signed by then-Athletics Director L.R. "Dutch" Meyer.
The trip down memory lane was almost as fun for Nelson as the many things she has done in the 50 years since. She worked as a medical technologist at NASA in the mid-1960s, where she became friends with the astronauts and their wives. And she spent much of her career as chief lab technologist at the VA hospital in Fort Worth. While there, she was named the DFW Federal Executive Board's federal employee of the year.
In retirement, Nelson's life is no less interesting. She and husband Buddy Nelson spent seven years "RV-ing" across the western United States and Canada and currently reside in Whitney. Nelson, who plays the organ at her church, said she plans to give the wallet to her daughter as a keepsake.
"It was exciting, it was thrilling, it was surprising," Nelson said. "I've shown it to people and said, 'Can you believe this turned up after 50 years?' "





Comment at tcumagazine@tcu.edu