Splash Page
|
Alumni profile
| Notables
Notables
A tragedy rewarded
Think back to Christmas 2003 and memories of holiday parties, shopping frenzies and crisp winter days. One might also remember the highly publicized, tragic car accident in Fort Worth in which a drunk driver hit a couple returning home to their twin babies, leaving the father dead at the scene.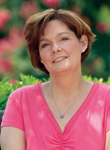 The couple was Brent '90 and Julie House Jones '90. Julie, who was driving, survived the crash with a broken pelvis and ribs and an injured knee. More difficult to heal, however, was the pain in her heart. Months after the incident, Jones decided to redirect her anger and pain by speaking to a local Mothers of Multiples group about being prepared for the unexpected.
"If it can happen to me, it can happen to anyone," she said. "If you have multiple children, you need to have a will in place, and a life insurance plan."
Her presentation that night was so healing that she continued to speak to groups throughout the area. And in September, Julie traveled to New York City to receive the State Farm Life Insurance Embrace Life Award. Now in its fourth year, the Awards annually honor five women who have persevered and inspired those around them after the death of their spouse. The Embrace Life Awards also provide a forum to share the inspiring stories, experiences and life lessons of honorees that can help everyday women take steps to secure their hopes and dreams for the future.

"It's a huge honor," Jones said of the award. "To me, it was enough that I had a friend that thought so highly of me to nominate me. But to have people read about our story, and feel the same way — I couldn't believe it."
Jones has spoken at DWI probation meetings as part of their Victim Impact Panel, and at FMC Carswell, a federal women's prison hospital in Fort Worth. She recently became involved with the Texas Alcohol and Beverage Commission, speaking to high school students, and is currently working with TCU to become involved with its alcohol awareness program.
She is also working with a legislative committee to support one bill that will allow the State of Texas to enforce sobriety checkpoints and another to identify DWI offenders on their driver's licenses. Today, she lives in Fort Worth with Jacob and Lauren, 4 ?, who she describes as beautiful, well-adjusted children.
"My speaking," she said," is the way I honor my husband."
- - - - - - - - - - -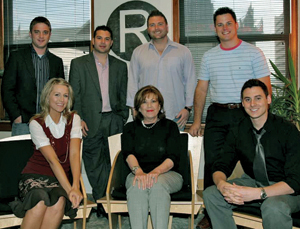 Grads flying high with Rassai
When Judge Graham '02 and Chad Horany '02 met at TCU in 1998, theirs was a friendship based on similar interests and shared ambitions. And while the roommates shared a synergy that quickly spurred lofty entrepreneurial aspirations, Graham and Horany had no clue their envelope-pushing talents would go so far, so fast.
In late 2001, while attending their final semester in the e-business program at Neeley, the pair launched Rassai Interactive. The name's derivation comes from the pair's fraternity house room, which was bedecked with posters of Brassai, a renowned 1930s French photographer. And from Brassai came Rassai, a one-of a kind moniker that befits this innovative full-service digital marketing and strategic online technology company, which specializes in next-generation Web applications.
Since its inception, Rassai has skyrocketed into a kudos-earning company that consistently turns out award-winning, right-on-the-mark work. With seven Horned Frogs in its ranks, and consistent annual growth in revenue, personnel and profitability, Rassai's client roster now totals more than 350 and includes such heavy-hitters as American Airlines, Dillards and American Ironhorse. One of their most recent projects was a new Admission Web site for TCU, as well as the Neeley School of Business site.
Their philosophy of business is simple: "The harder you work," Graham said, "the luckier you get because working works."
Go to www.rassai.com. Photo above: Front: Laura Mayberry '05, Susan Nix '69, Robby Libbey '05. Back: Neil Amos '05, Chad Horany '02, Judge Graham '02, Billy Clark '04.
- - - - - - - - - - -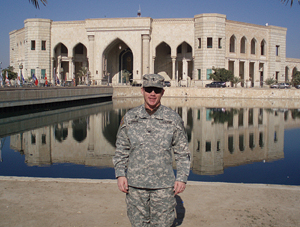 Serving the troops

Chaplain (Col.) Michael D. "Mike" Tarvin '86 (MDiv) has a very large congregation. Stationed at Camp Victory in Baghdad, Tarvin is the Command Chaplain of the Multi-National Corps-Iraq, a post he has held since December 2006. He oversees the religious support for the 165,000 U.S. forces in Iraq, directly supervising the almost 600 chaplains and chaplain assistants there.
Though his primary role is to mentor the chaplains, he also pastors to the soldiers with whom he serves. "We [chaplains] live just like the rest of the soldiers in our units," says Tarvin. "I've parachuted out of planes; I fly all over the country of Iraq in helicopters; I've slogged through swamps and jungles with my soldiers and gone on patrols…and all without carrying a weapon."
Although this is his first combat service, Tarvin had served in the Army prior to enrolling in seminary.
While a student at Brite, he felt called back to the military, convinced he could use his Army experience in his pastoral calling.
Tarvin knows the risks. He has prayed over the dead and wounded, and five of his chaplains have been wounded. Others have been "directly engaged by the enemy." Despite the danger, Tarvin appreciates the meaning of his pastorate.
"[One week] at our chapel here on Camp Victory we had one group of Muslims meeting for Ramadan, another group of Jewish folks meeting for Sukkot, Christian Gospel Choir practice and a Bible study group all meeting in the same general area at the same time."
"The Army Chaplaincy has provided me with an opportunity that is in keeping with the true ecumenical spirit of the Christian Church. The experience of working with so many faith groups on a day to basis could not happen in any other setting."
- - - - - - - - - - -
A Call to Serve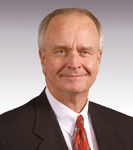 For more than 30 years, attorney Travis Vanderpool '65 has served his native state of Texas, offering his expertise in a broad spectrum of civil litigation, mediation and alternative dispute resolution.
Recently elevated to senior counsel for Hunton and Williams LLP, in Dallas, Vanderpool also took on a new role within the State Bar of Texas — chair of its board of directors — in June.
An administrative agency of the Supreme Court of Texas, the State Bar provides educational programs for the legal profession and the public, administers the continuing legal education program for attorneys and manages the attorney discipline system.
"While it's an honor to serve the profession and the State Bar at this point in my career, I must admit that I did not first set out to become a lawyer," notes Vanderpool, whose boyhood dream was to fly.
A government major and member of Delta Tau Delta fraternity at TCU, Vanderpool was cadet commander in the university's Air Force ROTC program. Commissioned in December 1964, he served in Vietnam as an F-100 fighter pilot, for which he was awarded four Distinguished Flying Crosses for gallantry under fire, heroism and extraordinary achievement while flying 271 combat missions.
When he returned stateside, he was a flight instructor for three years before he and his wife, Grace Ann, decided it was time for a safer, "more grounded" career.
"The law has provided my family with great stability," Vanderpool said. "I have been challenged in my work, and look forward to giving back to the profession that has taught me so much."
- - - - - - - - - - -
Lighting a fire
Things are heating up for Jaime Castañeda '03, artistic director and founder of FireStarter Productions, a Fort Worth theater company comprised primarily of TCU alumni.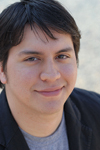 The past year found him working with large theatrical institutions, professional regional theaters and independent projects — including film work. He also completed the New York Drama League's prestigious Fall Directing Program, a four-month fellowship for up-and-coming directors. The distinguished program — which had more than 100 applicants but only four coveted spots — allows participants to work as assistant directors with leading theater artists on fully staged productions. At the end of the program, they direct one-act plays for a New York City audience that includes prominent industry professionals.
During the fellowship, Castañeda served as assistant director on the co-world premiere production of Tony Award writer Greg Kotis' "Pig Farm" at the Old Globe Theatre in San Diego, as well as Kate Robin's "Anon" at the off-Broadway Atlantic Theatre Company in New York City.
Here at home he directed "Lincolnesque" at Circle Theatre in downtown Fort Worth in April, followed by FireStarter's "Sonnets for an Old Century" by Jose Rivera (performed at TCU's Hays Theatre). In July, he directed Neil Labute's "This is How it Goes" for Amphibian Stage Productions, another theater group launched by TCU alumni, of which Castañeda is a member.
Through FireStarter, Castañeda is also working on a short film project he will write, direct and produce. "It's kind of a rare thing for a theater production company to actually take on film responsibilities as well. Film production is kind of a different world."
FireStarter has some 20 company members, including about 15 TCU alumni.
"Ultimately what I would really love to do is lead a larger professional theater," he said.

Comment at tcumagazine@tcu.edu.