The waters of March
Frog Fountain is flowing again, and for the dedication ceremony on March 16, it featured a distinctly TCU hue, much to the delight of the 100 or so Frog faithful in attendance.
Emeritus Trustee John V. Roach '61, who was honored during the ceremony, flipped the switch to start up the beloved campus icon and Don Mills, vice chancellor for student affairs, told of one mischievous student who put a live catfish into the fountain right before she gave a campus tour.
"Then on the tour she said, 'Here at TCU we grow catfish so we can have fish frys on campus,' " he said. "The students and parents on the tour nodded and said 'mmm, fish frys.' "
Originally a gift from Mr. and Mrs. Houghton Phillips of San Antonio, the Buck Winn-designed Frog Fountain was placed in front of the Brown-Lupton student center in 1969, much to the chagrin of some students who criticized it as a waste of money and space that should instead go to more parking.
Last year the old fountain parts underwent a thorough cleaning and refurbishment. The main internal pipe was replaced. New copper cladding was added to the outside, and pumps, lighting and other equipment were replaced.

Boschini to lead NAICU
Chancellor Victor J. Boschini Jr. began a one-year term in February as chair of the board of directors of the National Association of Independent Colleges and Universities.
The Washington, D.C.-based NAICU is the leading national association representing private higher education, serving as the unified voice of nearly 1,000 independent college and university presidents, and specialized, state and regional association executives. NAICU member institutions enroll nine of every 10 students attending private college or university in the United States.
"Dr. Boschini was selected by his peers because of his expertise in the field, proven leadership and commitment to America's college students," said David Warren, NAICU president. "He assumes his responsibilities at a time of great challenge and transformation for American higher education. The federal budget deficit, growing student financial need, increasingly competitive global economy and today's culture of accountability are among the dynamics affecting higher education."
Members of NAICU's board of directors set the association's agenda on federal higher education policy, actively encourage support of NAICU priorities and initiative, and oversee the association's financial administration.

Schieffer School partners with think tank
TCU's Schieffer School of Journalism has teamed with the renowned Washington, D.C., think tank Center for Strategic and International Studies (CSIS) for a series of monthly dialogues on public policy and the media. The programs are broadcast live and can be viewed at www.schiefferschool.tcu.edu.

The first dialogue in February discussed the status of U.S. efforts in Afghanistan. The second, in March, focused on Iraq and featured Rajiv Chandrasekaran, national editor of The Washington Post and the author of Imperial Life in the Emerald City; Nancy Youssef, chief Pentagon correspondent for McClatchy newspapers who has spent the last four years covering Iraq, most recently as the Bagdad Bureau Chief; and Anthony H. Cordesman, who holds the Arleigh A. Burke, chair in strategy at CSIS. Cordesman is also a national security analyst for ABC News. His analysis has been featured prominently during the Gulf War, Desert Fox and the conflict in Kosovo.
"This is a great opportunity for the Schieffer School, since CSIS is one of the most respected institutions of its kind in the world," said Bob Schieffer '59. "Their resident fellows and associates are called upon by every major news organization every day to provide insight into the complex issues facing the world."
CSIS is a bipartisan, independent, nonprofit organization that provides strategic insights and policy solutions to decision makers in government, international institutions, the private sector and civil society. It has earned the reputation of being one the world's preeminent public policy institutions.
Go to http://media.csis.org or the Schieffer School site to view all the dialogues at any time.

Frogs rally to vote smart
With Texas in the national political spotlight, even SuperFrog is working to get out the vote.
SuperFrog was on hand at a voting rally Feb. 28 along with a slew of free T-shirts and hot dogs all designed to get TCU students politically engaged.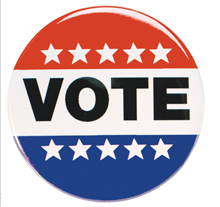 The rally was sponsored by the Programming Council to support this semester's theme of "Rights. Responsibility. Respect." and featured Project Vote Smart, a non-profit, non-partisan research organization that collects and distributes information about candidates for public office.
Students chowed down on the free dogs, but could only score a "Vote Purple, Vote Smart" T-shirt if they correctly answered questions such as naming their congressional district and the current office holder.
Even students who couldn't make the grade managed to get extra credit by hopping aboard the Project Vote Smart bus where they could go on the organization's Web site and research candidates and their voting records to make informed voting decisions.
"It was pretty cool," said speech pathology junior Shauna Montgomery. "There's a lot of information."

Education dean Deitz to retire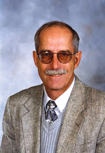 Sam Deitz, dean of the College of Education, will retire in May after serving in the position for eight years.
When he arrived at TCU, Deitz started working on redesigning undergraduate programs and new certification levels and developing strategic plans to guide academic and fundraising efforts. During his tenure at TCU, he was responsible for numerous college-wide accomplishments and initiatives including opening the new J.E. and L.E. Mabee Foundation Education Complex consisting of the Betsy and Steve Palko Hall and the restored Bailey Building.
Mary Patton, the College of Education's associate dean, will serve as the interim dean during the 2008-2009 academic year while a national search for a new dean is conducted.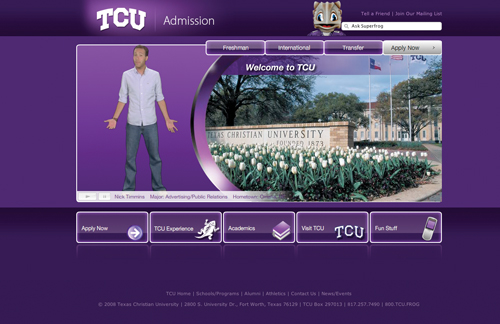 Admission launches new Web site
A new Web site to attract prospective students, inform parents and herald the talented people and great programs at TCU was launched in January.
Loaded with video, the site features students, faculty and administrators talking about the first-year experience, what it's like to transfer or to be an international student and a lot more.
It puts an impressive front door on TCU in cyberspace, and young people from all over the globe for the next half-decade will get their first impressions about our campus from what they see.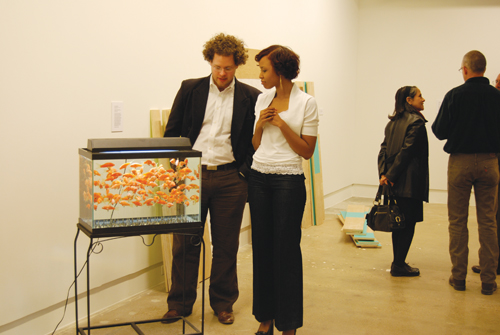 New Fort Worth Contemporary Arts gallery opens on campus
TCU's newest art venue, Fort Worth Contemporary Arts, is designed to give students hands-on experience staging exhibitions while also providing valuable exposure for emerging artists.
Nestled in a strip center at 2900 W. Berry St., the gallery is an exciting addition to the local arts scene and TCU's department of art and art history.
"We'll be profiling those who are operating at the front of contemporary practices, who are changing the way we consider visual art," said Gavin Morrison, the museum's curator. "It's almost like a test or experimental lab we're running."
Opening night drew more than 250 art lovers who took in the debut exhibit, "Material Culture," spotlighting three-dimensional works by a dozen Texas artists including San Antonio artist Chris Sauter, whose work "Bread" features miniature utility lines atop ciabatta loafs. The exhibit also features Fort Worth artist Helen Altman's works entitled "Feeder Tank," an aquarium stand filled with plastic goldfish, and "Harvester 11," which uses three cigar boxes.
TCU recruited Morrison from the Museum of Fine Arts in Houston to develop a dynamic series of exhibitions and events for the 2,500-square-foot gallery, which will supplement the university's J.M. Moudy Exhibition Hall.
Fort Worth Contemporary Arts is supported by a grant from TCU's Vision In Action program and the Material Culture publication was made possible by support from Robert Sunkel.
The gallery is free and open to the public 1 to 6 p.m. Thursdays through Sundays. Call 817.257.7643 for information.

Tuition, aid increases
It was the last supper – or at least the last bowl of lo mein – at two popular eateries in the basement of Reed Hall in March as the university moves forward in a slew of construction projects.
The space occupied by Eden's Greens, which opened in 2001, and Deco Deli, created as part of a student's senior project in 1999, were closed to prepare for construction at the back of Reed Hall. The space will become offices.
Current projects include:
- Clark Hall renovations include adding more bathrooms and personal space and a new lobby that will be accessible from the back entrance. It will reopen in August.
- Jarvis is being gutted and remodeled for office and academic space. The lower two floors of the hall will house several student life facilities, including a career center and university ministries, and the third floor will be remodeled for academic use. The dormitory, which will be renamed Jarvis Hall, will also have a new, more visually appealing west side. It will reopen in August.
- New roads were built from the front of Clark and Jarvis hall to University Drive to aid construction traffic. The roads will be removed and relandscaped when renovations are complete.
- In June, the Brown-Lupton Student Center will be demolished and construction will begin on the Clarence and Kerry Scharbauer Hall, scheduled to open in spring 2010. It will house the John V. Roach Honors College and consolidate the departments of AddRan in one location.



Around Campus
New three-tiered meal plan
Students will choose from three new all-you-can-eat meal plans – known as "Frog Pass" or "Frog Passport" – in August when the new Brown-Lupton University Union is finished. Ranging from silver, gold or platinum, the plans will cost between $1,799 to $2,099, said Craig Allen, director of Residential Services. Each plan includes total access inside the new dining hall called "Market Square," Allen said. Once inside, students will be considered "swiped in" and may eat as much as they want, rather than subtracting money off dining cards for each separate meal item.
Kitchens to be phased out of residence halls
Kitchens in residence halls on the main campus will become obsolete as halls are renovated and rebuilt around campus partly because of safety issues. Square footage, prioritizing residence hall space, the new University Union and safety concerns led to a decision to eliminate the kitchens as residence halls are renovated in the next few years.
Student billing now exclusively online
TCU's financial services will move student bills online in February to provide billing information more efficiently to students and others who pay student bills. Printed versions of student bills will be mailed until May. The online billing initiative is called e-Z Bill.
"TCU News Now" goes to daily broadcasts
Student-run "TCU News Now" became a daily newscast in January with the help of new professional equipment, technology and a CNN news feed. Students are now able to receive raw footage and news packages from CNN and use it in their own programming. A satellite on the roof of the Moudy Building connects with CNN's satellite and downloads newscasts to the News Now server. Watch the broadcasts at www.tcudailyskiff.com/tcunewsnow/
Library open 24 hours 5 days a week in fall
After years of asking, students will have 24-hour library access on weekdays next semester.
"Students have been talking about this for the last three or four years," said Don Mills, vice chancellor for student affairs. "In the last year the usage in the library has escalated because more students are living on campus, and the library is offering many resources students need and want."

Overheard @ TCU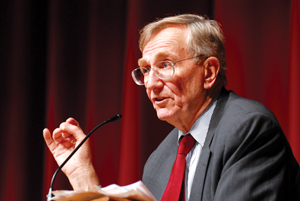 "The decision to invade Iraq will be judged by history as possibly the worst mistake an American president has made. He believes he is somehow destined to spread democracy."
- Seymour Hersh, Investigative journalist for The New Yorker and speaker for the Center for Civic Literacy's spring lecture series, co-sponsored by the AddRan College of Humanities and Social Sciences, the Schieffer School of Journalism and Leadership Fort Worth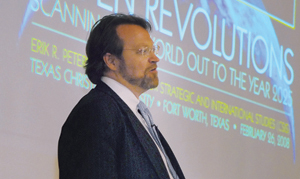 "The world has set in motion uncheckable trends of poverty, infectious disease, conflict and
technological might. Now, it's a matter of how we manage these mounting challenges."
- Erik Peterson, Senior vice president of the Washington, D.C.-based think tank Center for Strategic and International Studies (CSIS) and speaker at the Frost Foundation Lectureship for Global Issues and the Center for International Studies
"Despite the economy's recent downturn, businesses should put their employees, not customers, first. If employees are satisfied, they will take better care of customers."
- Kip Tindall, CEO of The Container Store and speaker at the Tandy Executive Speaker Series
"There is a fundamental belief that I have embraced for 12 years, and that is that people do things for reasons that make sense to them. Both men and women want to do the right thing, but they have a different set of rules for what they think is right and wrong"
- Tammy Hughes, President of The Heim Group and speaker at The Institute on Women
and Gender Studies breakfast series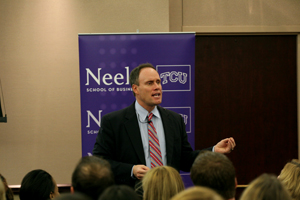 "While there is some risk in trust, there is also risk in not trusting people – more risk. When trust goes up, speed goes up and cost goes down. Trust affects economic results."
- Stephen Covey, Author of "The Speed of Trust" and speaker at the Tandy Executive Speaker Series

Spring 2008 in photos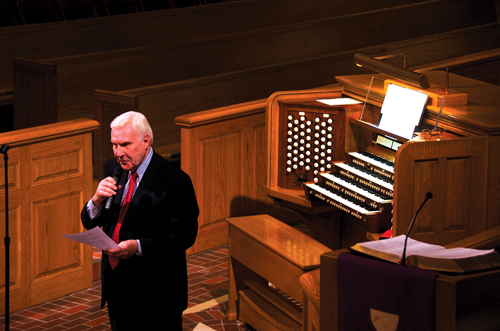 Ministers' week More than 300 ministers and religious leaders from around the U.S. gathered at for Minister's week at TCU in February to explore contemporary issues within the religious community. Highlighting the week was a concert of hymns and church standards by world-renown organist Frederick Swann at University Christian Church.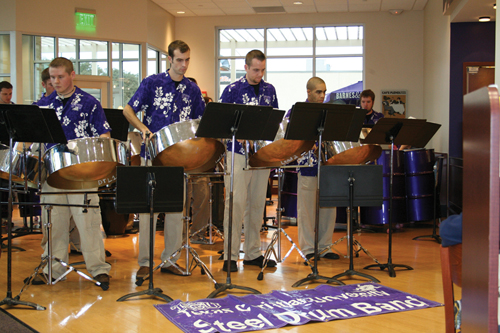 Drumming up business The TCU Steel Drum Band jammed at the January opening of the new 34,000-square-foot, two-story TCU Barnes & Noble bookstore. The store boasts 77,000 general reading titles, a Starbucks cafŽ, outside patio, reading/media room and more.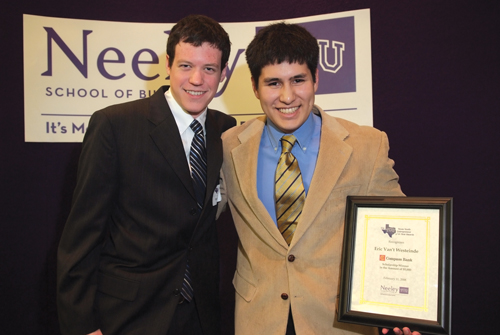 Entrepreneur of year Erick Van't Westeinde, a senior at Jesuit College Preparatory School in Dallas, was the grand prize winner of a $5,000 scholarship as the Neeley Texas Youth Entrepreneur of the Year. His business, Westend Trading Company, buys, repairs, restores and sells classic European cars.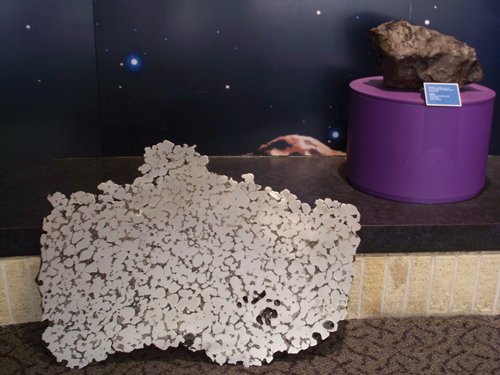 Massive meteorite The Oscar Monnig Meteorite Gallery acquired a 45-pound iron meteorite called Mundrabilla from western Australia in January. At approximately 3-feet by 2-feet, it is the largest slice of iron meteorite in the United States.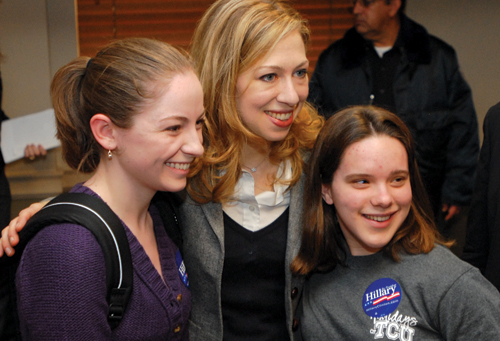 Stump speech Former first daughter Chelsea Clinton spoke to a crowd of about 250 in the Student Center Lounge in February, in a question and answer format. Clinton covered about her mother's positions on everything from the war in Iraq to illegal immigration.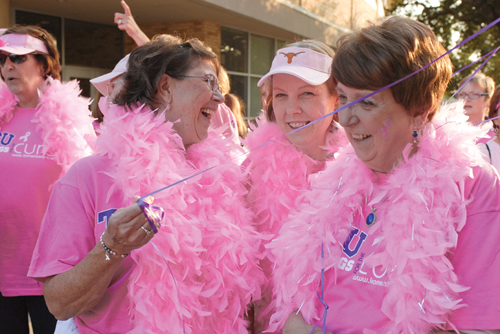 Think Pink The national Komen for the Cure group has bestowed its Community Service Award on TCU in February for its unique twist on supporting breast health during an annual fall football game. It is the first time that the Komen organization has honored anyone in Tarrant County for their efforts.

5 questions for ... Gordon England '75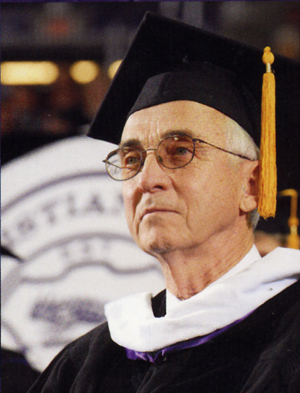 On a cold day in December, Deputy Secretary of Defense Gordon England '75 MBA told more than 800 TCU graduates the code he lives by: "Never, ever embarrass your mom."
England, who earned a master's degree in business administration from the Neeley School of Business, came back to campus to deliver the commencement address. Prior to his speech, he reflected back on his days at TCU and what brought him to Fort Worth.
You didn't attend TCU until well into your professional life. What were you doing before? I was in Florida, just out of college, working on the Gemini space program. It was all very exciting. We were doing things that no one in the history of the world had ever done. I was very young, going to Mission Control and Houston, and I remember thinking to myself, this is so wonderful and so challenging, it's too bad it's happening so early in life, because I'll never be able to do this again. Eventually, the Apollo program took over my company and I didn't have a contract, so he decided to come to Fort Worth in 1966. I had never built airplanes.
While in Fort Worth, you decided that you needed a business degree, even though you had a technical degree. Why? I had moved out of purely engineering into the business of engineering. I knew that to advance I needed to know more about management and mergers and acquisitions. Eventually I got a pretty senior job in the government.
What did you learn in the corporate world that was useful in government? Government is a large business enterprise, but what's most important about government is that decision making is entirely different. In government, there a lot of competing interests – that's the nature of democracies – so to be successful you have to arrive at consensus answers and be willing to accept less than what you deem to be the most desirable outcome, because with all these competing interests, the desired outcome is not one person's view or two people's view. You can be influential in pushing your view as far along that vector as you can, but at some point you have to say, OK, that is a satisfactory conclusion for this period of time. You can attack the rest of the problem at another time. Government is about consensus. It is about leadership. But at the end of the day, that leadership, to be successful has to be willing to accept consensus answers and not just your own vision of where you want the institution to go.
What advice do you give students when you speak to them? Take a finance course. It does not matter what one wants to do in life. Everything, even one's personal life, has to do with finance. I also tell young people to take the classes that everyone else warns are too challenging. Those are the classes to take because students learn more in those classes.
What's the greatest challenge facing the United States today? From a national security point of view: international terrorism in all its dimensions. Another threat that I view as even more fundamental: The U.S. is becoming less competitive in technical areas, especially the hard sciences – a mathematicians, engineers, physicists – that are fundamental to the competitive health of the nation and the security of the nation. I view that as a long-term threat to America.

TCU Tomes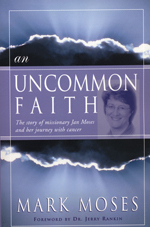 An Uncommon Faith
Mark Moses '79
Hannibal Books
Mark Moses and his wife, Jan, were Baptist missionaries in the Philippines for 20 years but their longtime faith was tested in 2004 when Jan was diagnosed with melanoma and Mark discovered he had kidney cancer. In his book An Uncommon Faith: The Story of Missionary Jan Moses and Her Journey with Cancer, he describes the family's spiritual journey as they grapple with their fate and faith. His wife died in early 2007, but her faith lives on in this moving recollection of a life dedicated to serving God.
To purchase: www.hannibalbooks.com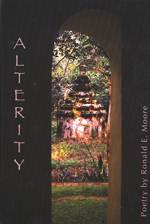 Alterity
Ronald E. Moore '68
Current Publishers
Ronald E. Moore '68 worked as a health care executive for 30 years, but his diverse resume also includes stints as a professional musician, composer and "inveterate adventurer." Add to those another title – poet. His debut poetry collection examines the telling truths of everyday lives, taking readers on a voyage from a boyhood baseball game in "Poet in Right Field" to "The Real Funeral," ruminations on watching a gravedigger finish his father's grave.
To purchase: www.alterityonline.com

Going to Texas: Five Centuries of Texas Maps
The Center for Texas Studies at TCU
TCU Press

The history of Texas unfolds in this collection of 64 historic maps from the Marty and Yana Davis Map Collection at Sul Ross State University in Alpine. The book, which includes 10 original historical essays that provide context for viewing the maps, serves as a catalog that will accompany the collection as it travels to 10 museums throughout the Southwest over the next two years beginning with the Hall of State at Dallas' Fair Park and ending at the National Cowgirl Hall of Fame in Fort Worth. Available at your local bookstore or by ordering at 1-800-826-8911.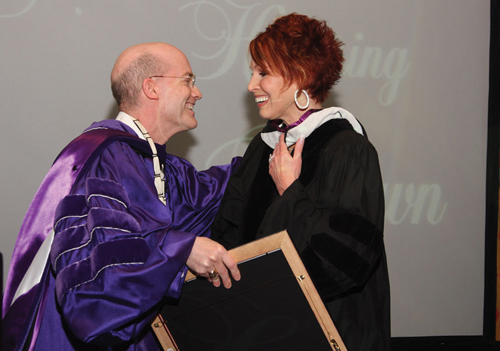 Her own plot twist
Sandra Brown's novels are famous for page-turning plot twists, but the bestselling author and 1969 TCU alumna got several real life twists when her husband, Michael Brown, threw her a surprise birthday party in February.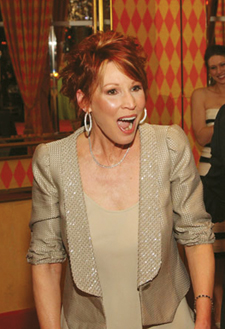 He had told her the fete was for famed pianist Van Cliburn, but the flashbulbs began popping when she walked in the room.
"Imagine my astonishment when we entered the City Club in downtown Fort Worth and I saw assembled 150 people who were there to surprise me!" she wrote on her blog at www.sandrabrown.net.
But the real shocks were yet to come.
In a ceremony that brought together her longtime friends including Bob Schieffer '59, fellow best-selling authors Dan Jenkins '53 and Rick Bragg and a video message from Pat Conroy, Brown learned her husband had established the Sandra Brown Excellence in Literary Fiction Award, which will provide full tuition to a promising undergraduate pursuing a creative writing career.
Then came the biggest shock of all.
Chancellor Victor Boschini presented her with an honorary Doctor of Letters, conducting the hooding ceremony himself.
Brown has published more than 70 novels including 56 The New York Times bestsellers such as Play Dirty, White Hot and The Crush.