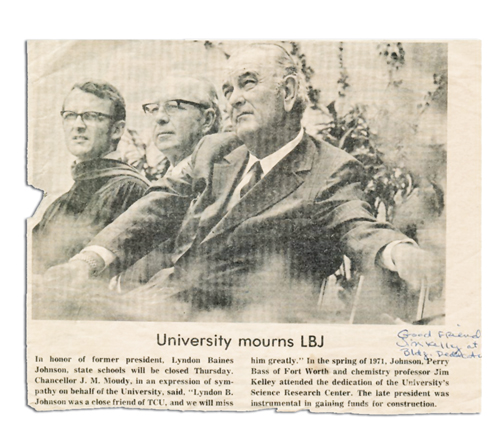 The inimitable Linda Kaye
Letters poured in after the story about her appeared in the Winter 2007 issue.

What a wonderful tribute in your last issue to a grand lady, Linda Kaye, although I've no doubt she would blush at such a description. There was an incident I thought surely would appear among the many anecdotes, but perhaps too much time has passed, and many who remember it are now gone.
The dedication of the Sid Richardson Science Building took place on the patio between the Sid Richardson and Winton Scott Science Buildings.
On the podium, along with Chancellor James Moudy, were Dr. Jim Kelly from the chemistry department, Perry Bass, and President Lyndon Baines Johnson, by then retired from the White House. President Johnson, nevertheless, still traveled with a considerable Secret Service contingent, who were obvious by the fact that they were the only people in the crowd who watched everyone but the president.
As the four speakers took their places on the podium, a sudden gasp stopped the proceedings when one of the Secret Service said, "Who's that?" and all eyes followed his gaze to the roof of the Winton Scott Building.
There was Linda Kaye with her long lens pointed smack dab at President Johnson. It was a freaky moment! The Secret Service quickly dispatched a couple of their members to the roof; Linda Kaye was escorted down to the ground; and as I recall, her only remark was, "No one told me I couldn't go up there." It was, nevertheless, one of her more lasting memories that she loved to relate many a time.
Sally L. Bohon
Assistant to the Honors Director 1976-1995





Comment at tcumagazine@tcu.edu