From our readers
More license plates
My plate reads K58 - TCU. Everywhere I go, people ask me about TCU. What an advertisement and pride.
Kay Meadows '58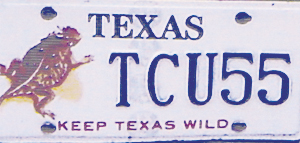 I loved the "Tag" article and the pictures that accompanied it. My auto license says TCU 55. I got this tag the first year they did the "Keep Texas Wild" tags and have enjoyed comment from people ever since. I graduated with a fine arts degree in 1955. My mother (Hattie Rue Hartgove) graduated from TCU in 1924 and my Grandmother Cora McKinnie attended Add Ran in 1886 in Thorpe Spring.
Rue Campbell Ford '55

Pictures from abroad
Regarding the "Afternoon Chat" prize-winning photo in the Winter issue: Afrikaans is not a native tongue of black Africans, but was imposed by the Dutch who oppressively ruled that region. The deadly Soweto riots were against forced teaching of Afrikaans to black students in segregated township schools. I do wonder why the photo caption did not list one among the several indigenous African dialects instead of assuming the women in the photo speak Afrikaans.
Katti Gray '82

Coach Patterson

Now that another year has come and gone, I believe it's a good time for TCU alumni and fans to reflect on the exceptional job of leadership that Coach Gary Patterson has accomplished and continues to achieve. He ranks third in TCU history in wins. His winning percentage is higher than any coach in school history who has been here longer than five years. In fact, only three coaches have coached at TCU longer than Patterson at this point. These are milestone accomplishments, on top of the more publicized laundry list of feats we often hear associated with this golden age of TCU football (most top-25 seasons, most bowl appearances, and most bowl victories, all the while maintaining a phenomenal graduation rate). In the span of the next few seasons, we will likely see Coach Patterson have more career victories than the legendary Dutch Meyer and win more bowl games in his tenure than the previous 29 coaches before him won combined. However, the University has to make a firm commitment so that as the seasons, and inevitable job offers, come and go, Patterson's legacy continues to grow. And before yet another year of the annual college football head-coaching merry-go-round commences, my hope is that Athletics Director Danny Morrison will make TCU's future in football, and Gary Patterson's future, secure.
R. Keith Bunch '95

Fan letters
I enjoyed Brian Estridge's article in The TCU Magazine about the BYU game. My husband and I were there, and yes, they are true fans out there! I wish our fans would leave their tailgate parties and come in the stadium. What can be done about the low attendance?
Dianne Rose Robbins '68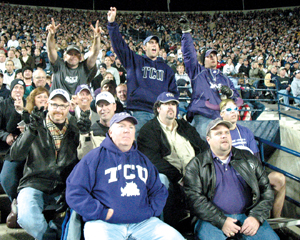 I was at that BYU game, so I know that not all 64,246 in attendance were wearing "Fully Invested" attire. But I do have to agree with you about the BYU attitude. This past summer I headed an internship that consisted of BYU finance and accounting majors. I'm not LDS (Mormon) but I grew to love the BYU spirit as represented by "my team" of crazy bean counters. These students were among the hardest working I have ever encountered (and I taught at Rice for two years), totally committed to their studies, but they also know how to have fun. Our small TCU section at that game had loads of fun, but I was impressed by BYU's student population at that game too. These 'Cougars' are in fact fully invested. It's not just a T-shirt or sweat shirt to them. That's not something a simple slogan can implement. It's got to start before a student ever hits a college campus.
Denise E. Heap '77
Although I agree with Brian's sentiment that TCU football needs to be better supported, I think that his frustration was pointed in the wrong direction. It should have been pointed squarely at the TCU Athletic Department. Brian mentions 64,246 people at the BYU game wearing the exact same shirt–Fully Invested. Did that randomly and spontaneously just happen? Of course not. It happened because of leadership from the athletic department. Those shirts were given away to season ticket holders and were advertised everywhere that BYU football was advertised. "Fully Invested" shouldn't just apply to the fans, players and coaches. It should also apply to the athletic department. Fully invested means facilities that are on par with the product on the field. Ours aren't. While there have been improvements – Sam Baugh Indoor Practice Facility, the Justin Center, the south end zone project – they aren't enough. The stadium needs a major overhaul: bathrooms, press box, etc.
Fully Invested means salaries for the assistant coaches and the head coach that are on par with the product on the field. Ours aren't. I see on GoFrogs.com that TCU Athletics has a marketing department, I just can't figure out what they do because it certainly isn't effective marketing. We do need more people coming to the games. For those of you who aren't coming, you're missing fantastic Top 25 football. You're missing a great atmosphere before and during the games. You're missing seeing TCU represented on a national stage exactly as you would hope TCU would be represented – with excellence. All for a ridiculously low price. But what we're missing most is proactive leadership and marketing. One thing Brian was right about – Fully Invested isn't just about wearing a shirt. It's about living it. I just hope the TCU Athletic Department makes that commitment before it's too late.
Dustin Ater '95
I read your column and could not agree more. My brother and I were at the BYU game (picture on page 65 of The TCU Magazine) and it was one of the best atmospheres I have ever watched college football in. I have seen games at the big house in Ann Arbor, the Rose Bowl, OU, UT, A&M, Nebraska, Colorado and plenty of pro sports arenas, and nothing compared to the enthusiasm of the Cougars. It is depressing when we lose a couple of games early in the season and the town gives up on the Frogs. The problem is competing with the Rangers, Mavericks, Cowboys and Stars. Most of the collegiate venues that pack it in don't have to compete with pro sports. Still, there are few things that make me happier than big crowds for TCU football games (Texas Tech!). Keep making the Frogs proud!!
Tim Bates '03
P.S. The magazine raised the bar for journalistic excellence on this one.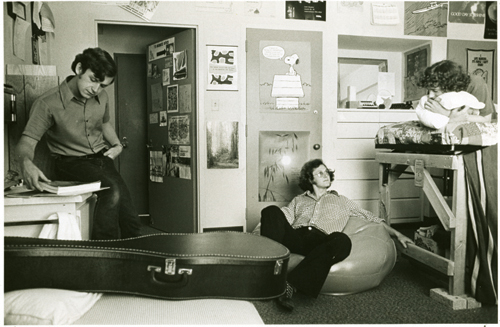 Dig those 'burns

Editor's note: Lee Ritchey '75 (pictured in the middle) was the most recognizable face in the Alumni photo on page 56 in the Winter issue. He's the one in the beanbag chair. The other two we still aren't sure about, but none of them is Jim Marston '75, shown today above, which several of you suggested.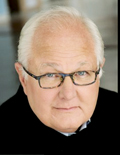 Yes, that is indeed me in the beanbag chair, back when I had hair and a lot of it. The dorm is definitely Tom Brown and I think the fellow on the bed is Pat Langley. The shot was probably taken in '71 or '72. I have no idea who the peruser of the book is on the left of the photo, although I do remember seeing him around campus. I think Linda just rounded us up for a campus-life kind of photo. It is with great sadness that I learned of the passing of Linda Kaye. She truly was one of a kind and her ubiquitous presence was one of the things that made TCU such a special place. Being a theatre major, I was probably the subject of her lens more than a lot of other Frogs. No matter how late picture call went (usually long after the curtain rang down after 10 p.m.) she was always there taking our cherished photos as characters from the world of theatre. She will always have a special place in my heart and will be missed.
Lee Ritchey '75 (ritchey@airmail.net)
The one in the middle in the beanbag chair I believe is Lee Ritchey '75, and the lad on the bunk bed on the right may be Russ Weisman. The year is possibly somewhere around 1972-74.
Benton Jennings '77
Pat Langley is the person on the left (sitting on the desk) of the picture on pages 56-57. Pat was a co-president of TB-J in 1974-1975 and always started every meeting with a tumbling run down the Jarvis parlor to start the meeting. It sure kept the meetings interesting and fun.
Lisa Ferrell Nolan '78
On pages 56-57 of the Winter 2007 magazine, the picture of the dorm room is from the early '70s in Tom Brown dorm. I recognize the carpet, the sink, the built in drawers with the mirror over it, the doors and hallway. It was a great room because of the space, the extra long beds, and the furniture which could be arranged any way you wanted. And our second floor room was a corner one so it had two windows, one of which looked west into the sunsets behind the stadium. Obviously the bed in the picture was homemade by the occupants.
Karl Bunjes '76 (MDiv '79)
The Alumni features in the photo are residents of Tom Brown Dorm. From left to right, Pat Langely '75 (by sink), Bob Hill (in the Bean Bag chair).
Frank Everts '78 (MBA '83)
We believe Pat Langley is on the left, Lee Richey is in the middle, and on the right it is either Steve Saunders or Charlie Tatlock.
Jim Marston '75
I was at TCU in the early 1970s and before I moved off campus, I lived in Tom Brown for two years and was part of the TB-J fun – including visitation violations with my girlfriend! When I first got there in 1971-72, Tom Brown had old uncarpeted floors. In the summer, they renovated and added nice carpets etc. (At least nice by college kid standards.) I am pretty sure this is a TB room around 1972-73 soon after the carpet was in. I definitely recognize those guys, but I don't recall their names.
Tom Holloway (BA '75 MA '76)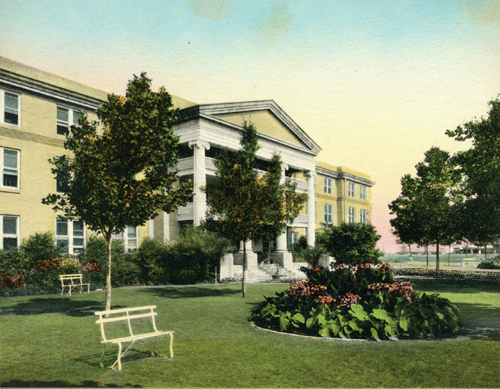 Jarvis

Editor's note: According to the TCU Daily Skiff, the 1955 renovation called for central air-conditioning. Obviously that didn't happen. The Skiff also reported that Jarvis was home to military men for periods during World War II. In the early 1950s, the hall also housed a few men for very brief periods – perhaps just days or a couple of weeks – until other housing became available. And the full name of the TB-J was the Tom Brown-Jarvis Living Learning Experiment.

I can't believe Jarvis has closed. I know that the swing out front was up during the time I lived there (Fall 1973 to Spring 1976). I think I still have my "Jarvis Broads" shirt somewhere.
Lisa Lewis Felix '77
I noticed in your history of Jarvis Hall that it was assigned to male residents from 1950-53. I lived in Jarvis Hall my freshman year of 1950-51 and I was not aware of any male students living there. We did watch the "panty raids" from our second floor room. We had a rope across our room on which we hung our snacks – this was to keep the bugs and ants away. I had come to TCU as a freshman from Austin, Minn. I had never been in Texas nor seen the campus until I arrived on the "Twin Star Rocket" and took a taxi to the campus and to Jarvis Hall. TCU has been a very important influence in my life and that of our entire family.
Rosemary Evans Alland '53

I was fascinated to learn that the 1955 renovation of Jarvis included the installation of central air conditioning. I wonder what unfortunate circumstances (an energy crisis, perhaps?) led to its removal before I began my three-year stay there in 1966? I lived in Jarvis because the "best girls" were there, and because my parents were spared the extra $15 per semester (if memory serves me right) that it cost to live in an air-conditioned dormitory! Those were the days!
Nancy DeWees '69
One noted element in your story about Jarvis that was not listed on the time line was the fact that in the early 70s (fall of '72) Jarvis was one of the first dorms to have a young hall director. I know because I was that director! That year Jarvis, Colby, Clark and (one more that I can't recall) had graduate students as the "dorm mothers/dad." The Star-Telegram did an article on us because it was such a "new idea" at that time.
Karen Smith Crowe '72 (Med '74)
I am proud to have been a "Jarvis Woman" from 1964 to the end of my senior year in 1967. Among my dorm mates were artists, musicians, intellectuals and, in general, interesting women who had no desire to be in sororities. I believe that 1964 was the first year that African-American co-eds lived on campus. They were assigned to Jarvis Hall, where they found warm acceptance and gave many of us our first multi-cultural experiences. Your article states that the 1955 remodeling of Jarvis included central air conditioning. If it did, the AC was no longer working by the time I got there. But I knew that having large rooms with vintage wooden furniture that could be rearranged to our hearts' desire and being mere steps away from classrooms and the student center made it a no-brainer to choose Jarvis over the new air-conditioned cubicles far down the hill. During my time at TCU women weren't allowed to wear pants and had strict curfews even on the weekend. I imagine we stayed in our dorms more hours than the average student does today. I'm glad mine were spent in Jarvis Hall.
Joyce Hegman Cauthen '67
I had to smile as I read the overview of Jarvis' history in your Winter 2007 issue! What a great history that dormitory has had! However, your commentary about the 1979 "Restore Jarvis Committee" made the conflict between the dorm residents and the school administration too easy!
I served as president of Jarvis and we had begun to find ways to "encourage" TCU to restore the history of our building. We were fairly persistent in presenting our case to the administration, but we felt they were not listening. In fact, before the windows were replaced with aluminum during our summer break, we took a different track and had held a tea at Jarvis. We invited every woman we could find in the TCU Alumni records who had ever lived in Jarvis to come and help us to plead the case for Jarvis to be a Historic Site and not another "renovated" building on the TCU campus.
It seems that about 100 women came to that tea, as I remember, but I do recall that it was an incredible gathering! We did lose the fight for the windows in that moment – but we enjoyed the stories that those women told about life in Jarvis during that afternoon gathering!
Maybe someday we'll have the "sympathetic rehabilitation of the windows" and Jarvis will have its proper place in the National Register of Historic Places. Certainly, at TCU, Jarvis has been an important part of the "history!" Thanks for such a great overview!
The Rev. Dani Loving Cartwright

I was very surprised to read that Jarvis was centrally air conditioned in 1955. When I lived there for several years during the late 60s and participated in The Tom Brown-Jarvis Experiment (although I recall the name was Experience, not Experiment), it certainly was NOT air conditioned, centrally or otherwise! Back in those days, many of us Jarvis women were members of the TCU marching band. On very hot September afternoons, we spent several hours practicing the weeks' halftime shows and "sweating to the oldies." When we arrived back at the dorm, our third floor rooms were "cooking." We logged many hours cooling off in the shower down the hall, or seated, in curlers and T-shirts, in front of our box fans, which were pushed into open windows with no screens. Those screenless windows came into play on several occasions. One year the band decided to enter a float into the Homecoming parade competition. We girls made growies – tissue paper flowers tied with wire – bagged them in garbage bags, and tossed them out the window to the boys, who tied them onto the float in time for entry in the contest, which we won! One balmy spring night, the guys from Tom Brown and Pete Wright staged a panty raid on Jarvis. We were thrilled at the attention and happily pitched our underwear out the windows to the boys. The big raid was quickly squeched by the Campus Cops, but we had a great time before they arrived. One of my happiest memories of Jarvis is of our dorm mother, "Mama K." She was a Jarvis institution by the time I moved to the dorm in the fall of 1967. She doted on "her girls," and made sure we adhered closely to the curfew restrictions that year. She retired at the end of the year, and we really missed her. "Mama K" probably wouldn't have enjoyed the next year, however, when we Jarvis women proposed, and had accepted, our feminist position supporting no curfew. The first year was experimental – we had to fill out index cards with contact information when we left the dorm. Supposedly, the cards were only looked at in case of emergency, and we were on the honor system to list our actual destination and to file the cards by estimated time of return. I remember one dorm program orientation session where we were urged, "If you are going to the Clayton House, that is what you should write on the card." Another mem'ry sweet of my years in Jarvis and "Mama K"– I attended an off-campus party with several other Jarvis residents. We stayed way too late and were in dire danger of missing curfew and incurring the wrath of "Mama K." The party host loaded us up in his very swank sports car and zoomed us back to campus. We passed University Christian Church just one minute till 1 a.m. and knew we weren't going to make curfew. Our host turned onto the lawn in front of Jarvis and drove us right up to the front portico – and we rushed into the dorm just as the Chapel chimes began to toll. I will never forget the look on "Mama K's" face as our host reversed and drove away.
"Star Trek" premiered one of the years I lived in Jarvis, and Sunday night would find the second floor lounge packed with Trekkies. The lounge had a kitchen (although no microwave), and many pans of Jiffy Pop were popped, and often burned, during the "Star Trek" viewings. Its hard to comprehend that over 40 years have passed since I first came to TCU. I recall that several years ago TCU converted my husband Jim's old dorm, Pete Wright, into offices. Even through the transition, the building is still part of the landscape at TCU and so will Jarvis be. I am sad to hear of the retirement of Jarvis as a residence hall. It was truly home to me while I was a TCU student, and it had already been home to thousands of former students before I arrived and thousands more since I left – an era truly over, but never forgotten.
Patty Kenneday Cady '70

More on Linda Kaye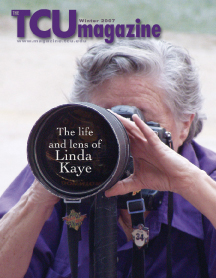 Thanks to several Frog friends, who knew of my great love for the great Linda Kaye, I saw your magazine piece. Very well done, Rick, and the lay-out was also excellent. Your article and the entire presentation was so good that somewhere up there in Frog heaven, Linda is madder than hell at all you people. For those of us who knew Linda over the years and the decades, that anger is the ultimate compliment.
Randy Galloway, Star-Telegram sports columnist
Thanks for the fabulous article, photographs and remembrances of Linda Kaye in the last issue. Linda and I were colleagues while I worked at TCU in the 1970s but lifelong friends after that. The last time she came to visit us in San Marcos was to say goodbye to Jim Wacker before he died.
Linda gave my husband and me two priceless gifts – books of photographs of the birth of both of our children. Both times we called Linda right after calling the doctor, and she hung in with us at the hospital for hours. Like a good photographer, she made you forget she was there, as she took hundreds of black-and-white photographs of everything that went on, presenting them to us later as a book. It's one of the things we'll grab first if the house catches on fire! Linda was one of those wonderful characters associated with TCU, and you remembered her well.

T. Cay Rowe (MLA '78)
I was deeply saddened to learn of the death of Linda Kaye when I received my TCU magazine last week. What a wonderful person. Although I did not know her personally, I saw her on campus many times when I was a student during the mid-sixties. She was literally at EVERY TCU athletic event I ever attended, which was hundreds. Throughout the years, I have often wondered if she ever published a book of her photographs of TCU. I could not find any record of such publication in the TCU Press. Now that TCU has the archives of her negatives I hope TCU will publish a book of Linda's photographs. Proceeds could go to help fund the new endowed scholarship for photojournalism students. The memory of her with her black horned-rim glasses and the camera bag over her shoulder on the sidelines or at courtside will be forever etched in my memory. I, like you, miss her already. I always enjoy my The TCU Magazine, even if it sometimes brings sad news.
By the way, I was a freshman at TCU when the snow picture was taken by Linda. It is a good depiction of what the quiet, idyllic TCU campus looked like only a few days before the Beatles appeared on the "Ed Sullivan Show" and changed the world and the jukebox in the Student Center forever.

Bob Simonsen '67

I want to compliment you on one of the finest issues ever of The TCU Magazine. It was a wonderful and moving tribute to Linda Kaye and I just had to write to tell you so. I was there when it snowed in '64 during final exams. I remember Linda Kaye with blond hair in a bouffant flip and her presence was "everywhere." She was very involved in the yearbook and the Skiff and it was obvious she loved TCU. Everyone knew who she was, but I did not realize how far her career extended in the years following my graduation and move from Fort Worth. Thank you for sharing her stories and pictures in a very special edition of the magazine.

Roxanne Lane-Brink '67

Your tribute to Linda Kaye is the single most moving story I have read in TCU magazine since I graduated. I recognize now that seeing TCU through her photos has contributed to my own passion for the purple. Many thanks.

Barbara Johnston Keppel '64
When I received my copy of The TCU Magazine in the mail recently, the first article that I read was, "The Life and Lens of Linda Kaye '63." I never knew Linda personally, but the article brought back a lot of memories, and it made me sad to think that Linda has passed. Her family should be really proud that her life was remembered so poignantly. The article might be the finest that I have ever read in The TCU Magazine and is the type of journalism that I would expect to find in a widely circulated national publication. How appropriate that such well-crafted writing celebrates the life and memory of someone who crafted her own masterpieces with such regularity.

R. Keith Bunch '95
As a child growing up at the TCU and Ranger games, I never went to a game that Linda wasn't there. Since Linda attended Paschal High School with my dad, he always made sure he pointed her out to me. The games couldn't start until I had spotted Linda Kaye, in her purple, and it usually didn't take long. One of the fondest memories of all, however, occurred on Aug. 4, 1993, at about 8:30 p.m – about the same time Robin Ventura was charging the mound, and fixin' to take a whippin' by the great Nolan Ryan, my wife was giving birth to our first child. Although I was missing the game in Arlington, Linda Kaye captured it fully, and the famous picture graced my son's crib the next morning in the hospital. It hangs on his wall to this day. We'll miss seeing her in the photographer's well in Arlington, and will miss those purple shoes along the sidelines at Amon Carter, but we'll get to cherish her work for years to come. Just like she would have wanted it.

Brian Small
From the cover treatment, to the snowy stadium, her shoes, TCU collectibles and all the special pictures by and, for a change, OF her, to the wealth of seldom or never before shared stories, this issue is a purple behemoth! Wow! A true masterpiece. Of course, Linda would have been sooooooo embarrassed.

Russ Bloxom '61

Comment at tcumagazine@tcu.edu