Splash Page
|
Alumni profile
| Notables
Notables
Science guy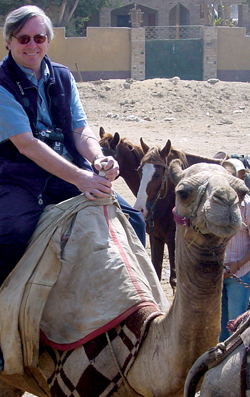 Google "science news," and you'll get a mind-boggling 713 million Web pages, but the top spot belongs to Science News magazine, the weekly news source for science.
Tom Siegfried '74 is particularly pleased by that. In December he was named editor in chief of the venerable general science weekly magazine.
When Siegfried was hired, the publisher said he was a science writer and editor "with a world class reputation," whose 20 year editorship raised The Dallas Morning News "to the top ranks of newspaper science departments."
Now they hope Siegfried can steer the 87-year old Science News through its relaunch and redesign, maintaining reader confidence in the magazine's reliability while stepping up its Web cred.
When the DMN retired their weekly science segment, Siegfried worked as a freelancer and completed his third book. In 2006, A Beautiful Math: John Nash, Game Theory, and the Modern Search for a Code of Nature was published by Joseph Henry Press.
Siegfried studied journalism, chemistry and history at TCU, then went on to UT Austin for a master's degree in journalism with a physics minor. His print career began at the Fort Worth Press, where he wrote about business and science. He was on the journalism faculty at TCU before he landed at DMN, where he trained the science and medical reporters to specialize and mentored many young science writers during his tenure.
Siegfried's DMN essays covered subjects as diverse as where the future comes from and how seagulls clean up nuclear waste. Archived on the Why Files, an online science site now maintained by the University of Wisconsin, the columns capture the scientific stories and sensations of the past two decades.
Read more at whyfiles.org/siegfried/
- - - - - - - - - - -
Play that funky music Mama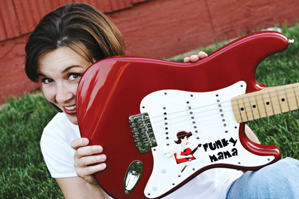 Krista Tatschl Eyler '98 has been singing and playing a guitar since high school but these days her audiences may need the occasional diaper change.
Strumming her signature red guitar, nicknamed Rhetta, she entertains kids and parents by performing more than a hundred shows a year in the Kansas City area. Her fan base is growing and last year she landed a gig playing the annual White House Easter Egg Roll.
It all started about five years ago when she signed off from her job as an on-air reporter at KMBC-TV in Kansas City after giving birth to son Joseph. She shifted careers to become a preschool music teacher, rekindling her passion for music and the joy it brings to kids.
That passion led her to create Funky Mama Music, which she describes as original funky music for kids that isn't grating on parents' ears.
She blends rock 'n' roll, bluegrass, gospel, funk and soul in high-energy tunes such as "Giggle Jiggle," "Wishin For Fishin" and "Change My Pants, Please."
"The way I'm doing it is kind of different from what others are doing," she said of other popular kid entertainers such as Laurie Berkner and The Wiggles. "I have a more soulful sound – it's not something you expect. I also sing a lot of different styles from Broadway to soul to rock 'n' roll. My music goes across all genres and generations."
Eyler, who grew up in Overland Park, Kan., returned to the Kansas City area after graduation, eventually marrying Jarrod Eyler. The couple have two children, Joseph, 4, and Charlie, 9 months.
This spring she's recording a new CD titled "Moo Juice" and working to take her music to the national level.
Read more at www.funkymamamusic.com.
- - - - - - - - - - -
Wheels turning

You could say Jaime Walker Blanton '02 is on a roll.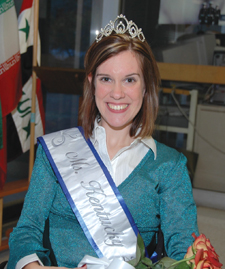 The mother of two was recently named Ms. Wheelchair Kentucky and in March was awarded the key to the city of Louisville.
In her duties as Ms. Wheelchair Kentucky, Blanton has had the opportunity to meet with state officials including Kentucky Gov. Steve Beshear and visited with veterans at Louisville's Veterans Administration hospital. She will compete for the national title this summer.
"I think the best way to break down barriers is having one-on-one conversations with people," she said. "This has given me the opportunity to reach more people and see the light bulb go off when they begin to realize what life is like for those of us in wheelchairs. They say Ôthat could happen to me.' "
Blanton, who earned a BS in journalism and political science at TCU, is currently pursuing a master's in higher education administration at the University of Louisville. She and her husband, John, have two children, Jenna, 3, and Jackson, 1.
She also serves on the board of directors of Push America, an outreach of the fraternity Phi Kappa Phi, which helps people with disabilities. The fraternity's TCU chapter raised money for her to have a mechanized wheelchair when she was a student.
"I had torn the cartilage in both my wrists," she said. "I wouldn't have been able to complete my degree at TCU if they hadn't taken an interest and raised the funds. I wouldn't have been able to navigate the campus. Their efforts changed my life."
- - - - - - - - - - -
Fish, fish, she got her wish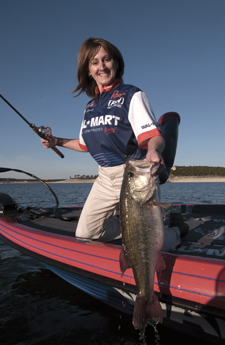 Karyn Otta Sanchez '01 finished among the top 10 co-anglers in the 2007 FLW fishing tour, a feat accomplished by a woman only once previously.
The FLW tour is a series of bass-fishing tournaments held around the country. Competitors accumulate points at each tournament, and at the end of the year a championship tournament is held. Eighty-one co-anglers, or amateur competitors, participated in the three-day tournament in Hot Springs, Ark., and Sanchez finished ninth, taking home a prize of $3,500.
Sanchez, who lives in Midlothian, began fishing as a tot. Her dad would take her out on Lake Arlington, and she was 4 when she caught her first catfish in the White River in Arkansas. She didn't start fishing for bass, though, till she married husband Davey Sanchez.
The couple began participating in fishing tournaments, but found spending all day together on a boat could lead to rough marital seas, so she became a co-angler, the person who sits in the back of the boat – and pays lower entry fees and wins lower prizes – in 2006. There were about 400 co-anglers on the tour and only six women. Sanchez did well and in 2007 Wal-Mart agreed to sponsor her. She did even better in 2007, and was the only woman to qualify for the championship tournament. Wal-Mart continues to sponsor her and she's picked up some other sponsors.
Now her husband is her manager and she's angling to go pro in what can be a surprisingly physically challenging sport.
"It takes a lot of your core and a lot of your back muscles to maintain your balance all day on a boat," she said. "Still, it's a sport in which women, in theory, can do as well as men."
- - - - - - - - - - -
Faith healing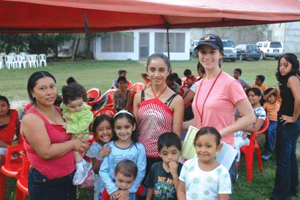 When Sarah Schwaller '03 was a junior at TCU, her family took a trip to Guatemala for the dedication of Casa de Fe (House of Faith), a Ronald McDonald-style house in Guatemala operated by an organization called Faith in Practice.
Schwaller's family had long been involved with the medical-mission nonprofit, but that trip was inspirational for the young woman. "I just always knew I would be back." she says
After graduating, Schwaller went to work for Accenture, a consulting and outsourcing company in Dallas. Less than a year had gone by before she realized, "I can't do life in a cubicle."
Schwaller thought back to that junior-year visit to Guatemala and decided to make the return adventure happen. Although she'd studied in Seville, Spain, while a TCU student, she didn't feel she knew Spanish well enough to communicate professionally in the language, so she signed up for a language-immersion course in Antigua, Guatemala, an inland city bordered by three large volcanoes.
Now three years later, the Spanish colonial city of Antigua is still home. She first got a job working for Common Hope, a child-sponsorship nonprofit, and then about a year ago started working for Faith in Practice as their in-country coordinator.
The organization's aim is to improve the lives of Guatemalans through short-term medical- and surgical-team visits. Eight teams of medical volunteers make regular visits to rural areas of Guatemala. Schwaller helps coordinate the village clinics and also makes arrangements for patients to come to Antigua for surgery.
Recently, she cuddled a newborn with a cleft palate who was in Antigua to have corrective surgery. "He's 6 weeks old, and he's just completely malnourished. They're going to repair that as soon as he gets to normal weight."
Schwaller says the experience of living in Antigua has changed her forever.
"I won't say it's easy. I miss a lot of things at home –friends and family. And you certainly lose your independence to some degree. It's not like you can get in your car and go to the grocery store at 9 at night. But it's a wonderful, simple life. I walk to the market to pick up my vegetables."

Comment at tcumagazine@tcu.edu.