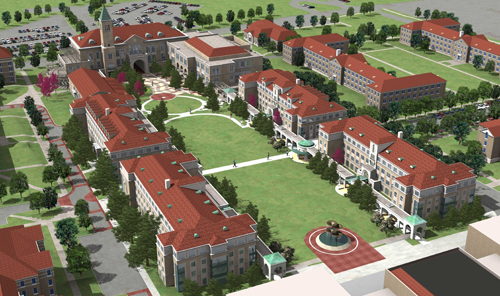 The 21st century TCU
The university charted its first official master plan in 1991, imagining what the campus of the 21st century would be like. Challenges then are similar to today:
finding a front door for TCU, deciding where to put parking and enhancing the physical beauty of the campus. Seventeen years and three chancellors later, that vision – and a lot more – is taking shape.

By Rick Waters '95
Victor Boschini remembers his first trip to the TCU campus. He was a job candidate then, a finalist actually, hoping to be the university's 10th chancellor. Texas Christian University had a lot to offer: near-perfect size, strong academics, genuinely friendly atmosphere and a whole lot of potential. It had a freshly written mission statement, strong support from alumni and community, and clear ideas of what kind of university it aspired to be.
But one thing in particular bothered him. As he strolled the campus with search committee members, he eyed the sea of parked cars in the space between Colby and Milton Daniel residence halls.
"This is the middle of campus?" he inquired.
"Yes," he was told. "Students call it the Quad."
The new University Recreation Center, Tucker Technology Center, Smith Entrepreneurs Hall and Tom Brown/Pete Wright Apartment Community had been impressive highlights, but he couldn't get that slab of asphalt out of his head.
"I was struck by the beauty and intimacy of the campus," Boschini remembers, now concluding his fifth academic year as chancellor. "But it needed more green space in the area that is the heart of the campus. I just thought that a green space there would be a natural extension of the mall by the library and the lawns that face University Drive."
TCU had accomplished so much in the previous decade: new facilities; refurbished residence halls, classrooms and laboratories, restructured colleges and a single-cost tuition structure. But Boschini had a vision for that lot – and much more.
He visualized TCU's next step, a vibrant 24/7 community where people would be drawn to the center of campus. It would be a place where students and faculty would interact, study, think, eat, gather, perform, debate and discover.
Essentially, it would be where the TCU mission is fulfilled, where students learn to be ethical leaders and responsible citizens in a global community.
"My feeling is that the more that is available to our students, the more powerful the TCU experience becomes," he said.
What Boschini was thinking then is exactly what TCU has had in mind, in various forms, for almost two decades. Standing on the shoulders of Horned Frog leaders before him, Boschini would be asked to make it happen.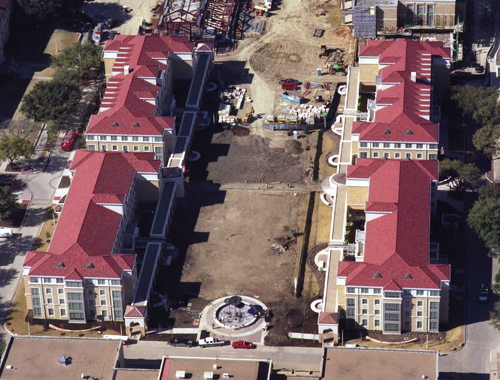 That vision is in motion now. A $45.7 million, 145,700-square-foot Brown-Lupton University Union will open the second week of August. On its east side, green space is surrounded by four modern residence halls. In the first quarter of 2008, a refurbished Frog Fountain reappeared and now anchors the east end.
This summer the current Brown-Lupton Student Center will be razed, and in about 18 months the new Clarence and Kerry Scharbauer Hall, which will house AddRan College of Humanities and Social Sciences and the John V. Roach Honors College, will be finished, thus enclosing what is to be called the Campus Commons, the new heart of TCU.
"These are exciting times, and this is a transformative moment for Texas Christian University," Boschini said. "You can see it as you walk across campus. You can hear it in conversations. You can feel it in classrooms."
As the concussion of construction echoes around them, students amble through the arcade walkways of the Commons, zipping in and out of new residence halls with marble floor entries, modern amenities and suite-style units. It's not difficult to imagine how different TCU will feel in the fall.
The union will hold a new dining hall, new post office, copy center, convenience store, gift shop, 350-seat theater for performances, lectures and movies, and a 130-foot clock tower as a signature campus landmark. The Commons will be the crossroads of campus life.
The facilities will be beautifully distinctive and marvelously modern, sure to impress prospective students and their parents, not to mention alumni. But the 21st century TCU should not be thought of as a set of buildings. Rather, it is a total university experience marked by world-class programs and a values-centered mission within a living-learning community.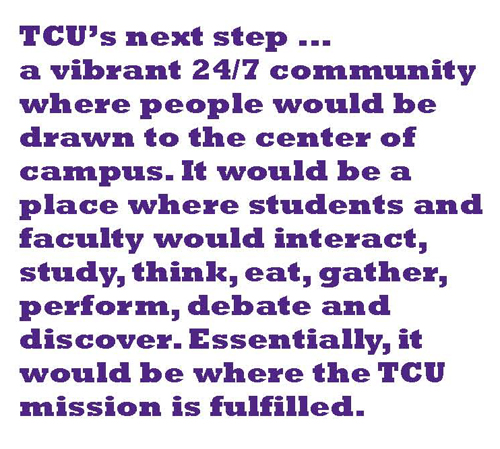 "The Campus Commons symbolizes our vision. It is a tool to build our community of learners and teacher-scholars," Boschini says. "It's what occurs inside these new facilities across campus that comprises the TCU experience."
In April, TCU will launch the public phase of the most ambitious comprehensive fund-raising initiative in its history – The Campaign for TCU – with a $250 million goal. To date, more than $150 million of that total has been committed and has funded much of the transformation already under way.
The campaign has helped to make the Campus Commons – with its new union and four residence halls – a reality. A future academic facility, Scharbauer Hall, also will be added to the Commons on the site of the present student center. The campaign has funded the Mabee Foundation Education Complex, which includes the remodeled Bailey Building and new Palko Hall, and the Sam Baugh Indoor Practice Facility for Athletics.
It's helped endow chairs and professorships, enhance library technologies and develop new programs and institutes. Scholarships remain among the campaign's highest priorities, and other key objectives are a student media center for the Schieffer School of Journalism and initiatives in each school and college.
"This means that TCU will be recognized among the finest universities anywhere in the academic areas in which we compete," Boschini says. "TCU will provide a student experience surpassed by none. Horned Frog graduates will compete successfully with the best graduates from the best schools around the globe.
Creating the road map
TCU has not always had a campus master plan. In fact, as late as the 1980s it did not have a formal blueprint for the campus. There wasn't even a schedule for regular trash collection back then. Plans for the physical campus were on "a loose-leaf document that was referred to and adjusted as TCU's understanding grew and context changed," remembers Chancellor Emeritus William E. Tucker '56, who led the university from 1979 to 1998.
Tucker arrived during a difficult stretch in university history. It was struggling to maintain enrollment and its endowment was a mere $53 million. The university hadn't broken the 5,000 barrier in applications and was admitting better than 70 percent of applicants. Less than half the student body lived in on-campus housing.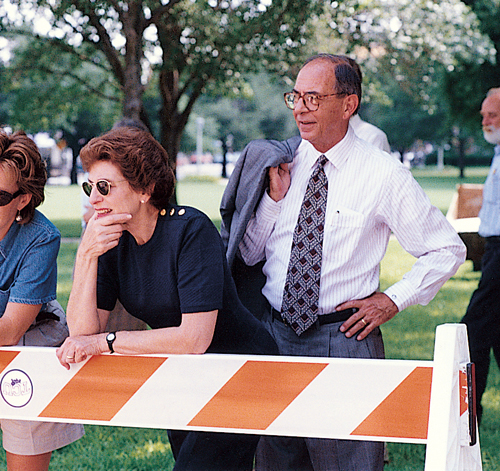 Making matters worse, the national economy was struggling too, but Tucker believed TCU had a bright future and needed to formalize its plans for the campus. As he says often, "Those who stand still fall behind."
"Our financial prospects were very much in keeping with a 'pay as you go' strategy, but we couldn't bow to the status quo," he recalled. "We needed to get the campus to be more attractive, replace the mud holes with flowers."
For decades, University Drive had been TCU's "front door." It featured tree-shaded lawns in front of noble structures, and its architecture pointed to both past and present. But for newcomers or passers-by, most of whom whizzed past in vehicles, time and traffic turned the door into an impenetrable window.
TCU needed visible markers to identify the edges of the campus and make access to the admissions office easier. Stadium Drive needed to be widened and on-street parking eliminated.
While Tucker sought donors to fund the first brick entrance sign along Stadium, he had then-Vice Chancellor for Administrative Services Edd Bivin retain a national architecture and design firm to develop a comprehensive master plan.
But in 1986, a struggling economy forced TCU to hold off on the plan and focus on improving enrollment and growing the university's endowment, which it did.
In 1989, Col. Will Stallworth, a week after retiring from 30 years in the Air Force, came to Fort Worth to see about a job running the campus physical plant. He looked around campus and was not impressed. TCU had bragged that it had no deferred maintenance, but he could see that a lot of work needed to be done. He would take the job if he could develop a master plan and perform a facility audit.
"It was difficult to tell what belonged to campus and what didn't belong. None of the colors matched," Stallworth remembers. "I had no idea if I was at TCU or in a neighborhood. None of the brick pavers were around, mostly just dirt in shade areas. No automated sprinkler system. Too many rocks.
"And if something broke, it got fixed, but there was no scheduled maintenance or money put into facilities and little thought to the future."
Stallworth did take the job and his first official act was to conduct that audit. It produced a list of approximately $100 million worth of repairs, few of which TCU could afford.
But Stallworth found creative ways to chip away at the most pressing needs. He set up an F-4 flyover to do an infrared scan of the roof system. He hired former military personnel to join his staff, and together, they codified the signature buff brick and red roof look, set campus standards for work orders and maintenance, and developed an energy program for the campus that continues to save tens of millions in expenses.
TCU revisited the master plan with Stallworth coordinating planning, unveiling it in late 1991. "It was very well received. The trustees and administration got behind it and could see the future," Stallworth remembered.
The plan called for using land and resources that were currently available rather than on expansion. But because of economic realities, no timetable would be set for future development. Individual components would be considered when there was sufficient interest and resources available.
As Tucker put it back in those days, "It's a flexible plan, showing how we can solve current campus problems and further enrich the life and work of TCU. It points to what TCU might look like in the 21st century."
The 1991 plan - A next frontier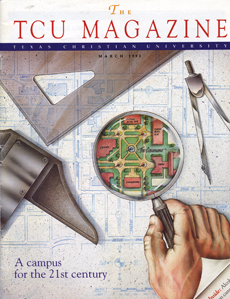 Much like the vision for the Commons today, planners in 1991 foresaw giving the central campus back to students, rather than cars and delivery trucks. The master plan called for underground parking and an underground delivery system to an expanded Student Center, a landscaped mall and a ground-level plaza that would be carved out between the student center and Dave Reed Hall.
"We began to understand TCU was an urban campus and our ability to grow was limited," says Don Mills, vice chancellor for student affairs. "So we began to advocate using our most valuable land for most important activities, not parking. It is not dissimilar from construction projects in cities."
They thought of parking concerns, as planners do now. They believed east campus parking would be best solved with two parking structures, attractively designed and landscaped and no more than three levels tall, to fit in with the neighborhood.
"We still need three parking garages: one south of the Rickel Building, one behind the Moudy Building and one in the athletics complex," Stallworth says.
With a master plan to follow, TCU began making strategic choices. It bought property along Berry Street and neighborhoods bordering campus. It cleaned up or bulldozed decrepit areas nearby, in one instance, creating the Leibrock Village to house Brite students. It bought some apartments along Princeton Street and converted the space into parking for Brite and the Moudy Building.
"Enrollment was growing and it was becoming clear that more buildings were needed for students to learn," Tucker recalls. "Performing arts was crying for space. A new engineering program needed space to complement the sciences. Athletics needed facilities to compete adequately. We needed an alumni center to welcome people back to campus and to serve as a starting place for newcomers. Parking, of course, was an issue then as it is now, but amazingly, people still managed to get to class."
To realize these goals, TCU launched the school's first comprehensive fund-raising campaign – The Next Frontier – between 1992 and 1997 and, with 26,000 donors, it yielded $126.1 million.
As a result, the university added three new buildings – the Walsh Center for Performing Arts, the D.J. Kelly Alumni Center and the Walsh Complex for athletics weight training and rehabilitation. As Tucker left office in 1998, a plan for a fourth, the Tucker Technology Center for sciences and engineering, was becoming a reality.
TCU also renewed its commitment to a residential campus and began to systematically renovate residence halls and Greek housing. It funded the demolition of Pete Wright and Tom Brown dormitories and replaced them with new apartment-style residences for undergraduates bearing the same name.
Academically, Tucker established 12 chairs and 15 professorships and streamlined graduate education. TCU also berthed full-scale freshman retention programs and initiated relationships with educational institutions in Europe and Central America.
Small details were not overlooked. TCU began using brick pavers to bring cohesion to campus areas. A fiber-optic cable network was installed, campus police facilities upgraded and a Fort Worth police storefront brought closer to campus. During Tucker's time the endowment ballooned from $53 million to more than three-quarters of a billion dollars.
In a September 1997 convocation address, Tucker joked, "If you find yourself upset with the sound of jackhammers and the sight of trenches, bear in mind that they spell progress for TCU."
A commission for the future
Mick Ferrari never intended to be a long-tenured chancellor, so he brought a sense of urgency to Fort Worth when he arrived at TCU in summer 1998. His passion quickly became so apparent that trustees and vice chancellors took to calling him "a man on a mission."
In his first State of the University address, Ferrari laid out his plan: "I genuinely believe that we have the opportunity to be among the leading independent universities in the nation." Given TCU's extraordinary people and the foundation put in place by his predecessors, he imagined a grander stage.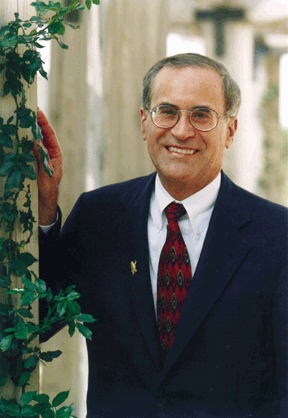 It wouldn't be all brick and mortar, either. He started with the now-omnipresent mission statement, which then consumed several pages and was not distinctively TCU, in Ferrari's estimation.
He saw to the crafting of it personally, assembling a diverse cadre of campus leaders and meeting with them weekly. The result was just what Ferrari had hoped. To educate individuals to think and act as ethical leaders and responsible citizens in the global community. The statement has stuck and guided the university, along with that ever-evolving master plan.
When he turned attention to the physical campus, Ferrari knew the university needed a collaborative approach. So he launched The Commission on the Future of TCU, a collection of 17 task forces – 500 campus and community leaders – that examined everything TCU, from the university's basic undergraduate experience to its strategic alliances. From November 1999 to October 2000, the groups identified scores of goals and initiatives TCU needed to address to move to a more international stature.
"My sense was that for TCU to accelerate its movement to distinction, it would be maximized with more people – those who knew the history of TCU and what TCU aspires to be," Ferrari said. "But we also needed to include individuals and groups that hadn't been affiliated with TCU previously. What came out of it was a blueprint, pulled from everyone's ideas, that changed TCU and, in the process, changed how Fort Worth saw TCU."
Using recommendations from the commission, the university invested $150 million into the campus, upgrading more than 100 classrooms and laboratories with state-of-the-art technology, refurbishing Waits and Milton-Daniel residence halls and building three apartment-style residential communities.
Four major construction projects were completed as well: the William E. and Jean Jones Tucker Technology Center, the Steve and Sarah Smith Entrepreneurs Hall, the University Recreation Center, and the Charlie and Marie Lupton Baseball Stadium and Williams-Reilly Field.
The commission also affirmed that TCU's current enrollment of about 7,200 students was optimal, reorganized the university's five colleges, expanded them to seven and revitalized the core curriculum and consolidated tuition and fees into a single charge to align TCU with other prominent private universities and better reflect the value of the TCU Experience.
TCU began to soar. Applications doubled. More students of color were admitted. Undergraduate and graduate financial aid and scholarships were increased.
Over time about 70 percent of the Commission's recommendations were realized.
A vision in action - tomorrow's campus
Since Boschini's arrival in 2003, TCU's vision has been sharpened through another campus-wide strategic planning effort he initiated called Vision in Action. "I wanted Vision in Action to more closely align strategic planning with budgeting and to fine-tune the case for The Campaign for TCU, which I think we've done," Boschini says.
VIA concluded that TCU should hold undergraduate enrollment at 7,200 through 2009-10 while increasing the academic profile of students and developing the highest standards of interaction between students and faculty. Over the next decade, TCU will house two-thirds (4,800) of undergraduates in university-authorized housing to establish a residential environment that will be a hallmark of the TCU Experience. Freshmen and sophomores are required to live on campus, as a result. The university also committed to incrementally grow graduate programs during the next decade.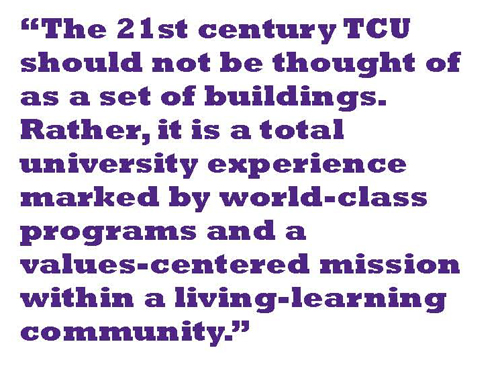 "We've looked for what this university does best, for what enables TCU to play such a monumental role in so many lives," Boschini says. "Therefore, we aim to educate more than just good accountants and engineers and health care professionals. We want graduates who can deal with change and ambiguity. These results will grow from challenging academic offerings, a caring atmosphere and mentoring relationships that make our university unique and a TCU education highly prized."
Provost Nowell Donovan likes to call the new Commons a space where "Einstein could talk to Picasso." Those great minds would like that this new intellectual heart of campus will never be closed.
Featuring a two-story U-shaped archway, the union always will be open, acting as the symbolic entrance to an always-open learning community. One idea under consideration is for freshmen in August to meet in Daniel-Meyer Coliseum for the Chancellor's Convocation and march from the coliseum through the archway into the Commons to officially commemorate their university careers. When students graduate, they will congregate in the Commons and walk back through the archway to the coliseum. "This will establish a great TCU tradition," Boschini says.
Campus dining inside the new Union will be open 19 hours a day to accommodate students' schedules. The main dining facility will offer a sit-down, dine-in experience and there will be no to-go orders so that students will eat healthier meals and make dining a communal activity.
"We want to build community within the student population since TCU is a residential campus," says Craig Allen, Director of Residential Services. "The Commons will be akin to Sundance Square. There will be entertainment, food, outdoor festivals and music events. Most things happening on campus will happen there. We will all come to feel that the Commons is the heart of the TCU campus."
The new Commons buildings also will have attractive green spaces surrounding them. How will these spaces be used? That's up to students, says Mills.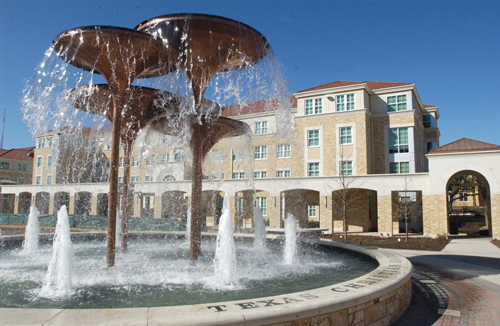 "We have some ideas about how they will be used but this group of students see themselves as autonomous. They'll choose how to use the space. They'll determine what the menu will be. It is up to us to pay attention to what students are saying and make adjustments so that student life can continue in a productive way. Our challenge is to keep up."
That philosophy is an effort to empower students to create their own experience and enhance buy-in. In a world of blogging, reality television and user-generated content, TCU expects students to eagerly participate, from menu selection to activity programming.
Students have already had an impact, Mills says, by pushing for 24-hour access at the library. Already open around the clock during finals week, the 24-hour policy will be in place five nights a week beginning in August. Some parts of the union will be open all day and night as well.
"Students operate on a different time clock than the rest of the world," Mills likes to say. "If you don't think so, take a look around campus about 1:30 a.m. on a weeknight. Students are out doing things, engaging with one another There's quite a bit of activity."
Not all buildings will be open 24 hours because of security concerns, but TCU may move more in that direction as demand increases for services.
"The 24/7 campus is real," says Mills. "It is what the students want and need. Remember, this is a generation that never saw a television station sign off at night. They are used to services at any time of the day. If we're going to say that we're residential, then we need to commit to that 100 percent."
Students like what they see so far. During the first two hours of sign-up for the first two Commons residence halls last spring, 440 upperclassmen made advanced housing payments. The first 100 were guaranteed one of the 316 spots available.
The newest residence halls also will be home to the first six Living-Learning Communities (LLCs), where students with common interests are housed in the four new dorms. The new LLCs are designed for discourse among students and faculty and staff. They'll create their own living environment through campus resources, programs, and seminars.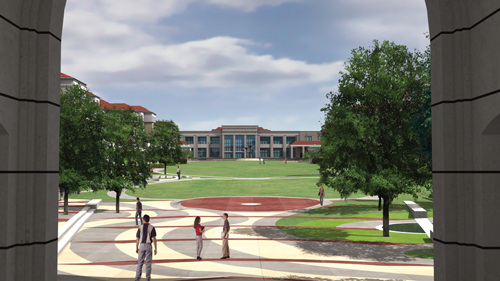 "College is not only about turning in papers and taking tests. It is also about learning outside of the classroom, preparing for the future, learning about each other, and developing relationships with peers," says Provost Donovan.
Current Living-Learning Communities include Faith and Spirituality, Global Experience, Health and Wellness, Leadership and Strengths, Fine Arts and Honors. These areas of interest will be addressed through programs, activities, access to resources and other experiential learning events.
But even when the new union comes online in August, the Commons won't yet be complete. The Brown-Lupton Student Center, originally built in 1954-55, will be demolished during the summer.
"We considered renovation but it was not cost effective," Mills says. "The new building, Scharbauer Hall, will be taller and will create a smaller footprint. Access from both the north and south of Scharbauer Hall will create a nice gateway for entering the Commons."
Construction of Scharbauer Hall will begin early next fall and be completed by 2010.
"Symbolically, it is the most important," says Donovan. "It's the geographic center of campus and will house the liberal arts honors college. Debate chambers will be on the first floor where students can joust intellectually with only their wits and intellect."
Everything a Horned Frog needs for the 21st century.

Comment at tcumagazine@tcu.edu.
Contact Rick Waters at r.waters@tcu.edu.