Sharp shooters
Rifle finishes third in NCAA Championships, lands three All-Americans.

By Rick Waters '95
Christmas break seemed to rattle some sense into the rifle team.
After last season's unparalleled success, including a first-ever trip to the NCAA Championships and a sixth place finish, a repeat performance seemed almost a given.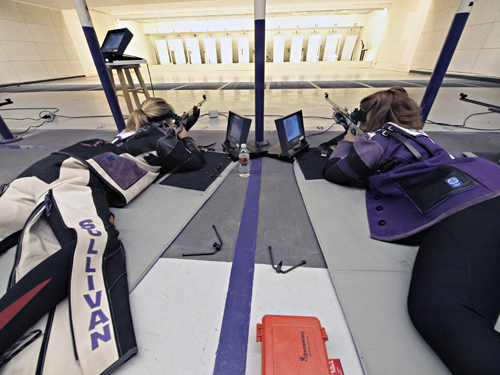 The team won matches in the fall, but their scores didn't reflect what the team was capable of. Coach Karen Monez and her purple team of top shooters knew they were underperforming. They had been tight, the pressure to reclaim last season's magic was perhaps too much, and their scores were not high enough to make the NCAAs.
"Their skill hadn't changed. The training wasn't different. They just needed to step up the intensity and get the job done," said Monez.
She told the squad to use the holidays to refocus.
"My dad had said over the summer that we would pick right back up, and I expected to come back shooting 580s and 590s," admitted Lauren Sullivan.
"There was lots of talk of the NCAAs from ourselves and head people in athletics," said Simone Riford, who is one of four sophomores on the purple team. "We all went home and the pressure went away for a bit. Then we came back with a fresh perspective."
In the spring, Monez and the team tracked scores of the top teams in the country and saw that they could be competitive again.
They set a goal to reach the NCAAs again and finish in the top three.
The team responded posting seven straight victories, but more important, their scores were back among the nation's elite.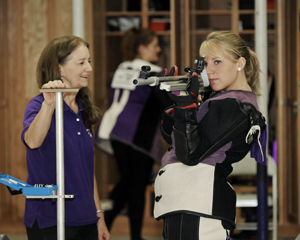 In March, the squad earned a spot back in the Championships, where they met their goal and claimed a third-place finish with an aggregate score of 4,627. It's the best finish in program history.
"I'm very proud of this group," Monez said. "They showed that if they perform consistently for two days Ñ all four shooters Ñ it's possible for us to compete for a national championship. These girls are that good."
Erin Lorenzen and Riford each made first-team All-American for air rifle and smallbore respectively. Both earned second-team honors last year.
Emily Paper, also a sophomore, received second-team All-American honors for the first time in smallbore.
"Before last year, TCU was not on the map. That changed in one year," Monez said. "This year, all four shooters didn't shoot over the heads. They performed within their abilities and we finished third."
Maybe best of all, the group has two more seasons to reach No. 1. "We just might. We have a good opportunity."

Comment on this story at tcumagazine@tcu.edu.