Alumni Profiles
Good will Hunt |Frog takes a dive | Want fries with that? | Piano man



Anchors away
The New York City ship set sail for a three-hour tour . . . a three-hour tour.
By Sara Peterson '96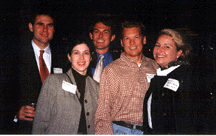 The best entertainment on the night of the "Texas Exes" alumni cruise around Manhattan was not the free dixie cups of cheap wine, the jukebox dance music, or even the stunning view of the Empire State Building.
The real fun -- at least for those with an eye and an appreciation for irony -- was watching the clash of cultures.
On that September evening, the Manhattan skyline, with all its glitz and grandeur, was shining off the Hudson River, while on board, 200 or so alumni of Texas universities -- TCU, UT, UNT, SMU, A&M -- savored the forgotten joy of chips and salsa and listened to a medley of Alabama and Shania Twain.
No boots or 10-gallon hats were spotted, but there was more plaid flannel aboard than the entire men's line at Bloomingdales, and someone was overheard telling the bartender, "Yes, sir," which caused several heads to turn. In a city where millions of people run into each other every day without saying excuse me, hearing something that polite seemed to make the room go quiet -- as if we were all waiting for the punchline.
About half a dozen Horned Frogs made an appearance. Two suits showed up -- Nathan Judge '96, a financial analyst for Goldman Sachs, and Jim Sheehan '96, an assistant vice president at ING Barings. They even braved the dance floor a few times. With nice-looking ladies, that is. Both admit they never thought they'd move to Manhattan after graduating, but now that they're here, they've adapted nicely. "I'll stay for the next several years," Judge said.
Ron Dennis '93, a research analyst at Merrill Lynch, and his wife Kendra came. They've lived in the City That Never Sleeps a little over a year.
"I just love the energy," he said, "but you've got to live close to the Park" -- which they do, on the Upper East Side.
Chris Kibbie '90, who works as a freelance writer was also there. She came to New York a year ago with $400 and an 80-pound black lab and claims she got her Manhattan apartment through "an absolute fluke of a deal," she said. Something about not being entirely forthcoming with the building's board of directors. Like most transplants, Kibbie knows the hardest thing about New York is getting settled -- and skipping meals to save money.
"I just don't eat on Thursdays," she says. "That's the only way to survive in this town." As the ship docked, the night felt successful. Kibbie was well-fed (in a few hours it would be Thursday); the Bud Light had been drained; and no one had fallen overboard doing the Macarena.
That, and we all got a healthy dose of a time we had not meant to forget.

Sara Peterson '96 lives in Manhattan and writes for FYI, TIME Inc.'s in-house magazine.