Alumni Profiles
Good will Hunt |Anchors away | Frog takes a dive| Want fries with that?



Piano man
By Ma'Lisa Mann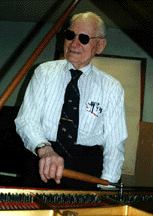 A clear-sounding piano.
That is the favorite sound of Robert "Bob" Qualls '28 (MA '29).
Hardly surprising to those who know that the 95-year-old Frog has been tuning pianos for more than 70 years.
But you still might take note : In most cases, Qualls has never seen what he's talking about.
"I was about 11 years old when I lost my sight completely," said the small, neat Oklahoman, settled in a recliner wrapped in a lime-green afghan jauntily cinched with rainbow-striped elastic. "We lived out on the farm west of Marlow, and I was playing out in the barnyard with a hay fork with the handle taken out. I was throwing that down, hearing those tines sing, and that thing flew up and hit me in the right eye. That blow probably started my retina to deteriorating and finally got my sight."
The accident led him to a skill that would become his vocation for most of his life. He learned to tune pianos while attending the Oklahoma School for the Blind in Muskogee. Those skills -- along with some scholarships and volunteer readers -- helped him work his way through TCU. He earned a bachelor's degree in English in 1928, followed by a master's degree in philosophy in 1929.
Earning an education wasn't easy for a man who may have been TCU's first blind student. "When I first went to TCU, Dr. Kenneth Bonham '26 took it on himself to take me around campus and tell me, 'This is Clark Hall, this Goode Hall, this is the gym, this is Brite College.' I didn't have any trouble getting around. I still think I could get around if they hadn't changed it so much."
Those were the days when student enrollment just topped 1,000 (1,016 in 1924). When room, board and tuition were a little more than $500 per year. And before electronic readers -- a handy device Bob marvels at -- were ever imagined.
Piano tuning hasn't been Qualls' only source of income, but for him and his wife Layleth, who passed away in 1987, it has been their main livelihood.
"She drove me to my appointments and we got along pretty well until I lost her in 1987." (They had two sons: Robert is a retired music teacher and lives in Aurora, Colo., and George is an administrator with the department of rehabilitation in Wisconsin.)
Qualls bases his business from his yellow clapboard house on a busy thoroughfare in Enid. At his peak, Qualls worked on four or five pianos a day and counted among his customers local piano stores, Phillips University at Enid and Northwestern Oklahoma State University at Alva. Tuning TCU's pianos even helped him pay his way through the University. Today, Qualls still tunes on a limited scale.
"Fact is, I don't advertise as much as I did, and I've outlived all my sponsors." His workshop out back appears cluttered and dusty, but he can quickly lay hands on the tools he needs to re-cover keys or re-felt actions.
"As a rule, there aren't many people who take care of their pianos like they should. They get the idea that if you don't play them, they don't get out of tune," he explained, as he pulls instruments from his leather bag to adjust an aging Schumann. "I tell 'em that a piano's made out of wood, and when that piano takes on moisture, it swells, and when it dries out, it shrinks. That's what puts pianos out of tune."
Over the years, the smiling technician has tuned the finest makes of pianos and has developed his favorites. "I like Steinways. And I like Mason and Hamlins -- I tell people that they're the Cadillacs of the industry. And Kawai and Yamaha build good pianos."
And after seven decades of tuning pianos, Qualls has also managed to pick up a tale or two.
"(Peter) Nero was practicing and broke six strings on a nine-foot grand out at Phillips. I went out about an hour before the concert and got about three of them on. I was so nervous because people started coming in and the curtain was open. We got those strings on. Of course when you put new strings on, they won't stay in tune for 10 minutes hardly. So during intermission, I had to go back up there and tune those six strings. I got a lot of exposure then."
Strangely enough, Bob doesn't play the piano himself.
"If I was that smart," he said, "I'd quit tuning and start playing."

Ma'lisa Mann is a freelance writer and lives in Fort Worth with her husband Travis Mann '91.