Alumni Profiles

Seeing the light | Kerr-azy | The bad boy is back | And with the save...

Kerr-azy
W. Park Kerr's '80 multi-million dollar El Paso Chile Co. is saucy. Just like its owner.
By Nancy Bartosek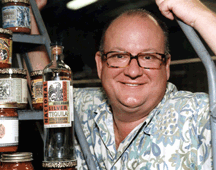 STEAM swirls around W. Park Kerr '80, beading on his face and fogging his glasses. Kerr raises a dripping spatula to his lips, oblivious to the noise surrounding him in this Fort Worth manufacturing plant.
Slurp.
Stare.
Grimace.
"Flat," he said, lips curling. He thrusts the spatula forward.
"I think it's flat, don't you?"
The answer doesn't matter, more spicy puree is already spiraling to the bottom of Kerr's mixing bowl. Kerr calls for more chipotle, and with a dramatic flair, splashes in more of his custom distilled tequila, which the public began consuming late this summer.
Salsa Boracho, he calls it.
Or drunk salsa.
Either way, it's pure Park Kerr.
Appropriately called the Drew Carey of the salsa world, the affable and unconventional Kerr started as a street-corner pepper peddler and is now chief chile of his family-owned El Paso Chile Company. This multimillion dollar food speciality company now distributes more than 100 products nationwide under four brands -- The El Paso Chile Co., Desert Pepper Trading Company, Calverts and Tequila Nacional.
Kerr, sporting a bright chile-peppered apron, uncorks a fresh bottle of his tequila and grins as he takes a swig.
"I have the best job on earth," he said with wild-eyed emphasis. "I mean, who doesn't like booze?"
And salsa, for that matter. Today, the spicy stuff has replaced ketchup as the nation's most-used condiment.
Kerr seemed a poor candidate for Most Likely to Make it Big in Salsa when he left TCU in 1981 -- even though he did make quite a profit on campus as a maverick caterer on Sunday mornings, delivering breakfast in bed to his entire dorm wing.
"I just needed date money," Kerr said, poking his glasses back into place. He waves toward the simmering test batch of his newest salsa. "That's why I got started in this." Indeed, Kerr's spicy company began blandly enough, with a few strings of red chiles. "A friend dragged me to New Mexico to buy a chile ristra and I noticed a lot of other Texans were there buying the same thing," he said.
He wrote a hot check for $100 -- he calls that creative financing -- filled his Chevette and then sat on a street corner in El Paso drinking beer and selling the ristras he draped over an old ladder.
By that afternoon, Kerr had pocketed $400 profit.
Mother Norma tossed her hand into the venture and the two Kerrs began selling wreaths and ristras, but quickly realized their product line was too seasonal. Soon they were pioneering an artisan salsa Kerr stirred up in his kitchen. It was the early '80s and salsas were on the cusp of vogue.
"I'm not in the food business, I'm in the fashion business," he said. "El Paso Chile Company is all about lifestyle, and we got into this business at exactly the right time."
Kerr's self-proclaimed "exquisite taste" extends beyond mixing interesting flavors -- such as Chipolte Honey Orange Barbeque Sauce or Mango Tango Tropical Fruit Salsa -- on his kitchen stove. His successful recipe for business includes designing award-winning packaging that carries his unique sense of style and whimsy. Products carry names such as Snakebite Salsa or "Ja Makin Me Crazy" Jamaican Barbecue Sauce. One of his four cookbooks, The El Paso Chile Company's Burning Desires, has recipes for more than 160 grilled delights, "kissed by fire, or blessed by the heat of chiles."
He's even taken his talents to television as food editor for the El Paso ABC affiliate where he hosts a popular weekly three-minute food segment. The spot has landed the chef appearances on Good Morning America, Live with Regis and Kathie Lee and CBS This Morning.
On this day, Kerr tightens the lid on the last jar of the now fully drunk salsa -- which is sure to succeed, if his past performance is any judge -- and offers what may be the most important ingredient in his own success story.
"I'm so lucky to have this company and be able to fulfill my creative vision," he said, wiping his hands. "I'm 40 years old and, you know, this is just a really nice place to be."
To reach Park, e-mail him at park@elpasochile.com.

Park Kerr's Pico de gallo

(chunky raw salsa)

This is the Kerr clan's favorite fresh salsa. The name, by the way, translates as "rooster's beak," possibly a reference to the decidedly sharp nature of the salsa.

6 long green chiles
2 large ripe tomatoes (about 1 pound), cored,  seeded and coarsely hand-chopped
1 cup coarsely chopped onion
1/3 cup minced onion
2 to 3 fresh yellow chiles or large fresh jalapeno chiles, stemmed and coarsely hand-chopped
3 Tablespoons fresh lime juice
3/4 teaspoon salt

In the open flame of a gas burner or under a preheated broiler, roast the long green chiles, turning them, until they are lightly but evenly charred. Steam the chiles in a paper bag, or in a bowl, cover with a plate until cool. Rub away the burned peel. Stem and seed the chiles and coarsely chop them. There should be about 1 cup.

In a medium bowl, stir together the tomatoes, chopped green chiles, onions, cilantro, yellow chiles, lime juice and salt. Cover and refrigerate one hour. Adjust the seasoning. Though the salsa will lose some if its texture, the flavor will remain good for up to two days. Makes 2 1/2 cups.

From The El Paso Chile Company's Texas Border Cookbook





Top