Alumni Profiles

Seeing the light | Kerr-azy | The bad boy is back | And with the save...

And with the save. . .

is TCU's very own Jeff Zimmerman '93.
A rookie reliever with the Texas Rangers, he earned a place on the mound at the All-Star Game in July after posting the best earned run average in baseball.
By Don Dowell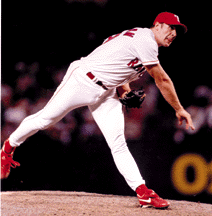 Following his rookie season in the Northern League, where he went 9-2 with a league leading 2.82 ERA for the Winnipeg Goldeyes, Jeff Zimmerman faxed resumes to all 30 major league teams requesting a tryout.
Only one team bothered to respond -- the Texas Rangers.
The team's farm director, Reid Nichols, sent Zimmerman a plane ticket as a signing bonus, and two dozen baseballs to the Goldeyes to buy out his contract.
Shrewd purchase.
A year and a half later, the rookie Zimmerman stood on the mound at Boston's Fenway Park and pitched a scoreless inning in this year's All-Star game. And during the regular season, the Ranger reliever has been virtually unhittable: As of July 28, Zimmerman had posted an 8-0 record, three saves, a team-record 25 consecutive scoreless appearances, and an unheard-of ERA of 0.76.
Yet, ask Zimmerman the greatest thing that ever happened to him, and he points to his parents.
"They put their personal lives and happiness on hold," he said, "to make sure my brother and I had every opportunity."
Zimmerman grew up in Carseland, Alberta, where he dreamed of becoming a hockey player, but his talents soon turned him into a pitcher. His parents, Bill and Sharon Zimmerman, owned two small hotels in the area and geared their lives so that both Jeff and his younger brother Jordan (now a relief pitch
er for the Seattle Mariners) could pursue their dream of playing in the major leagues. When Jeff was 16, the Zimmer- mans moved to Calgary, where the sons could face better competition -- and have enough players to field a complete team. But with snow on the ground eight months out of the year, father Bill rented an old World War II airplane hanger and renovated it into a baseball facility with a batting cage and artificial turf.
After high school, Zimmerman attended two junior colleges before coming to TCU. Following a strong senior season, when he won eight games for the Frogs while losing only to three top 25 teams, Jeff was surprised when he wasn't drafted.
"Several scouts had shown interest," he said. "I didn't think I would be a first round pick, but I thought I would be chosen somewhere in the 80 rounds."
Zimmerman joined Team Canada and a summer later traveled to France, where he played with the Montpellier Barracudas for a season.
Armed with a now-lethal slider, Zimmerman spent two more years with Team Canada in hopes of playing in the '96 Olympics (while also earning an MBA at Simon Fraser University), but Canada failed to qualify. Zimmerman thought he had thrown his last strike. After a frustrating four month job search, Jeff decided to pitch one more season with Winnipeg after receiving the support and encouragement of his family and fiancée, Andrea Whiffen.
"Murphy's Law," Zimmerman said. "The next day, I received a call from Fidelity Investments in Boston and politely declined the interview."
Following a rookie-of-the-year season with Winnipeg, Zimmerman joined the Rangers minor league system in 1998, where he went a combined 5-2 with a 1.28 ERA in stops at Charlotte and Tulsa. A late cut by the Rangers this spring, Zimmerman was soon called up to help with middle relief. In his April debut, he struck out four of six Mariners, and has become the first act for league-leading closer John Wetteland. Zimmerman's story reads like a Rocky movie, but for the Zimmerman family, there has been another, more important tale.
While Jeff was pitching, his father was fighting cancer. Pneumonia. A heart attack. A stroke. Then a coma for 51 days. Doctors urged the family several times to disconnect the life-support systems, but they refused.
Less than a year later, he saw both of his sons pitch in the same game at the Ballpark in Arlington.
"Before, if I didn't pitch well, I used to get down on myself and dwell on it," Zimmerman said. "But seeing what my Dad has gone through . . . the constant battle every day . . . it makes baseball so much easier with no pressure."
His sidekick Wetteland agrees.
"He's unflappable," he said. "That's how he got here."
And that's how he'll stay.

When he isn't writing about TCU sports or golf, Don Dowell is a web site developer and Internet marketing consultant.
Top