Alumni Profiles

Seeing the light | Kerr-azy | The bad boy is back | And with the save...

The bad boy is back

Kurt Thomas '95 thrilled TCU fans his junior and senior years and then, hit again with injuries, seemed to disappear in the NBA. Yet, this June he emerged once more in a starting role with the Knicks during the NBA Finals.
By Wanda Moseley '93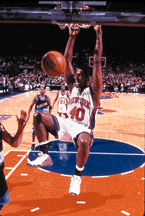 NBC basketball analyst Doug Collins recently remarked that former TCU student-athlete Kurt Thomas '95 "has one of the best scowls in the NBA."
Which is nothing new to the TCU fans who watched Thomas lead the nation in scoring and rebounding his senior year, becoming only the second athlete ever to accomplish the feat. Yet, the scowl these days hangs on a 6-foot-9 inch frame and 230 pounds of muscle. All three -- the height, the tonnage, and the scowl -- are much needed tools for the New York Knicks' starting power forward who matched up with the likes of San Antonio's Tim Duncan in the 1999 NBA Finals in June.
But for those of you, who like me never had a chance to get to know Thomas during his days as a Horned Frog, that scowl is more than misleading.
After visiting with him in the New York locker room following a playoff game against Atlanta, I found that behind the mad face, he's probably not unlike most TCU alumni. He enjoys reading, listing famed African-American author Terri McMillan as his favorite writer. Going to the movies, swimming and shooting pool are preffered hobbies when he has time away from basketball.
"I've always been known for my temper ," said Thomas with a deep sigh. "That's the bad thing, people judge me by what they see when I play. But if people do get to know me, they're shocked at how peaceful I am. When I step on the court, I'm a totally different person. I'm very serious, very intense and focused on the game."
Thomas has found success on the basketball court despite an injury-plagued career that began with a broken ankle his senior year at Hillcrest High in Dallas and again during his sophomore year at TCU. Thomas was selected as the tenth overall pick of the 1995 NBA draft by the Miami Heat. Not bad for a guy who didn't play organized basketball until his sophomore year of high school. Thomas admits that TCU was the only major college that showed any interest.
Thomas started in 42 of the Heat's 82 games in his rookie season. He led the team in scoring six times and was selected as a starter for the East squad of rookies that competed during the 1996 All-Star weekend.
"I come back my second season, I'm playing well, I'm in the best shape of my life, and I break my ankle," said Thomas with a laugh. "I just have bad luck. It's just the way I'm built . . . . I put more stress on my ankles than the average person."
Thomas was traded to Dallas midway through the year and spent the remainder of his second NBA season on the injured list. The ankle fracture did not heal properly, and Thomas was unable to play for the Mavericks the following season. Instead, he was signed as an assistant coach.
Thomas acknowledges his devastation, but even in those dark times, he found ways to contribute. While in Miami, he served as the team's Make-A-Wish spokesperson. In Dallas, he started the "Have a Ball with Kurt Thomas" program, where he presented four lower-level seats and an autographed basketball to an underprivileged family before each Mavericks' home game. He also hosted the Kurt Thomas Celebrity Billiards Tournament with proceeds benefiting the Literacy Instruction For Texas (LIFT) program.
"I'm always visiting camps and schools, interacting with kids," said the single Thomas. "I just love being around kids. I don't have any of my own, but I just enjoy being around them. I like to see them smile."
Now in his fourth NBA season, Thomas signed with New York in the off-season. Prior to going to New York, Thomas spent the extended off-season completing an internship with a Dallas real estate firm. If he wasn't playing professional basketball, he said he would either be using his psychology degree to work with children, or perhaps a career in real estate would be his calling.
"I might only play for another five or six years, who knows, maybe longer. If you play 10 years in this league that's really a blessing."

Wanda Moseley '93 moved to Atlanta in early 1996 to work for the Olympic Games. As a freelance writer, she worked the Goodwill Games in New York City in 1998 and hopes to cover the 2000 Olympics in Sydney.
Top