A new tradition with a distinctive ring
University to offer an official TCU ring.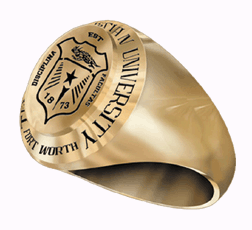 You worked hard to earn your degree. Now you can display that accomplishment every day -- in the form of an official TCU ring. A special ring that signifies the tradition of excellence that is TCU. A ring you earn the right to wear. Starting in January, alumni can participate in the University's "Single Ring" program, a new tradition that will strengthen graduates' ties to their alma mater. "Schools across the country are going to the single-ring tradition with great success," said Kristi Hoban, director of alumni relations. "When you bought a class ring in the past, you were just buying a personal piece of jewelry. Now you are buying an official symbol that you have to earn. And that brings much more meaning to the whole tradition." The number of hours needed to earn the ring is still being decided, but most students should earn that right by the end of their junior year. Students graduating this December will be the first to receive the new ring. Alumni will be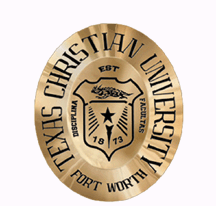 able to order their ring after the first of the year. This new symbol will be surrounded by new campus traditions as well. "Each year there will be a special ring ceremony for students and their families where the chancellor will award the ring," Hoban said. "This year it will include juniors and seniors, but by next spring most of the new ring wearers will be juniors. This way it can serve as a right-of-passage into the senior year." Incoming freshmen will be given a key chain with a replica of the ring during Howdy Week to help them focus on what they will earn in a few years. The ring's design took months to develop. A committee of 15, which included seven students and representatives from the staff, faculty and alumni, knew the horned frog needed to be an integral part of the design. But to keep the look on level with the importance of a diploma, the committee chose the University seal, which includes a frog. The official University frog will be engraved inside each ring. Other personal engravings, such as class year, initials or Greek letters, can be added to the inside as well. For more information, contact the Alumni Association at alumni@tcu.edu or 817-257-5039 or 800-464-4TCU(4828).
Day of service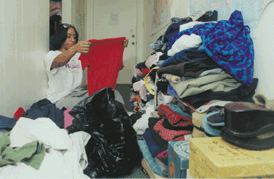 More than 600 Frogs turned out on a sunny September Saturday for the 4th annual TCU LEAPS, the University-wide day of community service. At 26 locations, students and other volunteers could be found sorting food donations, cleaning Mission Arlington's dental office, painting a senior citizen's apartment or visiting shut-ins at a nursing home, for example. "It brings me a lot of joy to know I could make them smile and talk about their memories," said sophomore Lindsey Hale, who helped out at Stonegate Nursing Center. "They're able to remember, which helps them deal with the pain they're having. You have a warm, fuzzy feeling when you leave, especially when they're so eager to talk."
Tucker tribute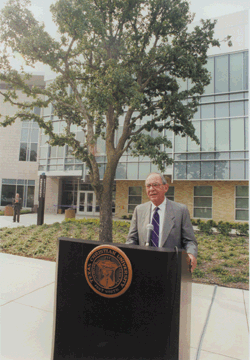 Appropriately, it was a student-built robot that delivered the clipping shears at the dedication and ribbon-cutting ceremony of the $25 million William E. and Jean Jones Tucker Technology Center in September. More than 200 students, faculty, alumni and university benefactors joined the former chancellor and his wife at the ceremony to celebrate the impressive new center, which houses the departments of computer science, engineering and mathematics and features state-of-the-art classrooms, laboratories and equipment. "The Tuckers quietly invested in the TCU campus for many decades," Chancellor Ferrari said. "They are champions of campus beautification, and their contributions reach into every facet of the university. This facility is a tribute to their years of love for TCU." The Tuckers both attended TCU as students in the 1950s. William returned to campus as the ninth chancellor in 1979. The magnificence of the steel and glass center left the former chancellor beaming. "I am pleased that this facility will add to the future and strength of the university," he said. "It means so much to us."
Living history -- Fogelson Honors Forum
Which Roosevelt uttered the words "A date that will live in infamy" in December 1941? Stumped? So are lots of high school students, even college undergraduates. Many simply don't know their history as well as they should. That's what prominent historian and author David McCullough believes. In fact, he says Americans' lack of knowledge is downright abysmal. McCullough, famous for his Pulitzer prize-winning biographies of Harry Truman and John Adams, was the guest lecturer of the Fogelson Honors Forum at Ed Landreth Auditorium in September. "There is a substantial percentage of college students today who don't know the difference between Franklin Roosevelt and Theodore Roosevelt (32nd and 26th presidents respectively), who don't know which century World War I took place (20th), who have no idea about the Revolutionary War. None. Zero," McCullough said. "It's a disgrace. Shame on us." What's the big fuss over dates and historical facts? McCullough says having a sense of history is critical for having some grounding in life and knowing how to react to present-day challenges. "You have to know who you are," he said. "If you don't know where all your advantages, blessings, privileges, rights and freedoms have come from, and at what cost, then you start to take them for granted."
A roll of the drum and a standing ovation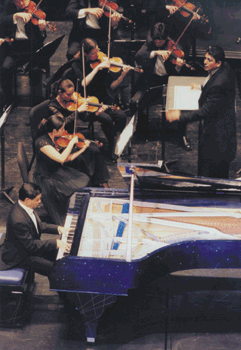 With all the fanfare befitting TCU's formal introduction at the glamorous Bass Performace Hall downtown, the College of Fine Arts splashed onto the arts scene with a performance cast of several hundred students and several faculty members. The "Evening with Gershwin," which played to a full house of nearly 1,700, featured a musical tribute to the late composer that was performed by the Jazz Ensemble, Wind Symphony, Symphony Orchestra and the Choral Union. Dancers joined the stage for Promenade. The evening began with a gala dinner for 250, which featured an exhibit of student art and some musical theater, courtesy of the theater department. Spearheaded by the College of Fine Arts Board of Visitors, the evening was wonderfully successful, said Dean Scott Sullivan. "The success of TCU Fine Arts at the Bass was the result of much hard work and dedication by members of our Gala Committee and International Board of Visitors," Sullivan said. The committee was headed by Kathleen Birkner Stevens '61. Even Steinway & Sons got involved, sending "Rhapsody," a $175,000 limited-edition grand piano now on national tour. Commissioned as a tribute to Gershwin, the piano's blue-dyed maple veneer sports 400 hand-cut mother-of-pearl stars. Artist-in-residence JosŽ Feghali performed Rhapsody in Blue on the opulent instrument, while Germ‡n GutiŽrrez, director of orchestral studies, led the wind symphony and Feghali through an awe-inspiring performance of the popular composition. The evening ended with an emotional rendition of the alma mater by the symphony, chorus and marching band (which crowded into the gallery seating and front of the stage) that brought the audience to its feet.
Top profs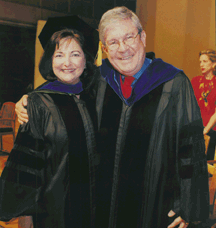 Fall Convocation brought recognition to two campus favorites as the winners of the Chancellor's Award for Distinguished Teaching and the Wassenich Award for Mentoring in the TCU Community were named. Chancellor's Award winner Donald W. Jackson's lifelong passion has been the Constitution of the United States. But as soon as the professor of political science stepped in front of a class in 1975, his passion has been his students, too. That passion earned him the prestigious award, which carries a $20,000 cash award One former student said, "I thank God for placing him in my life's path. He will probably never fully appreciate the profound impact he has made in the lives of others." Wassenich Award winner L. Kay Higgins has done a little bit of everything since she walked through the doors of TCU in 1978. She has filled positions ranging from graduate housing coordinator, overseer of residential services, director of the Women's Resource Center and her current position of director of new student programs. To the students, she is a mother, mentor, counselor and friend. One student said, "Because of her caring and nurturing, some of the best TCU students have gone on to become sensitive, open-minded listeners not afraid to challenge justice." The award, which was established in 1999 by Mark '64 and Linda Pilcher Wassenich '65, goes to a faculty or staff member who has made a difference in the lives of students and carries a cash award of $2,500.
From Italy with love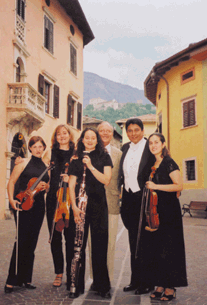 Three fine arts faculty members and 12 TCU vocalists, dancers and musicians showcased their talents this summer in Pergine, Italy, at the monthlong Orchestra Giovanile Internazionale del Festival "Pergine Spettacolo Aperto." Curt Thompson, assistant professor of violin, joined TCU dance and vocal students in performances of Candide with a renown orchestra comprising the year's best European students. Additionally, a few TCU music alums lent a hand on the production end of the festival. Thompson conducted a series of master classes with the orchestra, as did music professors Germ‡n GutiŽrrez and Richard Estes when they joined the group in August. The pair were invited to direct the second show, The Barber of Seville, with GutiŽrrez acting as director/conductor and Estes as assistant director. Among the TCU contingent were sophomore Betina Pasteknik, graduate student Ana Roca, Maria Garavito '01 (MM), Estes, GutiŽrrez and senior Ariadna Alvarez.
Setting prioities
A sound fiscal budget and aggressive fund-raising are among six key priorities for TCU as Chancellor Ferrari enters his last year as the university's chief executive. With a stable enrollment, a pressured endowment and limited tuition increases, Ferrari told the university community at Fall Convocation that he intends to ask budget managers to reallocate existing money within departments to meet needs rather than expect new funds. He announced the formation of a Board of Trustees steering committee to carry out fund-raising goals. The university hopes to raise more than the $70 million it received in gifts over the last two years to use for major campus projects. "I know this is not an easy task, but your suggestions of ways to stretch existing dollars will be needed as we develop next year's budget plan," he said. Evaluating enrollment will be another objective for the coming months. Ferrari said more students are choosing public universities in this difficult economic climate, even if TCU is their first choice. A committee comprising admissions and financial aid staff will examine a possible increased need for more scholarship and financial aid. Other initiatives for the year include completing the re-accreditation visit by the Southern Association of Colleges and Schools, adopting a new undergraduate core curriculum and selecting the university's 11th chancellor.
Speaking of water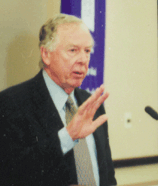 For most of his career, Texas oil tycoon T. Boone Pickens tried to avoid striking water. Now, decades later, he's the largest water owner in the state and has a can't-miss plan to prevent the state's future water woes, wants to pipe millions of acre-feet of Ogallala Aquifer groundwater from his Panhandle ranch to North Texas before the region experiences major economic and lifestyle disruptions at the end of the decade. His plan and humorous run-ins with the media made for a crowd-pleasing breakfast lecture at an October installment of the Charles Tandy Executive Speaker Series, sponsored by TCU's M.J. Neeley School of Business. According to Pickens' research, Texas District C, comprised of 17 North Texas counties, currently uses 1.4 million acre-feet of water per year. With population estimates forecasting the region will grow to 10 million residents by 2050, water use will also escalate to 2.5 million acre-feet. There is simply not enough currently available to handle that demand. "The shortage by 2010 would be economically disruptive, particularly to Tarrant, Dallas, Denton, Collin, Kaufman and Rockwell counties," Pickens said. That's where his plan comes in. On his Pandhandle Ranch, the wealthy landowner estimates there is 81 million acre-feet of water, a 400-year supply. He's prepared to drill, pipe and store the water in North Texas and even turn over the ownership to buyers so they can manage it. His price to set up the infrastructure? Only $650 an acre-foot, which he admits is not the lowest, but also not excessive. "Then [the cities will] own it. Not us."
Chair of honor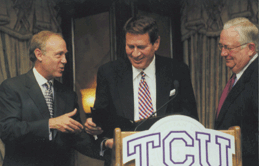 TCU's M. J. Neeley School of Business honored Dr. Stan Block, a longtime finance and decision sciences professor, with an endowed chair in his own name during a dinner in October. Many of Block's former students attended the dinner, which also marked the 30th anniversary of the Educational Investment Fund (EIF), a hands-on, academic finance program that allows students to invest money on Wall Street. The effort to raise $1 million to fund the Dr. Block Chair in Finance was led by Neeley School alumni who participated in the EIF. One of the oldest student-managed funds in the nation, Dr. Block created EIF with a $600,000 gift from Dr. William C. Conner. The fund now oversees more than $2 million in assets. More than 100 universities nationwide have replicated the program with Dr. Block's assistance. Above are Dean Robert Lusch, Block and Provost William Koehler.
New leader at Brite

Dr. D. Duane Cummins, former president of Bethany College in West Virginia, assumed the post of interim president of TCU's Brite Divinity School in mid-September. Cummins, who enjoyed a long and distinguished career as a professor of American history and college administrator, will retain the position until a search committee has selected a full-time president. Cummins has strong ties to the Christian Church (Disciples of Christ), having served a two-year term as moderator of the Christian Church (Disciples of Christ) in the United States and Canada from 1993-1995. Former Brite president Dr. Leo Perdue retired July 11 to return to full-time teaching and scholarly research at Brite. In other Brite news, The Rev. Marwood "Woody" Meredith Jr., vice president for development at Pittsburgh Theological Seminary in Pittsburgh, Pa., has accepted the position of Vice President for Advancement at Brite. He will arrive in early January 2003.
Big Apple, big weekend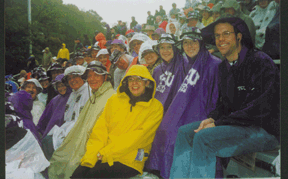 The glitz and glamour of New York City's theater scene and a Horned Frog football winning streak drew a record 600 Horned Frogs to an alumni road trip to the Big Apple in mid-October. Some hit the shops of SoHo. Others toured the U.S. Army Academy at West Point. Many took in Broadway musical The Producers at the St. James Theatre. Then came game day. Eleven bus loads of hearty, purple-clad souls braved a constant rain and 40-degree weather to see the Frogs score a season high 46 points and extend their winning streak to five games. But the best part may have been the classy ending to an already great day for the Frogs. In one of the best moves he has made as a head coach, Gary Patterson had his players line up behind the Army players after the game as they sang their alma mater. No celebration or mocking the ceremony. Just a solemn pose of support. The Frogs could have easily scampered off the field to relish in their fifth consecutive win. But Patterson and the Frogs stayed to salute the cadets, and as a result, they became the picture of respect and dignity. Nice job, men.
A new look marches in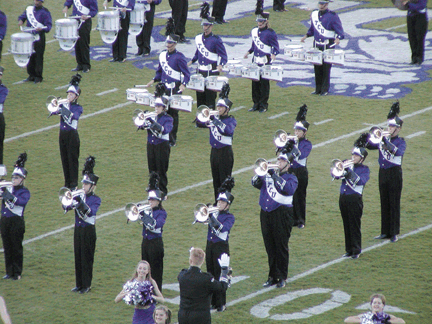 It was a proud moment for the TCU Horned Frog Marching Band this fall as the 175-member band debuted their new look. The purple, military-style jackets worn over black slacks are embellished with reflective, prismatic piping and black and silver buttons. A white, button-on sash with TCU in purple can be interchanged with a flashier version featuring prism sequins that catch the light at night games. Hats are black shakos with black plumes. Band uniforms have a lifespan of 8-10 years, said Bobby Francis, director of bands. TCU's new look is already making a splash nationwide as a featured item in Stanbury Uniforms' national ad campaign. The band's new threads also made the cover of the Fort Worth Star-Telegram's food section this fall in an article about purple food.
Yippee-ki-yi-ay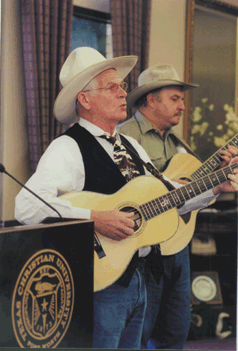 The strum of a guitar and an old-fashioned singalong were a fitting start to a new focus in AddRan College of Humanities and Social Sciences -- Texas history. With the establishment of the Erma and Ralph Lowe Chair of Texas History and the formation of the Center for Texas Studies, TCU "takes the first step towards enhancing TCU's reputation as a noted center for the study of the history and culture of the Lone Star State," said Mary Volcansek, dean of AddRan, The center, directed by history professor Gene Smith, intends to take the story of Texas to a wide public audience, as well as have an academic and archival focus. The announcement of the Lowe chair, which was endowed by businesswoman Mary Ralph Lowe in honor of her parents, featured lively historical Texas music performed by musicologist and historian Don Edwards (left) and Rich O'Brien.
Celebrating silver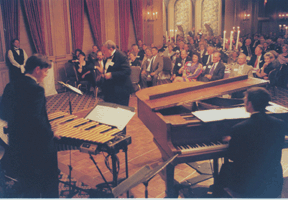 Created in 1977 to honor leadership donors, the Clark Society has been a vanguard of the University's fund-raising efforts for 25 years. To celebrate, the 1,407-member strong philanthropic society returned to the Fort Worth Club, where the inaugural dinner was held. The 260 dinner attendees enjoyed performances from the choir and Jazz band, as well as an address from the chancellor. The weekend celebration also included a pre-game party on Saturday, complete with birthday cake. A mimimum $1,000 annual donation is required for membership.
In brief
A new degree that will knock you out
TCU can now do its part to decrease the shortage of Certified Registered Nurse Anesthetists (CRNAs) in the U.S with the announcement of a new master of science in nurse anesthesia, and the creation of a School of Anesthesia within the College of Health and Human Sciences, which will begin classes next fall.
Radio Hall of Famers
Five TCU alums Stan Wilson '40, Dick Osburn '51, Kent Burkhart '56, Rod Roddy '57, and Bob Schieffer '59, were among the inaugural 49 inductees to the Texas Radio Hall of Fame in late October. Hall-of-famers were selected by a vote of dues-paying members, whichincludes employees of radio stations and related industries.
Kudos:
The 2003 Wall Street Journal Guide to the Top Business Schools, which ranks business schools in relation to their MBA programs, lists the M.J. Neeley School of Business among the top 100 business schools in the world and among the top 75 business schools in the country. The guide said that the Neeley School is "on the rise," and that one of its most surprising aspects is its "family environment."
Don Mills, vice chancellor for student affairs at TCU is a recipient of the National Association of Student Affairs Administrators (NASPA) "Pillar of the Profession" Award. Mills, who oversees all student programs, activities and services on the TCU campus, is one of 16 national nominees for the annual award honoring professionals for their contributions to student affairs. NASPA, which has over 8,000 members at 1,175 campuses, is the leading voice for student affairs administration, policy and practice.
Waldek Zerda, professor of physics and astronomy, has been named a Fulbright Scholar. He will research "Raman Microimaging of Superhard Materials" at the University of Silesia in Poland.
Chancellor Michael R. Ferrari received the Gilbert Garcia Amigo Award, presented by the United Hispanic Council of Tarrant County, for his role in the local Stay-In-School initiative and TCU's outreach to the local Hispanic community.
The National Air and Space Museum in Washington, D.C., a unit of the Smithsonian Institution, has named Fred R. Erisman, TCU English professor emeritus, to the Charles A. Lindbergh Chair in Aerospace History for 2002-'03. It is a one-year, residential research appointment which provides office space in the Museum, access to its archives, artifacts and staff, a stipend which will underwrite a year in Washington and additional funds for archival fieldwork or research travel.
Theresa Strouth Gaul, assistant professor of English, attended an invitation-only breakfast reception and symposium at the White House hosted by First Lady Laura Bush in September. Titled "Women of the West: Willa Cather, Edna Ferber, and Laura Ingalls Wilder," the symposium was part of a series established by Laura Bush entitled "America Salutes the Authors."
TCU Tomes
A Larger Hope: Opening the Heart to God
By R. Scott Colglazier
Chalice Press
In A Larger Hope, Colglazier encourages people to listen to their deepest needs and experience God's presence in the most intimate parts of their hearts. Through the exploration of biblical stories, literature, film and his own life experiences, Colglazier, who serves as senior minister at University Christian Church in Fort Worth, leads readers to discover their own journey of faith -- a journey not in search of the right religion, but for one that is always an adventure and full of wonder. It can be ordered at amazon.com or other online bookstores.
The English Garden & National Identity: The Competing Styles of Garden Design, 1870-1914
By Anne Helmreich, assistant professor of art history
Cambridge University Press
What can you tell about someone from his or her garden? Everything, according to The English Garden & National Identity. It examines the fierce debate on the styles and forms of garden design in England c. 1870-1914. Focusing on the wild garden, cottage garden and formal garden, author Anne Helmreich argues that design principles and debates among designers were shaped by the quest for a powerful English national identity. This "Englishness" was shown through leading styles of garden design and is why the garden was promoted as a national symbol. It can be ordered at amazon.com.
This Stubborn Self: Texas Autobiographies
By Bert Almon
TCU Press
Texas autobiographies reveal as much about the state as they do about their authors. Texas' history -- migrations, war with Mexico, brief nationhood, and slavery -- contributes to what Almon calls Texas' exceptionalism. Writers in the collection include Sallie Reynolds Matthews, John A. Lomax, Gertrude Beasley and J. Frank Dobie. Some writers recall a traditional Anglo Texas, full of small towns and ranches while others write about an urban, multicultural society. It can be ordered at online bookstores, the TCU Bookstore or by calling 1-800-826-8911.