Lady Frogs' monster schedule
By the time you read this, the TCU women's basketball team is probably five games into the most ambitious schedule in school history -- and seventh toughest in the nation this season.
How tough? Nine -- and likely 10 -- opponents on the Lady Frogs' docket were in last year's NCAA Tournament and most of them are ranked again. Perennial powers No. 10 Vanderbilt, No. 19 Oklahoma and Oregon come to Daniel-Meyer. On the road, TCU faces the likes of No. 2 Tennessee, No. 11 Texas and maybe No. 8 Purdue. Add in five more games against Women's National Invitational Tournament teams and the Lady Frogs are in for a challenge all winter.
Uh, Coach, what were you thinking?
"Coming off back-to-back years of going to the tournament, you have to think long term," said head coach Jeff Mittie, who is 65-29 in three seasons at TCU. "We're thinking about what's going to prepare us best, not just for the regular season but for the tournament. Sure, there won't be any off nights, but it's not a schedule we can't be successful against. It's difficult because of its depth, but this isn't unchartered territory for us."
Too true. The Lady Frogs have played ranked teams every year since Mittie's arrival. The difference this year is that the rest of the country knows the women in purple are for real. With nine returning letterwinners, the Lady Frogs begin the season ranked No. 20 in the coaches' Top 25 poll -- another first for the program -- and are co-favorites to win the conference.
"We know that some of the schools on our schedule have the TCU game circled because it's going to be a big game for them," said senior point guard Candace Baldwin, one of nine returning players. "We're going to have to bring it every game because there will be some teams gunning for us."
Difficult schedule or not, the standard for a successful season still starts at 20 wins, Mittie says. But the Lady Frogs also would like to taste the Sweet 16 come mid-March.

And what better way to get there than on the national stage night after night.
Frogs go Down Under to get on top of C-USA
"Organized. That's Coach Dougherty's main word," says senior shooting guard Junior Blount. "He wants us organized all the time."
Organized on offense. Organized on defense. Organized talking to the media. Showing up for weight training. In the classroom. Walking around campus. If there is one thing the TCU men's basketball team will be this year, it is under control and in charge of the situation.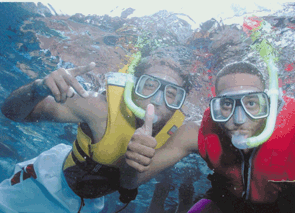 That's new coach Neil Dougherty's program, and it is quickly taking form. Players will wear coats and ties to road games. On campus, they will speak regularly to student groups, encouraging attendance at home games. They will even go through a media tutorial with local newspaper writers and television crews. "That's just the background I am used to," Dougherty says.
But with a new year and a new coach comes change, and the Frogs have adapted well. Dougherty and his players spent a little extra time getting to know one another this summer on a 12-day trip to Australia for some international competition. The Frogs finished 3-3 against professional teams and worked in some time to snorkle at The Great Barrier Reef (as Nucleus Smith and Blount did) but the most important lesson might have been that the intense coach yelling at them on the court was the same guy who wants to make them better students, social leaders and basketball players.
"They have about 30 nights of basketball games ahead of them this year, but they are students at school 200 days," Dougherty says. "My program is going to be about taking the skills they are good at on the court and translating them to other areas of life."
On the court, Dougherty expects their conditioning to make up for the fatigue that did them in down the stretch a few times last season. "We're not the kind of team that has one player that is going to take over games, but as long as we rebound, score and defend as a team, we're going to be successful," he said. "And we'll definitely be organized."
Frog Madness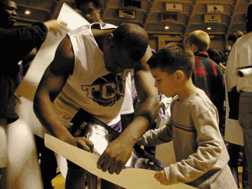 Turns out the men's and women's basketball teams have some pretty nifty moves -- dance moves, that is. In mid-October, the teams, with the help of the Showgirls and Cheerleaders, hammed it up with skits, songs and dance routines, including a serendae of the coaches' wives, at the first-ever Frog Madness to celebrate the beginning of basketball practice. In addition to snagging a few player autographs, the fans got in on the fun with a dunk competition (judged by players and coaches) on an 8-foot rim and a paper airplane contest with a $10,000 prize.
Dominika the dominator
Far from her home in Eger, Hungary, sophomore outside hitter Dominika Szabo is TCU's first international volleyball player, but she's found a home in the school record book. Szabo holds the TCU mark for attack percentage and is fifth in kills per game, and she is at again this season. Szabo leads the Frogs in kills (405) and attacks (1,003).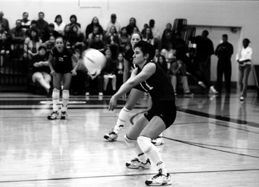 "She's the team's "go-to player," says head coach Prentice Lewis. "She's been our best player because she's had some higher level of competition over in Europe," Lewis said. Indeed, Szabo started early. She competed with the Hungarian Junior National team when she was 14 and went on to become the 1999-2000 top-rated player for the junior national team.
Her play has helped the VolleyFrogs to their best season. After posting a 7-21 record last season, the team has already surpassed the 12-win mark and beaten C-USA foes Alabama-Birmingham, East Carolina, Memphis and DePaul.
Fall Roundup
Men's golf. Senior Adam Rubinson was among 23 amateur golfers to be invited to a three-day practice session for the 2003 Walker Cup Match in late November. The match is the first step to making the 10-member U.S. team that will compete against England and Ireland at next year's Walker Cup.
Women's golf. Junior Brooke Tull's winning ways continue. The junior from Georgetown started the season with a pair of top-two finishes in the season's opening three tournaments. Tull overcame a one-stroke deficit on the final day of the Furman Lady Paladin Invitational to finish with a 54-hole score of 4-under, good for top individual honors. TCU earned a third-place team finish.
Lettermen's Hall of Fame. Six former Horned Frog athletes were inducted in the TCU Lettermen's Association Hall of Fame in September. New inductees included: William G. "Floppy" Blackmon, Class of 1943, men's basketball; Janice Dziuk, right, Class of 1990, women's basketball; Greg Sholars, Class of 1989, men's track; Dedrick "Dede" Terveen, Class of 1975, football; Guy Shaw Thompson, Class of 1957, football and track, both played and coached; and Gary Turner, Class of 1966, men's basketball.
Cross Country. Freshman Alayne Thompson has made an impressive start to her Horned Frog career. The Jenks, Okla., native had three consecutive top-five finishes to begin the season: third at the North Texas Opener, first at the Sam Houston Invitational and fourth at the Oklahoma State Cowboy Jamboree.
Rifle. The TCU rifle squad rewrote the school record book multiple times this fall, setting new marks in the team air rifle and individual smallbore competitions. TCU claimed its second air rifle title of the season by posting a school-record 1,550 at the 12th annual TCU Invitational. Leading the way for the Frogs was senior Stacy Hughes, left, who placed second overall with a 392, breaking her own TCU record of 391. In smallbore, the Horned Frogs also shattered a pair of school records en route to a second-place team finish. TCU totaled 4,504 in the competition, surpassing the previous school record of 4,231.
gofrogs.com. Visits to the TCU Athletics' official web site gofrogs.com has grown an average of 118 percent per month since the spring. The site is averaging more than 200,000 hits per month (including about 25,000 unique visitors per month) and could top 3 million hits by the end of the 2002-03 academic year. "We've made a concerted effort to promote the site at games and in our advertising," said Jeff Crane, assistant director of sports marketing. Popular features include the ticket buying feature, auctions of TCU memorabilia and real-time stats for Frog fans to keep up with the team when they're on the road.
Top