Tamale Golly!
Erin Wood '86 created Tamale Molly with the notion that the nation is ready for gormet vegetarian tamales -- and willing to help fight hunger at the same time.
By David Van Meter
Go back about 7,000 years to Mayan culture. In times of war, with too many hungry men and too little time, the women invented pre-made meals that could later be warmed on a bed of coals. Wrapped in corn husks and now called tamales, their ingenuity has become a central part of a dozen cultures. Fast forward to present-day New Mexico and meet a woman just as tied to the tamale.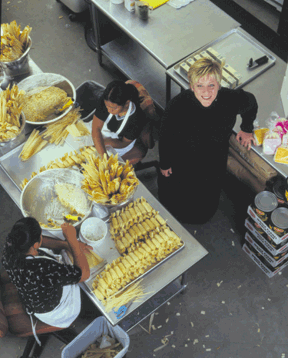 There in Santa Fe, Erin Wood '86 is taking the traditional tamale and hand-tying it into vegetarian varieties. Pine nut with cilantro and green chiles, anyone? Goat cheese with mint? Maybe even vegan black bean with chipotle chile or honey pecan?
Uh, yes. By early September, two national distributors had placed Tamale Molly tamales in six states. During August of this year, Wood brought in $30,000, with gross income roughly doubling each month.
Yet to understand Tamale Molly, one must set the ingredients and income aside and consider the second half of the company name -- which in a sense symbolizes the other half of the 39-year-old Wood.
It is this part that will donate all Tamale Molly profits to food banks wherever the tamales are sold.
Erin Wood has two dogs.
The mutt Beso, or "kiss," mostly resembles an Australian shepherd. Then there's a Rottweiler-shepherd-chow mix named Male, pronounced "Molly," for whom Wood's company is named. She rescued both dogs from shelters. Turns out that her reasons for rescuing dogs and feeding the hungry are pretty much the same.
Why would a person found a company in order to give the profits away? It took Wood the better part of four score to even pose the question. Then more time to figure out how to do it.

The Albuquerque Journal described Wood as someone "who comes from money." The description, however, is only half-true. As the fourth of her father's six children (but the only child of her mother), she lived with her mother in Montana and California communes but spent summers in the best Connecticut neighborhoods with her father.
"My mother grew up middle class but rejected that lifestyle and chose to live poor," Wood recalled, beginning a 90-minute conversation that would be interrupted several times by the demands facing a small-business owner. "But when you're 5, you don't understand that. All you know is you're hungry."
Wood endured eating disorders as a result, but the experience also brought with it indelible happy memories, such as learning to make cheese and bread and, yes, tamales with her mother and grandmother.
She also learned at least two lessons. One: "It's hard to do anything when you can't get past having the basics."And: Hungry people hide their hunger, especially when everyone around them seems to have food. "You don't want people to think poorly of your parents or you or whatever," she said. "It's easier to hide hunger than to admit it."
Naturally, the life she wanted as a youngster was her father's more affluent one. Summers with him exposed her to eateries such as Four Seasons and 21 in New York City -- and the security that money could buy. Wood grew up and entered Humboldt State in California but then transferred to TCU after a chance meeting with TCU students at a party hosted by one of her father's friends. She graduated and took a stockbroker position working with her father. Next, she moved west to expand operations, with 80-hour work weeks the status quo. One disheveled morning when she was 28, Wood examined her life, only to discover she did not have one.
"I spent 27 days a month on the road," she said. "I didn't even have houseplants. And the more I worked, the more I realized money was not answering all of my needs like I thought it would.
"I needed to merge both sides of my life in order to figure out who I was."
Wood left her well-paying job, living initially off the small retirement account she had begun. For the next eight years she worked odd jobs in New Mexico and Colorado. Brokering fair prices for small-scale lumber and stone cutters. Serving 400 dinners a night at a barbecue joint called The Hog's Breath. Even catering breakfast, lunch and dinner at a Buddhist retreat. Through it all, Wood saw two common denominators: people working for subsistent wages and families living hungry.
"People are very private and proud," she said. "But there's not enough money to have electricity or a phone, and they've been eating beans for three weeks. It was disturbing to live in Santa Fe and see the contrast."
The experiences led Wood to call on her earliest childhood memories: She would begin a tamale factory that would provide decent wages for local workers. The inspiration proved nearly impossible at first. Wood started as a profit business (funding proved non-existent), then moved to a nonprofit (regulations and paperwork overwhelmed the one-woman enterprise). Finally, she hit on the business model she uses today -- a for-profit company that "gifts" away its profits. She also ensured that her employees would benefit as well. In a climate of minimum wage, Wood today hires entry-level workers at no less than $7 per hour plus bonuses, with 5-percent merit raises, vacation and sick leave part of the package.
"I think it's an idea that just hasn't occurred to a lot of people yet," she said, "to use their own talents and business skills to create something where you can give away part or all of the profits."
Tamale Molly's wholesale success began in part as a restaurant because the only production space available was in the city's restaurant zone. The unusual eatery opened to acclaim in February 2001 and exceeded the wholesale side -- until Sept. 11. Tourism bottomed out, and so did the restaurant. But in Wood's mind, the cataclysmic day also changed the reasons many Americans buy, which makes her products -- and purpose -- ideal.
"It's the right product for what people want," she said. "It's Southwestern, and people are more willing to try new things than they used to be. And since Sept. 11, people see a direct correlation to being a part of things that make them feel good."
Wood calls such growth "excitement followed by panic," with the former emotion winning out most days. She cited a California supermarket chain that inked a deal to stock Tamale Molly products in eight of its stores, a $6,000 purchase. "Ten minutes later, they called back and said they wanted to put them in all their stores. I said, 'Fine, how many is that?' They said, 'One hundred and fifteen.' "
Even with such sales, Tamale Molly has yet to donate any profits to The Food Depot in Santa Fe, largely because the two-year-old company has not yet reached the black. However, her family's foundation, unknown to Wood at the time, made a sizable contribution in 2001 to the food bank in support of her business venture. Wood herself has made several in-kind donations of food and equipment, as well as participated in a hunger fund-raiser called Souper Bowl, which raised several thousand dollars.
"We feel fortunate that there are business people who see the importance of nonprofits like The Food Depot," said Sherry Hooper, executive director of the organization. "In Erin's case, she has come up with an idea that no one else has. And since the beginning, she has been very good in supporting us in any way she can."
If Wood's idea reaches fruition, profits will benefit not just Santa Fe's hungry, but the townships wherever her tamales are sold. Yet she readily deflects any descriptions of being revolutionary.
"I talked about doing this business for many years. I just could not get my act together to make it happen. When I hit on the concept of donating profits, it suddenly got really easy. The people and funding I needed just showed up."
Which begs the question once again: Why would a person found a company in order to give the profits away?
"Because I can," answered Wood without hesitation, "and because it's not entirely altruistic. It has helped me to make sense out of my own life; it has allowed me to do something constructive with what I've experienced in my own life. It feels good to use all the random skills I've developed in my random life.
"And I just want to feel good at the end of the day."
Want to help Wood and taste a Tamale Molly at the same time? Call 1-877-509-1800 or visit www.tamalemolly.com.
David Van Meter is a former editor of The TCU Magazine.
To comment on this article, e-mail tcumagazine@tcu.edu