The perfect 10th
TCU welcomes Dr. Victor Boschini to campus.
History sat on the front row in January as TCU introduced Victor John Boschini, Jr. as its 10th chancellor. There beside the new leader were his three predecessors and their wives, all offering smiling support to the university's newest Top Frog.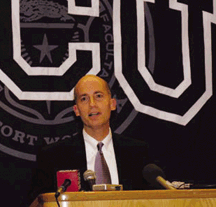 Noting the presence of the honorable group, Chairman of the Board of Trustees John V. Roach expressed what all felt: "Today is a very special day in the 130 years of Texas Christian University."
Nine men have served TCU as its chief administrator since 1873 and guided the institution from a tiny prairie college in Thorp Spring to a nationally prominent university in a major metropolitan area.
Three of those men -- Jim Moudy (1965-79), William E. Tucker (1979-1998) and Michael Ferrari (1998-2003) -- watched as the trustees officially recognized Boschini as the man to build upon their leadership and continue TCU's strong standing.
Boschini vowed to maintain the legacy and momentum his predecessors had built. "TCU is a wonderful institution with strong academics, distinguished faculty, warm, friendly student body and impressive facilities," he said. "Now, the university has much more opportunity for national visibility, to be a player in the national scene because every element is in place. We just need to let the rest of the world know about it."
Boschini, considered a rising star in American higher education, comes to TCU from Illinois State University, where he had been president for three years.
Prior to his presidency, he was vice president and dean for student affairs and as associate professor in the college of education since 1997.
Before joining Illinois State, Boschini was associate provost at Butler University from 1990 to 1997 and assistant dean of students at Indiana University from 1982 to 1990.
"Dr. Boschini is one of the brightest, young, energetic university administrators in the nation today," Roach said. "His people and organization skills, his record on diversity and his outreach, including fund raising, were key factors in his selection."
Boschini will assume his duties June 1.
A tree's house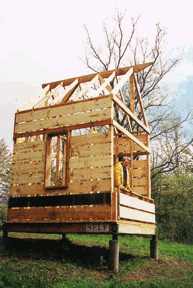 When Joe Self, assistant professor of interior design, was selected as one of only five artists and architects from across the nation chosen for a special exhibition in Stone Quarry Hill Art Park in New York, he chose to house a tree, rather than the other way around. His finished structure, titled "A tree's house," fills the charge of the organizers of the exhibit, who required that the works, "consider the tree house as a metaphor for the sanctuary of a child in nature." At the center of Self's simple frame-only house, a young alder tree was planted. "As the tree grows it will subsume the house -- will compromise the architecture," he said. "The gradual falling away of the wood frame is the goal. But the tree will bear the marks of having grown up through the shelter. It may even encircle and carry, in unpredictable ways, a piece of the wood framing up into the sky." For more information on the project, go to www.stonequarryartpark.org
Those crazy marketing guru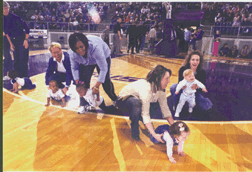 Doubling fan fun is just one job for the Sports Marketing Office, and this February several activities were great fun: On Valentine's Day, 40 Lady Frog basketball season ticket holders, including Dan Jenkins, dined in style courtside -- complete with white tablecloths, silver candlesticks and waiters in tuxedos -- for the game against St. Louis. One lucky fan took home 40 pounds of chocolates. Then at halftime during the men's game against Marquette, 10 of TCU's youngest fans scooted across the floor in the 1st Annual Baby Race. The winner crawled home with a prize pack, including a case of diapers and their own toddler-size replica jersey.
Serving up goodwill
Student athletes were seen around town last fall spreading a goodly share of cheer. In October, most of the swimmers and divers grabbed brushes (for the second year in a row) for the Cowtown Brushup, a community event that spruced up 150 homes of elderly, disabled and low-income citizens. Then during the holidays, about 75 student-athletes from the men's and women's tennis, volleyball, baseball, track and football teams joined the Reading Railroad (right photo) to distribute books and read to local kids before they embarked on their train ride to Dallas for lunch. For Christmas, members of all TCU sports teams and the athletic staff brought in toys for Cook Children's Medical Center, and then a few representatives delivered the nearly 600 toys they gathered for the children.
Growing entrepreneurs
Ambition and innovation in high school students is getting special recognition through a new award that will encourage teens to develop their entrepreneurial leanings. The Texas Youth Entrepreneur of the Year Award, established by the M. J. Neeley School of Business' James A. Ryffel Center for Entrepreneurial Studies, will award one student a $5,000 scholarship and four finalists $1,000 scholarships each, which can be applied to the student's college of choice. The award is open to all Texas high school students this year but is expected to expand regionally, then nationally, in the next two years. Nominees will be judged on their success at turning a business concept into a viable venture. Nominations for the award, which is sponsored by KPMG, are being accepted until April 1. For more information, or to receive an application for the Texas Youth Entrepreneur of the Year Award, contact Bob Akin, Jr. at 817-257-6544 or visit the Ryffel Center Web site at www.rces.tcu.edu and click on the Texas Youth Entrepreneur of the Year Award.
New star on campus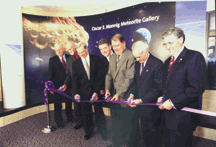 Businessman Oscar E. Monnig believed that meteorites aren't just for scientists, but for anyone who has followed a shooting star in the night sky. As such a dreamer, Monnig began collecting these "fireballs" from space more than 50 years ago, even going so far as to persuade ranchers and farmers along his trade route to tell him about any strange rock that turned up. His passion resulted in one of the finest meteorite collections in the nation. Today, his space rocks have a permanent home at TCU in the Oscar E. Monnig Meteorite Gallery, located in the second-floor lobby of the Sid Richardson science building. "The Monnig Meteorite Gallery is unique in the United States," said Chancellor Michael Ferrari at the February dedication, which featured an address by Apollo 17 astronaut Harrison Schmitt. "It provides TCU a new program to reach out to this community and to students -- not just the university itself but to students in local schools. It will excite young people about the sciences and serve as a magnet for prospective students for years to come." The 1,700-square-foot gallery showcases more than 1,000 specimens, most coming from our solar system's asteroid belt between Mars and Jupiter, plus a rare few from Mars and the moon. It also features audio presentations at each exhibit, a mini-theater with an educational film on the solar system and an interactive exhibit where visitors can build their own virtual meteorite and watch it travel through space to the Earth's surface. There is also a designated "Texas Room" where visitors can view the world's largest collection of extraterrestrial gems found in Texas. "This gallery is the culmination of Oscar's life," said gallery curator Arthur Ehlmann, emeritus professor of geology at TCU. "He always wanted people to see his meteorites. In fact, when he would bring them to me, he would leave them in the hallway. I told him to be careful because someone with a truck could haul them away. He said, 'That's the price we have to pay.' And that's the epitome of his philosophy about his collection. He wanted people to enjoy them." Gallery hours are 1 p.m. to 4 p.m. Tuesday through Friday and 9 a.m. to 4 p.m. on Saturday. Call 817-257-7270 or 817-257-6278 for information. Or e-mail: a.ehlmann@tcu.edu.
Tripping the light ... fantastic!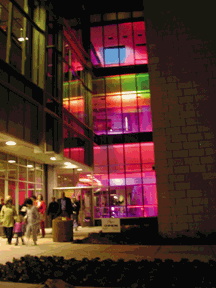 The Tucker Technology Center was the stage in November when a group of design majors focused their spots on getting a good grade. Their assignment was to wash the interior of the glass and steel building with color, a la a rock concert or Broadway play. Eleven students trammed up to create five different themed lighting shows under the guidance of Artist in Residence Anne Militello of Vortex Lighting in Hollywood, who has shined her lighting talents on venues such as Pearl Jam concerts and Walt Disney theme parks. TCU offers a minor in lighting design, which draws support from major lighting manufacturers, such as Vortex, which donated the 30 specialized units needed for this display.
The write stuff
Journalism isn't a book-learned skill. It requires doing, so TCU has teamed up with the Fort Worth Star-Telegram to help budding teenage reporters get on track. The goal of the Fort Worth Journalism Project is to encourage teen-agers, especially minority students, in the 13 high schools in the Fort Worth Independent School District, to consider careers in mass communication. The program exposes high school students and journalism advisers to working practitioners, professional work environments and additional resources. Each year, one top student is selected as the Fort Worth High School Journalist of the Year. The winner will receive a 10-week paid summer internship at the Star-Telegram, which is funding the project. Dr. Tommy Thomason, chair of the TCU department of journalism, recognizes the value of providing services and resources to high schools. "High school journalism is one of the best ways we know to develop skills in information-gathering, writing and critical thinking. This project is designed to work with journalism teachers and publications advisers to give them more of the tools they need to succeed in their work," he said.
Walking tall at graduation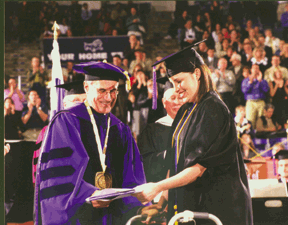 It was a long journey to the platform for one TCU senior in December. And the cheers and tears from the 6,000 attendees at winter graduation attest to the distance Keith-Ann Wagner '02 traveled that special day. Wagner's life was forever changed on July 4, 2000, when a car accident left her partially paralyzed from the chest down. Her role as a successful TCU student-athlete (she was the soccer goalie) unexpectedly became secondary to a new role -- rehabilitative patient. Through nearly a year in a cervical halo, several surgeries and an arduous recovery process, Keith-Ann remained determined to regain her strength and walk again. A turning point came in December 2001, when she underwent her fourth surgery -- this time to remove a plate in her neck that caused a bone infection. "Since then, I've been pretty healthy," she says. With the amount of rehabilitation required to get her walking and performing everyday tasks like taking a shower and getting dressed unaided, one might think she would devote herself entirely to that end, and put the rest of her life on hold. Not Keith-Ann. She still attended classes at TCU and remained involved in many of the same activities as before her accident. "School was my chance to get away from rehab and the hard stuff, and a chance to be with friends," she says. In April 2001, Wagner's friends and family came together to organize the Keith-Ann Wagner Hope Relay, a charity event aimed at raising money to help with the costs of her treatment. It has become an annual event, with proceeds from the 2002 Relay used to establish a scholarship in her name, and contribute to Baylor Institute of Rehabilitation and UT Southwest Medical Center to further spinal cord injury research. The third annual event is set for April 27. Help from her loved ones has aided Keith-Ann tremendously on her road to recovery, as have the thoughts and prayers of strangers who have been touched by her courage. "If people can gain any kind of encouragement or inspiration from hearing my story, then that's enough to keep me smiling and working hard," she explains. Her hard work has paid off. Having completed the requirements for her degree in accounting and finance, she defied the odds and walked across the stage, aided by a walker, electric stimulation, and her cousin. Congratulations, Keith-Ann, you made it.
Grant wins T.A. Abbott Award

Speaking at graduation in December was an honor capped by recognition of the highest order for Dr. C. David Grant, associate professor of religion. As recipient of the T.A. Abbott Award for Faculty Excellence from the Division of Higher Education of the Christian Church (Disciples of Christ), Grant was honored as "a professor who inspires students toward excellence, continues to grow and learn in his or her academic discipline and practices a personal faith." He will receive $1,000 to be used for expanding his library, developing new courses, or continuing education and research. Grant served as director of TCU's honors program from 1988-1994. In 1995, he received the prestigious Honors Program Faculty Recognition Award, noting an "unwavering commitment to his ideals, expressed in everything he does, which makes him truly accountable to students."
Art transcending borders
Art professor Jim Woodson has shown his rustic Western landscapes in galleries all over Texas and the Southwest, but now he can add a more exotic locale to his resume -- Santiago, Chile. Inside the grand room of the U.S. Embassy in the South American country's capital hangs one of Woodson's majestic mountain panoramas, "Big Bend Bifurcation." Through the U.S. government's Art in Embassies program, Woodson's oil on canvas piece was selected at the behest of Ambassador William Brownfield, a Texan from Terry County (40 miles south of Lubbock) who wanted something to remember his home state. He couldn't have picked a painting more reflective of the Lone Star State. "Big Bend" features wind-swept mountains, sun-baked prairies and clear-blue sky. Painting images from photographs, Woodson uses palette knives and brushes attached to long sticks. His unique approach combines realism with abstraction. Multiple angles merge to a solo image to produce a slightly altered landscape. The result is a work of art that is an ambassador itself.
Have it your way
The halcyon days of the central dining hall seem to have gone the way of eight-track tapes. With the opening of a sandwich shop in the new Smith Hall on the east campus this spring, TCU has 10 dining locations for the first time ever. The themed eateries offer what may be the broadest selection of menu items ever as well.
Sub Connection (Smith Hall)
Jazzman's Cafe (Tucker Hall)
Bistro Burnett (Library)
Pond Street Grill (Worth Hills)
The Main (Student Center)
Frog Bytes (Student Center)
Edens (Reed Hall)
Deco Deli (Reed Hall)
A la Carte (Moudy Hall south)
N R G (Recreation Center)
Patching up the cowpokes
When the annual Fort Worth Stock Show and Rodeo rolls through town each year, you can count on more than just seeing a lot of cattle and cowpokes -- Horned Frogs will be backstage to help tend to the rough-riding rodeo competitors. It's all part of the national Justin Sports Medicine Program, an idea originated 20 years ago to treat professional rodeo athletes and offer them medical advice. Ross Bailey, TCU's associate athletic director for operations, has been a "Justin Healer" for about 15 years. As part of a nationwide network of volunteer athletic trainers, Ross and various TCU colleagues head for Will Rogers Coliseum when the rodeo comes to Fort Worth each winter. "We have tried to involve a number of the student trainers throughout the years, to expose them to non-traditional athletic training settings," Bailey explains. TCU athletic trainer Todd Nalder worked with the program in Wyoming and Tennessee, before coming to TCU. The Justin program sends two fully-equipped mobile facilities to more than 125 rodeos each year, and also operates permanent centers in Guthrie, Okla., and Mesquite. More than 6,000 athletes are treated each year by "Justin Healers."
Value in ethics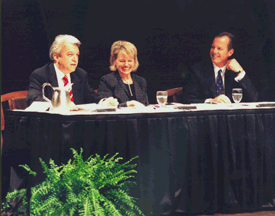 While embarrassing to America, the recent public scandals at Enron, Arthur Andersen and WorldCom are not indicative of U.S. businesses, said three corporate leaders at the second annual Dorothy Garrett Martin Delta Gamma Memorial Lectureship in Values and Ethics in February. Panelists Daniel R. Feehan, CEO of Cash America; Maribess L. Miller '75, managing partner of the Dallas office of PricewaterhouseCoopers; and Juan Muldoon, president of Bimbo Bakeries USA, (right to left, above photo) downplayed talk of a crisis in corporate America, saying that the poor decisions of a few in the boardroom will be corrected by new leaders who emerge and place high value on ethics. But they did urge aspiring CEOs to be wary of society's emphasis on materialism and denial of self-responsibility. The panel was moderated by Dr. Robert F. Lusch, dean of the M.J. Neeley School of Business.
In brief
Looking ahead

The Board of Trustees approved a 2003-04 budget of $230 million in January, a five percent increase over the previous year's budget. Chancellor Michael Ferrari said the budget plan focuses on four priorities -- academic excellence, faculty and staff compensation, supporting students and their life goals and supporting campus administrative functions and infrastructure. Highlighted initiatives include increases for financial aid, the fullfilment of parity in the retirement contribution for non-exempt staff, a strengthened Career Center, staffing and maintenance of myriad new facilities and the final phase of the three-year, $30 million upgrade to classrooms.
New directors
TCU welcomed two new directors to campus this winter. The M.J. Neeley School of Business announced Tim Neuman as the new director of the Executive MBA program, and Kay K. Sanders joins the College of Health and Human Science as director of the School of Anesthesia.
New dummy on campus
The Harris School of Nursing is training students this year on special sort of dummy -- a human patient simulator. Dubbed "Hal," the simulator is a hulking six-foot figure controlled by three computers enabling it to change size, gender and age to simulate different patients in distress. It is programmed with 90 different patient scenarios, challenging students to use critical thinking skills to solve the problems. The greatest benefit? They immediately see the consequences of their actions.
Kudos
Local newspaper critics took note of TCU's excellence in the fine arts in their year-end wrap-ups in December. "Sueno," a joint production by TCU's theater department and Stage West landed top on The Dallas Morning News' list of the 10 best plays in the Metroplex. In addition, Hip Pocket theater, the brainchild of Johnny '73 and Diane Rowand Simons '66 (MFA '73), garnered spots five (for "Molemo") and seven (for "Savage/Love"). The School of Music earned two mentions on the Fort Worth Star-Telegram's Top 10 music and dance performances, both for performances during last April's Latin American Music Festival: Conductor German Gutierrez and the TCU Symphony Orchestra for an energetic performance of Carlos Chavez's "Sinfonia India," and violinist Curt Thompson and violist Misha Galaganov of the TCU faculty who joined the orchestra for a glowing rendition of Blas Emilio Atehortua's "Double Concertino."
TCU Tomes
Ploying to the End of the Road
By Barry Ballard (MA '83)
Finishing Line Press
Twenty-four sonnets fill Barry Ballard's latest chapbook, Plowing to the End of the Road. The "elemental" poems address a range of subject matter: nature with "Poplars at Night" and "Autumn," more abstract, visceral concepts with "Visit of Light," and even the writing process itself with "Writing Through the Ashes." Ballard, a former winner of the TCU Boswell Poetry Award, has published three other award-winning collections. Plowing to the End of the Road has been nominated for the Pushcart Prize for 2003, and is available from poetry publisher Finishing Line Press, PO Box 1626, Georgetown, Ky. 40324.
The Loyal, True and Brave: America's Civil War Soliders
Edited by Steven E. Woodworth
Scholarly Resources, Inc.
Courage and perseverance were hallmarks of the Civil War soldier. In his latest work about the era, Assistant Professor of History Steven E. Woodworth weaves a variety of writings -- by historians and the soliders themselves -- to paint a balanced picture of the lives of Union and Confederate enlistees, including experiences in combat, hospitals, prisons and camp life. Each chapter begins with an introduction by Woodworth, analyzing the historical significance of each entry. It can be ordered at www.scholarly.com.
The Sexiest Man Alive: A Biography of Warren Beatty
By Ellis Amburn '54
HarperCollins Publishers
The Sexiest Man Alive, the first in-depth biography of Warren Beatty, is a most sizzling, revealing book about Beatty and Hollywood. During his illustrious film career, including "Bonnie and Clyde," "Shampoo" and "Reds," Beatty helped redefine Hollywood into a legitimate art form, all while having one of the most tumultuous love lives of any personality of his generation. Beatty has wooed and won many women, including Madonna, Joan Collins, Goldie Hawn, Carly Simon, Cher, Jacqueline Kennedy Onassis and his current wife, Annette Benning. It can be ordered at any online bookstore.