Taking a peak
Scaling snow-capped mountains is a lifestyle for John Marshall '71 (MBA '73), one that has offered views others only dream about.
By Mickey Ellinger
It's easy to be intimidated by the credentials of John Marshall '71 (MBA '73). Here's a guy who has climbed every peak in the Cascade Range, has taken photos from points at Crater Lake that no one else has ever shot, who's the undisputed expert on rare forms of Lake Superior agate. But the man who opened the door had a ready smile and soft blue eyes. "My wife thinks these glasses are cute," he joked. "I like them because you can't see the bifocals line."
How did an asthmatic kid from the flatlands -- Oklahoma, Minnesota, Texas -- become so taken with climbing that he re-made his life plan to get close to the mountains he loved?
Pretty much one rock at at time.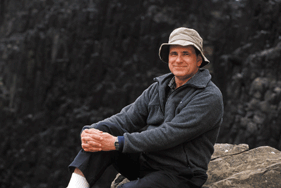 Indeed, as a child, Marshall was a rockhound. He found his first agate in his Minnesota front yard when he was 6 years old. His father said it was a gift from the ice ages, and young John spent hours scouring the shores of Lake Superior searching for agates and thinking about how they were formed.
Looking back, he says, "Collecting agates was a way that a kid who couldn't play sports could focus his energy on nature and his mind on science."
Marshall can pinpoint the moment in 1969 that changed his life. Following a hike to the top of Mt. Lassen in northern California, he discovered he'd outgrown his asthma and found a new passion. "On the top of that volcano, with a view of Mt. Shasta to the north, the kid who could not even run from first to third base without a life-threatening bout of asthma decided to be a mountaineer," he recalled.
If Lassen opened Marshall's eyes to new possibilities, his first sight of Crater Lake on that same trip, 8,000 feet high in the bowl of a Cascade volcano, set the direction of his life.
"Looking into Crater Lake left me speechless," he said. "I spent a full day sitting on the rim staring at the azure water. No words could convey the feelings I experienced that day. As I craned my view for a last look as we drove away, that's when I knew I was headed to Oregon."
Marshall also realized that he was deeply fascinated with human behavior and communication. At a time when a young man took a risk even admitting that he had a sensitive side, Marshall began to explore encounter groups and sensitivity training.
"Men are trained to stifle their feelings," he said. "I was lucky to be able to value my sensitivity and put it to good use. While I was at TCU, my eyes were opened to the human potential for communication, how we go so wrong and how we can undo it."
After two years as a psychology major, he switched to marketing. For Marshall, it was always about communication. "The business school was serious about figuring out what reached people, all kinds of people."
He stayed at TCU to earn an MBA while his new wife, the former Jane Ehrlich '73, finished her degrees in elementary education and Spanish. He introduced Jane to Crater Lake on their honeymoon in 1973, and they moved to Portland, Ore., in 1974.
Marshall hoped to use his MBA working with environmental organizations and was disappointed that these groups were not yet sophisticated enough to understand how his skills could help them. So he turned instead to the world of high-tech, working for Tektronix, Floating Point Systems and Intel. He had to develop rigorous math and engineering skills, but his heart continued to be in the mountains and in communicating things that cannot be reduced to equations.
He dreamed of joining Mazamas, the largest and oldest climbing club in the United States. To be eligible, you have to climb a major glaciated peak. So he climbed Mt. Hood, the highest point in Oregon at 11,245 feet, then Crater Lake. Always Crater Lake. Asked how many times he has been there, Marshall answered, "At least once a year, some years more. Probably three dozen times."
"Climbing's not an extreme sport where you go until you hurt yourself. That's not the point. You climb to go places you can't go if you don't climb. Climbing the big volcanoes of the Cascades is not as scary in the moment as some kinds of rock climbing, but it takes more endurance."
Still, he's had his share of close calls. Climbing across an ice crevasse on the treacherous north face of Mt. Hood, he slipped and fell within feet of a half-mile drop-off into a glacier. Another time, climbing Mt. St. Helens, an ice block broke off above his rope team with a crack that was heard all over the mountain. The team jumped into a narrow downslope crevasse and held on. The ice block went to the right and rolled right over the tracks of the rope team ahead of them, exactly where they would have been in less than three minutes.
"Climbs like that have a Zen quality about them," he said. "They focus the mind to the total exclusion of everything else. There's a feeling of peace and great contentment in the midst of the most awful danger and risk, and so people climb to experience that peace and tranquility."
"Non-climbers never understand."
Marshall combines his love of climbing with his desire to communicate by teaching beginning rock climbers at a Portland community college.
Recently he returned to his early love of agates and finished his book Other Lake Superior Agates (not the most common banded ones), which was published this summer.
These days Marshall is a full-time dad to his two adopted children, Angela and Daniel, just entering their teens. Parenting, climbing and revising his book on agates, he's done what he set out to do when he reached the pinnacle of Mt. Lassen at the age of 19 -- he's gone places you can't go if you don't climb.
Mickey Ellinger is a freelance writer from California.
To comment on this article, e-mail tcumagazine@tcu.edu